Elizabeth Plank, known on the professional scene as Liz Plank, is an award-winning Canadian video blogger and an online journalist. She began her career in journalism in 2013 and currently works as a senior producer and political correspondent at American news and opinion website, Vox.com, owned by Vox Media. In addition to being a journalist, she is also an author with one book so far to her credit.
Who Is Liz Plank?
Born as Elizabeth Plank on March 19, 1987, in Quebec, Canada, Liz Plank graduated from McGill University in Montreal, Quebec, from where she obtained a degree in Women's Studies and International Development. While there, she was a member of the school's synchronized swimming team and competed against other varsity teams. She also co-established Women's Week at McGill and took part in a production of The Vagina Monologues on campus.
Later on, Liz Plank bagged a Master's degree in Policy with an emphasis on Global Gender Politics from the London School of Economics and while attending classes, she launched a Change.org campaign against the Amateur International Boxing Association for making it compulsory for female boxers to be dressed in skirts while competing at the Olympic Games held in 2012 in London. The petition garnered over 55,000 signatures and thus, she succeeded in reversing the association's decision. Subsequently, Liz was employed at the London School of Economics as a research assistant and behavioural science consultant.
Moving forward, she moved over to journalism and kicked off her career on that path in 2013 as an intern at the New York City-based internet and media company known as Mic (formerly PolicyMic). Three months later, she was promoted to head of the viral content team of the site, having drawn a large audience as a result of her reporting on feminist issues. She also worked as a senior correspondent and co-creator of Flip The Script, a weekly video series which dealt with social and political issues.
In 2015, the smart lady journalist worked in MSNBC as a correspondent for the live web show Krystal Clear and in the same year, she was named among Forbes' 30 Under 30 in the Media category. In 2016, Liz Plank joined Vox.com and served as the producer and host of the presidential election web series 2016ish. In the same year, she also presented a Tedx Talk, How to Be a Man: A Woman's Guide, which inspired her first book of the same title published in 2019 by St. Martin's Press. Still, in 2016, Liz Plank was listed among Mediaite's Most Influential in News Media and was ranked among the 50 most influential women by Marie Claire.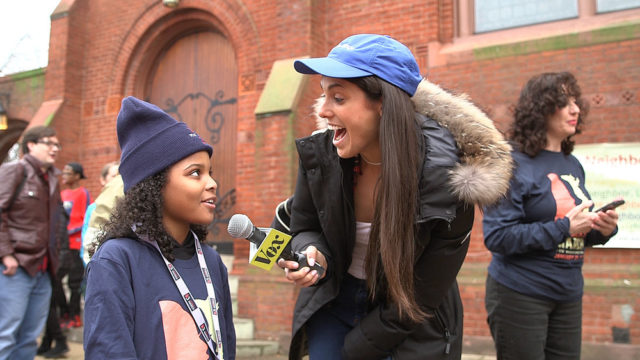 Today, she serves as the executive producer of the Divided States of Women (a community that seeks to disrupt the idea that there is a one-dimensional female perspective) at Vox Media where she also works as the host of Consider It on Facebook Watch. That aside, the Canadian beauty appears frequently on both local and international TV programs to discuss politics, issues about gender and reproductive rights. Discussions of this nature have taken her to Fox News, The Today Show, Al-Jazeera America, MSNBC, Fusion, BBC World, The Daily Show, and ABC News.
Does She Have A Husband?
Liz Plank has managed to separate her love life from her job and keep it away from the ever prying eyes of the public and consequently, there is no information to prove whether she is in a relationship or not. However, on November 22, 2013, she shared a Huffingtonpost.com post on her Facebook account, declaring that she's proud of her amazing boyfriend for getting featured in Huffington Post Business as a result of an article he wrote on #WalMart.
She never went on to reveal any more information about her relationship with her mystery boyfriend and considering the fact that it has been a long time she made the post, it is not certain if they are still together or not but we assume that she is still single.
Other Interesting Things To Know About Liz Plank
1. She loves her family so much that she cannot live without them.
2. The best piece of advice she has ever received was from her dad who always told her not to be the best but rather, to do her best.
3. Though very outspoken, Liz Plank has some fears but the one she fears most is running out of time to do all the things she wants to do and tell all the people she loves that she loves them.
See Also: David Laid – Bio, Age, Height, Girlfriend, Net Worth, and Other Facts
4. A strong feminist, Liz loves the film Wonder Woman and its title character. According to her, if she could live in any film it would be on that island with no men in Wonder Woman.
5. Her sister is her favourite artist.