Kaley Cuoco is an American actress popularly known for her role in CBS hit sitcom "The Big Bang Theory" aka TBBT for which she receives $1 million per episode excluding back-end profits. Kaley Cuoco earns enough from her TV roles to make her a regular on the list of the world's highest-paid TV actresses.
Kaley Cuoco Biography
Kaley Christine Cuoco was born on November 30, 1985, in Camarillo, California to Layne Ann (Nee Wingate) and Gary Carmine Cuoco. While Layne (of German and English descent )worked as a homemaker, her husband (of Italian descent) was a local realtor.
Kaley began playing tennis at the age of 3 and became a nationally recognized amateur in her teens. However, she stopped playing the sport when she turned 16. As a kid, Kaley was also interested in the show business. She began modeling and appearing in TV commercials before launching an acting career.
Her first acting role came when she was just 6 years old in the 1992 movie "Quicksand: No Escape". Her next movie role was in 1995 action thriller" Virtuosity" which also starred Denzel Washington. During the same period, Cuoco also made an appearance in TV shows like "My So-Called Life", "Northern Exposure" and "Ellen".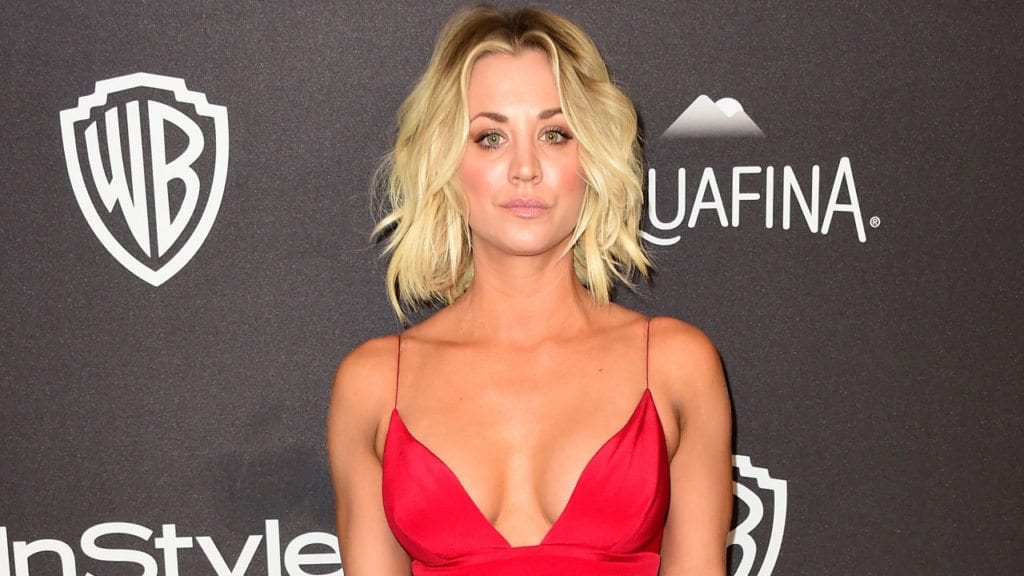 Earnings and Career Breakthrough
Kaley received much acclaim for her role in the TV film "Growing Up Brady" (2000). At 17, she landed her first major role in ABC sitcom "8 Simple Rules" which she starred for 76 episodes until its conclusion in 2005. While on the show, she also appeared in episodes of other TV shows like "Complete Savages", "10.5", and "The Help".
Kaley also kept up with movie roles appearing in "Crimes of Fashion" (2004), horror film "The Hollow" (2004) and romcom "Lucky 13" (2005). After the end of "8 Simple Plans", Kaley landed another major TV role in the final season of "Charmed" where she starred for 22 episodes.
Big Bang Theory Salary
Kaley's most lucrative TV endeavor so far is her role as Penny on CBS sitcom "The Big Bang Theory". The comedy series premiered on September 24, 2007. Initially, Kaley was the only female on the show before she was joined by Melissa Rauch and Mayim Bialik. TBBT as fans often calls it, improved in ratings by the year and was renewed for more seasons. Twice, the show has been renewed in a three-year deal, first in 2011 and second in 2014.
For the first season, Kaley received nearly $60,000 per episode totaling over $1 million for the 17 episodes of the first season. Kaley and her top co-stars quickly made it a routine to re-negotiate their contracts as the series progressed. Beginning from the fourth season, Kaley alongside her co-stars and highest paid TV actors Jim Parsons and Johnny Galecki received $200,000 per episode.
The stars struck another deal that saw their paycheck rise by an additional $50,000 for every subsequent season. That meant $250,000 per episode for Season 5, $300,000 per episode for Season 6 and $350,000 per episode for Season 7. The 7th season also came with a 0.25% bonus from backend and syndication profits.
In August 2014, prior to the 8th season premiere, Cuoco and her costars renegotiated their deal yet again. This time it was a record $1 million per episode for three subsequent seasons. The new deal made Caley and her co-stars the world's highest paid TV actors.
See Also: Olsen Twins Sister, Married, Husband, Dead, Parents, Family
For the record, only the stars of NBC sitcom "Friends" have been able to score a payday of $1 million per episode. Kaley bolsters her TBBT paycheck with a highly lucrative endorsement deal with commercial website Priceline.com. For the year 2015 and 2016, Kaley earned $28.5 Million and $24.5 million respectively, making her the second highest paid TV actress behind Sofia Vergara.
However, in 2016 controversy erupted when the stars looked to up their paychecks yet again threatening to quit the show. Kaley like most TV actresses occasionally takes up movie roles to shoulder her TV pay. Some of her recent movies include; "The Wedding Ringer" (2015) alongside Kevin Hart and a voice role in "Alvin and the Chipmunks: The Road Chip" (2015) which grossed $234.8 million on a $90 million budget.
A lot of guesses on the net worth of Big Bang Theory star Kayley Cuoco abound. After a thorough research, however, we can confirm that she's worth $51 million.
Kaley Cuoco Sister
Kaley has a sister named Briana Cuoco. Like her elder sister, Briana is an actress and making great waves in the entertainment industry. Born on November 29, 1988, she was raised in Camarillo together with Kaley.
In the entertainment industry, the Cuoco sisters are known to be very friendly, respectful and hardworking. In fact, the unmatched harmony, love and understanding that existed between the sisters were second to none. Perhaps, this was why hardworking Briana acted as her sister's personal assistant before she decided to take to Hollywood as well.
In addition to acting, Briana sings and dances. Her debut album titled 'Bluebird' has since hit the internet and has been getting satisfactory reviews from fans, especially on iTunes. She also auditioned for The Voice sometime in 2013.
Kaley Cuoco Boyfriend Husband, Divorce
Kaley has had her fair share of Hollywood romance, beginning with her co-star Johnny Galecki which lasted for two years.
After a couple of other flames, Kaley finally settled with Nassau-born professional tennis player Ryan Sweeting (born July 18, 1987) in September 2013. They got engaged and married on December 31 of the same year in Santa Susana, California. However, the pair mutually separated in 2015 and finalized their divorce in May 2016.
Thankfully a solid prenup ensured there was no wealth-splitting drama. Kaley paid Ryan $165,000 and another $195,000 to his two personal trainers. She also retained ownership of the $5.5 million Santa Barbara mansion they bought in 2014 from Khloe Kardashian.
According to sources, Kaley met her new California-based boyfriend Karl Cook while she was still married to Sweeting. However, she began making reference to her relationship with Cook, a professional equestrian, in March 2016 when she would upload gorgeous pictures of them together on her Instagram wall.
From falling in love to being her first relationship after divorcing Sweeting, Cuoco's love affair with hunky Cook (born December 25, 1990), billionaire Scott Cook's son, moved to the next level on her 32nd birthday, when her beau engaged her with a flashy diamond ring. They're yet to announce their wedding plans.
Weight, and Body Measurements
Height: 168 cm (5 feet 7 inches)
Weight: 57 kg (126 in pounds)
Eye color: Green
Bra Size: 32C
Cup Size: C
Shoe Size: 9 (US)
Dress Size: 6 (US)
Body Measurements: 35-24-36

Fact Check: We strive for accuracy and fairness. If you see something that needs updating,