Usually, when a person is born to influential parents who are famous in the society, and who are doing well in their career paths, the person is expected to bank on the popularity and fortune of his family and find success in life too. However, the case of Jess Brolin is quite the exception. Jess Brolin happens to be the son of James Brolin, a legendary American movie star who is regarded as one of the most successful actors in America. He is also a brother of Josh Brolin, another very famous Hollywood star, who has starred in some very big movies and TV series over the years. However, with all the big names he is associated with, Jess Brolin lives like an outcast.
So what happened to Jess? This is one question that many fans of the illustrious Brolin family have often asked over the years. How is it that Jess, who was fortunate enough to be born into a family that boasts of several hundred million dollars in net worth, lives as though he was born in a war-ravaged developing nation with nothing to call his own? Read on to find out interesting facts about Josh Brolin's brother, Jess.
What Jess Brolin's Early Days Looked Like
The exact day and month Jess Brolin was born are not known. However, we know that he was born in the year 1972. He was born in California and grew up with his family on a ranch in Templeton, California. Like we earlier mentioned, Jess was born into a star-studded family. His dad, James Brolin is a veteran actor who is respected for his work in Hollywood and has been in show-business for more than 50 years, while his mother, Jane Cameron Agee was an actress who also worked as a wildlife activist.
It is also known that Jess isn't the only child of his parents. He has an older brother named Josh Brolin. Josh is a famous movie star who has gained worldwide popularity for his portrayal of the Marvel Comics supervillain, Thanos, in Avengers movie series. He also has a sister, Molly Elizabeth Brolin, and a step-brother, Jason Gould.
Jess Brolin grew up surrounded by affluence and fame with all eyes on him and his siblings, considering the status of his parents as movie stars. However, even though his brother, Josh took an interest in acting and made a name for himself as a movie star of note, Jess did not fully follow in his parents' footsteps as he only had a brief stint in Hollywood.
Very little is known about his early days. The details of where he had his education remain vague, and what he does for a living is still unclear and being debated. What we do know is that Jess and his brother Josh were left heartbroken when their mother died in a car accident on 13 February 1995 some years after she got divorced from their father, James Brolin. Upon her death, she left Jess a 6-figure inheritance, putting some sunlight on his darkened days.
A few years after his mother's death, Jess is now a homeless man who lives on the streets. Even though his family is worth almost $500 million at the moment, Jess does not partake in their glory. So, what happened to him?
The Untold Story of Josh Brolin's Brother
Following his mother's death and his 6-figure inheritance, Jess Brolin moved to an $800 per month apartment in California. Not much is known about what he did with the staggering figure at this period, but according to some reports, he spent lavishly and eventually squandered the money from his inheritance and trust fund.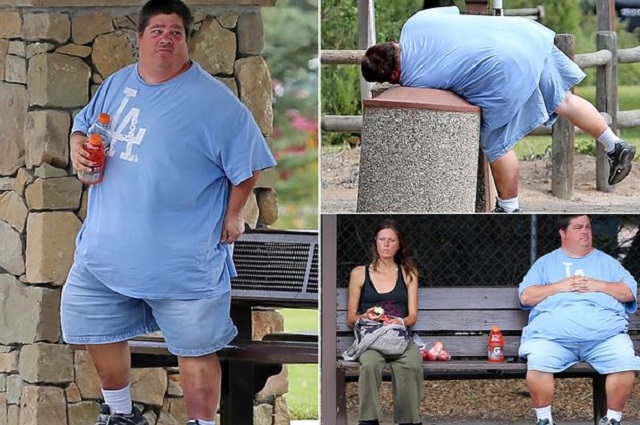 He was soon estranged from his illustrious family, and with nothing to fall back on, he was evicted from his $800 per month apartment in 2011. Jess Brolin consequently started living on the streets. According to some reports, he initially lived in a pickup truck before he eventually ended up getting obese and penniless on the streets of Ojai in California.
The question most people have asked is why his rich family has not come to his aid. Well, some sources have claimed that Jess's family has reached out to him many times, but he has turned down their help, preferring to live on his own on the streets. This has reportedly left the family quite distraught.
Sometime in 2014, pictures of where Jess Brolin was picking up something from the trash can went viral. Sadly, most people misinterpreted it and thought that the troubled young man was feeding on the trash cans because of his circumstances of being broke and homeless at that time. However, it was later revealed that he was only trying to pick up a bottle he mistakenly threw into the trash can for recycling when the picture was taken by paparazzi.
Jess Had A Brief Stint In The Movie Industry
Even though much is not known Jess Brolin's life, what is evident about his previous jobs is that he joined the entertainment industry soon after the death of his mother in 1997. Although not as an actor like his father and brother, but as an assistant sound editor, credited as J. Brolin in the 1997 mystery thriller movie, Shadow Dancer. He followed it up the same year by working as an uncredited assistant sound editor in Alex Simon's action film, My Brother's War. It was pretty clear that his father, who was the director and lead cast of the aforementioned movie, was trying to bring him into the movie industry by allowing him to work in the sound department of the movie.
It seemed his father's plan was perfectly working out when Jess Brolin was an uncredited post-production runner in the 1998 Rachel Samuel's action film, Running Woman. From 1999 to 2001, Jess worked in the editorial department of four movies. He worked as a post-production runner in Enemy Action (1999) and Mongsignor Martinez (2000), and as an uncredited post-production runner in Bring It On (2000) and The Jennie Project (2001).
As he adapted swiftly with his roles, things began to move favorably for Josh Brolin's younger brother as he featured as a production runner in twelve episodes of the 2001 TV series, Black Scorpion. Following his impressive contribution to the production team of the aforesaid TV series, Jess Brolin retained his services as a production runner in the film version of the series titled Black Scorpion Returns (2001), and its sequel, Sting of the Black Scorpion (2002). Unfortunately, that would be his last contribution to the movie industry.
Read Also: Kai Knapp – 6 Things To Know About Alexis Knapp's Daughter
Where is Jess Brolin And What is He Doing Now?
In 2018, it was reported that Jess Brolin was facing some health problems. The news emerged after Jess was seen walking around with some alarming sores on his legs. Some medical experts claimed he may soon be in danger of amputation if he does not get immediate treatment. However, his current health status is unknown, as Jess has not made any public appearance in recent times.
Furthermore, it was also alleged that Jess Brolin sleeps in vacant lots in a California community not far away from his illustrious family's millionaire showbiz home. At the moment, information about Jess's whereabouts and means of livelihood have been a subject of debate as he has managed to lead a private life, away from the snoopy eyes of the media. Perhaps, with time, the truth about his well being and means of livelihood will be made public.