Those who are familiar with Hannah Snowdon are most likely to have gotten to know her through a myriad of ways. Either through her marriage to the English rock band Bring Me The Horizon lead singer, Oliver Sykes or her career as a tattoo artist or her friendship with Anh Wisle.
Hannah's time in the public spotlight has been a revelation of her creativity through the tattoo shop she owns in Sheffield, England. The tattoo shop, which she interestingly named Black Sabbath, has made her a social media star of on her own with over 700 thousand fans on Instagram.
We took a detailed look at Hannah Snowdon's background, career and also gathered these six interesting facts you need to know about her. Scroll below to learn more.
Who is Hannah Snowdon?
Hannah was born Hannah Pixie Snowdon on the 19th of January, 1993 in Doncaster, Yorkshire England. Not much is known about her early life with the only available fact being that her parents are members of the medical profession, something she desired to be a part of when she was growing up. Hannah wanted to be a clinical psychologist.
Like a majority of children in the western world, Hannah attended and completed her education up to secondary school level before her love for tattoo art drove her into starting off a career as a tattoo artist. It all began at the age of 16 when she began to work for a tattoo shop named Holy Mountain to earn extra cash.
However, her talent as an artist which was evident through her drawings drew the interest of the resident tattoo artist in the shop and she was placed in a training program that eventually led her to own a tattoo studio of her own. Today, Hannah Snowdon is one of the notable names among tattoo aficionados in England, with her tattoo parlor, Black Sabbath being one of the most popular in the country.
As well as working on regular walk-ins, she has worked with celebrities, through which she met the man who became her husband for a brief period, Oliver Scott Sykes. With that brief look at her background, here are six interesting facts to know about her.
1. Hannah was married to Oliver Scott Sykes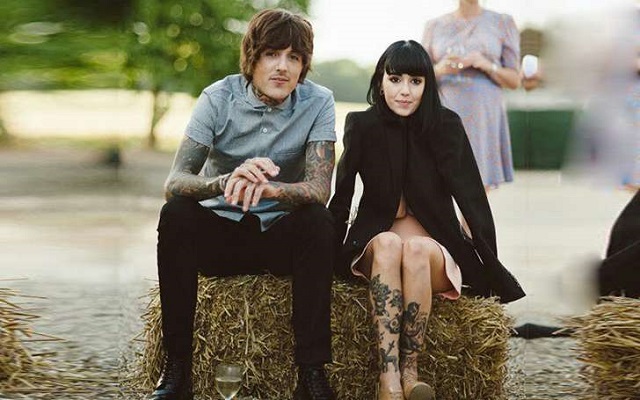 Let's pick it up from where we stopped and explore Hannah Snowdon's relationship with the Back to The Horizon lead singer. The two met sometime in 2012, and they began dating shortly. After about a year of dating, they got engaged on the 25th of December, 2013.
They were engaged for two years before they finally walked to the altar in the presence of friends and family in 2015. The ceremony was held in Tuscan, Italy. However, their wedding became the beginning of the end of their relationship and about a year after, the couple got divorced in 2016. The divorce is believed to have been as a result of Hannah's infidelity.
Since the marriage came to an end, Hannah Snowdon has moved on to new relationships. She previously dated a man named Mat Welsh and currently is in a relationship with a fellow tattoo artist named Guy Le Tatooer.
2. She is a dot tattoo specialist
Hannah's art style is what can be referred to as dot art and being excellent at it has made her quite famous particularly among tattoo fans. Her art style has been sought after by fans in her city and outside of it. She has also covered almost her entire upper body with her works.
3. She is a published author
Those who are invested in the stereotype of tattoo artists would be surprised to learn that Hannah Snowdon is a published author of not just one, but two books. She has co-written the books The Key Zine and The Balance Book in collaboration with her friend, Anastasia Tasou.
4. Hannah is also an activist
Simply put, if you are expecting Hannah to fit into your preconceived notion of a tattoo artist, you will be extremely shocked. Aside from being a published author, she is also an activist and philanthropist who has worked with some charity organizations. Most prominently, she works with Raksha Nepal, an NGO focused on tackling the exploitation of women and children in Nepal.
See Also: Lena Gieseke – Divorce, Facts About Tim Burton's Ex-Wife
5. She is an entrepreneur
Apart from earning money traveling around Europe and other continents for tattoo work, Hannah Snowdon is also an entrepreneur who sells merchandise. Her collection includes t-shirts, embroidered backpacks, and paintings.
6. Hannah is financially comfortable
A combination of her earnings as a popular tattoo artist and her income from merchandise sales has made Hannah Snowdon a woman with a net worth of $2 million. In addition to her two major sources of income, her social media standing, where she has over one million followers across all major platforms has also given her brand endorsements and ad revenue.