Grace Jones is a Jamaican singer, actress and a model who is best known for her striking personality, her chart-topping singles like "Slave to the Rhythm" and "Private Life". She is also admired for her impeccable acting roles in movies like "A view to a kill", "Wolf Girl" and more. This rebellious personality has been active in show business since 1973.
Born on May 19, 1948, in Spanish Town, Jamaica to a strictly religious family, Grace Beverly Jones was quite timid when she was growing up. Her father was Robert W. Jones, an Apostolic clergyman and local politician and her mother – Marjorie Jones died in early 2017. It is known that Grace's mother was a high jumper. She even qualified for Olympics but her father's church forced her to withdraw as she would be showing her legs.
Grace's skinny frame made her distinct. While she was attending Onondaga Community College in New York as a seventeen-year-old, she used her distinctiveness as an advantage to delve into modelling. After moving to Paris in 1970 and earning a huge success as a model, Grace appeared on the cover of many reputable magazines including "En Vogue", "Elle" and others.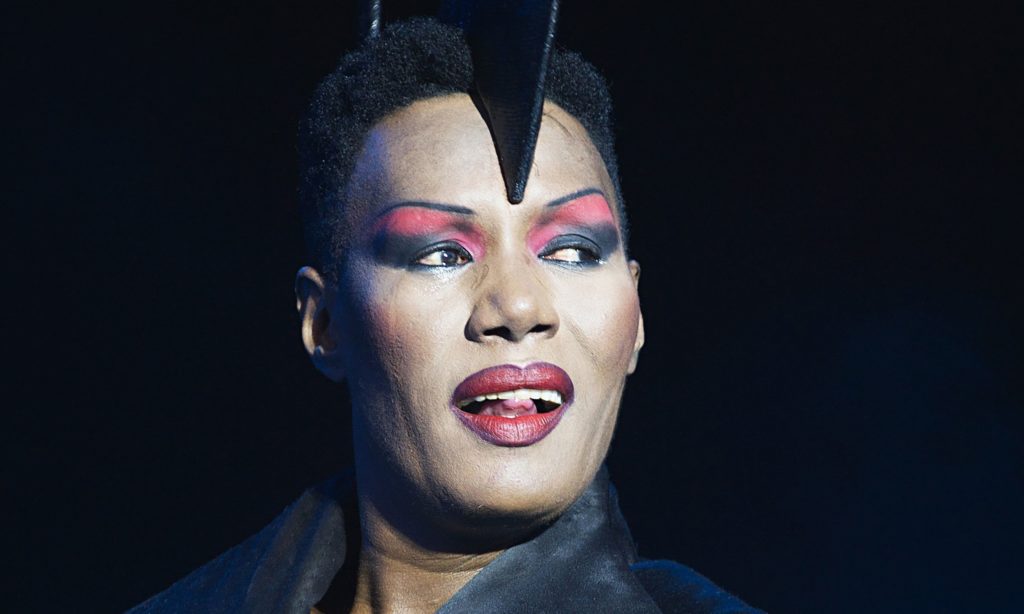 As of 1974, Grace had already found her interest in music. She signed to Island Records to release her debut album "Portfolio" in 1977. She found fame as a singer with her album "Nightclubbing" which released in 1981 and went on to be certified platinum and gold in different countries like Australia and Germany.
Grace Jones Movies
As she was enjoying her successful career as a singer, she also acted in television series like "Stryx", "BeastMaster" and more. A head turner everywhere she goes, Grace took a further step into acting and attracted the attention of big shots in the industry when she appeared in 1073's movie – "Gordon's War".
She would later show her prominence in acting as she starred in movies like "Siesta", "Vamp", "Conan the Destroyer" and many other movies which include: Deadly Vengeance (1981), A View to a Kill (1985), Straight to Hell (1987), Boomerang (1992), Cyber Bandits (1995), McCinsey's Island (1998), Palmer's Pick Up (1998), Wolf Girl (2001), No Place Like Home (2006), Falco – Verdammt, wir leben noch! (2008), Gutterdämmerung (2016), among others.
See Also: Garbine Muguruza Tennis Career, Partner and Boyfriend
Grace Jones' Total Net Worth
Grace became successful even as an actress making her a complete performer. All these projects helped her make her earnings bigger and bigger with time.
Initially, her modelling career gave her financial success which she expanded with her singing and acting gigs. The earnings from her hit movies like "Boomerang", "Straight to Hell" and many other movies; as well as those from her hit songs like "Roll Up The Bumper", "I've Seen That Face Before" and others added excessively to her income making her a multi-millionaire.
Currently, this multi-millionaire diva lives a fabulous life with her son in New York where her daily lavish is rendered is made possible by her financial capability that amounts to $7 million at present. Moreover, given her trendsetting style and striking performing art, Grace has also been honoured with a Q Idol Award.
Height and Body Measurements
How tall is Grace Jones? What is the size of her hips? Many people look at this established model, actress, and singer hoping to find answers to questions similar to the foregoing. Well, here are the things we know about Grace's body structure.
Height: 5' 8" (173 cm)
Weight: 121 pounds (55 kg)
Chest: 34" (86 cm)
Waist: 24" (61 cm)
Hips: 35" (89 cm)
Bra size: 34A
Shoe size: 11 (US)/ 41 (EU)
Hair colour: Black
Eye colour: Dark brown
Read Also: Danica McKellar Movies, Age, Bio, Married Life
Her Personal Life
Talking about this diva's personal life, Grace has been married twice in her life but currently is single as both her marriages ended in divorce. A mother to a son, Grace has been credited as the inspiration of other famous artists of this generation such as Lady Gaga, Rihanna, Santigold and many others.
Grace Jones met Jean-Paul Goude – the father of her son in 1977. The French photographer, who was also a director was magnetized by her charm and sexuality. Not too long after that, their initially professional relationship became a romantic one which would result in the birth of her son, Paulo in November 1979.
It is known that she dated her Swedish bodyguard, Dolph Lundgren for three years – between 1983 to 1986 before they eventually broke up. Also, she dated actor Chris Makepeace, whom she grew fond of after their acting roles together in the 1986 movie "Vamp". It was even rumoured that she had a threesome with Chris and his brother on set.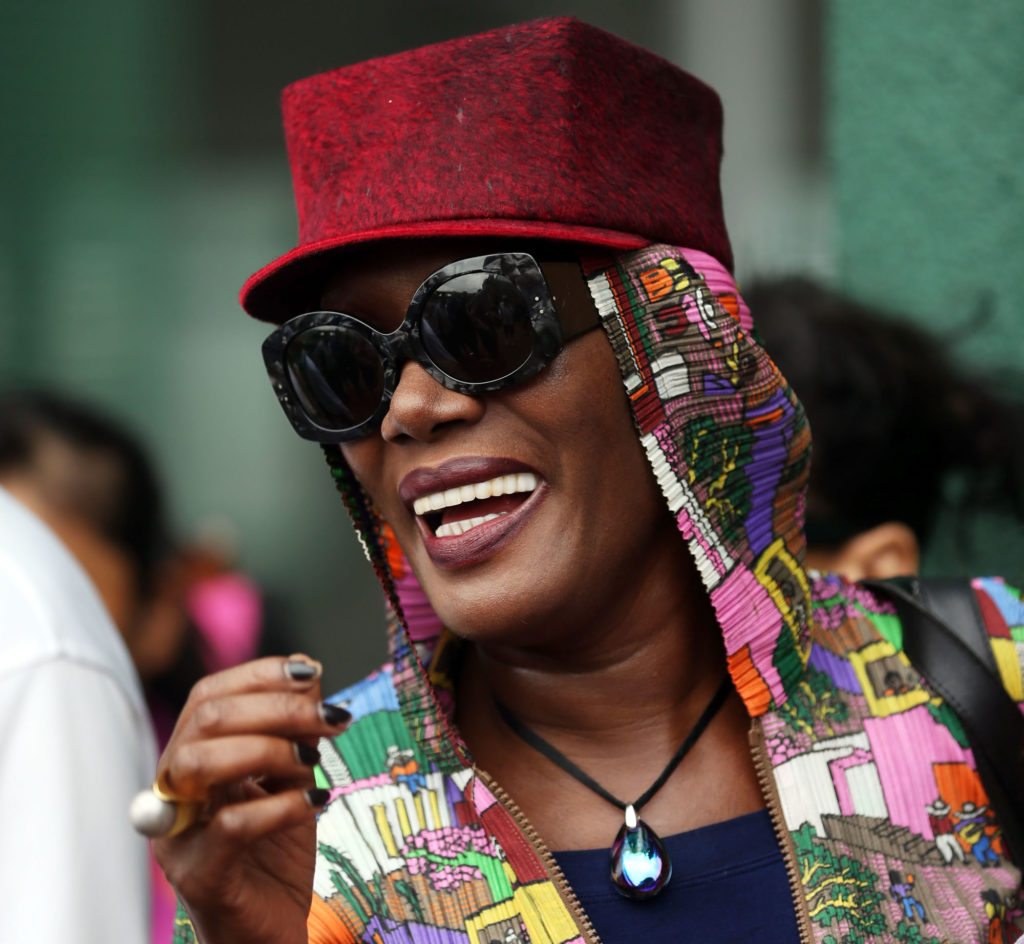 Grace Jones was also said to be married to Chris Stanley, a producer in the late 80's. She denied that any such marriage ever took place in her memoirs, 'I'll Never Write My Memoirs'. However, in 1996, she got married to her Turkish bodyguard, Atila Altaunbay. The marriage didn't last long as he (Atila Altaunbay) could not handle his wife's open lifestyle and so threatened her with a knife to her neck at which point Jones decided she had had enough and left the marriage even though they were not officially divorced.
Read This: Angelina Jolie Age, Cancer, Tattoos, Height
Next on the list was Danish actor, Sven-Ole Thorsen. It is believed that she had an open relationship with Thorsen. Nevertheless, the star never confirmed or denied the claims. That's not all, Grace also dated music producer, Ivor Guest between 2006 and 2008 before being seen with the world-renowned director, Quentin Tarantino in February 2014.
Quick Facts about Grace Jones
Full Name: Grace Jones
Profession: Model, singer, actor, songwriter, musician
Height: 5ft 9 in
Ethnicity: Jamaican, American
Nationality: Jamaican
Date of Birth: May 19, 1948
Place of Birth: Spanish Town, Jamaica
Marital status: Divorcee
Astrological sign: Gemini
Grace Jones Net Worth: $7 million