Gene Simmons is an Israeli-American musician popularly known as the front man of rock and roll band KISS which he co-founded in the 70's. Aka The Demon, Simmons is also a record producer, actor, TV personality and entrepreneur and his net worth is estimated at $300 million.
Gene Simmons Net Worth: Brief History
Gene Simmons was born Chaim Witz on August 25, 1949, in Haifa, Israel to parents of Hungarian descent. He grew up dirt poor with his mother Flora Klein after his father left the family shortly after his birth as a result of financial disputes. Gene's mom earned enough money from her job at a coffee shop and migrated with Gene, aged 8, to the United States where they lived with relatives in Flushing, Queens, New York. Gene who was already fluent in Spanish, Turkish, Hungarian and Hebrew also learned to speak English with the help of TV and comic books. He then changed his name to Eugene Klein and later Gene Klein, adopting his mother's maiden surname because it sounded more American.
Gene Simmons Net Worth: How He Began His Music Career
Gene's interest in music developed after watching a video of the boy band "The Beatles" where the girls screamed joyously at them. Seeking the same interest from girls in his school, Joseph Pulitzer Middle School in Jackson Heights, he formed a band named "The Missing Links" with a couple of friends. And it wasn't long until his wish came true; the band became the talk of the school after they won a local talent competition.
After The Missing Links disbanded, Gene joined another band named The Long Island Sounds. Gene combined music and education and also worked a number of odd jobs to earn some money. He studied education at Sullivan County Community College and transferred two years later to Richmond College where he graduated with a degree in education.
Gene formed yet another rock band named "Wicked Lester" with his childhood friend and they were soon joined by guitarist Paul Stanley who at the time went by the name Stanley Eisen. In order to bolster the earnings his band made from playing in night clubs, Gene took up a teaching job as a 6th-grade teacher in Spanish Harlem. This was followed by a stint with Puerto Rican Interagency Council. He also worked as a deli cashier and an assistant to editors at Vogue and Glamour Magazines. Gene at this time also changed his name to Gene Simmons.
Gene Simmons Net Worth: Wicked Lester Success And KISS
Wicked Lester got lucky when Ron Johnson, head of Jimi Hendrix's studio decided to record a demo tape with them. Soon they landed a record deal with Epic Records but unfortunately, after spending over a year to prepare an album, Epic was dissatisfied with the outcome and dropped them from their roster.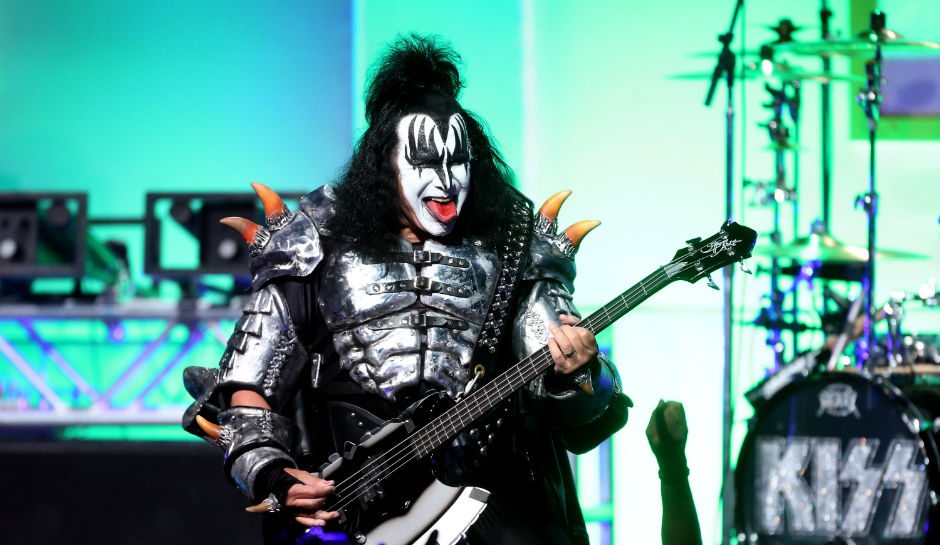 Undeterred, Simmons and Stanley reshuffled the band to include drummer Peter Criss renaming it to KISS. KISS soon found fame and built a following known as KISS Army thanks to their all black outfit and outrageous signature makeup inspired by comic book characters. KISS was characterized by vigorous and wild live performances where Genne would often spit fire and in other times blood from his mouth.
Their major breakthrough came with the release of their live album Alive! (1975) which spawned the hit single "Rock and Roll All Nite". The album today has been certified quadruple platinum. KISS toured extensively throughout the 70s and their subsequent albums Destroyer (1976), Rock and Roll Over (1976) and Love Gun (1977) were all certified platinum making them the most popular band in the US.
In the 80's their popularity began to wane as a result of series of controversies among the band mates but after a revamp, KISS made the comeback in 1983 when they began performing unmasked and with less drama.
KISS went on to break commercial records set by The Beatles and Elvis. In 1996 after going back to their make-up and comic costume look, they were named the top concert act of the year grossing $43.6 million. They have sold over 100 million albums worldwide, 40 million of which is in the US alone. The band still performs and tours as of 2016.
Gene Simmons Net Worth: Other Endeavors
In the mid 80's Simmons branched out into Hollywood and took up starring roles in movies such as Runaway (1984) and "Never Too Young to Die" (1986). He also began making cameo appearances in a numerous TV shows. His own reality TV show titled "Gene Simmons Family Jewels" which chronicled the personal life of his family including his wife Shannon Tweed and two children premiered on August 7, 2006, on A&E. The series ran successfully for 7 seasons ending on July 14, 2012, earning Gene $125,000 per episode.
Gene Simmons is also actively involved in a number of businesses including the Kiss Coffeehouse in Myrtle Beach, KISS Golf Course in Las Vegas and film production company Erebus Pictures. He is also in partnership with "Rock And Brews", a global restaurant chain.
Also his KISS band has licensed their name to over 3,000 product categories including comic books, condoms, credit cards, fragrances/cosmetics, lunchboxes, toys numerous games and a plethora of others. Even when KISS is done touring Gene Simmons won't be anywhere near broke.
See Also: Prince Net Worth At The Time of Death