Deion Sanders is a retired football and baseball player and currently a sports analyst. His net worth is $40 million.
Sanders was born on August 9 1967 in Fort Meyers, California. While at North Fort Meyers high school, Sanders aka Prime Time was a letterman in a number of sports including football, baseball, and basketball. He continued through Florida State University adding track to the list. He was recognized twice as an All-American in football
Deion Sanders Net Worth: Baseball
Deion's professional career in baseball began in 1989 and spun 9 years. He signed with the New York Yankees after they selected him in the Major League Baseball Draft in 1988. He also played for teams like the Atlanta Braves, the San Francisco Giants, the New York Yankees, and the Cincinnati Reds. He participated in the 1992 World Series with the Braves.
During the 1989 season, he became the only player to hit a homerun in the MLS and score a touchdown in the NFL the same week. Sanders is the only player who has participated in both the Super Bowl and World Series.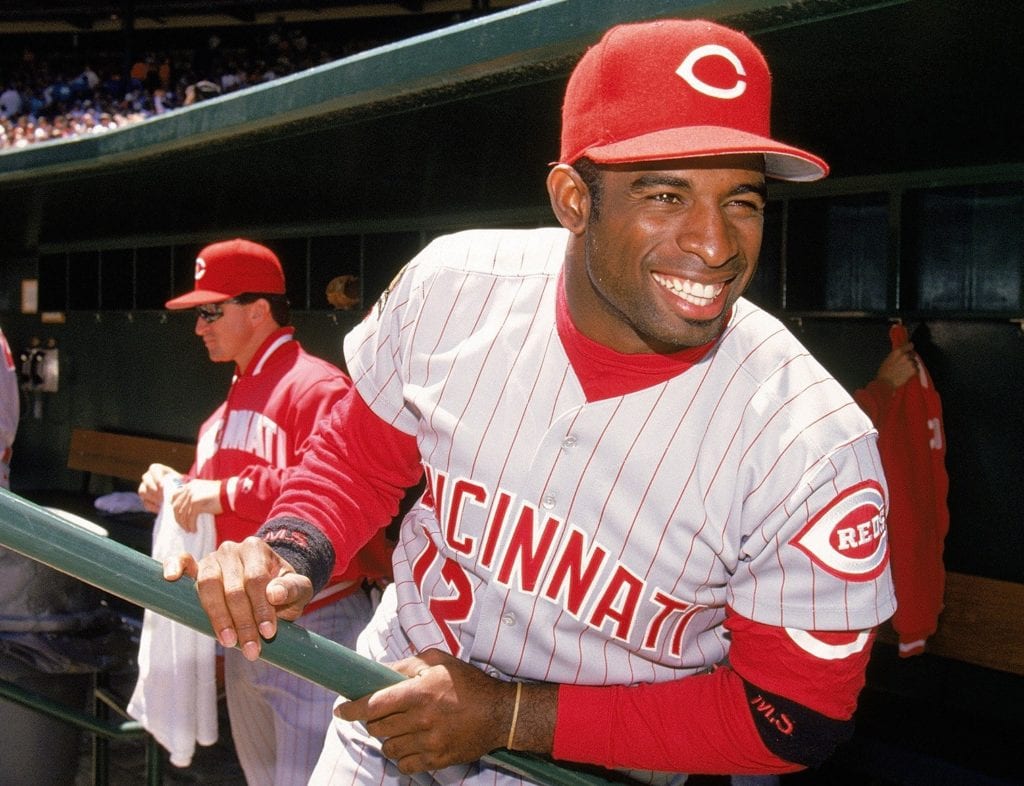 Deion Sanders Net Worth: Football
Deion was versatile by many standards, he played various positions including cornerback, kick returner, punt returner, and wide receiver and also for various teams including San Francisco 49ers, the Washington Redskins, the Atlanta Falcons, the Dallas Cowboys, and the Baltimore Ravens. He won the Super bowl with the 49ers and the Dallas Cowboys. Between 1991 and 1999, he was selected to 8 Pro Bowls. He was named the NFL Defensive Player of the Year in 1994.
See Also: Peyton Manning Net Worth
Here is a breakdown of how much Deion made from his various teams throughout his 14-year footballing career;
Atlanta Falcons (1989 – 1993 5 seasons): $880,000 per season
This was the beginning of Sanders' professional NFL career as well as his professional baseball career
San Francisco 49ers (1994 – one season): $1.25 million
This was Sanders' best season in his career. He led the team to their 5th Super Bowl title, which also made them the first team to ever do so.
Dallas Cowboys (1995-1999 5 seasons): $7 million per season
He signed to the Dallas in a 7 year contract for $35 million. He helped the team win their third Super Bowl title in 4 years.
Washington Redskins (2000 one season): $3.2 million
He played one season with the Redskins before retiring the next year in 2001.
Baltimore Ravens (2004 – one season): $1.8 million per season
After three years of staying retired, Sanders returned to the NFL and signed a one year contract deal with the Ravens. He played for two seasons before retiring in 2006.
During his athletic career, Deion had endorsement deals with companies such as Pizza Hut, Century 21, American Express, VISA, Sega, Nike, and Monitronics, a security company. He also released an album titled the Prime Time (1994) and The Encore Remix (2005), wrote a book titled "Power, Money and Sex: How Success Almost Ruined My Life."
Deion Sanders Net Worth: Sports Analyst
After his second and final retirement in 2006, Deion began working as an analyst for NFL network and CBS Sports. Sanders was inducted into the Football Hall of Fame in 2011. He was an alumni captain for Team Sanders in Pro Bowl 2014. He has also gained fame with the pop culture appearing in a number of reality TV shows and hosting many award events including the Miss USA Pageant in 2002.
Prime Time as coached and mentored NFL players who have turned out to become world-class, one of such is Devin Hester. He is the owner of Arena Football team Austin Wranglers. His show "Deion Family Playbook" began airing in 2014. He has 6 children from two failed marriages.