Age/Date of Birth:

February 20, 1963
Height:

6feet, 6inches (1.98 m)
Ethnicity/Race:

African-American
Nationality:
American
Wife or Girlfriend:
Maureen Blumhardt
Parents:
Father: Frank Barkley
Mother: Charcey Glenn
Net Worth:
$40 million
Charles Barkley is famous for being one of the most phenomenal American basketball players of all time. As an NBA player, he was nicknamed "Chuck," "Sir Charles", and "The Round Mound of Rebound. Now retired, Barkley didn't completely abandon the sports, instead, he continued working as a TV sports analyst for a TNT post-game show, Inside the NBA. The outstanding NBA analyst appears on the show alongside other NBA superstars, including Kenny Smith and Shaquille O'Neal.
During his 16-years professional Basketball career, Charles was popular in the courts but is probably, more famous for his refusal to be regarded as a model. He sparked a national debate when he did a Nike commercial asserting that athletes are not role models. Discover more interesting facts about Charles, his net worth, and family life below.
Meet Charles Barkley's Wife and Kids
The Retired Basketball Player Is Married To A Former Model
Name: Maureen Blumhardt
Date of Birth: 15th of January 1960
Occupation: Former Model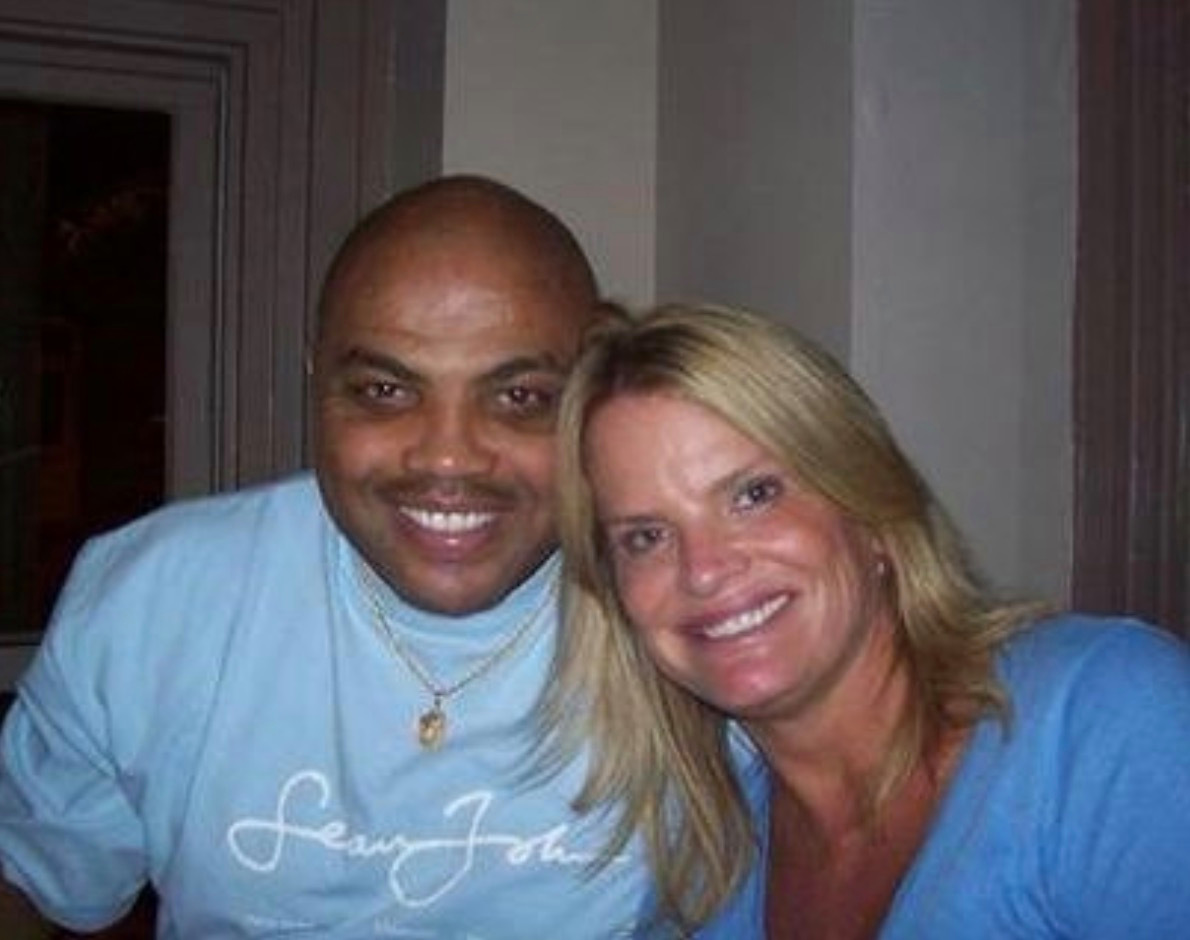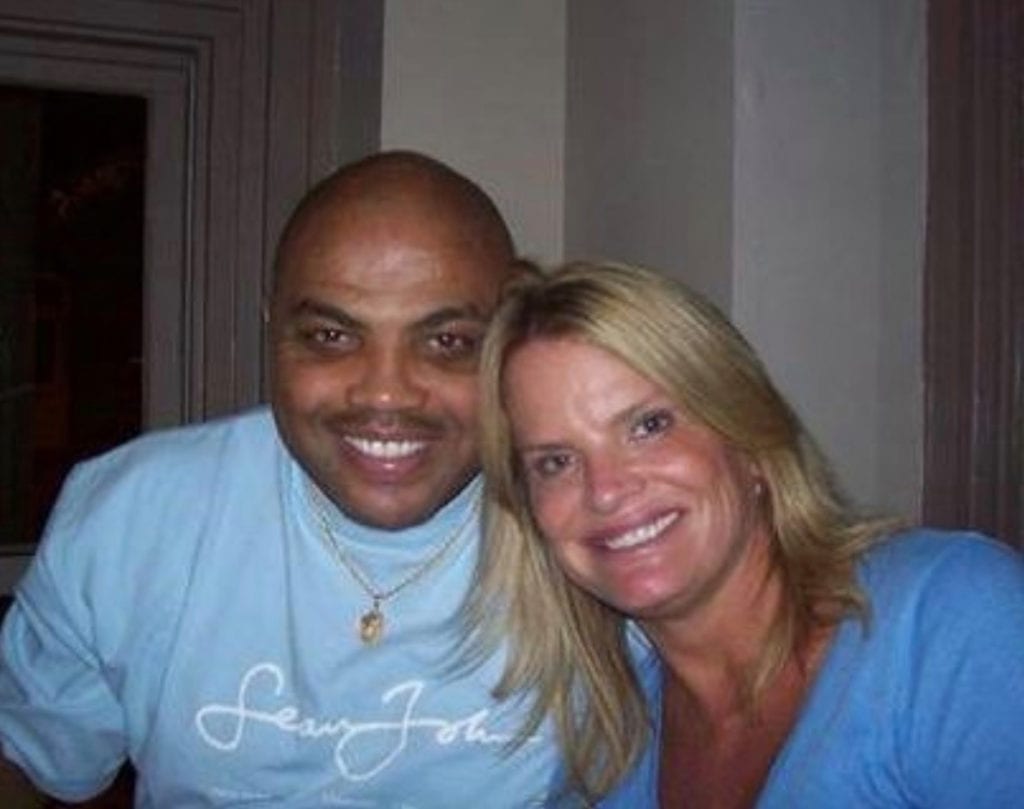 Charles Barkley is one man that needs no introduction, even among people who are not basketball fans, as he has been a regular name on the headlines for many years, thanks to his bizarre comments on practically everything. But while he has mastered the art of not letting issues pass without him commenting on them, there is one thing he hardly talks about – his wife, Maureen Blumhardt. Lots of people know very little or nothing about his significant other or even how she looks since they are not often pictured together publicly.
However, we have dug up some information about the former basketballer's wife that will interest you. Charles Barkley's wife, Maureen, was born on the 15th of January 1960. She is a former model and honorable member of the Fresh Sart Women's Foundation. She tied the knot with Charles in 1989, not too long after they met at City Avenue, a restaurant located in Pennsylvania. Not wanting their wedding to be a public affair, the couple got married privately in front of a judge. Meanwhile, at the time they met, Maureen was reportedly working in Buck County as a legal aide and model, promoting Noblerex K-1, while Charles was playing for the 76ers.
Although she is very much less out there than her husband, Maureen, unlike Charles, is a bit active on social media. She joined Twitter in August 2011 and has 1,713 followers as of October 10, 2020. On her Twitter account, Maureen interacts with fans from time to time, sharing tidbits of conversations she has with her husband. This is often followed by reactions from her followers who usually comment on how funny she is and appears to be just as humorous as her husband.
Speaking to The Philadelphia Inquirer, Charles Barkley and his wife opened up on how their lives have changed since they got married. According to the former basketball player, he now spends more time doing chores at home than he does on the golf course. His wife also disclosed that her husband is someone who always wants things to be clean and orderly. "Last week, Charles got up in the middle of the night and started vacuuming. I told him he was going a little overboard," she said.
Charles and His Wife Has Only One Daughter Named Christiana
Name: Christiana Barkley
Date of Birth: 1989
Occupation: Unknown
Later in 1989, Charles Barkley and Maureen Blumhardt had a baby daughter who they named Christiana. All grown now, Christiana had her university education at Villanova University from 2007 to 2011, and upon her graduation from there, she decided to further her education at Columbia University from where she finished in 2017 with a master's in journalism. However, she is not known to be working as a journalist/reporter in any media house in the United States and might be working in an entirely different industry but as it stands now, there is no information about her professional life.
Just like her father, Christiana is a big fan of basketball. Speaking to USA Today in 2016, Charles Barkley, who was seen cheering for Villanova, his daughter's alma mater, during an NCAA title game against North Carolina 77-74 on the night of April 4th, said it was because of his daughter. According to him, Christiana had lived and died with every game played for three weeks before the 4th, and she had been going to Villanova bar in NYC to watch every game because she didn't want to attend the live game in order not to bring bad luck on her team. Thank goodness the Wildcats eventually won.
The Barkley's marriage is said to be one of the happiest among NBA players. Even though it is widely known that Charles and Maureen have only one daughter, Christiana Barkley,  it has been circulated a handful of times that they have other kids. But then, there are no reasons to believe the story as there was no proof to back it up. The family lives together in Scottsdale, Arizona.
This Is How Barkley Earned His Net Worth Of $50 Million
Earnings From His NBA Career
During his active playing days in the NBA, Barkley's had a career earning of over $40.3 million, which he made from his salary alone. According to Spotrac, the star player received a total salary of $307,000 in his first season with his draft team, the Philadelphia 76ers during the 1984-85 season. However, the figures increased in the years that followed. In the 1985-86 season, Charles was paid a total of $437,500 and this was followed by a salary of $822,500 in the next season.
During the 1988-89 campaign, the former basketball player's salary rose to $1,536,000 and subsequently ended at $2,900,000 in his final season with the 76ers. Judging by these figures, Sir Charles, as he is nicknamed, amassed a total salary of $9,203,000 during his six seasons with the 76ers.
In the 1992-1993 NBA season, Barkley was traded to the Phoneix Suns and he played with the team for four season. In addition to being his most successful seasons as a basketball player, his time playing for the Suns also proved to be his most rewarding financially. In his four years with the team, he made more than $14 million, beginning with a salary of $2,420,000 in his first season, $3,250,000 in his second season, $4,030,000 in his third season, and ultimately $4,760,000 during the 1995-96 campaign.
Charles Barkley spent his last four years in the NBA with the Houston Rockets. Although it was his least productive years as a professional basketball player as a result of several injuries he suffered and a decline in his skills, he still made $16,945,000 in those years. His salary with the Rockets began at $4,695,000 in the 1995-96 season, reduced to $2,250,000 in the next season, and shot up to $1,000,000 during the 1998-99 campaign. In his final season with the Houston Rockets, Charles earned $9 million as salary, his highest pay all through his career.
In total, the former basketball champion earned $40,608,000 all through his 14 seasons in the NBA.
Endorsement Deals
In addition to being known as a fierce competitor on the court and making a bulk of his net worth during his playing career, Sir Charles has also earned millions of dollars through his endorsement deals with several big brands both during his active playing days and after his retirement. As an active player, he worked with the deodorant company Right Guard from 1991 to 1996, appearing in print and television commercials for the brand's product, Right Guard Sport Stick antiperspirant and deodorant.
He also featured in a TV commercial for McDonald's, with Larry Bird in 1995 and also for Charles Schwab, Inc. and schwab.com in 2000. The following year, Charles starred in a television ad for AT&T dubbed the "1 800 CALL ATT Ultimate Fan Experience," which aimed at offering consumers an opportunity to win a trip to the NBA All-Star Game every time they called through 1-800-CALL-ATT in January 2001.
Although he had endorsement deals with some big companies, none was bigger than Nike. Charles' professional basketball career was in top form at a time when basketball stars, including Michael Jordan, were being signed to be the face of the brand. Being one of the strongest forces in the league at the time, Charles was also signed in 1993 and he starred in a Nike commercial titled Godzilla vs Barkley.
While working with TNT, Barkley began teaming up with Dwayne Wade during the peak of his career and together, they starred in a series of commercials. Sir Charles has also appeared in a number of ads for Capitol One alongside popular director and Hollywood star Spike Lee and Samuel L. Jackson respectively.
In 2010, the former basketballer was endorsed by Taco Bell restaurant and he featured in a series of commercials promoting the fast food company's then-new specials. The following year, he was made a spokesperson for WeightWatchers weight-loss program and was obviously a right choice for the endorsement considering the fact that he has had issues with his weight over the years. However, he reportedly lost 42 pounds after he teamed up with the brand. Featuring in what appears to be his most shocking and hilarious commercial, Charles was seen dressed like a woman as he promoted the company's "Lose it Like a Man" program, appearing in both TV and online ads.
Known to be a lover of fast food, Charles Barkley once confessed to eating McDonald's while on a training bike during his time with the Philadelphia 76ers. It therefore, was not so much of a surprise when the fast-food giant got him to do a commercial for them in 2018.
Though Famous As An Athlete, Sir Charles Has Also Acted In Films
Charles Barkley appeared as himself in the 1996 animated sports comedy film "Space Jam". The movie, made with an $80 million budget, became a huge commercial success as it made $90,418,342 in the US and Canada, and $140 million in other countries, for a worldwide total of $230,418,342.
The basketball star also appeared briefly in the third season of the fifth episode of the television series "Suits". He also featured in season eight of the TV mockumentary family sitcom known as "Modern Family". Additionally, he is the voice behind the animated version of himself in the series "We Bare Bears". Most recently, Charles played the role of a gym instructor and alien conspiracy theorist in 2019 in "The Piña Colada Song" episode of "The Goldbergs".
"Chuck" Is Also A Writer
In 1991, Barkley got involved in his first published work, an autobiography titled Outrageous!: The Fine Life and Flagrant Good Times of Basketball's Irresistible Force, which he wrote in collaboration with sportswriter Roy S. Johnson. Nine years later, the athlete wrote the foreword for Sports Illustrated "back page" columnist Rick Reilly's book titled The Life of Reilly.
In 2002, Charles Barkley released his second book I May Be Wrong, But I Doubt It and in 2005, he followed it up with the release of Who's Afraid of a Large Black Man?, which comprises of interviews with popular figures in different sectors, including entertainment, government, sports, and business.
His Turner Network Television (TNT) Career Brings Him Millions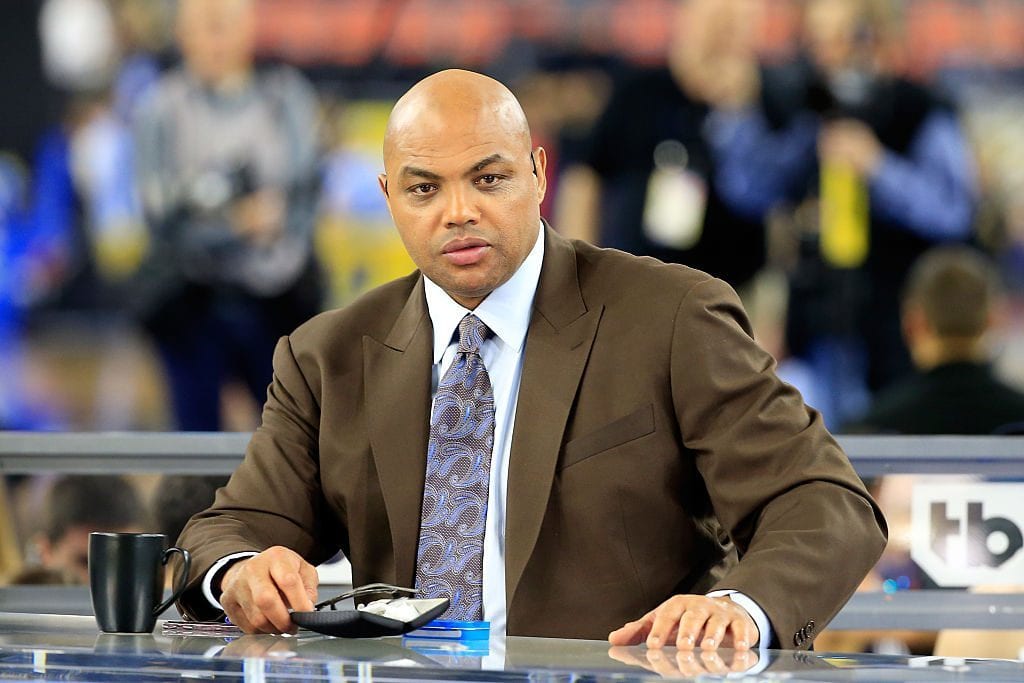 Post-NBA, Barkley's outspoken and jolly personality earned him a berth as a sports analyst on TNT's Listen Up, and later, on the NBA-focused "Inside the NBA" alongside Shaquille O'Neal. According to Celebrity Net Worth, he earns an annual salary of $6 million from TNT.
Thanks to his hardworking spirit, the retired basketball player still has a lot going on with him financially, and as a result, he currently has a net worth of $50 million.
Highlight of Barkley's Income Sources
Career earnings
Endorsement deals
Acting
Book Writing
TNT career
Charles Barkley's Financial Losses
Although Charles has made a lot of money from various sources, his net worth would have probably been a lot more than it currently is if he had not made some wrong financial choices and gotten involved in gambling. See the details below.
The NBA Legend Has Lost Million Of Dollars Through Gambling
Charles Barkley's gambling escapades are common knowledge as he has been very open about it. During an interview with Trey Wingo of ESPN in 2007, he made a shocking revelation saying that he had lost roughly $10 million through gambling. Additionally, he also confessed to losing the sum of $2.5 million within six hours while playing the card game known as blackjack.
Even though Barkley does not hide his gambling issues, he claims it is not something serious as long as he can fund the habit. "It's not a problem. If you're a drug addict or an alcoholic, those are problems. I gamble for too much money. As long as I can continue to do it I don't think it's a problem", he told fellow TNT broadcaster Ernie Johnson. He, however, admitted that it was a bad habit but also made it clear that he was going to keep indulging in it.
In 2008, Charles changed his mind about continuing his gambling lifestyle after he paid a $400,000 debt he owed the Wynn Las Vegas casino for about eleven years. He paid the debt after the casino sued him in May 2008 and afterward, he disclosed his decision to quit gambling during a pregame show on TNT. According to him, "I've got to stop gambling…I am not going to gamble anymore. For right now, the next year or two, I'm not going to gamble… Just because I can afford to lose money doesn't mean I should do it."
In 2015, the former NBA player sat for an interview with Seth Davis of Campus Insiders and opened again about his gambling habit. When questioned about his two-year break, he seized the opportunity to shed some light on how bad it became, projecting that he might have lost a million dollars at 30 different times. "I went to Vegas a bunch of times and won a million dollars. Probably 10 times. But I've also gone to Vegas and lost a million probably three times as much," Barkley told David, however, he said, he was not worried about his addiction to gambling.
He went on to explain that he had planned on winning a million dollars on every trip to Vegas before he took a break from gambling, but it usually resulted in huge losses. This eventually taught him to quit gambling when he is ahead. He has also learned to stop when he is down $200,000 and can still have a good time. "You know", he said, "It's like anything, if you do it in moderation it's alright. And now with my gambling, 'cause I love it. I love the action, I love the juice. But I just learned to do it in moderation."
He Made Headlines In 2019 After Lossing $6.15 Million To His Longtime Friend
In February 2019, the NBA Hall of Famer said that he lost not less than $4 million to Donald Watkins, his longtime friend and business associate, through investment fraud. Watkins and his father Donald Watkins Sr. were indicted in 2018 and charged with bank fraud, wire fraud, as well as conspiracy to commit those crimes.
Barkley and other professional athletes paid millions of dollars to the father and son with the belief that they were investing in a biofuels company called Masada. As alleged in a lawsuit filed by the Securities Exchange Commission (SEC), Barkley and other investors were tricked into believing that Masada was a billion-dollar company and was about to be sold to Waste Management. But it turned out that Watkins only used the so-called company as a front to receive money from unsuspecting investors in order to clear off some personal expenses and debts.
Testifying in court on February 22, 2019, Barkley's former financial adviser, Glenn Guthrie, revealed that his former client made an investment of over $6 million in total with Watkins. As reported on AL.com, documents shown in court revealed that Barkley Enterprises "made seven investments or loans with Watkins Sr. and his various companies, totaling $6.15 million". The payments were said to have started in 2007 and ended in 2014 but unfortunately, Barkley never got back any of the loan payments or investments.
In a deposition, Barkley expressed shock over the outcome of the investment which he made based on the trust he has in Donald. "I consider that Donald has always been a friend to me and this whole situation is really unfortunate. Because I've lost a lot of money", he said.
A Quick Look at Charles Barkley's Early Days in Alabama
Charles was born on February 20, 1963, in Leeds, Alabama. At Leeds high, he showed interest in basketball in his junior year but didn't get a spot on the starting varsity team until his senior year as a result of his height. Barkley didn't quite come across as the college prospect partly due to his late start to an active high school basketball career. However, he continued to work hard, leading his team to the state semis, where his outstanding performance against Alabama's top player, Bobby Lee Hurt attracted the attention of Auburn University's assistant head coach, Sonny Smith. During the game, Chuck scored 29 points. In 1981, Barkley would go on to attend Auburn University majoring in Business Management.
Barkley became even a more successful collegiate basketball player despite his rather short height. He compensated for his flawed statue with increased athleticism and passion for the game. Barkley was known for his garish display of skills, especially with the dunk and rebounds, which soon earned him the nick "The Round Mound of Rebound." During his three years (1981-1984) collegiate career at Auburn, Charles Barkley received several awards, including the Southeastern Conference (SEC) Player of the Year in 1984, 3 selections for the All-Sec, as well as being named in the All-Century Team.
His Exploits As An NBA Superstar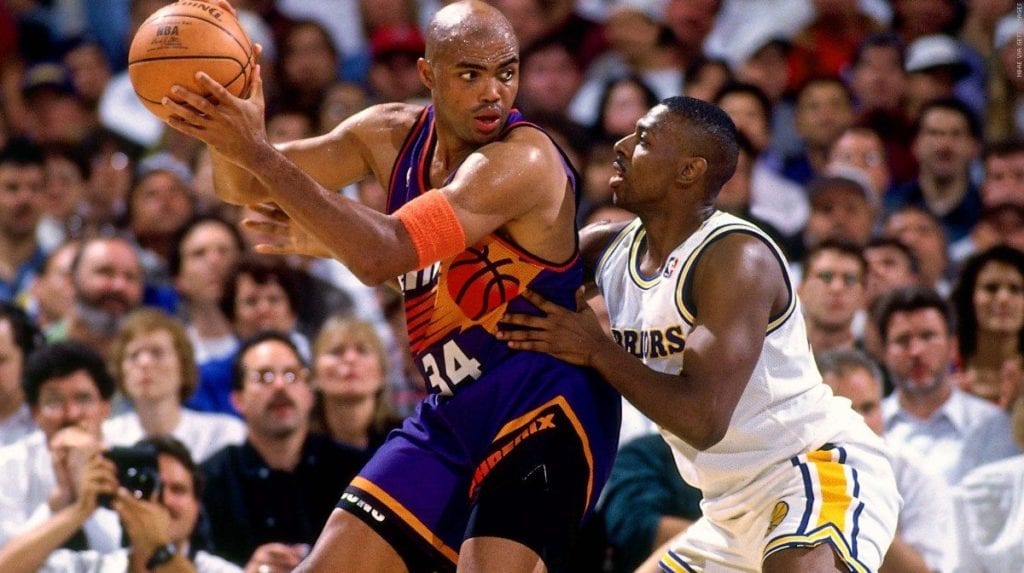 Barkley's unqualified body stats was not a worry for the Philadelphia 76ers who selected him in the NBA 1984 draft. He was picked in the 1st round as their fifth choice. Barkley soon learned to control his weight and improve his game with veteran teammate and three-time MVP, Moses Malone, as his guide. His average 14.9 points and 11.1 rebounds per game was enough to earn him a berth on the NBA All-Rookie Team. His improved performance in the second year (1985/1986) earned him a berth on the All-NBA Second Team.
The departure of star teammates like Irving and Malone eventually paved the way for Charles Barkley's rapid rise to stardom. However, his 6-year career with the Sixers ended after the 1991/1992 season. Barkley's NBA career was characterized by his controversial outspoken nature, which got him into trouble more often than not. He was among the gold-winning USA Team for the 1992 and 1996 Summer Olympic games.
Barkley continued his NBA career with the Phoenix Suns (1992-1996) and ended it with the Houston Rockets (1996 – 2000). One of NBA's most dominating power forwards, Barkley made it to the All-NBA First Team 5 times and the NBA All-Star team 11 times. More to that, he was the All-Star MVP in 1991 and the NBA league MVP in 1993. He ended his career as the fourth player in NBA history to achieve 20,000 points, 10,000 rebounds, and 4,000 assists.
Profile Summary
First Name:
Charles
Last Name:
Barkley
Also Known As:

Chuck, Sir Charles
Sex/Gender:

Male
Profession:

Basketball Analyst, Former professional basketball player
Famous For:
One of NBA's most dominant power forwards
Colleges/Universities Attended:

Auburn
Educational Qualifications:

N/A
Religion:

Unknown
Birthday & Zodiac

Age/Date of Birth:

February 20, 1963
Zodiac Sign:
Pisces
Birth Place:

Leeds, Alabama
Nationality:
American
Ethnicity/Race:

African-American
Country of Residence:

The United States of America (USA)
Physical Attributes

Height:

6 feet, 6 inches (1.98 m)
Weight:

114 kg ( 252 lbs)
Eye Colour:

Dark brown
Hair Color:

Bald
Other Body Measurements:

N/A
Relationships

Marital Status:

Married
Spouse/Partner:

Maureen Blumhardt
Family and Relatives

Father:

Frank Barkley

Mother:
Charcey Glenn
Children:

Christiana Barkley (Daughter, 1989 )
Siblings:
Darryl Barkley (Brother)
John Glenn Barkley (Brother)
Other Relatives:

Nil
Net Worth
$40 million
Estimated Net Worth:

$40 million
Salary:
$1.5 Million
Source of Wealth:

Tv shows, Endorsements