Hollywood has witnessed some great friendships amongst its ranks but one that is right up there is that of Matt Damon and Ben Affleck. The two superstar buddies first met each other as kids and immediately struck up a friendship that would stand the test of time. During the intervening decades, both have pursued acting careers and grown up to become some of the biggest stars in Hollywood.
The duo have also collaborated professionally on occasion and have an Oscar award to show for their efforts. It has certainly been a wide rollercoaster ride for Affleck and Damon but they have stuck together through it all. They have also maintained their strong friendship so much so that many have rumored that they may possibly be in a gay romance. The two remain unfazed by such insinuations but continue to pursue their friendship and career with much vigor.
Who is Richer Between Ben Affleck and Matt Damon?
Matt Damon has accomplished a net worth of $170 million through his prolific Hollywood career. He famously pocketed $600,000 for his work in Goodwill Hunting. He has also been known to pocket $10 million+ salaries as his profile continues to soar in Hollywood. On the other hand, Affleck has a net worth estimated at $150 million. He also received $600,000 for his work in Goodwill Hunting. His salary is now in the 8-figure region as Forbes estimated his annual earnings in 2014, 2016, and 2020 at $35 million, $43 million, and $55 million respectively.
Damon is therefore slightly wealthier than his good pal but they are not letting that minor fact come between them. The two continue to collaborate professionally and have worked together on Project Greenlight (a reality TV series) and The Third Wheel (a comedy film). They have also co-founded two production companies; LivePlanet and Pearl Street Films.
Beyond movies, both men have also collaborated for the purpose of making the world a better place. In 2020, Affleck and Damon teamed up for a charity poker tournament which raised $1.75 million for the non-profit, Feeding America.
Ben Affleck was Born in 1972 while Matt Damon was Born Earlier in 1970
Ben Affleck is two years younger than his famous buddy, Matt Damon. As the story goes, Affleck was born in the Californian town of Berkeley on the 15th day of August 1972. He spent the first three years of his life there before moving to Massachusetts where he met Damon who was two years older than him, having been born on the 8th of October 1970.
The age difference between the boys did not get in the way of their friendship as they became close almost immediately, attending the same educational institution; Cambridge Rindge and Latin High School. Both boys would remain good friends all throughout their formative years and they inevitably pursued similar interests.
One of such interests was acting and so they appeared in several high school dramas together. From high school dramas, they started auditioning for roles in the showbiz industry. Being of the same age and features, Affleck and Damon naturally competed against each other for the same roles. They did not allow this to generate any bad blood between them though and went on to feature in several movies together. They include Chasing Amy, Glory Daze, and School Ties.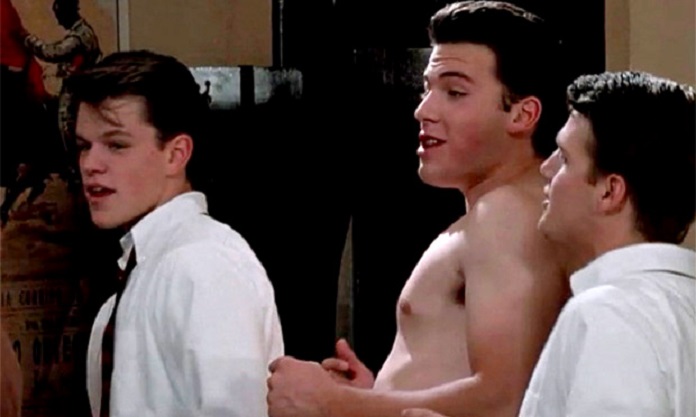 They Got Their Breakthrough with Goodwill Hunting Which They Co-Wrote
Most aspiring actors depend on others to give them their breakthrough roles but Affleck and Damon flipped that script on its head by giving themselves their well-deserved breakthrough in the 1997 movie, Goodwill Hunting. Damon had started the script for the movie as a class assignment back in Harvard. He and Affleck eventually finished writing the screenplay together and sold it off to a studio in 1994. The studio failed to make the film materialize and the two friends moved the script to another studio.
Goodwill Hunting was eventually released in the year 1997. It revolved around a lowly janitor-cum-maths genius named Will Hunting who faces an emotional crisis and has to deal with the same in therapy. Damon portrayed the major character while Affleck was his best friend, Chuckle Sullivan. The movie was a hit and received rave reviews from critics. It was also a commercial success, grossing $225.9 million on a mere budget of $10 million, and this catapulted the two friends to stardom. They went from struggling actors to Hollywood royalty overnight and their efforts were further rewarded when they both received the Academy and Golden Globes awards for best screenplay in 1998.
Damon Has Featured in Numerous More Acclaimed Movies and Has Also Made Waves as a Producer
Since getting their breakthroughs in Goodwill Hunting, Damon and his good pal have not let their foot off the gas but have gone on to consolidate their position as Hollywood A-listers. For Damon, he has featured in many acclaimed movies over the years, including Saving Private Ryan, The Talented Mr. Ripley, Dogma, The Departed, Ford V. Ferrari, The Bourne Franchise, Invictus, and The Martian. He is now one of the highest-grossing actors of all times and has received several accolades, including the 2016 Golden Globe award for best actor.
Behind the cameras, Matt Damon has acted as the executive producer of several movies over the years, including Stolen Summer, Promised Land, Jason Bourne, and Manchester by the Sea. Manchester by the Sea was of course critically acclaimed and won two Oscar awards. It was also named one of the best films of 2016.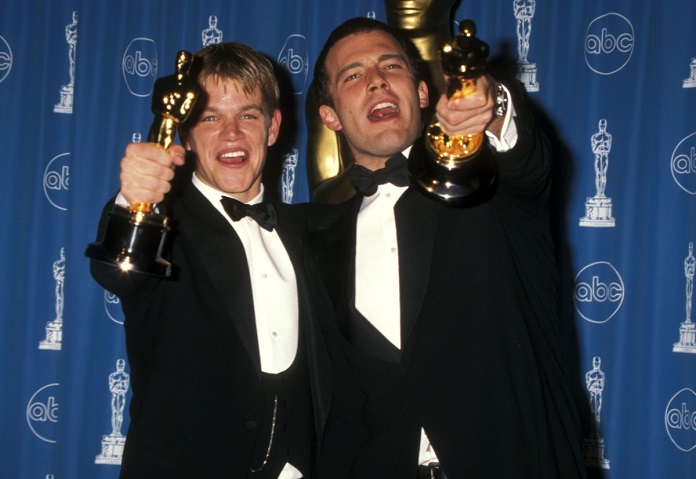 Ben Affleck Has Also Appeared in Several Blockbusters and is an Award-Winning Director
Ben Affleck is also similarly accomplished as his famous pal. He has featured in several big-budget movies and thrillers over the years, including Armageddon, Pearl Harbour, The Sum of All Fears, Changing Lanes, Gone Girl, Triple Frontiers, The Accountant, Justice League, Batman V. Superman: Dawn Of Justice, and Hollywoodland. These works have fetched him critical praise but he also took some bashing for poor outings in movies such as Daredevil and Gigli.
Away from acting, Affleck has also made waves as a director. His directorial credits include Gone Baby Gone, The Town, Live by Night, and Argo. Argo is a 2012 thriller in which a CIA operative named Tony Mendez rescues six American diplomats from Iran under the guise of shooting a movie. Affleck not only played the lead role of Mendez but also directed and produced the film. His efforts were well-rewarded as the movie scored him several accolades. They include the Academy Award for best picture and the Golden Globes Awards for best director and best picture.
A Quick Comparison of the Two Hollywood Stars
| | | |
| --- | --- | --- |
| | Ben Affleck | Matt Damon |
| Age | 51 | 53 |
| Height | 6 feet 4 inches (1.92m) | 5 feet 9 inches (1.78m) |
| Net Worth | $150 million | $170 million |
| Movie Appearances | 54 | 73 |
| Box Office Gross | $3.9 billion | $5.6 billion |
| Academy Awards | Two | One |
| Golden Globes Awards | Three | Two |
| Relationship Status | Divorced (Jennifer Garner) | Married (Lucian Bozan Barroso) |
| No. of Children | Three | Three |