Natalie Robehmed of the Forbes e-zine conducted a survey of the world's top models between June 2014 and June 2015 and came up with a list of the highest-paid. The list of 21 offers yet again its top spot for the 9th consecutive year to veteran model Gisele Bundchen whose earnings beat her counterparts' with a mammoth margin. However, while Gisele's top spot may seem to be the norm, there are a few surprises to the list like Kendall Jenner's debut appearance at the 16th spot, bagging a fair $4 million thus making her the youngest highest-paid model at age 19. Read on to discover just how much models earn by offering their bodies/faces as an advertisement medium to the world's top designer brands and you'll indeed agree that beauty does really pay.
16. Kendall Jenner
Earnings: $4 million

Making her first entrance to the fashion scene in 2014, the youngster needed just a year before she made it to the league of highest paid models, thanks to her appearance on the KUWTK show which has gained her much fame with a massive social media following of 58 million fans, the Kardashian sister is among the preferred choice by fashion brands. Her $4 million pretax earnings come majorly from her Calvin Klein and Estée Lauder cosmetics deals with Marc Jacobs and Fendi ads sprouting her paycheck.
12. Daria Werbowy
Earnings: $4.5 million (tie)
The Lancôme ambassador's active year paid-off as her 2015 paycheck leaped to $4.5 million, $1.5 million higher than last years'. In addition to her Lancôme beauty contract, the Ukrainian Canadian model made more income modeling for Equipment, Celine and H&M. In the past, she's had lucrative deals with top brands like Prada, Gucci and Versace and has made more than 50 appearances on Vogue's cover.
12. Liu Wen
Earnings: $4.5 million (tie)
The Chinese model has many firsts to her name, like the first Asian model to appear on Forbes list of highest-paid models, the first model to wear an Apple watch on the cover of Vogue magazine, first Asian model to walk Victoria's Secret runway, and many more. Wen's 2015 paycheck dropped by $3 million from the $7 million she raked last year due to reduced ad campaigns. She got this year's paycheck modeling for lingerie label La Perla, and campaigns with Massimo Dutti, MO&Co and H&M. The Chinese who have made appearances on a handful of Chinese TV shows also earns from endorsements in her country.
12. Kate Moss
Earnings: 4.5 million (tie)
Like Wen, Kate's 2014 earnings reduced by the same amount to place her on a 4-person tie. Her $4.5 million came from deals with Decorté Skincare, David Yurman jewelry company, and Burberry fragrance. She supplements her earnings from her own fashion collection and advertising for the British cosmetic brand Rimmel.
12. Carolyn Murphy
Earnings: $4.5 million (tie)
The 41-year-old model has been in the business for over two decades and has had the opportunity to work with some of the outstanding names in the industry including Mario Testino, Steven Meisel to name a few. Despite aging, she still earn higher than most younger bodies, all thanks to her long-lasting deal with Estée Lauder and campaigns with Oscar de la Renta and Ugg.
8. Karlie Kloss
Earnings: $5 million (tie)
The ex-Victoria Secret Angel gets her bank account blooming as the face of Coco Noir Chanel fragrance and deals with L'Oreal, Kate Spade and Joe Fresh. Together with BFF Taylor Swift, she graced the cover of Vogue sometime this year. As an ardent coder, Kloss in 2015 entered into a partnership with Code.org and Flatiron School to make available a scholarship program she called "Kode with Karlie" to young girls who share her like passion for Software development.
8. Candice Swanepoel
Earnings: $5 million (tie)
The South African Victoria Secret model earned $2 million more than her last year's paycheck thanks to deals with Versace fragrance and Max Factor make-up. Her Givenchy and Free People ads including her Victoria Secret gig contributed to the pay rise. At the 2013 Victoria Secret Fashion Show, Candice wore the Mouawad made world's most expensive bra ($10 million) dubbed "Royal Fantasy Bra".
8. Alessandra Ambrosio
Earnings: $5 million (tie)
Yet another Victoria Secret angel. The Brazilian-born, mother of two raked in a six-zero pay from her Victoria Secret gig, and deals with Dafiti and Schutz. Alessandra has since made various TV appearances, she plays Samia in the Brazilian telenovela "Verdades Secretas" (Secret Truths) and is currently filming for the 2016 sci-fi movie "Teenage Mutant Ninja Turtles: Half Shell". The 34-year-old owns her own swimwear line which she launched in 2004 and her own fashion/lifestyle brand launched in 2014.
8. Lara Stone
Earnings: $5 million (tie)
Lara had it tough last year as her earnings weren't enough to earn her a spot on 2014's highest-paid list, but this year, the Dutch-born upped her earnings with the inclusion of a Calvin Klein underwear/fashion campaign, and contract with L'Oreal cosmetics. She supplements her income with Tom Ford fragrance and Stella McCartney campaigns including Barney and Kurt Gieger ads. The 31-year-old started out at age 15 after she impressed Elite Model Agency judges at a model competition she participated in at age 12.
6. Joan Smalls
Earnings: $5.5 million (tie)
Smalls graced the runway more times than any other model on the list and all that activity reflected on her paycheck raise from last year's $3 million to $5.5 million. More activity means more ads and Smalls added more than ten this year- Marc Jacobs, Joe Fresh Calvin Klein, to name a few. Together with the new additions she maintained her lucrative deals with H&M and Estée Lauder. The Puerto Rican model involves herself in philanthropy donating to "Project Sunshine" an organization aimed at offering healthcare to children.
6. Miranda Kerr
Earnings: $5.5 million (tie)
Kerr got her millions modeling for underwear brand Wonderbra, and as the face of Swarovski jewelry, Escada Joyful Fragrance and Clear Haircare products. Before switching over to modeling, Kerr studied nutrition and health psychology and she owns KORA organics, her line of organic skin care products. She made $2.5 million less than last year, however, $5.5 m is no chicken feed. The ex-Victoria Secret model is also the ex-wife of Hollywood actor Orlando Bloom and is reported to be in a relationship with SnapChat billionaire Evan Spiegel.
5. Natalia Vodianova
Earnings: $7 million
Natalia made $3 million more than last year as the face of two fragrances- Guerlain Shalimar Souffle de Parfum and Calvin Klein Euphoria, the face of Theory and Stella McCartney including a contract with Guerlain cosmetics. The Russian model also makes sporadic movie appearances, she played the character of Medusa in the 2010 remake of Clash of The Titans.
4. Doutzen Kroes
Earnings: $7.5 million
Last year, Kroes came in at no. 2 with a payday of $8 million. The former Victoria Secret Angel hung her wings but continues to rake big bucks from her lucrative deal with L'Oreal cosmetics and as a face of Tiffany & Co. In the Netherlands, the Dutch model promotes and advertises for the giant electronic company, Samsung. Kroes has been undergoing acting classes in New York for a while now and we might soon be seeing her face on the big screens.
2. Adriana Lima
Earnings: $9 million (tie)
Lima has been in business with Victoria Secret since 2000 making her its longest-serving model. In addition to her lucrative deal with  Victoria Secret, her contract deals with Marc Jacobs, Maybelline, Desigual H&M, Eyewear, Vogue and more contributes to making her $9 million, which is the highest paycheck she has ever received in her modeling career. Lima has over 13 million social media fans, making her one of the world's most popular fashion models.
2. Cara Delevingne
Earnings: $9 million (tie)
Cara made her debut to the list last year with $3.5 million earnings and this year she returns with almost triple of that all thanks to her diversified source which includes acting and social media. The model has a lucrative beauty deal with YSL, campaigns with Topshop, DKNY, Burberry and 10 others. As an actress, she stars in five 2015 movies which include Paper Towns, Pan, Kids in Love, etc. She will also appear in 2016's Suicide Squad together with Will Smith which could see her bank even more on next year's list should it do well at the box office. One of Taylor Swift's BFF, Cara has a staggering 23 million social media following with Instagram giving the most fans (19 million).
1. Gisele Bundchen
Earnings: $44 million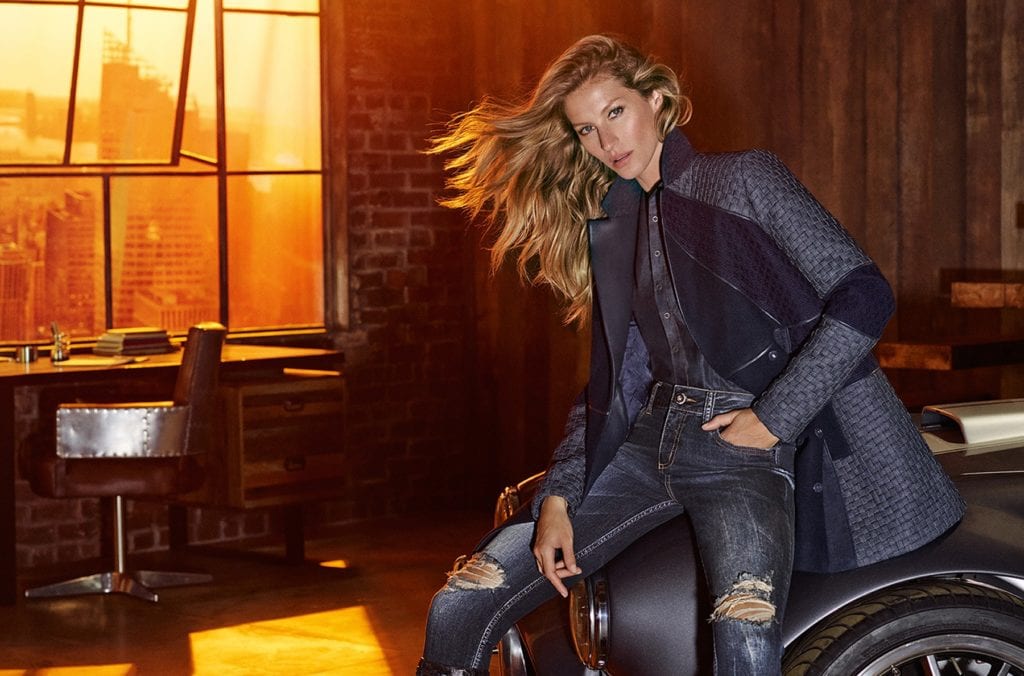 Gisele's $44 million paycheck clearly gives her counterparts' the run for their money. Despite retiring from the runway, the veteran model banked from lucrative deals with, Carolina Herrera and Chanel, big fashion campaigns with Stuart Weitzman, Balenciaga, Louis Vuitton, Emilio Pucci, and Under Armour adverts. She supplements her income with her own projects which includes the sales of her lingerie line Gisele Bundchen Intimates, and her share of the jelly sandal sales which she designs for Brazilian Grendene. Together with her husband, NFL star Tom Brady, the 34-year-old has two children.