| Net Worth: | $81 billion |
| --- | --- |
| Salary: | While he served as CEO of Microsoft, he earned a total compensation of $1,276,627, which included a base salary of $665,833, a cash bonus of $600,000, no stock or options, and other compensation of $10,794. |
| Income Sources: | His Microsoft career, ownership of Los Angeles Clippers |
| Age/Date of Birth: | March 24, 1956 |
| Height: | 176 cm |
| Nationality: | American |
| Last Updated: | 2021 |
Steve Ballmer is an American businessman who served as the CEO of Microsoft from 2000 to 2014. He resigned from his position to focus on his new venture – NBA's Los Angeles Clippers which he bought for $2 billion.
Steve Ballmer currently has a net worth of $81 billion with Microsoft shares contributing a vast majority of his net worth
His Early Life
Steven Anthony Ballmer was born on March 24, 1956, in Detroit, Michigan. Ballmer's story is far from the rags-to-riches narrative as he has never known penury all his life. Born to a Swiss immigrant father who was a manager at Ford Motor Company, Ballmer grew up among rich kids in the upscale neighborhood of Farmington Hills, Michigan. He attended a private preparatory school in Beverly Hills, Michigan where he showed genius tendencies and was rightfully rewarded with a National Merit Scholarship.
He attended Harvard where he graduated magna cum laude with a B.A. in applied mathematics and economics. However, Ballmer wasn't a total geek in school, he played football in high school and was a student manager for the Harvard Crimson football team. He showed his literal side working for The Harvard Crimson newspaper.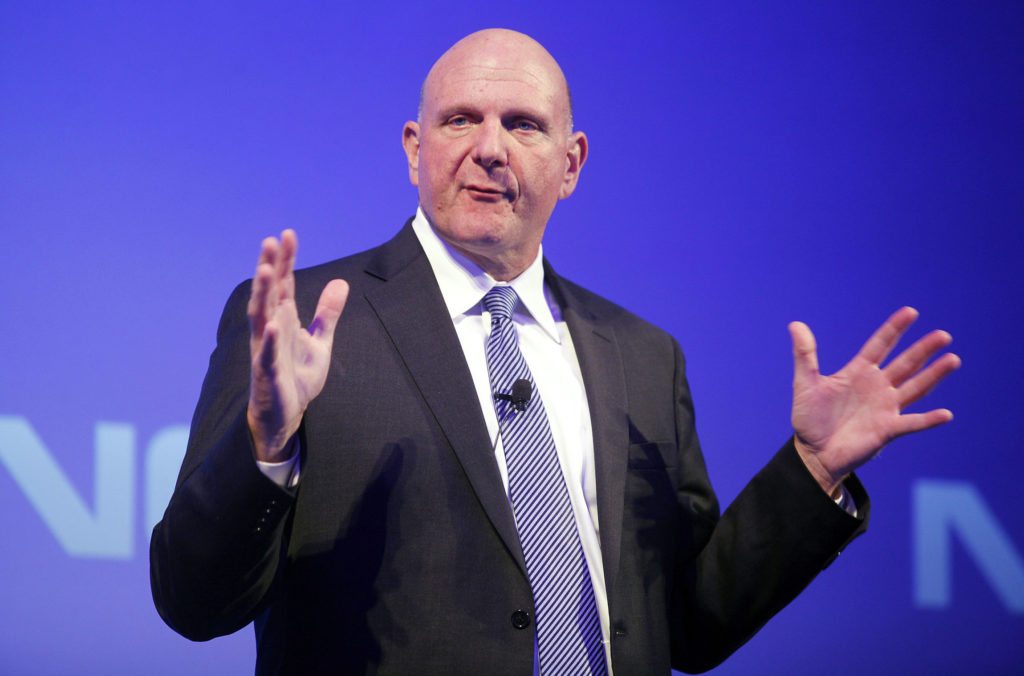 At Harvard, Ballmer met a certain Bill Gates who was his classmate. Ballmer even scored higher than Gates in the prestigious "William Lowell Putnam Mathematical Competition". With an increasing flair for education, Ballmer enrolled at Stanford Graduate School of Business but later dropped out in 1980 to join his friend Gates at his Microsoft company which began making waves in the market.
While at Stanford, Ballmer worked simultaneously as an assistant product manager for Procter & Gamble. He also resigned from this position to join Microsoft, bringing his stint in P&G to 2 years. The Stanford and Harvard graduate stands at a height of 1.96 meters or 6 feet 4 inches. His height is certainly as noticeable as his money is. Steve lives a healthy lifestyle and is not known to be managing any illness.
List of Schools Steve Ballmer Attended and Degrees Acquired 
 International School of Brussels
 Lawrence Technological University
 Detroit Country Day School
Harvard University (Bachelor of Arts in applied mathematics and economics)
 Stanford Graduate School of Business (Dropped Out)
Microsoft Career
Upon his employment, Steve Ballmer became the 30th employee at Microsoft as well as the first business manager hired by Gates. His new position came with a $50,000 salary and part ownership of the company. When Microsoft was incorporated in 1981, Steve's ownership was enumerated at 8%. Fast forward to 1986, Microsoft went public and Steve alongside Bill Gates and Paul Allen were all millionaires, with Steve making $51.5 million.
As years passed, Ballmer rose up the ranks at Microsoft heading various departments including operations, operating systems development, and sales and support. By 1998, Ballmer became the President of Microsoft making him second in command after CEO Bill Gates. In 2000, Ballmer replaced Gates as the CEO of Microsoft. Gates became the chief software architect.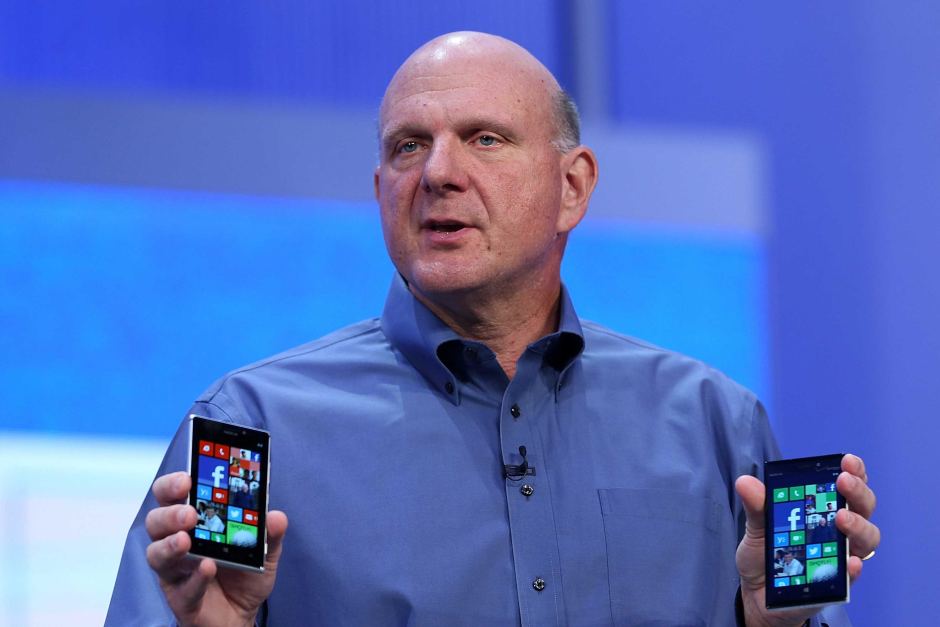 Ballmer's role as Microsoft's CEO was met with varying opinions. However, Ballmer himself has admitted that though his tenure wasn't perfect he can proudly pat himself on the back for doing a good job, raising annual revenue, and tripling profits during his 14-year tenure.
One area Ballmer was heavily criticized for was his inability to catch-up with new consumer technologies like the search which was led by Google as well as mobile phones, music players, and tablets; all areas dominated by Steve Jobs' Apple. However, Microsoft, under Ballmer had previously launched into these projects but kept its performance below its biggest moneymakers– The Windows and Office, both of which performed superbly under Ballmer's watch.
In a bid to close the obvious gaps, Ballmer launched the Bing search, the Zune MPS player, the Windows Phone (after acquiring Nokia), and The Microsoft Surface. Nonetheless, these projects all flopped, costing the company billions. Ballmer blames the failure to a late start and admits that if there's anything he could change about his tenure, it would be an early foray into the hardware business. His opinion to increase hardware activity led to a disagreement with Gates which culminated in damaging their decades-long relationship.
The aforementioned set-backs led hedge fund manager, David Einhorn to call for Ballmer's ousting from his CEO role in 2011. Einhorn pointed out that Ballmer's decisions were hurting the market share price. Consequently, in 2013, Ballmer announced he'd be leaving Microsoft in 14 months. But don't feel sorry for Balmer, he made a fortune for himself and would most likely, never go broke.
His Ownership of LA Clippers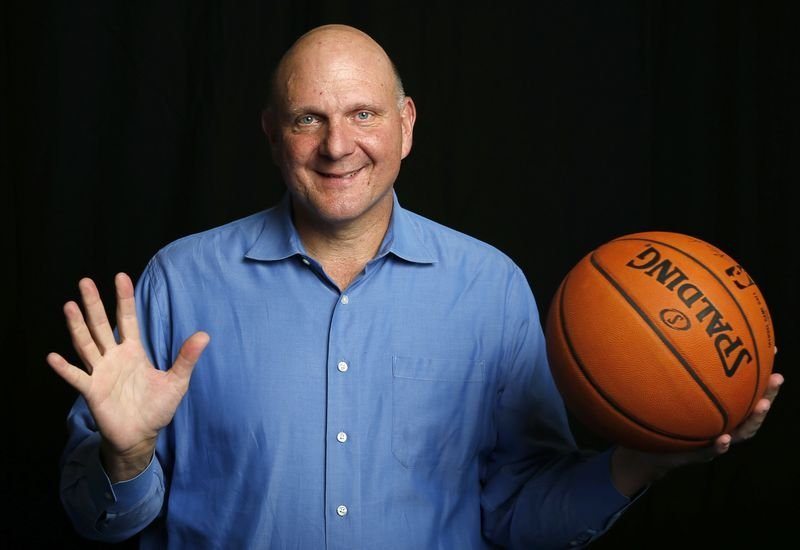 Being a sports fanatic, Ballmer had always wanted to own a sports franchise and after two failed attempts; first to purchase Seattle SuperSonics in 2008 and second Sacramento Kings in 2013, Ballmer didn't hesitate to grab the opportunity to own NBA's Los Angeles Clippers when racial comments made by its then-owner, Donald Sterling saw him being banned by the NBA. Donald Sterling's wife Shelly Sterling reached an agreement to sell the franchise to Ballmer for $2 billion, making it the second-highest amount ever paid for a franchise in North America history.
High-energy Ballmer is now fully focused on running his franchise and developing profit-making strategies. He's also diversifying his investments. In 2015, he purchased a 4% stake in Twitter.
Analysis of Steve Ballmer's Net Worth
As of 2021, Ballmer has a net worth of $81 billion, making him one of the richest men in the world. But he has not always been this wealthy. In fact, his journey to financial freedom began with a $50,000 annual salary when he joined Microsoft in June 1980 as a business manager.
In addition to the annual salary, he was offered 10 percent of the profit growth he would generate and 5 to 10 percent of Microsoft's equity. This was what made all the difference: the company became super successful that by 1986, Steve Ballmer had grown his wealth to $85 million.
How His Net Worth Grew Over the Years
1987 – $270 Million
1990 – $480 Million
1992 – $550 Million
1994 – $1.2 Billion
1995 – $2 Billion
1997 – $6 Billion
2000 – $13 Billion
2007 – $10 Billion
2009 – $17 Billion
2015 – $26 Billion
2017 – $35 Billion
2018 – $42 Billion
2019 – $48 Billion
2020 – $77 Billion
2021 – $81 Billion
Ballmer's 333.3 Million Microsoft Shares Account for Most of His Wealth
He once sold $3.4 billion worth of his shares in Microsoft, reducing his stake to 4%. Despite that, Steve still maintains about 333.3 million shares making him the largest individual shareholder.
When Microsoft, under new CEO Satya Nadella upped its interest in cloud services in 2016, Ballmer made an extra $5.9 billion as stock prices rose by 32%.
A rough estimation based on the average cost of Microsoft's share in recent years shows that about $70 billion of his fortune can be traced to his shares in the company.
List of the Major Sources of His Wealth 
Salary as CEO of Microsoft – He was earning almost $1.3 million as of 2009
Microsoft Stock – He owns about 333.3 million shares
LA Clippers – Steve owns the team valued around $2.6 billion
Personal Investment – Ballmer has invested in companies like Twitter and Social Solutions
A Look at Steve Ballmer's Real Estate Acquisitions
Ballmer Lives With His Wife in Hunts Point, Washington
Steve lives in his home in Hunts Point, Washington, with his wife. Before now, he used to live in Whidbey Island, Washington, in a 3 bedroom and 2 bathroom small but lovely island house.
His Hunts Point home seats on 91,372 square feet / 2.1 acres of land, with the actual home size being 3,915 square feet. The home apart from its spacious living room has 4 bedrooms and 3 bathrooms which sit next door to Craig McCaw's estate.
He Purchased Another Hunts Point Property for $9.8 Million In December 2019
The former CEO of Microsoft and his wife bought another property next to their Hunts Points mansion in December 2019. Reports have it that the next-door property expanded the size of their abode by almost a third as the listing offered a 3,790-square-foot home with five bedrooms and four bathrooms.
The new property they acquired was built in 1902 and renovated in 1999. Steve and his wife had to let go of almost $10 million to make the property a part of their original estate.
The Billionaire Is Set to Buy The Forum in Inglewood, California
Sometime in March 2020, it emerged that the Los Angeles Clippers owner had accepted to acquire The Forum, a popular multi-purpose indoor arena. As it was reported, he would purchase the property for a massive $400 million. Doing so would allow him to build a new arena for the Clippers around the area.
Meet the Wife of the American Businessman
 Full Name: Connie E. Snyder Ballmer
Date of Birth: September 1, 1962
Occupation: Public Relations Executive and Philanthropist
Duration of Marriage: 1990 –
Steve Ballmer is married to Connie Synder. They got married in 1990 and have had 3 kids in their marriage. Connie is currently an advocate for the well being of children. She participates in many non-governmental organization activities and non-profit oriented boards for several organizations.
Born and raised in Oregon, schooled at Oregon City High School and thereafter proceeded to Western Washington University where she obtained a Bachelor of Arts degree. It has also been reported in some quarters that she is an accountant who has worked as a public relations executive for several years.
How Steve Ballmer met his wife has remained a secret as the couple keeps their private life away from their public life. But it is no secret that they are passionate about enhancing the welfare of humanity. Amongst her many philanthropic gestures, she co-founded Partners for Our Children which strives to improve the lives of vulnerable children and families affected by the poor state of the child welfare system in Washington.
Steve and Connie are Parents to Three Sons
Steve and Connie's three sons attended Lakeside High School where their mum sits on the board of Trustees since 2004. The three sons are all doing well for themselves as they seem not to be relying on their father's wealth.
Sam Ballmer
Based on what has been reported in some quarters, Sam attended the University of Southern California where he studied cognitive science. He has been working with Motif Investing where he served as a Digital Marketing Manager and later as a Financial Adviser.
Aaron Ballmer
Aaron attended Saint Bonaventure University. Following his graduation, he began working for Brown University as an intern coach for strength and conditioning. He is the only child of Steve that loves sports.
Peter Ballmer
Like his siblings, Peter Ballmer is college-educated. He attended Stanford University where he studied Computer Science. It has been claimed that he was a member of Chi Sigma Fraternity and a stand-up comedy club while at Stanford. As of this writing, Peter serves Zynga, an American social game developer, as a senior product manager.
Profile Summary
First Name:
Steven
Last Name:
Ballmer
Estimated Net Worth:

$81 billion
Salary:
While he served as CEO of Microsoft, he earned a total compensation of $1,276,627, which included a base salary of $665,833, a cash bonus of $600,000, no stock or options, and other compensation of $10,794.
Source of Wealth:
His Microsoft career, ownership of Los Angeles Clippers
Last Updated:

2021
Also Known As:

N/A
Sex/Gender:

Male
Profession:

Businessman and investor
Famous For:
Being the chief executive officer of Microsoft from January 13, 2000, to February 4, 2014, and being the current owner of the Los Angeles Clippers of the National Basketball Association (NBA).
Colleges/Universities Attended:

Harvard University (AB),
Stanford University
Educational Qualifications:

Bachelor of Arts in applied mathematics and economics
Religion:

N/A
Birthday & Zodiac

Age/Date of Birth:

March 24, 1956
Zodiac Sign:
Aries
Birth Place:

Detroit, Michigan, U.S.
Nationality:
American
Ethnicity/Race:

White
Country of Residence:

USA
Physical Attributes

Height:

176 cm
Weight:

82 kg
Eye Colour:

Grey
Hair Color:

Light brown
Other Body Measurements:

N/A
Relationships

Marital Status:

Married
Spouse/Partner:

Connie Snyder (m. 1990)
Family and Relatives

Father:

Frederic Henry Ballmer (Fritz Hans Ballmer)
Mother:
Beatrice Dworkin
Children:

Three sons
Siblings:
N/A
Other Relatives:

Second cousin of actress and comedian Gilda Radner