When you star on a show that attains pop culture relevance and goes on to become one of the most popular on television since the 2000s, you are bound to accrue a significant amount of money in wealth due to the fortune that comes with appearing on such a show. The Sex and the City stars net worth has been a testament to this very truth.
This has been down to the fact that the show, Sex and the City, which was on television between 1998 and 2004, is on a long list of popular and great television projects produced by Home Box Office (HBO). The show ranks at the top for the long list of great stories it has brought onscreen. From The Wire to Game of Thrones, HBO has developed and solidified its position as the home of some of the best TV shows in the world.
Through Sex and the City which followed things up with two movies and a spin-off show, its cast members have become some of the richest stars in Hollywood and we explore their respective net worth below.
Sex and the City Stars Net Worth
1.   Sarah Jessica Parker – $100 million
If you have never heard of nor seen Sex and the City, which seems very unlikely, there is still a strong chance that you are familiar with the name – Sarah Jessica Parker. Sarah, who is commonly referred to as SJP, is known as the lead and face of the Sex and the City franchise.
On the show, she starred as Carrie Bradshaw, the narrator and protagonist of the show during its run. It was a role that brought her into the limelight and solidified her footing as a super actress in the industry.
Although her character went through financial troubles, propelled by a shoe addiction, Sarah, on the other hand, was earning fat cheques on the show. This went on to the point that by the third season, she was earning as much as $3.2 million per episode after she became an executive producer on the show.
The show also had two movies and she reportedly made as much as $10 million per movie and an extra $5 million as one of its producers. To say the least, playing Carrie Bradshaw has been the biggest success of SJP's career and has been the primary source of her wealth.
Aside from the amount of money earned on the show, she also has a filmography of over 60 movies and TV shows which has contributed to her high net worth. Another significant contributor is her brand endorsement deals. Having played a character known for a unique fashion sense, Sarah has become a fashion icon and attracted deals with fashion brands like Gap, Lovely and Covet and several others. She also has her clothing line BITTEN under Steve & Barry's.
2.  Kim Cattrall – $75 million
Kim played the character Samantha Jones on Sex and the City, a confident and outspoken businesswoman who has a career in public relations.
Going into the show, Kim Cattrall was among the most popular actresses cast as one of the leads on the show, and her performances on the show proved just that, winning a Golden Globe and getting nominated for five Emmys. However, the expectations that her career would continue in the same vein after the show ended has proven to be false as she has had a relatively quiet time post Sex and the City.
She has made a handful of appearances on modestly followed shows like Producing Parker, Sensitive Skin and Modus. While they haven't been the era-defining shows her fans and followers came to expect, they have been enough to help her maintain a personal net worth of $75 million. Her wealth has come primarily from the show, where she also earned as much as Sarah Jessica Parker.
Other than the several millions of dollars she earned by starring on the show and its movies, Kim has a filmography with over 90 movies and TV shows, all of which has ensured her place among the richest actresses working today.
3.  Kristin Davis – $60 million
It is a testament to the popularity and influence of Sex and the City that an actress who hasn't done a lot of significant work onscreen since the show ended over a decade ago continues to boast of several millions of dollars in net worth.
Kristin Davis played the character Charlotte York on the show. Her character was an antithesis of Samantha Jones when it comes to personality and opinions about love and sex.
A true romantic, her portrayal of the character is one of the most discussed performances in TV history, particularly among those who identify with her character. However, since the show ended, Kristin Davis made a couple of appearances on other popular shows at the time, including Friends and Will and Grace before she retreated to off-screen work, appearing on Broadway and playing Kerry Butler in the play, The Best Man, as well as Beth Gallagher in Fatal Attraction.
Although she still maintains a significant position when compiling a list of Sex and the City stars net worth, a significant portion of her wealth has gone towards philanthropy. She serves as an ambassador for Oxfam, and her work with animal rights has earned her the Humane Society's Wyler Award. Other philanthropic activities by the actress include being a supporter of the United Nations High Commissioner for Refugees.
Her last major appearance on screen was in 2016 for the movie, A Heavenly Christmas. Before that, she appeared on the show, Bad Teacher as Ginny Taylor-Clapp.
4.  Cynthia Nixon – $60 million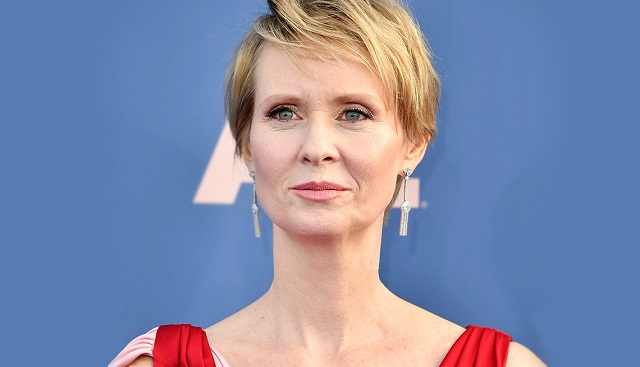 Rounding up the main cast of the Sex and City is Cynthia Nixon, who famously played Miranda Hobbes on the show. The character, for those who remember, was a career-minded lawyer who did not share her friends' opinions about relationships and men.
Portraying an independent figure and a feminist representation, Cynthia Nixon's character on the show was not one of the most beloved at the time, with several people unwilling to identify with the character. This did not stop Cynthia from earning the big bucks on the show and building a considerable net worth out of her appearances, including in the movies.
With feminism becoming more rampant, her character has now grown in popularity and Cynthia has found her way to a career path outside of acting and into the world of politics, something Miranda Hobbes would be very much proud of.
Cynthia Nixon started her career as an actress in 1974 and although she starred in several movies and TV shows before her appearance on the HBO show, it remains one of her most popular and lucrative works.
In addition to the income earned on the show and from the movies, Cynthia Nixon has been one of the busiest actresses post-Sex and City, appearing in several movies and TV shows, including notables like Hannibal, The Adderall Diaries and Killing Reagan.
5.  Chris Noth – $15.5 million
Sex and the City was and will always be the story of four women in New York City but their story was intertwined with their relationships with some of the men in their lives. One of these men is John James Preston – often referred to as Mr. Big, who was portrayed by Chris Noth.
He was a recurring character on the show and played the primary on-and-off love interest of Carrie Bradshaw, portrayed by SJP.
Chris Noth appeared on the show 41 times out of the total 94 episodes and has appeared on several other TV shows, including major appearances in The Good Wife where he played Peter Florrick, Law & Order where he played the NYPD detective, Mike Logan.
His career which began in 1981 has seen him build a filmography with over 72 movies and TV shows, earning him a personal net worth of $15.5 million.
While his recurring role on Sex and the City, which included appearances in both movies are significant contributors to his net worth, Chris' appearances in shows like Gone, The Good Wife, and Titanic: Blood and Steel, where he played J.P Morgan have been worthy contributors to his modest net worth.
See Also: Which of The Orange Is The New Black Cast Members Has The Highest Net Worth?
6.  David Eigenberg – $6 million
Another notable name among the sea of recurring characters that appeared over the course of the show's six seasons is David Eigenberg, who played the character, Steven Brady.
Steven Brady, like Mr. Big, is also a love interest of one of the women on the show. However, unlike Mr. Big, who is a successful career man, Steve is a bartender involved in an on-and-off relationship with Miranda Hobbes.
Like Mr. Big, he appeared in a total of 41 episodes and has made several other appearances in other movies and TV shows to accrue a personal net worth of $6 million.
Aside from his role as Steven Brady, David is also known for playing Christopher Hermann in Chicago Fire, Chicago P.D and Chicago Med.
Other noteworthy cast members of Sex and the City include Willie Garson, who played Stanford Blatch on the show and has a net worth of $10 million, Kyle MacLachlan (played Trey MacDougal) who has a net worth of $3 million, and John Corbett who played Aidan Shaw and has a net worth of $9.5 million.