Robert Herjavec is a Canadian businessman, investor and TV personality known for his work on "Dragon's Den", "Shark Tank" and "Dancing with the Stars". His net worth is estimated to be in hundreds of millions and here, you will find all you need to know about his net worth, wife, daughter, house, cars, divorce and of course his wiki which we will start with.
Robert Herjavec Wiki, How He Began
Robert was born on September 14, 1962, in Croatia but migrated with his parents to Canada at the age of 8. Robert's journey to the top is one of rags to riches. In a bid to flee Josip Broz Tito's communist regime in the then Yugoslavia, his family left with just one suitcase and $20 and lived for 18 months in a family friend's basement in Toronto. Living in Canada became very difficult as he could not speak English. Robert attended the University of Toronto and graduated in 1984 with a degree in English literature and Political Science.
Herjavec began his career in the film industry. After acting for a while, he went behind the camera as a director in a number of films including "Cain and Abel", and "The Return of Billy Jack". During the Winter Olympic games in  1984, Herjavec was one of the field producers, he received an honorary award for the youngest producers of the Olympic coverage.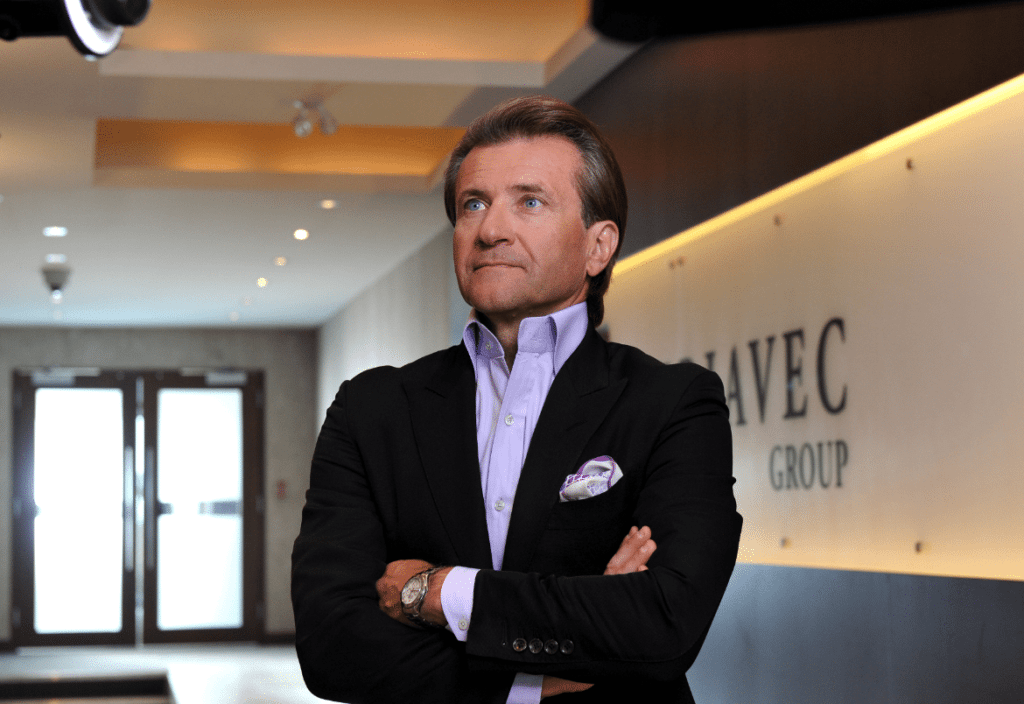 Business Breakthrough
While still working as a producer and director, Herjavec applied for an employment at Logiquest a company that sold IBM mainframe emulation boards, though under qualified for the job, he convinced the company to employ him with the conditions that he'll work for 6 months without pay. During these periods he made money from working odd jobs like table waiter, collection agent, retail salesman and newspaper delivery man.
Herjavec quickly grew in the company and later became its General manager. After being sacked in 1990, he became an entrepreneur and founded his first tech business, BRAK Systems, in his basement. The company was an integrator of internet security software. A decade later AT&T acquired the company for $30.2 million.
More Business Success
After a three-year hiatus to spend time with family he founded his second company Herjavec Group of which he is currently the CEO. The Herjavec Group (THG) is a security solutions integrator, reseller and managed service provider. Today, the company is Canada's fastest-growing tech company and its largest IT security provider.
As of 2013, the company grew from 3 employees to 150 employees. The company has made sales worth over $500 million realizing $150 million in annual sales. Herjavec and his company have received a number of awards for its high success rate.
To keep the company's business thriving, Herjavec has acquired several other tech companies. According to him, he hopes to build the company into a billion-dollar empire.
See Also: Kevin O'Leary Net Worth
Robert Herjavec and the Shark Tank
Robert Herjavec is a Shark Tank investor in the ABC reality series Shark Tank where aspiring entrepreneurs air their business pitches in a bid to gain interest and eventually investments from already made entrepreneurs. He also appeared on the Canada version of the show "Dragon's Den" which airs on CBS. Both shows have received acclaim and have a large fan-base.
Herjavec was also a contestant on the 20th season of dance show "Dancing With The Stars". He came 6th with his partner Kym Johnson
See Also: Mark Cuban Net Worth
Herjavec is the author of two books "Driven: How to Succeed in Business and in Life" and "The Will to Win".
Robert Herjavec – House, Wife, Daughter, Divorce
In early 2016, he divorced his wife of 25 years, Diane Plese, with whom he had three children in the course of their once harmonious union. They had two daughters named Caprice and Skye, in addition to a son named Brendan. Brendan is elder to Caprice and Skye respectively.
The three kids have successfully avoided attracting media attention to themselves, They live as if they do not exist or are kids of an ordinary person. The reason for this is not known, however, such is typical of most celebrity kids.
Caprice seems to be taking the path of acting her father took. She has three acting credits for television movies she featured in. The movies came out in 2008, 2009 and 2013 respectively. Earlier in 2012, Caprice Herjavec became a one day Mayor of a Toronto, Canada when she was a national level competitive swimmer at 14 years.
Robert Herjavec is in love with his Dancing With The Stars partner Kym Johnson whom she met and fell in love with in 2015. Their engagement was made public on 27 February 2016 while on 31 July of the same year, they tied the nuptial cord as married couples in Los Angeles California.
Robert Herjavec – Net Worth, House, Cars
Robert Herjavec owns a mansion in Bridle Path, Toronto area where he lives with his wife. The mansion cost the celebrity about $7.5 million. Apart from this, he has many other vacation homes scattered all over the state.
Herjavec is an avid runner, golfer, car racer and collector. He competes in the Ferrari Challenge race. In 2011, he competed as #007 for the Herjavec Group Racing team in the North American Ferrari Challenge Series, where he favourably won the Rookie of the Year title. He won both races at the season opener in St. Petersburg and Florida.
Robert first learnt how to drive with Chevy Caprice station wagon, he first bought a Mazda RX-7 at the time he could afford to own a car. Today, he drives a 2014 Land Rover Range Rover while his other favourite cars include: Ferrari LaFerrari, Ferrari F12 Berlinetta, etc.