What is Robert Herjavec's Net Worth?
Robert Herjavec is a Canadian businessman, investor and TV personality known for his work on "Dragon's Den", "Shark Tank" and "Dancing with the Stars". As of 2021, Robert Herjavec is worth $200 million.
Net Worth:
$200 million
Age/Date of Birth:

61 years old (September 14, 1962)
Height:

5 feet, 7inches (173 cm)
Ethnicity/Race:

Canadian
Nationality:
Canadian
Wife or Girlfriend:
Kym Johnson (m. July 31, 2016)
Parents:
Father: Vladimir Herjavec
Mother: Katica Herjavec
How He Began
Robert Herjavec was born on September 14, 1962, in Croatia but migrated with his parents to Canada at the age of 8. Robert's journey to the top is such you'd describe with the rags to riches aphorism. In a bid to flee Josip Broz Tito's communist regime in the then Yugoslavia, his family left with just one suitcase and $20 and lived for 18 months in a family friend's basement in Toronto. Living in Canada became very difficult as he could not speak English. Nonetheless, Robert later attended the University of Toronto and graduated in 1984 with a degree in English Literature and Political Science.
Herjavec began his career in the film industry. After acting for a while, he went behind the camera as a director in a number of films including "The Return of Billy Jack" and "Cain and Abel". Herjavec also worked as one of the field producers of the 1984 Winter Olympic Games, receiving an honorary award as the youngest producers of the Olympic coverage.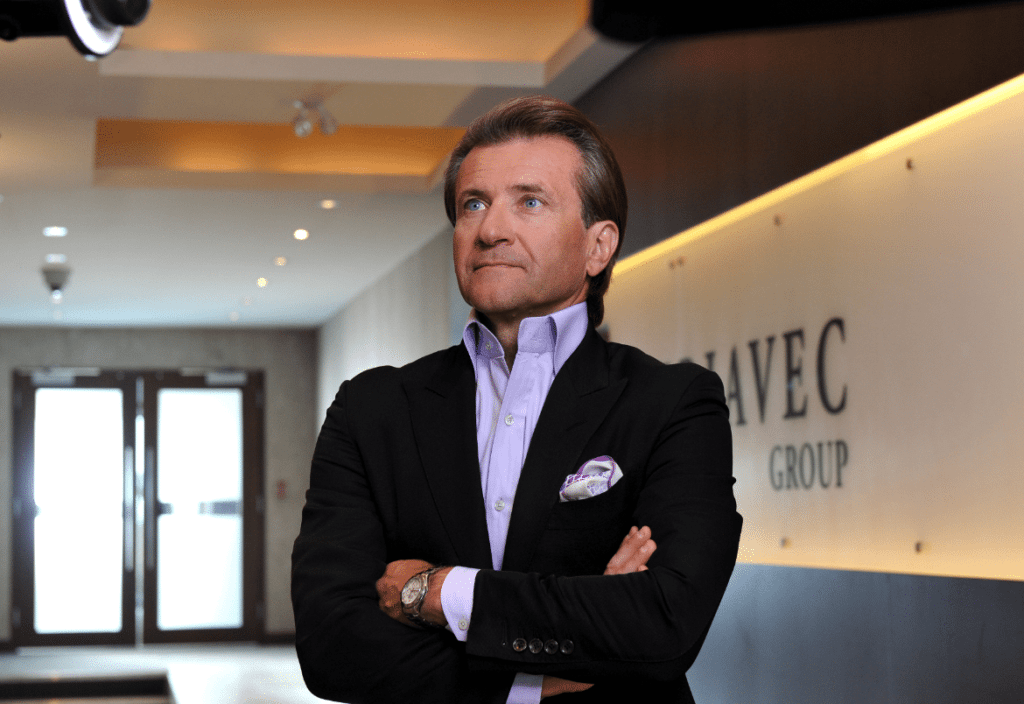 While still working as a producer and director, Herjavec applied for employment at LogiQuest a company that sold IBM mainframe emulation boards. Though under-qualified for the job, he convinced the company to employ him on the condition that he'll work for six months without pay. During these periods he made money from working odd jobs like table waiter, collection agent, retail salesman and newspaper delivery man. Herjavec quickly grew in the company and later became its general manager. He was however, sacked in 1990.
Robert Herjavec Married Diane Plese Before Hitting His Career Breakthrough
Full Name: Diane Plese
Date of Birth: unavailable
Occupation: Optometrist
Spouse: Robert Herjavec (m. 1990; div. 2016)
No. of Children: 3
Before making it big in the limelight, Robert married a Canadian eye doctor, Diane Plese. That was in 1990, the same year he lost his job at LogiQuest. The couple had met and become friends few years earlier when Robert had an eye appointment with Diane.
After spending over two decades of marital life, Robert and Diane's union unfortunately began crumbling, and they eventually went their separate ways in July 2014. The ex-couple subsequently completed their divorce in early 2016, with Plese receiving a settlement of $25 million from Herjavec plus a monthly spousal support of $125,000.
Robert Herjavec's ex-wife, Diane Plese is an optometrist. She however, stopped practising her career fulltime following her marriage to Robert Herjavec. She instead, took care of her kids while supporting her husband in building his cybersecurity business. Following her divorce from Herjavec, Plese has been living under the radar, leaving the media with no traces of her recent activities.
Robert Left Diane for Sexy Czech-Cherokee Actress, Danielle Vasinova
Full Name: Danielle Vasinova
Date of Birth: September 1, 1982
Occupation: Actress, Model
Although Robert Herjavec and Diane Plese kept the reason behind their separation to themselves, it later emerged that Herjavec was cheating on Plese with one American actress of Czech-Cherokee origins called Danielle Vasinova.
Prior to this, a 2010 National Post article had hinted at Diane becoming weary of the constant optimistic attitude of Robert who regards her as "Miss Negative". Robert also told People in 2015 that he and Diane used to be a great team before they began drifting apart in the course of their marriage. Maybe he also got weary of her opposite negative attitude; who knows?
Whatever the case, Herjavec reportedly started making out with Vasinova in 2013 when he was still married to Plese. Their relationship, however, went sour in 2015 after she publicly came up with several nasty allegations against him, ranging from sexual assault to STD contraction. Robert reacted with a defamation suit which he won, with Danielle rendering a public apology.
Herjavec's ex-girlfriend, Danielle Vasinova is mostly known for her vibrant action-adventure roles in films like Red Dead and Image Comic's Belles War and 13 Chamber. She also works as a model.
He Later Settled for DWTS Partner, Kym Johnson
Full Name: Kym Herjavec (nee Johnson)
Date of Birth: August 4, 1976
Occupation: Dancer, TV Personality and Author
Year Active: 1998-present
Spouse: Robert Herjavec (m. 2016)
No. of Children: 2
As part of the moves he made towards recovering from the devastation of his crashed marriage and legal battles with Danielle Vasinova, Robert Herjavec accepted an offer to compete on the 20th season of the popular ABC dance competition series, Dancing With The Stars. There, he met and became friends with Australian pro dancer, Kym Johnson with whom he contested on the reality show, with both finishing in the 6th position in May, 2016.
Robert and Kym subsequently began dating, confirming their relationship in September 2015. The lovebirds later made their engagement public on 27th February, 2016 and tied the knot on 31st July in Los Angeles.
Robert Herjavec's wife, Kym Johnson is a professional ballroom dancer and television personality most popular for her long-time participation in Dancing With The Stars. Miss Johnson contested on DWTS from 2006 to 2015 and made a return in 2017. Prior to this, she contested on the initial three seasons of the Australian version of the TV series between 2004 and 2005. Kym owns a lifestyle and fitness brand called "5678".
Meet Everyone of Robert Herjavec's Kids
Robert Herjavec has five children, namely:
Brendan
Brendan is the first child and son of Robert Herjavec whom he had with his first wife, Diane Plese. Born in 1993, Brendan was 11 years old when his parents separated. He is however, now an MBA holder.
Skye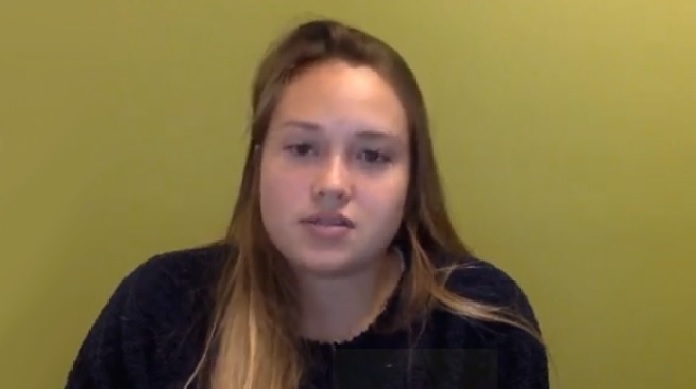 Skye is the second child and first daughter of Robert Herjavec and Diane Plese. Despite her parent's marriage crashing when she was still a child, Skye has grown into a lovely lady. She studied Business Administration and Management at the University of Southern California where she made it to the Dean's list on graduation.
During high school, Skye participated in athletics and competed in the 2013 Senior Girls 5k meters run. She is also involved in philanthropy and has worked with a number of charities including "One Laptop Per Child" and "Nurturing Orphans of AIDS for Humanity".
Caprice
Caprice Herjavec is the third child and second daughter of Robert Herjavec and Diane Plese. Born in 1998, Caprice was just six years old when her parents parted ways. She is a graduate of Havergal and Barnard Colleges.
Just like her sister, Caprice was also an athlete during high school, participating actively in track, swimming, ad rowing. In 2012, she earned the honour of "One Day Mayor of Toronto" for her exceptional performances at the national level competitive swimming.
While their marriage lasted, Robert Herjavec and Diane Plese seem to have chosen to keep their children away from media eyes. Moreover, the fact that his children were still very young when he parted ways with his wife, caused them to settle for a lowkey lifestyle with their mum following their divorce. This explains why information on them are very rare. As of the time of writing this article, none of the Plese-Herjavec kids has a public social media account.
Hudson and Haven
Hudson and Haven are Robert Herjavec's twin boy and girl whom he had with his second wife, Kym Johnson. The couple welcomed the double bundle on the 23rd of April, 2018. During an appearance on The Morning Show in September, 2020, Kym Herjavec said she and Robert won't be having more kids because of their age.
Business Breakthrough with BRAK Systems
After losing his job at Logiquest in 1990, Robert decided to become an entrepreneur. He thus founded his first tech business, BRAK Systems in his basement that same year. BRAK Systems was an integrator of internet security software. A decade later, AT&T acquired the company for $30.2 million. Following the sale of his company, Herjavec began working as the Vice President of Sales at Ramp Network.
The Herjavec Group and other Lucrative Ventures
After taking a few years of career leave to spend time with his family, Robert founded his second company, Herjavec Group in 2003. The Herjavec Group (THG) is a security solutions integrator, reseller and managed services provider. In a little over a decade, the company grew from 3 employees and $400,000 annual sales to 150 employees with annual sales of $200 million.
To keep The Herjavec Group thriving, Robert Herjavec has acquired several other tech companies. The Group has subsequently grown to become Canada's largest IT security provider as well as one of the country's fastest-growing tech companies. THG also topped the 2018 Cybersecurity 500 List. According to Robert, he hopes to build the company into a billion-dollar empire.
Robert also earns money from endorsing a number of top brands. Late in 2019, he became the spokesperson of the international private jet charter company, ONEflight. He also boosts his bank account with the paychecks he gets from speaking at events and sharing his business ideas at conferences.
Robert Herjavec as a Bestseller Author
In addition to being a successful entrepreneur, Robert Herjavec is an author, with three successful books to his credit. In 2010, he released his first book titled Driven: How to Succeed in Business and in Life. Through Driven, Herjavec gives insights into ideas, work ethics, and life principles that helped him to succeed and become wealthy.
In 2013, he followed up with The Will To Win: Leading, Competing, Succeeding. In The Will To Win, Robert shared lessons that leads to achieving greater success and happiness. For his first two books which simultaneously made it to the "Top 10 Bestselling" list, Robert Herjavec received the Bestselling Author award.
In 2016, he came up with his third book, You Don't Have to Be a Shark: Creating Your Own Success. Here, the dynamic entrepreneur teaches readers how to get ahead in their businesses through the act of persuasion.
Herjavec as a Shark Tank  Star and Investor
Robert Herjavec is one of the stars of the ABC reality series, Shark Tank. The show is a platform where aspiring entrepreneurs air their business pitches in a bid to gain interest and eventually, investments from already made entrepreneurs.
er Variety estimates, each star on Shark Tank earns not less than $50,000 for each episode of the TV series. Having aired almost 250 episodes since its premiere on August 9, 2009, we can imagine what that means to Herjavec's pocket!
Robert Herjavec has also starred on the Canadian version of the series, Dragon's Den which airs on CBS. The two shows which boast large fan base have both received wide acclaim from TV lovers.
In addition to just starring on Shark Tank, Robert Herjavec is also an investor on the show. Notable among Herjavec's Shark Tank investments are the 10% stake he acquired for $100,000 in a sweater company called Tipsy Elves, and a 5% stake in a Texas start-up for $300,000. So far, the passionate businessman has reportedly invested up to $16 million on 54 businesses via the TV show
His Earnings from Car Racing
Herjavec is an avid runner, golfer, car racer and collector. Although he mostly engages in driving (car racing) as a hobby, Herjavec also earns from the sport.
In 2011, Herjavec competed as #007 for the Herjavec Group Racing team in the North American Ferrari Challenge Series where he won the Rookie of the Year title. He later finished 3rd in the 2014 North America Challenge. He also won both races at the season opener in St. Petersburg and Florida.
While many businesses across the globe are crumbling under the Covid-19 attack, Robert Herjavec is busy seeking new ways out in cybersecurity as the world works from home. As of September 2021, he has an estimated net worth of $200 million.
Here's a quick recap of Robert Herjavec's sources of income and net worth boosters:
The Herjavec Group
Book sales and conferences
Shark Tank salaries and investments
Brand endorsements
Car racing
A Look Into Robert Herjavec's Luxury Lifestyle
Real Estate
Robert Herjavec owns several expensive houses. One of them is a 7-bedroom and 13-bathroom mansion in Bridle Path, Toronto which the millionaire businessman acquired for $7.5 million in 2000. The massive residence also boasts a ballroom and theater, among several other exclusive outdoor and indoor features. Herjavec recently sold the mansion for $17.4 million.
In 2017, Herjavec bought a $6.7 million 4500 sq. ft. home in Hollywood Hills. He also sold this off in 2019 and acquire a 13,000 sq. ft. home in Hidden Hills, LA. The Shark Tank star also owns a country house in Caledon, Ontario, alongside many other vacation homes scattered across the country including one in Florida and another on Lake Rosseau.
Cars
In addition to lavish residences, Robert has special love for cars. That could be the reason he settled for his Bridle home which reportedly has 3 garages that can take up to 20 cars! Rob first learnt how to drive with the Chevy Caprice station wagon, and when he could afford to own a car, he bought a Mazda RX-7.
Today, his garage boasts several expensive machines. Notable among these are his regular drive – a 2014 Range Rover Autobiography; his other favorites – Ferrari LaFerrari and Ferrari F12 Berlinetta; and his fun cars – a 1958 Porsche 356 and 2011 Rolls-Royce Phantom Drophead Coupe. But no matter how big or classy a car may seem to be, Rob sees it just as a means of transportation; hence, he doesn't enjoy talking about the costs.
Jets and Other Luxury Collections
Robert Herjavec's luxury collections are not limited to real estate and automobiles. In the early 2000s after selling BRAK Systems, Herjavec bought himself a $6 million private air plane. The millionaire investor has since acquired more private jets including a Gulfstream IV-SP and a Bombardier Challenger 604.
He also, once bought a $100,000 piano alongside a $10,000 player device since no one in his family could play the instrument.

Profile Summary
First Name:
Robert
Last Name:
Herjavec
Also Known As:

Robert Herjavec
Sex/Gender:

Male
Profession:

Businessman, Investor, and Television personality.
Famous For:
"Shark Tank", Dancing with the Stars
Colleges/Universities Attended:

University of Toronto
Educational Qualifications:

BA in English literature and political science
Religion:

Christianity
Birthday & Zodiac

Age/Date of Birth:

61 years old (September 14, 1962)
Zodiac Sign:
Virgo
Birth Place:

Varaždin, Croatia
Nationality:
Canadian
Ethnicity/Race:

Canadian
Country of Residence:

Canada
Physical Attributes

Height:

5 feet, 7 inches (173 cm)
Weight:

65 kg (143 lbs)
Eye Colour:

Blue
Hair Color:

Light Brown
Other Body Measurements:

N/A
Relationships

Marital Status:

Married
Spouse/Partner:

Kym Johnson (m. July 31, 2016);
Previously married Diane Plese (m. 1990–2016)
Family and Relatives

Father:

Vladimir Herjavec
Mother:
Katica Herjavec
Children:

Hudson Robert Herjavec and Haven Mae Herjavec(born April 23, 2018),
Skye Herjavec,
Caprice Herjavec
Brendan Herjavec

Siblings:
N/A
Other Relatives:

N/A
Net Worth
Estimated Net Worth:

$200 million
Salary:
NA
Source of Wealth:

Investments, TV shows