You will not be able to talk about the FX comedy; It's Always Sunny in Philadelphia without talking about Rob McElhenney. Not only is he one of the original cast members of the show, but he is also its creator, writer, and producer, making him and the show essentially, one. The show's popularity and long-running status on TV is a creative achievement that has given Rob McElhenney a significant net worth.
With such a rare accomplishment to his name, we took a look at how the show's success has helped him to his considerable net worth, dissecting his earnings from the show, as well as his income from opportunities he has gotten via the show's success. Check it out below.
Rob McElhenney Net Worth
A search for Rob McElhenney's name on the popular celebrity finance tracking website, CelebrityNetWorth.com reveals that the actor/writer/producer has a net worth of $50 million. It is a remarkable net worth that has been achieved in just over two decades working in the world's premier entertainment industry, and it is all thanks to his hit TV show, It's Always Sunny in Philadelphia.
Before his journey with the FX comedy started, he began his career in 1997, starring in a couple of minor roles in the TV shows, Law & Order and All My Children. Rob McElhenney made his debut in a film in the same year, in the film, The Devil's Own, but his scenes did not make it to the final edit.
He made other appearances in films like A Civil Action and Wonder Boys before he made his first notable appearance in Thirteen Conversations About One Thing (2001), playing the character, Chris Hammond.
Rob McElhenney made a couple of appearances in other projects before the idea for It's Always Sunny In Philadelphia came to him. At the time, Rob worked as a waiter as a supplementary source of income with his acting career, causing him to film the test pilot of the show on a budget of $200.
Today, that $200 investment has transformed Rob McElhenney into a wealthy man, with a net worth of $50 million. Although he continued to struggle in the show's first season and still worked as a waiter, the popularity achieved by the show at the end of the second season turned his life around.
Since then, he has signed multi-million deals with FX to keep the show running, like a $50 million three year deal that was signed in 2011 and an even more lucrative renewal signed in 2014. As a producer, he has also earned from the sale of the show's right to Comedy Central for $33 million.
It is unknown how much he makes per episode, but with more than 150 episodes aired so far across 14 seasons, and a role as a producer, writer, and actor, Rob earns a significant chunk of his income via the show.
However, while It's Always Sunny in Philadelphia remains the biggest contributor to Rob McElhenney's net worth, it is not his only source of income. Appearing as an actor on other shows like Lost, Fargo, The Mindy Project, and producing shows like How to Be a Gentleman, On the Record with Mick Rock, Unsupervised, and Mean Jean has helped Rob achieve his $50 million wealth.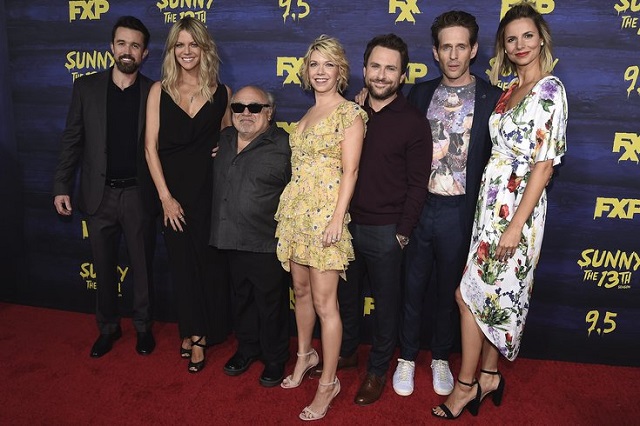 And it would appear his net worth is set to continue to climb whenever the FXX comedy show comes to an end. The Philadelphia-born actor is transitioning to writing and producing and has reportedly sold a film to Legendary Pictures for seven figures.
How Does He Spend His Money?
If having a net worth of $50 million makes you think you might not fit into Rob McElhenney's gang, you might want to think again. Although his days as a waiter are well behind him, he still maintains a modest lifestyle.
For one, he still works in the hospitality business, only this time, instead of being a waiter, he owns the bar. He and his wife, Kaitlin Olson, who is also an actress on the show, bought Skinner's Bar in Philadelphia and renamed it Mac's Tavern.
See Also: Brendan Fraser's Net Worth: How Much Is The Mummy Actor Worth Now?
Outside of his business investment, he also has a modest investment in real estate. In 2008, he bought a 4-bedroom mansion for $2.1 million in Sherman Oaks, California which he reportedly sold for $2.5 million in November 2018…