The towering Canadian-American actor is certainly best remembered for portraying the main character, Rick O'Connell, in The Mummy film franchise. Being the main character, he featured prominently in the entire trilogy (consisting of The Mummy, The Mummy Returns, and The Mummy: Tomb of the Dragon Emperor) between 1999 and 2008. But then, Fraser is not all about The Mummy. He has also played leading roles in several other hit projects, accumulating a pool of dollars for himself from these and probably from other sources. Thus, we want to look at Brendan Fraser's net worth. Before that, let's meet the actor and learn how he has fared in his life and career before we can know how much he is worth right now.
Background Details of Brendan Fraser
As already hinted, Fraser is a Canadian-American actor. He was born in Indianapolis, the capital of the US State of Indiana on December 3, 1968. Both of his parents, Peter Fraser and Carol Mary Genereux, were Canadian settlers in Indiana. George Patrick Genereux who won the Gold Medal in trapshooting at 1952 Summer Olympics and remained Canada's youngest Olympic medalist until 2016 was Fraser's maternal uncle.
Brendan had the rare opportunity of being raised in a couple of North American and European cities as his family relocated often. So, alongside his older brothers Kevin, Regan, and Sean, Fraser grew up in the US States of California and Washington, as well as the Canadian city of Ottawa, Ontario. He also resided in Netherlands and Switzerland with his family at some points. In addition to that, he spent a holiday in London.
As we consider Brendan Fraser's net worth, it may interest you to note that his success is widely attributed to the experiences he acquired from growing up in so many cultural backgrounds. His ethnic background is equally diverse as he has German, French, Irish, Scottish and, of course, Canadian ancestral roots. He also has dual citizenship in the US and Canada.
As a result of relocating often as indicated above, Fraser's basic education history is terribly variegated. However, we were able to find his records at Upper Canada College, a high school equivalent private boarding school in Toronto, Canada. He also studied at the Seattle Washington center of Cornish College of the Arts (CCA), graduating at the age of 22 in 1990.
Brendan Fraser's Net Worth And How He Acquired It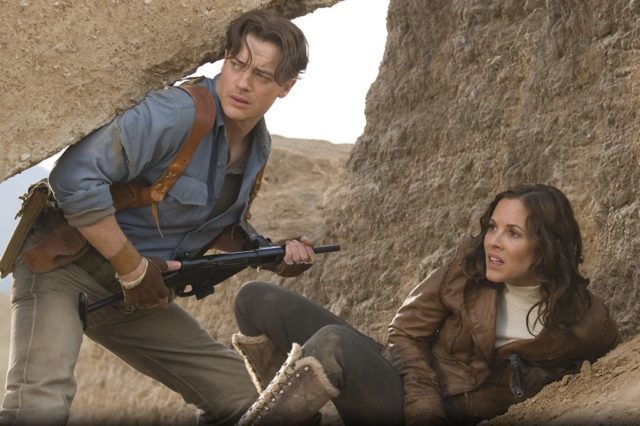 Brendan Fraser's net worth is estimated at $25 million as of 2019. The main source of his wealth is his career as an actor. Our findings show that he has landed some of the most lucrative contracts in the industry. For instance, for his role in The Mummy franchise, the actor's first pay was reported to be $4 million. But during the second part of the trilogy, his pay tripled as he was paid $12.5 million. Then, during the third part, his pay was increased to $14 million.
In as much as he is mostly associated with his role in The Mummy series, he has more credits that have all contributed to his net worth. For instance, some seven years before his appearance in The Mummy series, Fraser portrayed the role of Linkovich Chomovsky (popularly known as 'Link') in the 1992 American comedy film, Encino Man. Made with a budget of $7 million, Encino Man raked in almost $41 million at the US Box Office.
Before The Mummy, Brendan Fraser also starred in the 1994 comedy film The Scout alongside other big shots like Albert Brooks and Dianne Wiest. The Scout, however, fared poorly at the US Box Office. In addition to that, he played the leading role of 'George' in the 1997 Walt Disney live-action film, George of the Jungle. While George of the Jungle raked in $174.4 million from a budget of $55 million at the Box Office, we do not know exactly how much Fraser received for his role. But it obviously must have added a significant figure to his net worth.
SEE ALSO: How Eddie Murphy Achieved a Net Worth of Over $100 Million 
Other leading roles in film and TV that must have contributed to Brendan Fraser's net worth are the 2000 comedy film Bedazzled, the 2003 live-action comedy Looney Tunes: Back In Action, and the 2008 science fantasy adventure Journey To The Center Of The Earth.
Fraser also makes money from other sources such as executive production gigs and real estate. However, one source that has been bleeding him dry financially is the spousal/child support he has been paying to his ex-wife Afton Smith.