Interest in Kaitlin Olson and her private life has increased in recent times and this is no surprise considering her impressive rise in Hollywood as an actress of note who has put in a lot of hard work to attain her level of stardom. Calm, funny, and very talented, Kaitlin is also a producer and comedian. Having kick-started her acting career in 2000, she has worked extensively in the movie industry, churning out movies and TV series and becoming a popular face. So far, she has starred in nearly 40 movies and TV series and has also had a production credit on her resume.
Being a popular face on TV, Olson's private life has become a topic of interest for fans. Many people who are fascinated by her charming persona and hilarity have also become curious about how she combines her personal life with her profession. Questions about who her husband is, as well as if she has any kids are quite popular. It is public knowledge that she has a relationship with a fellow movie star named Rob McElhenney, but has she walked down the aisle with the man? If you have been one of those asking these questions, then be rest assured that we have all the answers you seek.
It's Always Sunny in Philadelphia for Kaitlin and Rob
Born on the 18th of August 1975, Kaitlin Olson has been active as an actress since 2000. As you will easily find, she began her career as a member of The Groundlings, an improvisational and sketch comedy troupe based in California. Her first screen appearance, to the best of our knowledge, was in 2000 when she appeared in movies like Coyote Ugly, Jacks, and Eyes to Heaven.
Kaitlin was kept busy in the year that followed as she featured in several projects made for both the small and big screens. For the latter, she appeared in Fugly, Meet the Marks, Scapegoats, Weather Girl, and Leap Year as Cha Cha, Kaitlin Marks, Jeannie, Sherry, and Libby respectively; this was between 2001 and 2010. You will also find her in Held Up, The Heat, Vacation, Finding Dory, and Arizona.
She has had more television roles but has only played a major character in three of them: The Mick (2017-2018), Flipped, and It's Always Sunny in Philadelphia. Of the three, the latter is the most popular and most successful. It is indeed the work she is most known for. This is also true for Rob who has been a part of the industry since 1996.
More than being an actor, Rob McElhenney is vastly admired for being a screenwriter, director, and producer. He has played many roles over the years but has come to be known as the creator, writer, director, and producer of FXX's popular sitcom, It's Always Sunny In Philadelphia.
How Kaitlin and Rob Evolved from Co-workers To Romantic Partners
Among other things, fans are very curious about how Kaitlin Olson and Rob McElhenney met each other and eventually fell in love. Let's tell you all about it.
The story of how Kaitlin Olson and Rob McElhenney met and fell in love is quite interesting because they actually evolved from co-workers to lovers. The couple first met while they were both working on It's Always Sunny in Philadelphia, a long-running American sitcom that has become very popular over the years. It was while filming the series that they fell in love.
Talking about how their romance started and blossomed, Kaitlin revealed that she and McElnenney did not start out immediately as lovers when they met on the set of the series. She revealed that she fell in love with the man because he made an immediate impression on her when she met him, so, she made a move on him first.
According to her, it was during a game night she had with her co-stars that she made her move. The actress disclosed that she smiled at McElnenney and even sandwiched herself between his laps, and got him to know how much she was into him. This was how it all began.
They Dated Secretly for a While
After that game night, they started getting close and soon started visiting each other. Eventually, they began dating in the second season of the series after seeing how much they had in common. Interestingly, they were able to keep their romance a secret from the rest of the cast; yeah, they just secretly kept their love burning. However, they eventually let their co-stars know about their relationship after some time.
Kaitlin Olson once disclosed that they were very sneaky about the relationship when it started in 2006 because they believed it was a bad idea. But time made them realize that the bond they share is truly genuine. Realizing that, Rob wasted no time in taking the relationship to the next level.
Rob Proposed at a Beach House
Just about two years after they started dating, Rob McElhenney asked Olson to be his wife. From what we learned, he proposed to her with a 1920s diamond cocktail ring at a Malibu beach house owned by Danny DeVito, their co-star in the FX sitcom. He chose the location because Kaitlin loves the beach.
As fate would have it, Kaitlin Olson and Rob McElhenney finally walked down the aisle as husband and wife on the 27th day of September 2008. Their wedding was witnessed by many close friends and family members.
Read Also:  Is Anna Kendrick Dating a Boyfriend or Is She Married To a Husband?
A Look at Kaitlin Olson and Rob McElhenney's Marital Life
Kaitlin Olson is Rob McElhenney's wife and the couple is in a very happy romantic relationship, often publicly professing their deep affection for each other. While they have been married for over a decade, there has been no controversial event that has been linked to them
Kaitlin Olson and Rob McElhenney do have children together; as a matter of fact, they have two sons at the moment. Their first son whom they named Axel Lee was born on the 1st day of September 2010. Axel was born in California after his mother reportedly went into labor at a baseball game between the Los Angeles Dodgers and the Philadelphia Phillies.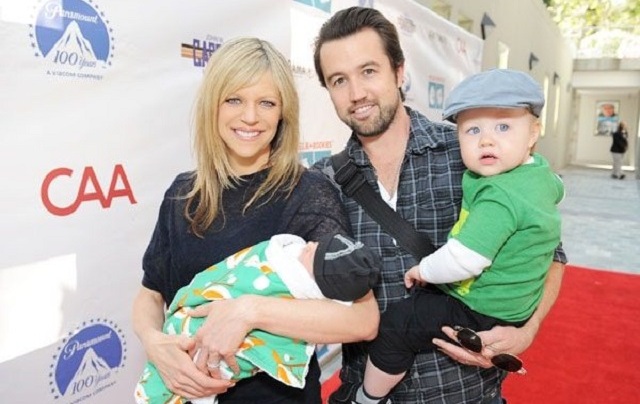 The couple welcomed their second son on the 5th day of April 2012. They named him Leo Grey McElhenney. Very proud parents, Kaitlin Olson and Rob McElhenney have often shown off their kids to the world, celebrating their growth.