Richard Branson is an English business tycoon. His wealth stems from his ownership of Virgin Group, a multinational conglomerate controlling over 400 companies.
Sir Richard Branson has a net worth of over $5 billion making him one of the richest men in the United Kingdom. He is also a daredevil adventurer and philanthropist. Here is all you need to know about how Richard Branson built a fortune greater than that of the Queen of England.
How Richard Branson Began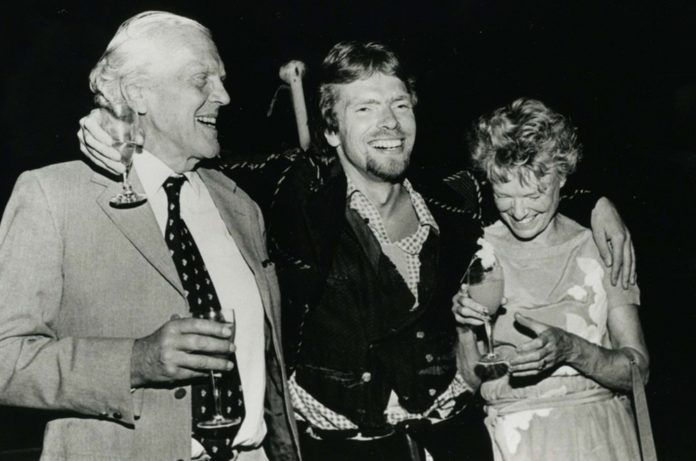 Richard Charles Nicholas Branson was born on 18th July 1950, in Blackheath, London. His mother was a ballet dancer and flight attendant and his father, a barrister. As a kid, Branson had dyslexia which affected his academic performance negatively. Consequently, he dropped out at the age of 16 to pursue a career in business. Branson received much support from his mom who was an entrepreneur in her own right.
Branson began by publishing a youth-focused magazine called Student Magazine. The magazine which was a deviation from the norm appealed much to the masses thanks to its fresh and interesting contents. By the late 1960s, Branson began interviewing stars including Mick Jagger. The Magazine's maiden edition published in 1966 made $8,000 from advertising.
To raise more funds for the magazine, Branson began a mail-order record store on Oxford Street, London which he called "Virgin" a name chosen because he and his partners were new to the business. The initial store was a massive success spawning a line of successful record stores which would become Virgin Megastores. The success of the record stores led to the establishment of the Virgin Record label.
Richard Branson's Virgin Records Breakthrough And His Net Worth
Virgin Record Label enjoyed an exponential increase in success much due to its involvement in the punk movement. The label's first release was the debut album of fledgling recording artist Mike Oldfield. The album titled "Tubular Bells" (1973) became an instant hit and propelled both label and artists to new heights. By the end of the decade, Virgin Records was a force to reckon with. With artists like Rolling Stones, Sex Pistols and Culture Club on their roster, it was easily the world's largest independent record label.
Virgin Atlantic – Virgin Media – Virgin America
After his jackpot with Virgin Records, Branson went ahead to develop the Virgin name into a brand launching into other fields beginning with Airline. The Virgin Atlantic airline was established in 1984. The airline, like the record label, grew rapidly to become a major competitor with British Airways. Virgin Atlantic had a higher market share value thanks to its cutting-edge premium features and superior customer service.
In the early 90s, Branson had to sell his struggling Virgin Records to EMI for $1 billion in order to raise capital for Virgin Atlantic. Crushed by the sale, Branson, in an effort to remain in the record business established Virgin Radio and later another record label V2 in 1996 of which he owns 5%.
Read Also: 10 Richest People of All Time [Infographic]
A series of disputes between Virgin Atlantic and British Airways culminated in a lawsuit in the early 90s. Virgin won, receiving over £3.6 million in total settlement fee which Branson shared among his staff. The airlines then expanded its business to US (Virgin America est 2007), Nigeria (Virgin Nigeria) and Australia.
Alaska Airline acquired Virgin America in April 2016 in a $2.6 billion merger. The entire transaction, per CNN Money, was worth $4 billion including debt and aircraft leases. Branson opposed the sale of the company which went public in 2014 but couldn't stop it due to insufficient votes. After the sale, the tie-loathing adventurer said he would be lying if he said he wasn't sad over the merger. But don't feel bad for Branson; his source of wealth is way beyond Virgin Atlantic.
The man has expanded his business portfolio to include; media/telecommunications (Virgin Media), financial services (Virgin Money), railway (Virgin Trains) wine stores, health (Virgin Health Bank), space travel (Virgin Galactic) among others. As of 2013 over 500 people had purchased tickets for Galactic's space voyage. The price of each ticket was revealed to be $200,000.
Branson's Virgin Media emerged after a $2 billion merger between his cable operator Virgin Mobile and NTL Telewest worth £1 billion which added wireless services to its offerings. Virgin Media has operations in over 11 countries. In 2013 Virgin Media was sold to Liberty Global for $23.3 billion. After the sale, Virgin Group remained entitled to £10 million royalties from Liberty Global.
However, Branson hasn't been entirely successful in all his efforts. His failed businesses include Virgin Cola whose success was truncated by competition from bigger players, Virgin Clothing, Virgin Bridges and Virgin Cars. The success of its Virgin Megastores was marred by a decline in demand for physical CDs. As of 2015, the store still had operations in the Middle East and North Africa.
See Also: 14 Billionaire Luxury Vacation Retreats
Richard Branson lives primarily in his own private Virgin retreat in Neckar Island which he purchased in 1978 for $180,000. He hosted former POTUS Barrack Obama in January 2017, shortly after he left the office. Branson lives at the luxury retreat with his second wife Joan Templeman whom he married in 1989.
Richard Branson's Wife And Children
Richard Branson's wife is Joan Templeman but his marriage to her is not his first marriage neither is it the only one. He has been married before. His first marriage in 1972 was to Kristen Tomassi, the daughter of Joseph H. Tomassi, who was the director of international marketing and development for Libby International. Their marriage only lasted for six years and they were divorced by the year 1979 without having any kids. There were accusations of infidelity on both sides and the union didn't survive it. In fact, their divorce was as a result of a "wife swap" arrangement between Branson and Soft Machine star, Kevin Ayers. And while the swap went well for Ayers as Branson's wife, Kristen went ahead to have a daughter for him, it didn't work well for Branson and Cyrille, Ayers' wife.
See Also: 20 Self-Made Billionaires Who Rose From Rags To Riches
Branson met his current wife, Joan Templeman in 1976 and they waited for 13 years before they were married (in 1989). She was married to Ronnie Leahy, a musician at the time they met. She also ran a London store and worked as a nude model at the time. They had their three children – two girls – Clare Sarah Branson (b. 1979) and Holly Branson (b. 1982) – and a boy – Sam Branson (b. 1985) before they were married in 1989 and the couple still live together.
Clare died just four days after she was born. Holly, now the eldest child in the family is a doctor but has abandoned her job to join her father's business. Sam Branson, on the other hand, was a model but now works as a filmmaker and an actor. He got married in 2013 to fellow actress, Isabella Calthorpe.