Plies is an American rapper, songwriter and record producer with an estimated net worth of $16 million. The Grammy-nominated rapper makes most of his money from the success of his records and playing concerts. Read on to discover more.
Plies Net Worth: Brief History
Plies was born Algernod Lanier Washington on July 1, 1976 in Fort Myers, Florida and raised in East Dunbar, a neighborhood in Fort Meyers. Washington's taste for fine things began from his high school days at Fort Myers Senior High School where he was named the Homecoming King as well as the Best dressed student in his class. He was also part of the varsity football team where he played as a wide receiver and as a defensive back.
He took his football skills to Miami University where he continued to play in the varsity football team as a wide receiver, beginning in 1995. Washington's stats greatly improved in his sophomore year in 1996 but dropped in 1997 when he transferred to University of Central Florida from which he later dropped out.
Plies Net Worth: Music Career
However, football was not Washington's only interest. Before he got into college, Washington together with his step brother, Ronnell Lawrence Lavatte aka Big Gates in 1990 founded their own private/independent record label known as Big Gates Records. Initially, Plies had little interest in rapping, focusing instead on producing other artists.
However, he changed his mind when Big Gates secretly recorded him coaching one of their clients and added it as one of the verses to the song which was titled "Tell Dem Krackers Dat". Impressed with what he heard, Plies and Big Gates began promoting the song in Miami. In 2004, Plies landed a record deal with Slip-n-Slide Records and began recording several mixtapes.
Plies Net Worth: The Breakthrough
After years of preparing himself with mixtapes, Plies released his debut studio album "The Real Testament" in August 2007 under Atlantic Records and his first two affiliated labels including his own Big Gates. The Real Testament debuted at #2 on The Billboard 200 and sold 96,000 copies in its first week. The album was preceded by two successful singles; "Shawty" featuring T-Pain which topped the Billboard Hot Rap Tracks and peaked at #9 on the Billboard Hot 100. The second single "Hypnotized" which featured and was produced by Akon made it to #3 on Billboard Hot Rap Tracks and 14 on Billboard Hot 100. A year later in 2008, the album received gold certification from the RIAA as it sold over 500,000 copies.
An established rap act, Plies began featuring alongside fellow established rappers like Rick Ross, Fat Joe, and DJ Khaled.
See Also: Young Jeezy Net Worth
Plies Net Worth: More Success
Plies' music success continued with the release of his sophomore studio album "Definition of Real" in June 2008. Like his first album, "Definition of Real" debuted at #2 on the Billboard 200 and was preceded by two singles. The first single "Bust It Baby (Part. 2)" featuring Ne-Yo debuted at #7 on the Billboard Hot 100 and is his most successful single to date. The second single was "Please Excuse My Hands" featuring Jamie Foxx, and The-Dream which together with the first was certified gold by the RIAA.
"Definition of Real" performed better on the market, selling almost 215,000 copies in its first week. About 4 months later, it sold an estimated 524,000 units receiving RIAA gold certification.
Eager for more success, Plies released yet another album 6 months later. Titled "Da REAList", the third studio album enjoyed less success than the previous debuting at #14 on the Billboard 2000 and selling only 114,000 copies in its first week. However, like his other works, it later sold over 500,000 copies to achieve the gold status.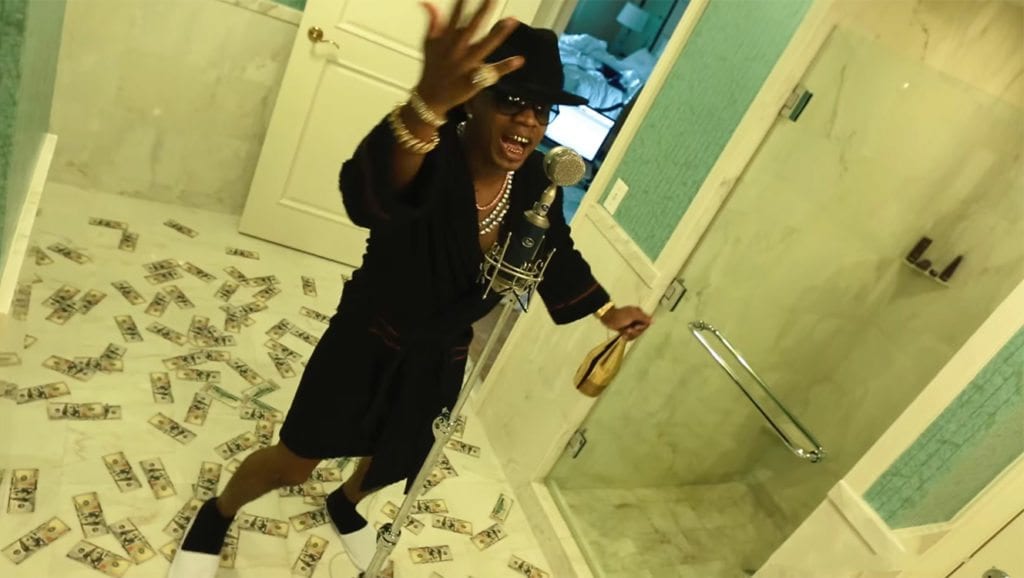 His fourth studio album "Goon Affiliated" charted better than the previous at #5, but sold far less than all its other works- only a recorded sale of about 150,000 copies.
Plies have remained active in music releasing several mixtapes rather than albums. He also continues to feature with other top acts in the industry and host live shows.
Plies Net Worth: Other Ventures
Shortly after the success of his "Bust It Baby" single from his second album "Definition of Real", Plies launched a clothing line named "Bust It Baby". However, the line only enjoiyed moderate success. The rapper sells merchandise made up of tees, slippers and bath robes on his official website starting from $20 a piece.
See Also: Lil Boosie Net Worth