Through creative freedom, Officer Daniels paved his own path to fame by relying on the independence of user-generated platforms. The former Vine star is hilarious on so many levels as clearly evidenced by his social media feed. Beyond Vine, the comedian's peculiar funny videos have garnered far-reaching attention on other social networking sites. Here are interesting reasons why the internet star's fanbase continues growing each and every day!
Who is Officer Daniels?
Officer Daniels was born on September 14, 1986. Going by public records, it is apparent that the comedian prefers to shield details of his personal life away from the media. Besides his birth date, there is no information readily available about Officer Daniels' full name, birthplace, early life, and educational background.
However, the internet star who is naturally gifted with a good sense of humor was flung to the limelight for his funny police-related videos. Before he found fame, Officer Daniels was just a regular Colorado-based police officer. But since he enjoys making funny videos of himself, the cop relied on the independence of user-generated platforms in this digital era to project himself to a wider audience.
It is uncertain when exactly Officer Daniels began posting on social media but his earliest comic skits have been traced to Vine, the wildly popular but defunct video-sharing app designed for phone users to film short, 6-second videos. His first Vine video Undercovers Be Like was uploaded in May 2014 and it quickly caught the attention of many. Encouraged by the positive reviews, the law enforcement officer followed up with tons of other comedic skits on the platform. By faking scenarios and posting funny videos relating to his job as a cop turned comedian, Officer Daniels of Colorado soon found success on Vine.
In order to solidify himself as a social media star, the comedian decided to spread his tentacles to other social networking sites like Facebook and YouTube. Before Vine was shut down, the comedian could boast of nearly 700,000 followers. Part of his acts on the platform involved video collaborations with other Vine stars such as Eh Bee, Trailer Trash Tammy, and Matt King, among others. After the app was shut down, Officer Daniels continued with his rib-cracking videos on other popular sites including Facebook, YouTube, and Instagram.
Is He A Real Cop?
You already know the answer to that from the foregoing. Yes, he is. Officer Daniels has posted many videos about his job and is yet to lose it, a clear indication of the fact that he has not violated any social media policy and is not putting his comic talents before his job.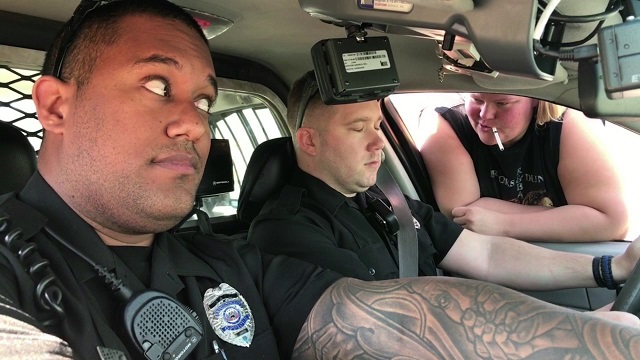 The law enforcement officer turned comedian is another proof that cops do have a sense of humor and are able to take some time out of their work schedule to show the human side of the badge. Though the sense of humor may sometimes be missed by some, it's definitely been caught by a whole bunch of others. With his funny videos mostly based on fake scenarios, Officer Daniels is not relenting in his efforts to provide a good break for a laugh in the middle of his fans' work schedule.
Meet His Wife and Family
As earlier hinted, Officer Daniels has been quite discrete with details regarding his personal life. Thus there is little or nothing known about his parents and family background. While his parents' identities are unknown, it is no secret that the cop is not an only child. He has four siblings – a brother and three sisters.
It is also uncertain if Officer Daniels has begun making his own family. Given the secrecy shrouding his personal life, it is difficult to ascertain the cop's relationship status. Since he has not been romantically linked to anyone and has not mentioned anything about his kids…it is safe to say the internet star is not and has never been married until proven otherwise.
See Also: Larry the Cable Guy Biography and Net Worth
Fun Facts About Officer Daniels
1. Officer Daniels seems to have a lot more going for him asides his pay job. In addition to being a social media star, the cop is an activist and is involved in a couple of social welfare services. Notably, he runs Humanizing The Badge, a non-profit aimed at strengthening strong relationships between law enforcement officers through online support and engaging social media content.
2. The blonde-haired law enforcement officer has impressive physical features. Officer Daniels towers at a height of 6 feet 1 inch, complemented by his body weight of 90 kg. His other body stats have not been disclosed.
3. After Vine was shut down, Officer Daniels moved on to other popular social networking sites, operating mostly on Facebook. However, fans can connect with the cop turned comedian via his Twitter, Instagram, YouTube, and Snapchat accounts.