The Los Angeles Lakers are known as a basketball powerhouse in the NBA, having produced several superstars who dominated the league during their time at the team. Just as well, they are known for having some of the wealthiest basketball players in history on its list, one of which is Magic Johnson, who has a net worth of $600 million.
Magic Johnson, during his career, was one of the best players to ever grace the court and despite retiring from the court for decades, his reputation has remained intact, adding another to it as a successful businessman. Through his business acumen, he has been able to amass his large net worth and we dive into the details of the former Lakers' wealth below. Check it out by scrolling below.
How Magic Johnson Achieved His $600 Net Worth
Like most basketball players, the foundation of Magic Johnson's net worth came via his time in the NBA. He earned a total of $25 million in salary during his active career as a player. During this time as a player, he solidified his legendary status by winning five NBA championships along with other honors like winning the NBA finals MVP three times, the NBA MVP award thrice, and NBA All-Star twelve times, among several other awards.
Before he retired from the NBA, Magic Johnson started his company, Magic Johnson Enterprises in 1987, the company which is now worth over a billion dollars today. During his playing days, his close relationship helped him with some of his major investments such as a 4% stake in the Los Angeles Lakers he acquired for $10 million. Through Magic Johnson Enterprises, he dabbled into various investment moves and career paths that grew his net worth.
His first major investment after buying the stake in LA Lakers was the high-end sporting goods company, Magic 32. The company failed and Magic lost his $200 thousand investment. Lessons from the business' failure led him to other businesses like partnering with Starbucks to open coffee chains in urban communities. His partnership with Starbucks had him own 125 Starbucks stores across Harlem, Detroit, and Washington DC. He owned the franchise stores for twelve years before he sold it back to the company in a lucrative deal.
Aside from his Starbucks investment, Magic Johnson also grew his net worth via investments in real estate, owning a string of buildings in urban areas. He was also part of a deal that bought the Williamsburgh Savings Bank Tower for $71 million, converting it into a residential building. Other business interests of Magic include EquiTrust Life Insurance Company and aXiomatic eSports.
Magic Johnson is majorly known to have built his net worth through a portfolio of investments in sports franchises and aside from his first investment in the LA Lakers, which he bought for $10 million and sold for $50 million in 2010, he also co-owns the Los Angeles Dodgers, and was once a co-owner of the Class-A minor league baseball team Dayton Dragons. He sold his stake in the franchise in 2014.
Other sports franchises owned by Magic Johnson which have contributed to his net worth include the WNBA team, Los Angeles Sparks and the soccer team, Los Angeles Football Club. Aside from sports, Magic's sprawling investment portfolio included a promotional company – Magic Johnson Productions, and a national chain of movie theaters – Magic Johnson Theaters, all of which are subsidiaries under his umbrella company, Magic Johnson Enterprises. He has since sold his theatre chain business to Loews Cineplex Entertainment.
See Also: 10 Richest NBA Players In The World Right Now And Their Net Worth
How Does He Spend His Money?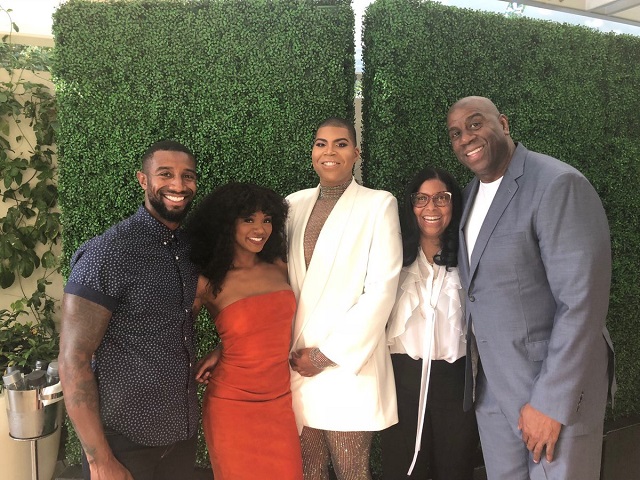 Magic Johnson owns a mansion in Beverly Hills and he has a fleet of cars that include luxurious brands like BMW, Ferrari. He also owns a private jet. Aside from his luxurious expenses, the former basketball star has also built a reputation for using his net worth to give back to minorities and the economically-challenged.
Some of his efforts include the Magic Card, a pre-paid MasterCard which is designed to help low-income people save money and shop online. He also created a contract food service, Sodexo-Magic in partnership with Sodexo USA.
Famously known for his HIV status, Magic Johnson, whose net worth places him as one of the most successful black businessmen in America, has a foundation; the Magic Johnson Foundation which is focused on HIV/AIDs awareness and helping victims access treatments. Other charities and foundations he spends on include Keep a Child Alive, Buoniconti Find to Cure Paralysis, The Miami Project and a few others.