What is Magic Johnson's net worth?
Net Worth:

$600 Million
Salary:
NA
Income Sources:
Basketball, endorsement deals, entrepreneurship
Age/Date of Birth:

64 years old (14 August 1959)
Height:

6 ft 9 in
2.06 m
Nationality:
American
Last Updated:

2021
Earvin Johnson Jr. popularly known as Magic Johnson is a retired American basketball player who has a net worth of $600 million.
He is currently the president of Basketball Operations at his former club, Los Angeles Lakers where he played as a point guard for 12 years. Magic Johnson's net worth is $600 million as of 2021
Magic Johnson was born on August 14, 1959, to Mr. Earvin Johnson Snr. and his wife, Christine. His parents both loved and played basketball when they were young and Magic must have picked the talent from them. You sure would love to know more about this famous Magic…
Magic Johnson's Net Worth
Magic Johnson's estimated net worth currently stands at $600 million. Below are details of some of his major sources of income and earnings:
His Interesting Basketball Career
Johnson got interested in basketball at a very young age. He was inspired by Earl Monroe. He joined the basketball team in High School. At 15, he scored a triple-double, had 36 points, 16 assists, and 18 rebounds. He was given the name Magic by a local sportswriter. He led his high school team to the state championship.
At Michigan State University, he led his team to the NCAA finals. They played against Indiana State University, and the face-off was the most-watched televised college basketball game. Even more interesting was the rivalry that this particular game established. Michigan won. Magic was crowned the most outstanding player of the final four.
In 1979, Magic was the #1 pick and was selected by the Los Angeles Lakers. He helped lead the LA Lakers to an NBA championship and was crowned the MVP of the NBA Finals.
Magic had a very successful basketball career. He played for the LA Lakers for 13 seasons winning 5 championships for them. Recognized as the greatest point guard of all time, he has 3 MVP awards and 12 all-star appearances. In 1981, Magic signed a $25 million contract with the Lakers for 25 years. After contracting HIV in 1991, he retired 5 years later in 1996 and was honored as one of the 50 greatest players in NBA history that year. During these periods, he played the all-star game, won the MVP and played 32 games for the Lakers.
In 2002, Magic was included in the Basketball Hall of Fame and was one of the star players of Dream Team in 2010. In 2014, he became the second person to receive the Sportsman of the Year Legacy Award as well as one of the NBA athletes that received the highest attention on social media.
Income and Earnings From Businesses and Investments
Magic Johnson has impressive business acumen. He credits his father for his inspiration to dabble in business. His father did not believe in handouts. Magic had to earn money if he wanted to spend. His father also inspired his interest in basketball, having exposed him to the game at a tender age.
He used the money he made from basketball to establish Magic Johnson Enterprises, which is currently valued at $1 billion. Some of the businesses owned by the enterprise are; Magic Johnson Theaters, a promotional marketing company, and a movie studio. Other product lines in the giant company are; Magic Johnson Bridgescape Academies (helps high school dropouts to get diplomas), Clear Health Alliance (provides healthcare for HIV/AIDS patients) and ASPiRE (a TV network). Johnson sold his chain of Starbucks coffeehouses for $75 million. He has also partnered with the likes of 24 Hour Fitness, AMC Theaters, and MVP Index.
Magic has invested in some urban real estate and even companies that catered for America's under-served markets. He did this via Canyon and Yucaipa Johnson funds. Johnson also invested in 'The Marvel Experience'- a travel entertainment show which is a 4D, animated and multimedia heavy show that features Marvel's superheroes.
Johnson's company sold her chain of movie theaters, but still owns Burger King Restaurants and health clubs. Magic got a deal with Sodexho, which is the largest food services and facilities management company in the entire world.
In 1994, he bought 4.5% of the Lakers for $10 million. He sold it in 2010 for an amount between $50 and $60 million. Together with a group of partners, he bought the LA Dodgers for $2 billion, the Dodger Stadium, parking lots around the stadium, land, and a TV contract. He also owns WNBA team LA Sparks.
Despite suffering from a life-threatening disease, Magic has managed to keep his focus on his numerous business endeavours which have brought him incredible wealth. His earning is set to increase over time as he expands his business empire.
Magic Johnson's Career Earnings and Past Salaries
| | | |
| --- | --- | --- |
| SEASON | TEAM | SALARY |
| 1994/95 | Los Angeles Lakers | $14,660,000 ($25,535,837*) |
| 1993/94 | Los Angeles Lakers | $2,500,000 ($4,463,244*) |
| 1992/93 | Los Angeles Lakers | $2,500,000 ($4,596,950*) |
| 1991/92 | Los Angeles Lakers | $2,500,000 ($4,738,915*) |
| 1990/91 | Los Angeles Lakers | $2,400,000 ($4,762,993*) |
| Total | | $24,560,000 ($44,097,939*) |
Meet Magic Johnson's Wife and Kids
Magic Johnson is married to Earlitha Kelly, a Huntsville native also known as "Cookie". Magic and Cookie met while they were both studying at Michigan State and later got married in September 1991. Magic discovered he was HIV positive just few months after their marriage and Cookie was already carrying his child. They soon welcomed a baby boy whom they named Earvin Johnson III aka EJ. Fortunately for the couple, both mother and child tested negative! Up till today, Magic credits Cookie for his survival of HIV as she ever stands by him through the challenges of living with the deadly incurable virus. In 2016, Cookie Johnson released a memoir titled "Believing in Magic", in which she told the story of her life and family, especially on the challenges of living with an HIV-positive partner.
Magic and Cookie are both advocates of HIV/AIDS and have donated over $1 million to community-based organizations that focus on the prevention and education of HIV/AIDS.
Prior to his marriage to Cookie, Magic Johnson fathered a son, Andre Johnson who was born on 20th February 1981, by his then-girlfriend, Melissa Mitchell. Albeit raised by his mum, Andre Johnson has a good relationship with his dad who visited them regularly. Andre once served as Marketing Director and subsequently, as the President of Business Development at the Magic Johnson Enterprise. He sometimes goes on holiday with his father. Before working at his dad's enterprise, Andre Johnson worked for Elektra Records as an artist and repertoire representative. Andre is married to Melissa, coincidentally his mother's namesake. The couple has a son together.
EJ Johnson, Magic's first son with Cookie is gay. His sexual status was spilled on the spotlight in 2013 while he was studying Events Management and Design at the New York University. He soon became popular for starring in the American reality TV series, Rich Kids of Beverly Hills which aired between 2014 and 2016. EJ also drew much attention to himself after he underwent a gastric arm surgery and dramatically lost weight, slashing off up to 100 pounds. EJ Johnson enjoys unconditional love and support from his parents, especially in the area of his sexual orientation.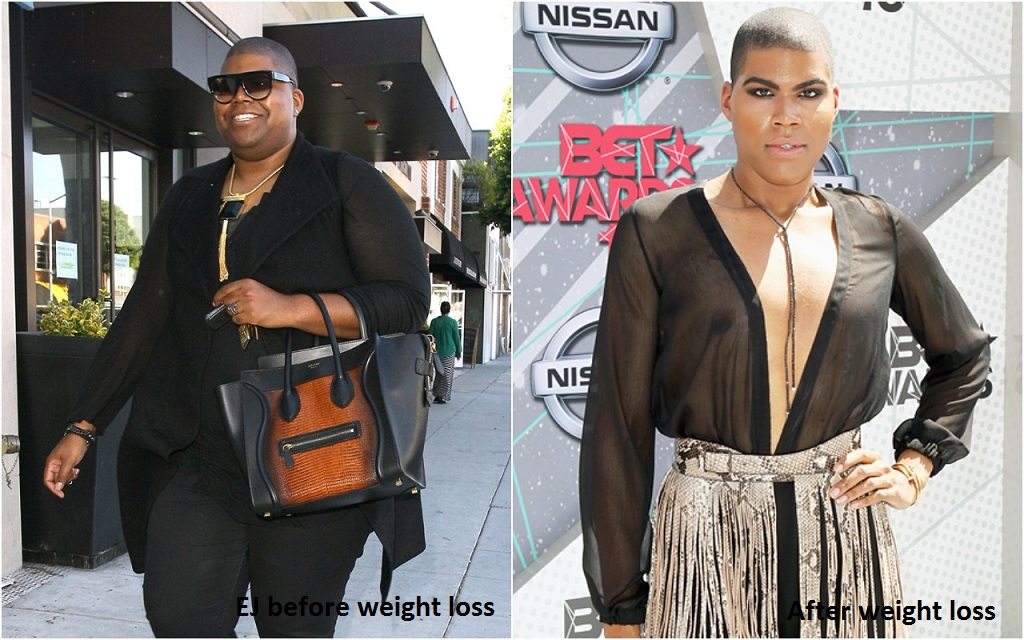 In 1995, Magic and Earlitha adopted a baby girl, Elisa Johnson. The couple who needed another child settled on adopting one instead of taking chances on producing an HIV infected offspring. Elisa has a younger biological brother whom she met together with her biological mother when she was 18. Now in her twenties, Elisa has followed her elder brother's footsteps in acting and modeling, She has also starred on the Rich Kids of Beverly Hills series and on EJ's own reality show, EJNYC. Elisa studied Fashion Business at the New York Fashion Institute of Technology. She has a great passion for fashion and social media, regularly attending fashion shows and posting proceeding photo shoots for the viewing pleasure of her over 330,000 followers on Instagram. She also plays basketball as a hobby and wants to become an HIV/AIDS advocate in the future.
In all, Magic Johnson has 3 kids – Andre, EJ, and Elisa. Despite the fact that they were all born of different mothers, they share the bond of one family with Magic and his wife, Cookie.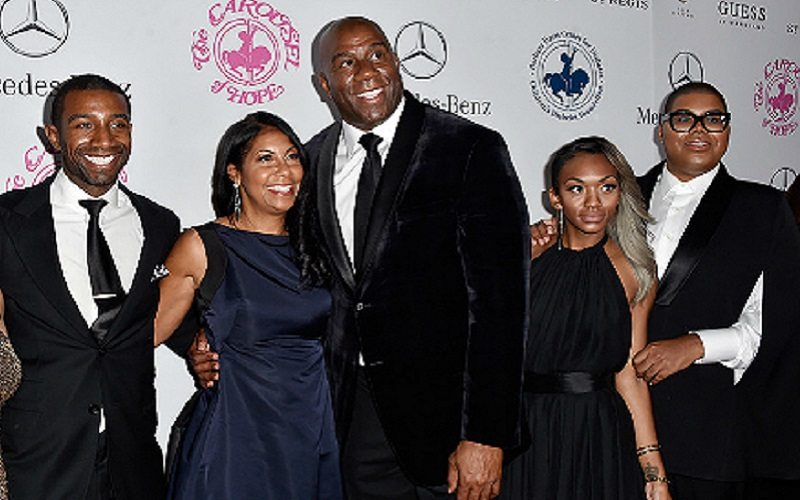 In addition to his immediate family, Magic has 4 brothers  – Quincy, Larry, Micheal and Lois; and 5 sisters – Kim, Pearl, Yvonne, Evelyn, and Mary.
Details of His Height and Body Statistics
Magic Johnson is extraordinarily tall. With a height of 2.06 m (6'9″), Magic always stands elevated, head and shoulders above everyone else at almost every appearance. He has the height of a giant, as he is only 3 inches short of 7 feet!
Moreover, Magic is not only tall, he also has a huge body size, weighing about 231 lb (105 kg). His feet measure 14.5 in American shoe size measurement.
Profile Summary
First Name:
Earvin
Last Name:
Johnson Jr.
Estimated Net Worth:

$600 Million
Salary:
NA
Source of Wealth:
Basketball, endorsement deals, entrepreneurship
Last Updated:

2021
Also Known As:

Earvin "Magic" Johnson Jr.
Magic Johnson
Buck
Eawal
Sex/Gender:

male
Profession:

Retired professional basketball player, entrepreneur
Famous For:
Being one of the greatest NBA stars
Colleges/Universities Attended:

J.W. Sexton High School
Michigan State University
Educational Qualifications:

NA
Religion:

Christian
Birthday & Zodiac

Age/Date of Birth:

64 years old (14 August 1959)
Zodiac Sign:
Leo
Birth Place:

Lansing, Michigan, United States
Nationality:
American
Ethnicity/Race:

African American
Country of Residence:

The United States
Physical Attributes

Height:

6 ft 9 in
2.06 m
Weight:

220 lb
100 kg
Eye Colour:

Dark brown
Hair Color:

Black
Other Body Measurements:

NA
Relationships

Marital Status:

Married
Spouse/Partner:

Cookie Johnson (m. 1991)
Family and Relatives

Father:

Earvin Johnson
Mother:
Christine Johnson
Children:

Andre Johnson (b. 1981)
EJ Johnson (b. 1992)
Elisa Johnson (b. 1994)

Siblings:
Pearl Johnson, Evelyn Johnson, Yvonne Johnson, Kim Johnson, Mary Johnson
Other Relatives:

Grandchildren- Avery and Gigi
Your Questions Answered: