Julia Roberts Net Worth: $210 Million. Julia Roberts is an American actress and producer best known for her 1990 movie Pretty Woman which was a box office hit grossing over $464 million at the worldwide box office. Within a career that spans over 3 decades, Julia Roberts' movies have collectively grossed at least $3 billion at the global box office.
From the late 1990s, Julia Roberts began earning 7 figures per movie role. She was the first actress ever to score $20 million for a single role. By 2007 her net worth per Forbes reached $140 million, making her the 8th Richest woman in entertainment and the richest actress in Hollywood.
Even in recent years, Julia Roberts remains a force to be reckoned with. Though she is less seen on the big screens, she supplements her acting gig with lucrative endorsement deals. Between 2015 and 2016, Julia Roberts earned $28 million from all her endeavors. Per findings, JustRichest estimates Julia Roberts' net worth at over $210 million as of 2017. Her endless list of accolades includes 3 Golden Globe Awards and 1 Oscar Award. We take you through the highlights of her very enviable career.
Julia Roberts Net Worth: How She Began
Julia Fiona Roberts was born on October 28, 1967, in Smyrna, Georgia. Roberts is one of those actors who didn't initially aspire to become an entertainer. In her case, it was to become a veterinarian, however, unable to deal with the brainiac work science required, she changed her mind. She attended Georgia State University but dropped out and relocated to New York in 1985 joining her siblings who had earlier made up their minds on an entertainment career.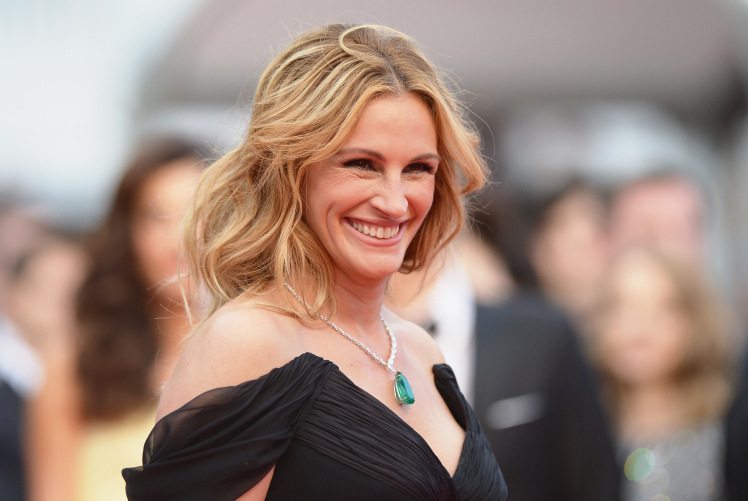 In New York, she attended acting classes and supported herself with minor modelling gigs after signing with Click Modeling Agency.
Like most wannabees, Roberts started small, taking up as many small roles as she could both in films and TV shows. However, her rise to fame was rapid. Three years after joining the acting industry, Roberts received her first acclaim with her role in Mystic Pizza (1988). The next year was even better. Roberts received her first Oscar and Golden Globe nominations for her highly acclaimed role in Steel Magnolias. She received $90,000 from the profits of the movie.
See Also: Jennifer Aniston Net Worth
Julia Roberts Net Worth: Pretty Woman Breakthrough, Earnings
Roberts parlayed her Steel Magnolias performance with a lead role in "Pretty Woman" opposite Richard Gere. The movie became a major hit, establishing her as the new Hollywood star on the block. Pretty Woman had a budget of $14 million and grossed over $463 million at the global box office. Roberts was paid $300,000 for her role. That same year, she received half a million dollars for her role in Flatliners. She also hit jackpot with Sleeping with the Enemy (1991) receiving $1 million. The movie made $175 million against a $19 million budget.
Her subsequent 1991 outings– "Dying Young" and "Hook" didn't appeal much to movie-goers, regardless, Roberts still earned $3 million and $7 million respectively. While her career was reaching sky high, Julia's personal life was suffering from the pressure of stardom. She called off her wedding to Kiefer Sutherland 3 days before the slated June 11, 1991, D-day. Consequently, Roberts took a 2-year hiatus from acting, leaving fans worried about the future of their favorite actress.
However, Roberts returned with a bang in 1993 with the thriller "The Pelican Brief" with Denzel Washington. For the second time, Roberts allowed her personal life get in the way of her career. Her 1993 marriage to singer Lyle Lovett survived only two years as the couple divorced in 1995. Roberts then decided to take it slow with marriages, focusing more and her career and my! were we grateful she did…
Roberts regained her place in the hearts of movie lovers with hits like My Best Friends Wedding, Notting Hill, Runaway Bride (again with Richard Gere) and Conspiracy Theory. The new millennium saw Roberts reach unprecedented heights. She played the title role in 2000 film "Erin Brockovich" for which she won her first Oscar Award and received $20 million, making her the first Hollywood actress to earn a paycheck that substantial.
Julia Roberts continued winning throughout the 2000s most notably in The Ocean's film series, and 2007's Charlie Wilson's War.
See Also: Top 18 World's Highest Paid Actresses 2015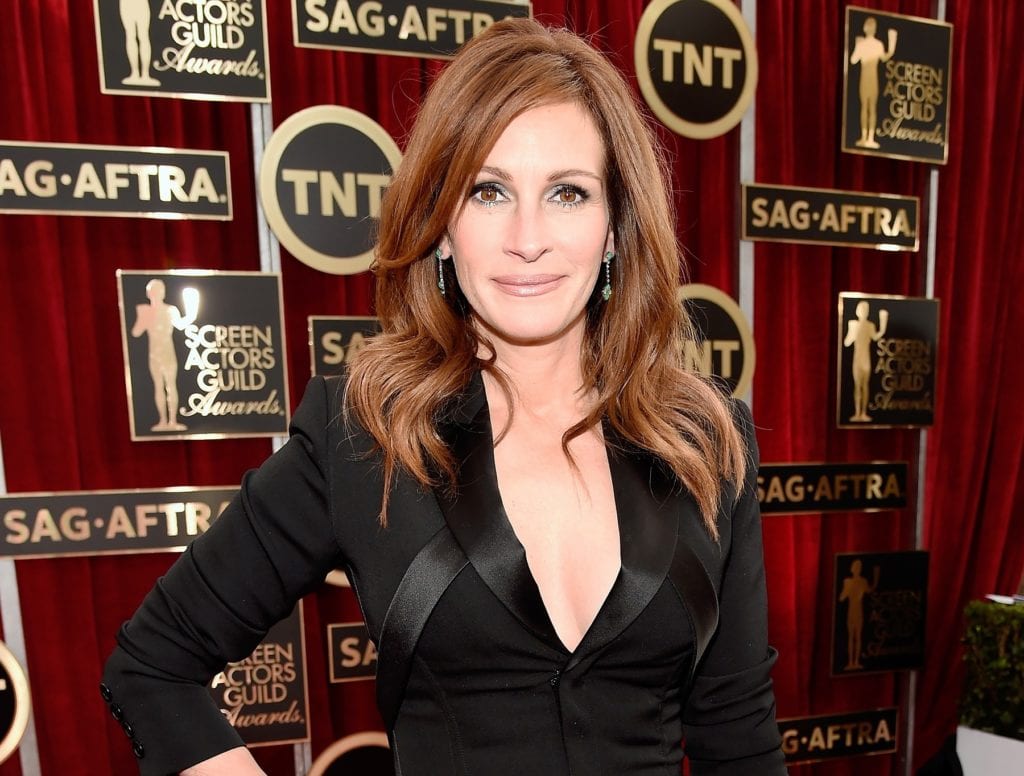 Julia Roberts Net Worth: Recent Endeavors, Others, Endorsements
Julia Roberts has definitely left her footprints in the sands of Hollywood time. In recent years, she's been more interested in starring in movies she can describe as "good" rather than just for the money. And while that has seen her earnings dip, the veteran still earns enough to become a Forbes list regular. Roberts sometimes strikes a deal to earn a percent of the total movie gross. She was paid $25 million for her role in 2003 movie "Mona Lisa Smile". It remains her highest paycheck for a single role. The movie earned $141.3 million against a $65 million budget
In addition to acting, Roberts has transformed her star power to shilling for luxury brands. She has been a global ambassador for beauty brand  Lancôme since 2009. In 2010, the company signed her to a 5-year deal worth $50 million. Her other endorsement partners include Givenchy and Calzedonia. In 2006 she was paid $6 million to endorse Gianfranco Ferre.
Julia Roberts also banks as an executive producer under her own production company Red Om Films of which her fellow actress sister Lisa Gillan is a co-founder. The company produced the TV series "American Girl."
See Also: Top 10 World's Highest Paid Actresses 2016
Julia Roberts Net Worth: Salary, Earnings Per Role
Mary Reilly (1996) – $8.5 million
The Pelican Brief (1997) – $8 million
Conspiracy Theory (1997) – $11 million
Notting Hill (1999) – $15 million
Runaway Bride (1999) – $17 million
The Mexican (2001) – $20 million
America's Sweethearts (2001) – $15 million
Ocean's Eleven (2001) – $10 million
Closer (2004) – $20 million
Ocean's Twelve (2004) – $5 million
Duplicity (2009) $15 million
Eat, Pray, Love (2010) – $10 million
Valentine's Day (2010) – $3 million.
Mother's Day (2016) – $3 million
Between 2011 and 2016, Juia Roberts earned an estimated pretax income of $85 million.
Julia Roberts Net Worth: Houses
Julia bought a Manhattan apartment in 2010 for $4 million. She later listed it for $4.5 million. She owns a Ranch in Taos, New Mexico valued at $2.5 million. In 2011 she bought Faye Residence, an estate in Hanalei Bay, Hawaii for $13.4 million and sold it for $16.2 million in 2015 after originally listing it for almost $30 million. Roberts owns two
Roberts owns two $7 million properties in the Point Dume area in Malibu. She bought the first one in 2003 and tore it down only to erect a 100% eco-friendly mansion dubbed "Green mansion." The Green mansion is estimated to be valued at about $30 million. She bought the second property in February 2016.
INTERESTING FACTS ABOUT JULIA ROBERTS
Her parents were actors who met on a theater production set. They owned a children's acting school in Decatur, Georgia where the children of Martin Luther King, Jr. attended.
She played clarinet in high school.
Her older brother, Eric Roberts, sister Lisa Roberts Gillan, and niece Emma Roberts are also actors.
She believes in and practices Hinduism. She even names her children after Hindu gods.
Roberts has been named People magazine's most beautiful people on the planet at least 11 times.
Like her parents, she met her husband cameraman Daniel Moder on set while filming The Mexican. At the time Roberts was dating Benjamin Bratt while Moder was married to Vera Steimberg. Both broke their individual relationships to be together. They have three children together including twins Hazel Patricia and Phinnaeus "Finn". As of 2017, Roberts and Moder are still married.
Julia Roberts literally has a million dollar smile; she had it insured for $30 million!