Directed by Shawn Levy, Free Guy is an American science action-comedy movie set to be released theatrically by the 20th Century Studios in the United States on May 21st, 2021. The release date for the film had been postponed twice due to the coronavirus pandemic. One of the cast members, Ryan Reynolds, who is also among the producers of the movie, plays the main character and his comedic skills contribute to the movie being considered as one of the most hilariously insane films to hit the silver screen in recent years.
With Free Guy featuring cameo appearances from famous gamers such as Ninja and Pokimane, there has been a massive build-up in the wait for the movie to hit the theatres. Thus, here's a sneak peek into the movie's cast members, the roles they played, and their net worths.
Cast Members of Free Guy and Their Respective Fortunes
1. Ryan Reynolds
Role: Guy
Net Worth: $150 Million
Ryan Reynolds is cast in the lead role of Guy, a bank teller who tries to become an unlikely hero as hell breaks loose around him. Realizing he is a background character in an open-world video game called Free City, Guy starts cracking wise and kicking ass, fighting the bad guys while trying to save his world from the destruction which is the shutting down of the video game by its developers.
While it is not clear how much he will earn from this project, the Canadian-born actor earned a salary of $2 million for his role in Deadpool. Following a successful negotiation for backend points, he had a payday of approximately $22 million. He equally had a heavy payday for the sequel although his earnings haven't been officially confirmed. The actor and producer is further famous for playing roles in movies such as National Lampoon's Van Wilder (2002), The Proposal (2009), and Deadpool (2019).
2. Jodie Comer
Role(s): Molotov Girl / Milly
Net Worth: $3 Million
British actress Jodie Comer is popularly known for her role of Oksana Astankova/Villanelle in Killing Eve (2018-present). Alongside Ryan Reynolds, she is cast in the main role in Free Guy, playing a dual role of Molotov Girl and Milly. The former is a character in the Free City game while the latter is one of the developers of the game in the movie. She works together with Guy in the video game, fighting bad guys and trying to save their world from destruction.
Over the years, Jodie Comer has been making waves in the American and British film industries. She is a recipient of the Primetime Emmy Award, British Academy Television Award, and Gold Derby Award.
3. Taika Waititi
Role: Antoine
Net Worth: $3 Million
American comedian and filmmaker, Taika Waititi, is one of the cast members of Free Guy. He is among the main characters in the movie and plays the role of game publisher Antoine who wants to eliminate Guy from the Free City video game.
Waititi has a net worth of $3 million and has starred in a slew of films and TV series such as Eagle vs Shark (2007), The Jaquie Brown Diaries (2010), Boy (2010), Hunt for the Wilderpeople (2016), and Jojo Rabbit (2019). Throughout his career, he has won the Academy Award, British Academy Film Award, Grammy Award, and Writers Guild of America Award.
4. Joe Keery
Role: Keys
Net Worth: $2 Million
Stranger Things star Joe Keery is cast as Keys, a video game developer in Free Guy who partners with Milly to develop Free City. Realizing that Guy is behaving differently in the video game, he talks to the publishers of the game who then fight to terminate his character. Joe, a Massachusetts native, took to acting in the year 2015, making appearances in Sirens, Chicago Fire, Empire, and Henry Gamble's Birthday Party that year. He later became a TV star with his role of Steve Harrington in Stranger Things (2016-present).
5. Utkarsh Ambudkar
Role: Mouser
Net Worth: $2 Million
American actor and rap artist Utkarsh Ambudkar portrays the character of Mouser in the action-comedy film. He has a net worth of $2 million thanks to his successful acting career, as well as his music career. Not only has the actor starred in TV series and movies, he has also made appearances in numerous stage productions such as The Me Nobody Knows (2005), The Elaborate Entrance of Chad Deity (2010), Hamilton (2013), and Freestyle Love Supreme (2019-2020).
6. Lil Rel Howery
Role: Buddy
Net Worth: $2 Million
The character Buddy in the upcoming Free Guy movie is played by Lil Rel Howery. His charcater is Guy's best friend who thinks that Guy is having a difficult time when he reveals to him about them being background characters in a video game. Beyond starring in Free Guy, Howery is best recognized for playing Robert Carmichael in the comedy TV series, The Carmichael Show (2015-2017). He also served as the creator and co-producer of the TV series, Rel. As a comedian, Howery's stand-up special titled Kevin Hart Presents: Lil Rel: RELevent was acquired by Netflix in 2016. No wonder, he has an estimated net worth of $2 million.
7. Matty Cardarople
Role: Gamer
Net Worth: $1 Million – $5 Million
American actor and comedian Matty Cardarople began his career in the year 2008, appearing in Drillbit Taylor. He has since gone on to gain more acting roles and is among the cast of the upcoming Free Guy film where he portrays Gamer. Asides from the aforementioned movie, Matty is set to appear in other upcoming projects such as American Cherry and Night Night slated for release in mid or late 2021. Also in the same year, he has featured in Made for Love and Reservation Dogs.
8. Camille Kostek
Role: Bombshell
Net Worth: $3.4 Million
Camille Kostek is a Sports Illustrated Swimsuit model who is cast as Bombshell in Free Guy. She is an alumna of Eastern Connecticut State University. She began her professional career at the age of nineteen as a cheerleader for the United Football League's franchise, Hartford Colonials. Over the years, she has appeared in commercials for Rebag and Nissan and equally been on the covers of Haute Living, as well as Ocean Drive. Kostek has additionally served as the host of multiple radio and TV shows, including hosting the TBS game show, Wipeout. Hence, her net worth is pegged at $3.4 million.
9. Britne Oldford
Role: Missy
Net Worth: $1 Million – $5 Million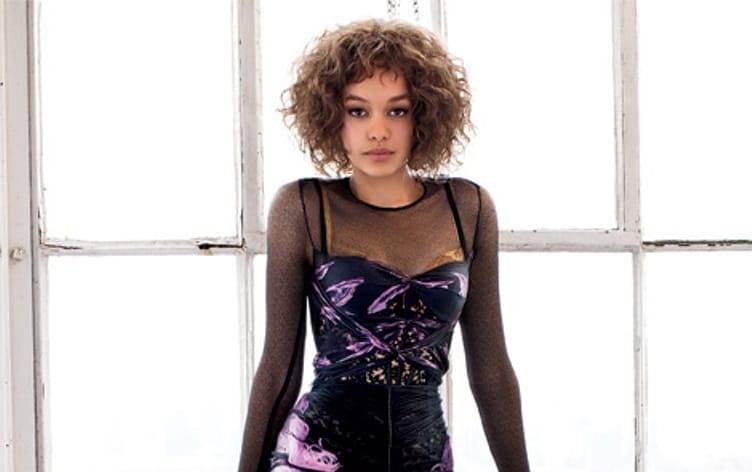 Playing Missy in Free Guy is Britne Oldford. The American-Canadian actress is immensely popular for playing the roles of Alma Walker in American Horror Story: Asylum (2012-2013) and Remy Beaumont in Ravenswood (2013-2014). She has been active in the film industry since 2009 and presently has over 20 acting credits under her belt. They include The Latest Buzz (2009), Robot Chicken (2012), Loitering with Intent (2014), How He Fell in Love (2015), Hunters (2016), The Path (2017), and Blindspot (2018-2019).
10. Leah Procito
Role: Bank Teller
Net Worth: $500,000
Sitting on an estimated net worth of $500 thousand, American actress Leah Procito is famous for starring in Central Intelligence (2016), Thoroughbreds (2017), and Spenser Confidential (2020). In Free Guy, she plays the role of a bank teller. Her acting talent can further be seen in Katie Fforde (2015), The Purge: Election Year (2016), The Polka King (2017), Wheelman (2017), Super Troopers 2 (2018), I Care a Lot (2020), Dead Reckoning (2020), The Families Feud (2021), and JAMAL (2021).
Other Cast Members of Free Guys and The Roles They Played
1. Alex Trebek (Self)
2. Janelle Feigley (Jogger)
3. Aaron W. Reed (Dude)
4. Owen Burke (Bank Robber #2)
5. Kayla Caulfield (Soonami Tech)
6. Jose Guns Alves (Soonami Security Chief)
7. Michael Tow (Rain Man)
8. Michael Malvesti (Newsstand Man)
9. David Morwick (Douche Guy)
10. Ralph Ayala (NPC – Security)