Rob Gronkowski is unarguably one of the best tight ends to have ever played in the National Football League (NFL) as he is viewed as the archetype for which a player in the position should be. The three-time Super Bowl champion, who made a name for himself as a part of the New England Patriots team that featured Tom Brady and was coached by Bill Belichick, began his professional career in 2010 after having enjoyed a decent college football career at the University of Arizona.
Gronk, as he is famously known as, has set several NFL records, including being the only tight end in NFL history to reach 1,000 or more yards and the first to ever lead the league in receiving touchdowns. With his numerous accomplishments, it is no surprise to see that the star player has signed some pretty mouth-watering deals as numerous top companies and brands fight each other to get his endorsement and feature him in their adverts and promotional campaigns.
Breakdown of Rob Gronkowski's Contracts in the NFL
Rob Gronkowski started earning the big bucks after he was drafted into the NFL in 2010 by the New England Patriots with the 42nd overall pick. After being selected by the Patriots, he put pen to paper on a four-year rookie contract worth $4.4 million. The deal further came with a $1.76 million signing bonus.
Gronk proved to be a great addition to his team during pre-season and he was able to replicate this as the 2010 season got started. By the end of his rookie year, he had recorded a total of 10 touchdowns and 42 receptions for 546 receiving yards. The following season proved to be an even better year for the player as he set NFL records for tight ends by recording 18 touchdowns and 1,326 receiving yards. His achievements in the 2011 season went on to earn him a place on the AP All-Pro First Team. He was also voted as the starting tight end for the AFC team at the 2012 Pro Bowl. Since then, Gronk has been named to the Pro Bowl four more times; in 2012, 2014, 2015, and 2017.
Before the 2012 season went underway, New England Patriots executives awarded Rob Gronkowski a new bumper contract. In June 2012, the athlete penned a six-year deal worth $54 million, the biggest contract ever signed by an NFL tight end. It further came with a signing bonus of $8 million.
The 2012 and 2013 seasons did not play out as both Gronk and the team would have hoped as he suffered multiple injuries that required him to go under the knife six different times. He had four surgeries on his forearm, one on his back, and another to repair his ACL and MCL. By 2014, the player was able to get back to his best as he and his star quarterback teammate, Tom Brady, were able to lead their team to victory at Super Bowl XLIX. He received the Comeback Player of the Year award at the 2015 ESPYs for having overcome his multiple injuries to play again at the highest level.
In 2016, Rob Gronkowski led the Patriots to another championship at Super Bowl LI. In the following years, his team continued to show dominance in the league, making appearances at the 2017 and 2018 championship games. They, however, lost Super Bowl LII to the Philadelphia Eagles but won Super Bowl LII against the Los Angeles Rams.
At the end of the 2018 season, Gronk announced that he was retiring from the game as the injuries he had suffered in the past were taking a toll on him. The tight end would go on to spend a year in retirement before returning in 2020 to join the Tampa Bay Buccaneers following a trade by his former team who still held his rights.
Other Avenues Through Which He Makes Money
Rob Gronkowski has insisted that he has not spent any of the money he made from the contracts he signed in the NFL. All he has been spending and strictly lives on are his earnings from endorsement deals, appearance fees, and what he makes from other business ventures. ESPN's "World Fame 100" list estimated that the tight end took home about $8 million that year from endorsement income.
Gronk has appeared in ads on TV, print, and online, for brands like Dunkin Donuts, Nike, T-Mobile, Tide, and JetBlue. The list further extends to include video games like Halo and Mobile Strike, Visa, Lyft, Cheerios, Zynga, Sizstar Pro, Oberto, Kids Footlocker, and DraftKings among many others. Due to his long involvement with Tide, he appeared in a public service announcement video where he discouraged children and all others from eating the company's laundry detergent pod as a result of a viral internet challenge.
In 2012, the athlete signed off on PLB Sports producing a frosted cornflakes breakfast cereal named "Gronk Flakes". The venture was a huge success and led the company to produce "Gronk's Hot Sauce" in 2015. In 2016, the energy drink company, Monster Energy, collaborated with him to release a signature beverage called "Gronk" which was distributed by Coca-Cola.
In 2017, the athlete who had been a lifelong fan of wrestling signed a deal with WWE. He went on to make a cameo appearance at WrestleMania 33 during the André the Giant Memorial Battle Royal. Three years later, in 2020, he returned to host WrestleMania 36 where he won the WWE 24/7 Championship.
Rob Gronkowski has further made some money through the sale of his memoir, It's Good to be Gronk. He collaborated with Jason Rosenhaus to write the book that was published by Simon & Schuster's and Derek Jeter's Jeter Publishing and has become a New York Times Bestseller. He has also appeared in various TV series and movies, either as a fictionalized version of himself or in a role. He was first seen in Entourage (2015) before he appeared in a 2017 episode of Family Guy titled Gronkowsbees. Other roles he has had are in American Violence (2017), You Can't Have It (2017) and Deported (2018) among others.
What is Rob Gronkowski's Actual Net Worth?
Rob Gronkowski has recorded tremendous success in his career and it is no surprise to see that his net worth has been estimated to be around $40 million. The athlete is able to be worth that much thanks to his huge earnings from salaries, endorsement deals, and other business dealings.
As mentioned above, the tight end signed a $54 million deal with the Patriots in 2012, the highest deal ever given to a player in his position in the NFL. This did not come as a surprise since he was regarded by both his peers and sports analysts as the best tight end the NFL has ever seen.
Gronk has managed to sustain his wealth and is even constantly adding to it thanks to his larger-than-life personality both on and off the field of play. His effervescence did not only make him a fan favorite but it also bestowed the status of an icon on him.
Meet Gronkowski's Longtime Girlfriend Camille Kostek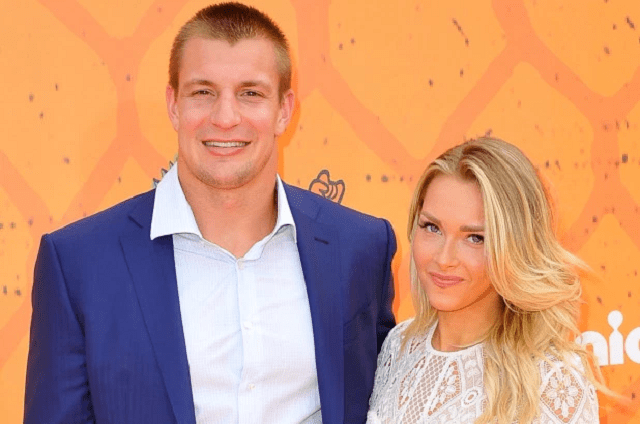 Camille Kostek is a Connecticut native, born in Killingworth in 1992. She attended both high school and college in her home town, passing through Haddam-Killingworth High School before proceeding to Eastern Connecticut State University where she bagged a degree in communication.
Rob Gronkowski was just 21 during the 2013 season when she became a part of the cheerleading team for the New England Patriots, dancing on the sidelines for a couple of years before she decided to try something new at the conclusion of the 2015 seasons. The highlight of Kostek's cheerleading days was when she stripped down to her bikini while cheering, gracing the cover of the 2014 New England Patriots Cheerleaders annual Swimsuit Calendar. This particular incident gave her a chance to get into the world of modeling as she went on to land gigs with big names like L'Oreal, Victoria's Secret, Nissan, and New Balance, among other companies.
Camille Kostek achieved a higher level of fame in 2019 when her name appeared on the Hot 100 list of Sexiest Women in the World by Maxim. That year appeared to be her lucky year because she equally appeared on the cover of Sports Illustrated Swimsuit Issue.
The model and former Patriots cheerleader moved on to try her hands at acting. The 2018 film, I Feel Pretty, featured her as a hostess. She is expected to join the cast of Free Guy in 2020 playing the lead with Ryan Reynolds. Rob Gronkowski's lover has also come on television shows like Good Morning America and MTV's Ridiculousness. In April 2020, she appeared with her man in I Will Wait, a music video by pop star Kygo.
Read Also: A Look At James White's NFL Running Back Career And His Wife Diana Civitello White
Gronkowski and Kostek's Love Story
Even with the stellar statistics to his name like recording over 500 receptions in his football career in the NFL so far, Rob Gronkowski's greatest catch is not related to any pass he has or will catch on the field of play. It is instead his longtime lover, Camille Kostek.
Given the fact that the NFL has very stringent rules about players going into romantic relationships with cheerleaders, fans and the viewing public have always wondered whether the duo flaunted the regulations of the NFL when Camille was still working as a New England Patriot cheerleader. The duo set things straight on that score in an interview with Fox News when the couple confessed that their relationship did not start until after Camille exited from her cheerleading job.
According to Rob Gronkowski's girlfriend, she wasn't really close to him during the years she served with the team as she only became interested in him after she left. Initially, the 6 feet 6 inches tall athlete and his lady love kept their relationship under wraps but later made it official in 2015. Since going public, the duo has been able to openly enjoy each other's company without the fear of repercussion.
Rob and Camille appear to be enjoying each other's company, however, that is not to say that they have never found themselves at loggerheads. A couple of years after they became an item, rumors started making the rounds that they actually split. Their split was, however, quite brief as they were soon later spotted attending a wedding as a couple in May 2017.
It appears that the duo are not averse to letting the public in on what transpires in their relationship. Before Super Bowl LIV in Miami, the duo spoke to Sirius XM Radio's Jenny McCarthy on the details of their love life. In the interview, Gronk revealed that he sometimes has sex before going into the field of play as he doesn't believe it will have a negative effect on his performance. On her own part, Camille disclosed that hooking up prior to a game will make one less tense and ready to go.
The chemistry between the two has become so strong that they don't think twice about flaunting it on social media for the whole world to see. Camille is always posting stuff about her significant other, and the same goes for Gronk who takes advantage of any opportunity to post something about their relationship.
However, one baffling fact about this loved-up couple is that they have kept up the tempo for half a decade now without making any known moves to legalize things. This has indeed raised a lot of questions as many wait to find out if the two will be able to make it down the aisle.