Ever since the paranormal television series, The Dead Files premiered in 2011, its viewers and fans have continued to question the reality of the show compared to other paranormal series out there. But while it is still difficult to explain how one could receive information that is not necessarily through the known five senses, for Amy Allan, it is not important if you believe in the true existence of paranormal. As a paranormal investigator, Allan understands this feeling and has dedicated herself to helping people like her, who understand it.
Amy Allan is an American reality TV star, a physical medium, paranormal researcher,  healer, and Open-Minded Skeptic best known for her role in the sci-fi reality TV series The Dead Files, which airs on the Travel Channel. The Psychic medium became popular following her lead role in the investigative TV show that dealt with the paranormal. Find out more about Amy, her appearance on The Dead Files, and details of her personal life in the following paragraphs.
What We Know About Amy Allan's Life and Career
Allan is a Colorado native, she was born in the western U.S. state capital, Denver, on 31 May 1973. She also spent the first 12 years of her life in the state capital before she moved with her parents to Long Island, New York. From the age of 4, Amy was already communicating with the spirit world and having imaginary friends  – a trait she inherited from her parents and maternal grandfather. As a physical medium, she sees and hears from the dead just as she does to the living people. Amy also has psychometry, which means she could hold an object and receive information from it. Her dominant ability, however, is physical mediumship.
Amy's father is a physical medium, but her mom appears to have more telepathy and more mental mediumship skills. By this, it means her mother could easily collect information from a person or thing without any physical interaction or the use of any known human sensory channels. Mental telepathy is the ability for people to communicate via the mind. Some people refer to it as thought transference. Mediumship, on the other hand, involves cooperative communication between a human and one or more discarnate, spirit personalities. It is the ability to communicate with the spirits of those who have passed over, along with spirit guides and angels.
As per her education, Amy attended high school in New York after her family moved there. Unfortunately, she was not quite accepted by her peers, which although it affected her social life, made her pay more attention to her supernatural abilities. While at school, Amy talks about having imaginary friends and being visited by "shadow people." To know more about her abilities, Amy went to the University of Arizona, where she studied psychology with para-psychologist William Roll being her mentor. She also studied sleep and sleep disorders, sociology, and various religious belief systems. Her knowledge about acupuncture, Asian medicine, Zen Shiatsu, and Western massage has been useful to her use of powers to heal people, as well as helping them overcome their physical and emotional ailments.
Her Role In The Dead Files
Although Amy has managed to keep information about herself quite secret, she became a person of public interest after her breakthrough with the Travel Channel show The Dead Files, where she accounts and solves unexplained paranormal events in haunted locations across America. The show with over 200 episodes and counting, features Amy using her abilities to communicate with the dead, often assuming their roles and reliving their deaths. Her partner Steve DiSchiaviv, a former NYPD (New York City Police Department) homicide detective, uses his over two-decade experience as a detective to search for important physical evidence. When the two investigators come together to share their discoveries, the parallels between their discoveries are powerfully revealed.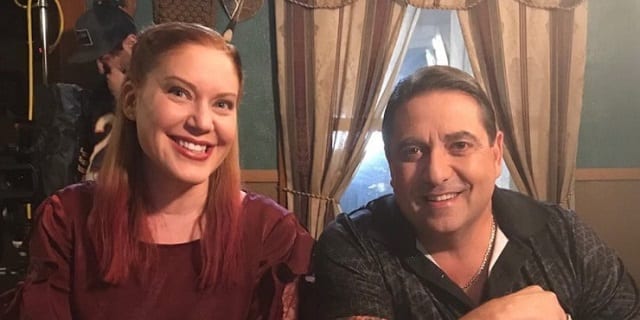 Although there are skeptics who suspect that Allan and her partner Steve follow a tried-and-true script rather than conducting something more authentic, she always tries to present herself as a top-notch professional when it comes to mediumship. With a clear understanding of how frightened her clients feel in their homes, she takes her work seriously, follows every scientific methodology to conduct her investigations, and tries to produce helpful results. In addition to her ability to communicate with the dead, Allan is also able to discern whether or not they are evil.
The Dead Files isn't the only TV show Amy Allan has appeared in, she has also featured on the paranormal investigative show Ghost Adventures, hosted Zak Bagans. Amy Allan has equally worked with TLC, Discovery Channel, CBS, and many other networks as on-air talent and consultant. She has been most useful in detective works as she tries to make the detectives understand their intuitions.
See Also: Diandra Luker Bio: All You Need To Know About Michael Douglas' Ex-Wife
Facts About  Amy Allan's Marriage and Divorce
Allan was married to Matt Anderson, a co-star of hers in The Dead Files. Although there was no information as to when and where the two were wedded, it is believed that their marriage was quite intimate and they lived together until 2013 when they officially separated, with their divorce papers citing ideological differences.
Anderson grew up in Quezon City in Philipines and attended Tucson High Magnet School before moving to The University of Arizona, where he learned the Japanese language but majored in painting. Like Allan, Anderson had his breakthrough with the investigative series, The Dead Files, which he appeared in over a hundred episodes before quitting the show in 2016.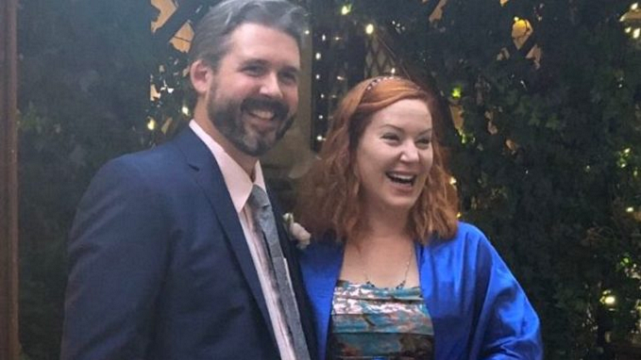 Anderson and Allan had no children together before their eventual separation. Amy Allan has maintained a very private life since then. However, she recently confirmed a growing rumor about her dating Rob Traegler, a movie director, who is also involved in the production of The Dead Files. The two reportedly exchanged their marital vows on October 31, 2018, and are currently living out their lives together as husband and wife.
Rob has been active in the entertainment industry since 2005 and appeared in shows like The Dr Phil Show. The couple has been living happily ever since. Although they don't have kids yet, they might have plans for that. Meanwhile, the lovebirds are both active on different social media platforms. While the number of Rob's social media fans is not known, his wife, Amy Allan, has garnered over 68.5k Instagram followers, more than 129k followers on Facebook, and over 101.6k Twitter followers.