In the past, we've been blown away by many lavish and incredibly expensive celebrity weddings, but as lavish as they were, none of them ever came close to a billion dollar mark. Apparently, there are people who make more money than our darling celebrities and are willing to spend a large chunk of it to create the wedding of their dreams, the kind that would take the internet by storm and give the Kardashians something to worry about.
When Said Gutseriev, 28, and Khadija Uzhakhova, 20 got married on Saturday 26th March 2016, the wedding bills ran up to a jaw-dropping fist-clenching $1 BILLION, easily making it the world's most expensive wedding. But the bills wasn't the couple's to foot, the grooms dad– oil tycoon Mikhail Gutseriev who according to Forbes has a net worth of $6.3 billion took full responsibility for the lavish event.
The groom studied archaeology and geology at Harrow and University of Oxford and afterwards assumed the position of a director in one of his father's businesses while the bride is currentlyfirst-yearear dentistry student at the Moscow State University of Medicine and Dentistry.
Lets take you through a pictorial tour of the lavish star-studded billion dollar Russian wedding and the world's most expensive wedding…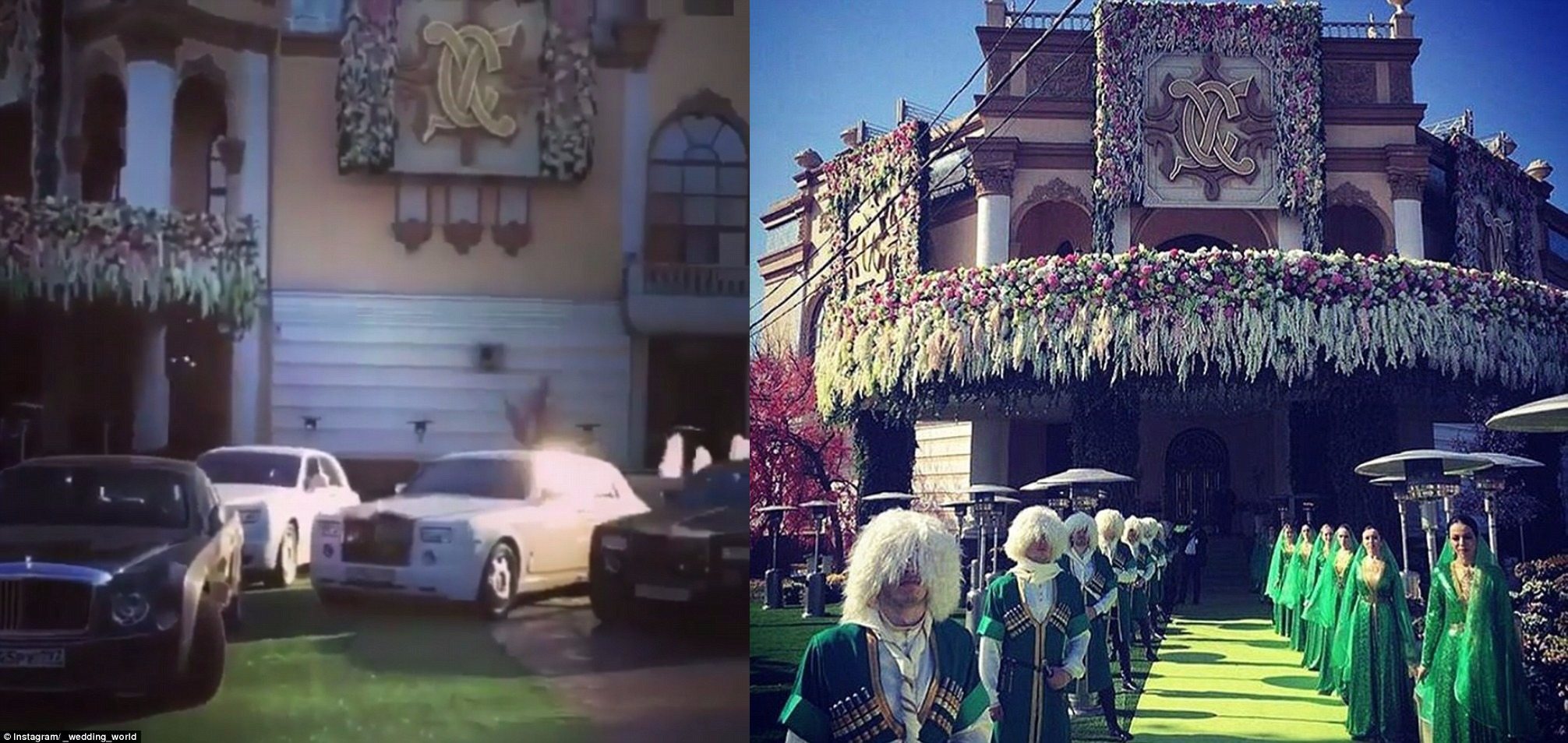 Guests which numbered up to 600 arrived the venue at the Safisa upscale banquet hall in Moscow via chauffeured vehicles including a number of Rolls Royce. They were all  welcomed personally by the bridegrooms father. The man must love weddings.
The banquet hall which is luxurious on its own was taken to a new level of extravagance with flower and light decorations covering up the entire space including the ceiling, walls, and pillars. The result was a perfect fairy-tale scene.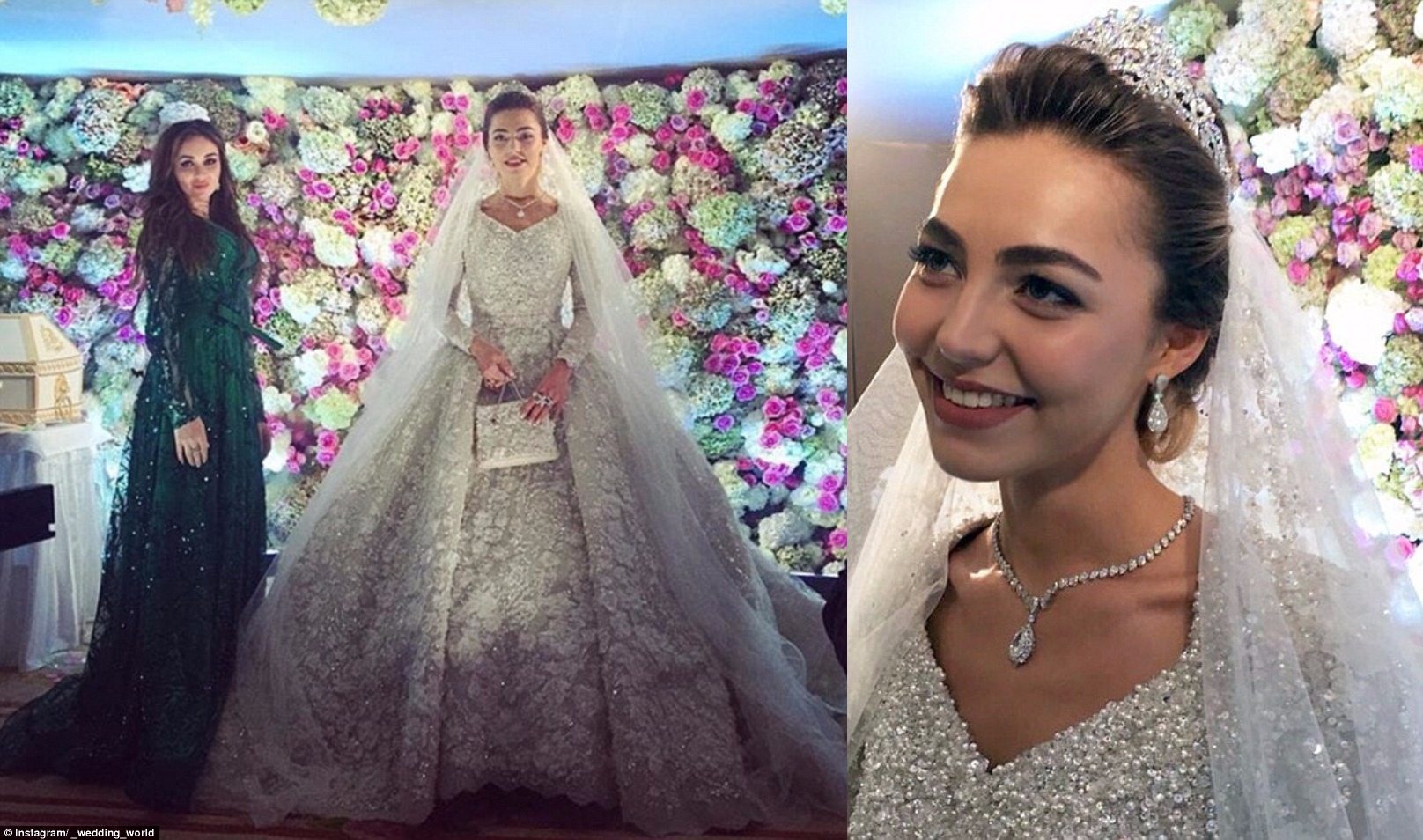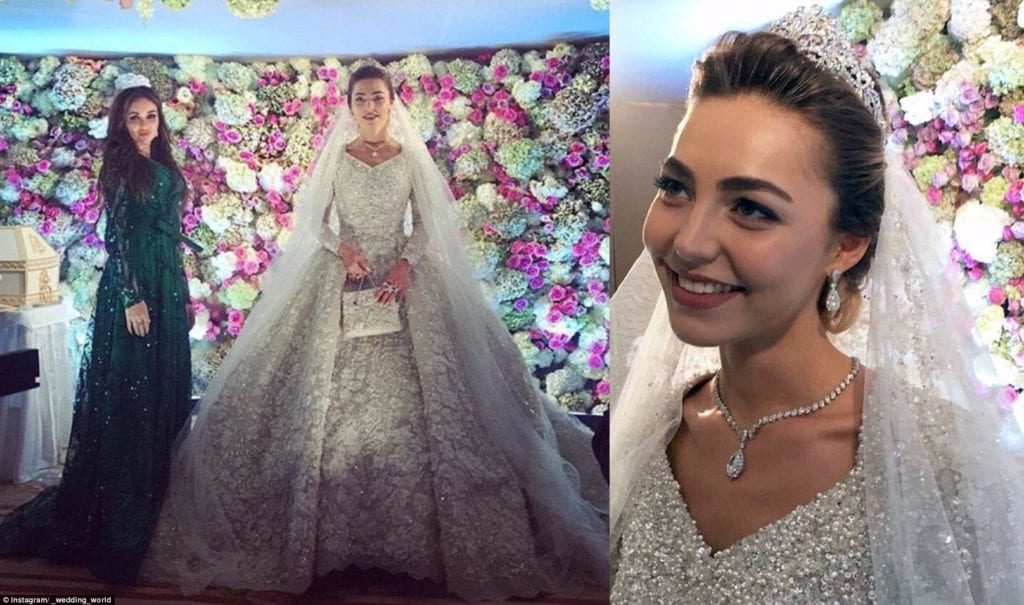 The bride wore a bespoke Ellie Saab gown which was completely covered in bling and as a result weighed 28 pounds. As seen on an Instagram video, the bride needed help walking around. The gown was reportedly flown in from Paris and cost a whopping $26,000.
Her outfit was completed with a diamond tiara, drop earnings, necklace and an embellished handbag. According to Russian Tatler, her make-up was done by Irina Mitroshkina and her hair by stylist Anna Timofeyeva.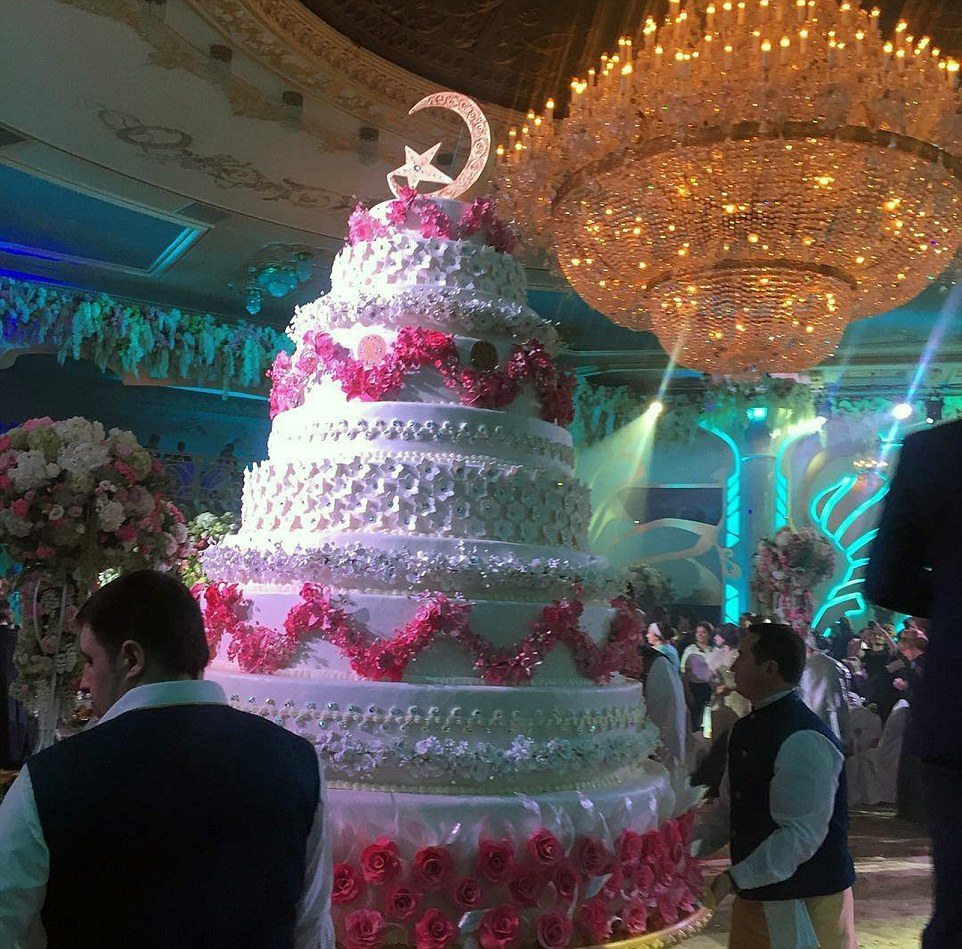 The wedding cak, as expected, was a gigantic 9 tier cake covered with white and pink flowers and crowned with a star and crescent to symbolize the family's faith in Islam.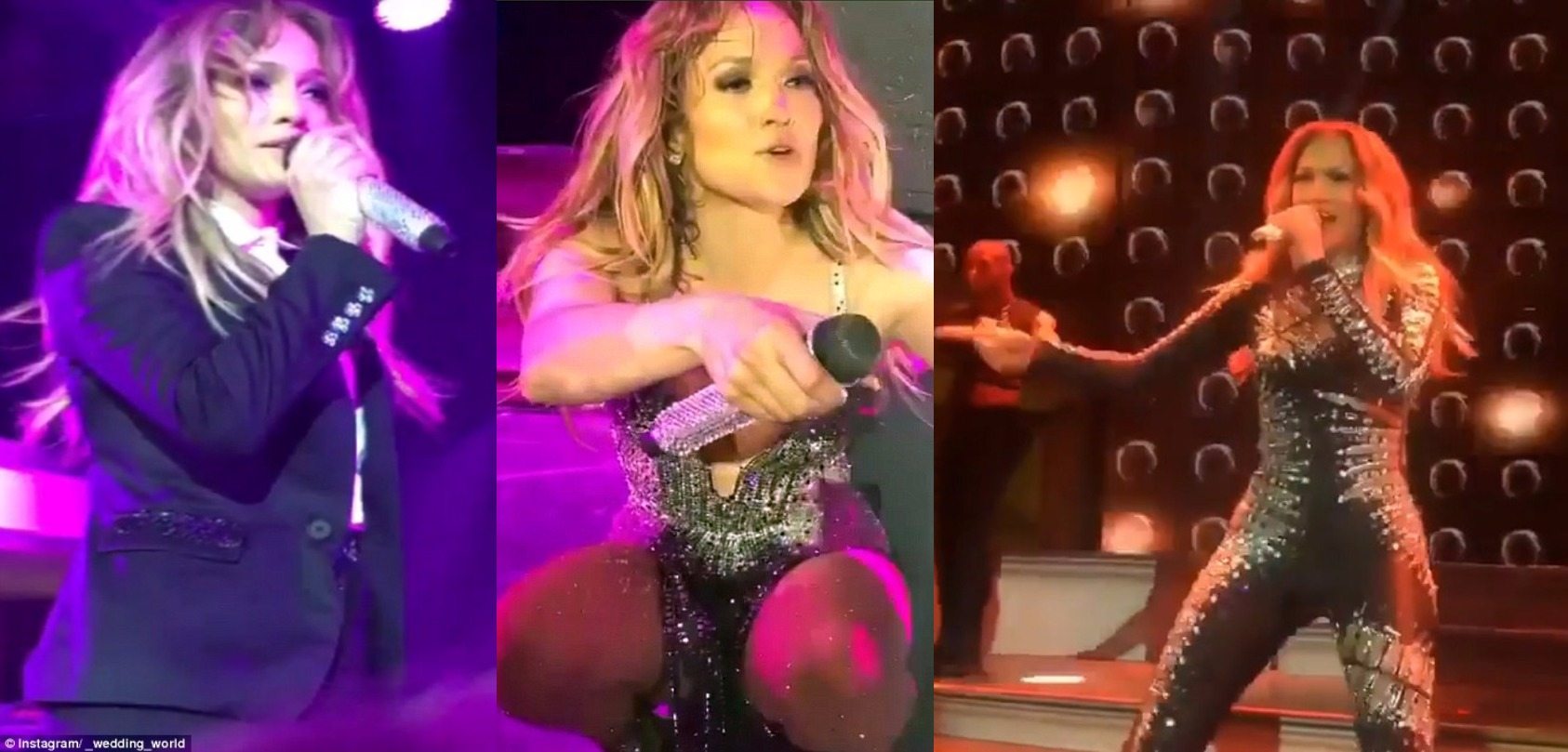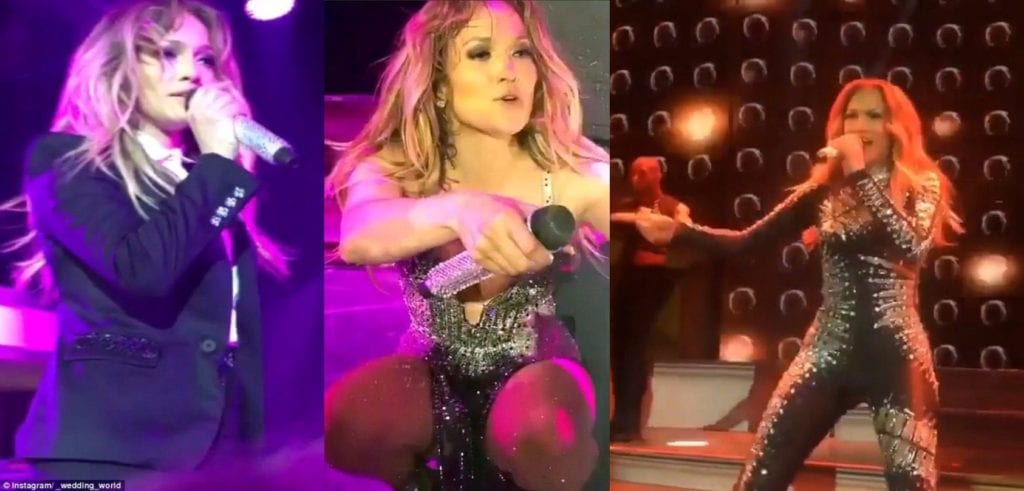 As earlier stated, the event was star studded featuring performances from Jennifer Lopez, Enrique Iglesias and Sting. J Lo performed some of her songs including Get right, If You Had My Love, and Dance Again. The pop star changed into several outfits including a black tailored suit, a sparkly silver jumpsuit, and bejewelled leotard. Some of the outfits were criticized on social media as being too revealing for a muslim event.
Iglesias was dressed casually in a black tee, blue jean and baseball cap. He entertained the guest and couple with "Bailando." Among other artists to perform at the wedding was multiple Grammy winner, Sting.
A lavish event indeed but that wasn't all. The celebration continued into the following week in London strictly for family and close friends. It reprotedly featured performances from they Beyhive Queen Beyonce and veteran Elton John.
While many were blown away by the fairy-tale wedding some described it as "a feast in a time of plague." The bride's hometown Ingushetia is one of the poorest regions in Russia. Numerous comments online suggested that the family would've used the money to better the lives of citizens rather than waste it on vanity. Apparently they seem unmoved as a second event was held. Happy Married Life to the couple!