Terri Carrington is a famous speech-language pathologist who rose to prominence in 1993, clearly not because of her career in pathology but rather as a result of her relationship and marriage to Texas-born stand-up comedian Rodney Carrington. In an industry where the marriages of most entertainers end before five years, theirs seemed to be an exception as they kept marking anniversary after anniversary. But just as we were anticipating their 20th wedding anniversary, they decided to put an end to their marriage. Want to know more about Terri Carrington, her early life, career, ex-husband, and events surrounding their divorce? You are at where you should be.
Who Is Terri Carrington
Terri Carrington is a pathologist popularly referred to as the ex-wife of famous stand-up comedian Rodney Carrington. That being said, she was born on November 18, 1970, in Massachusetts, United States and given the name of Terri Shae Lockhart by her parents. As of the date of writing this article, she hasn't revealed any information as regards her parents, except the fact that she was raised by them in Massachusetts. There is also no information whatsoever about her childhood or early educational background. Nevertheless, she once revealed in an interview that as a child, she exhibited great talent in singing, dancing, and writing.
Moving on, she had her college education at the University of Central Oklahoma, where she studied speech-language pathology. During her college days, she was known to be highly involved in music and dance to the point of auditioning for several talent shows, but she recorded little or no success at this. Upon her graduation from college, she found a job as a customer care attendant at CaptionCall before taking up a position in the long term community institution for the elderlies known as Senior Suites.
Her big break eventually came in 1993, not because of a huge endorsement deal or anything similar, but rather as a result of her marriage to popular stand-up comedian Rodney Carrington who was born on the 19th of October 1968 in Longview, Texas, United States. Besides being a comedian, he also equals as an actor and a country singer. According to Terri, they met each other while they were students at the University of Central Oklahoma, and began dating shortly after. After several years of dating, they decided to get married in 1993, with Terri taking up his last name much to the surprise of many, thereby making her more popular than she ever expected. Their marriage seemed to be going perfect until 2012. At the time, to the utter disbelief of fans, they announced they were getting divorced after 19 years of marriage.
See Also: Who is Rory Farquharson – Malia Obama's British Boyfriend?
Here's The Main Reason Behind their Divorce
It's no news that Terri Carrington and Rodney Carrington are no longer married to each other. As a matter of fact, they got divorced in 2012, the same year they announced that their marriage was troubled. Their divorce can be likened to one of the most shocking in Hollywood not because of how controversial it was, but because no one saw it coming. Seven years after their divorce the events that led to it are still very much a mystery.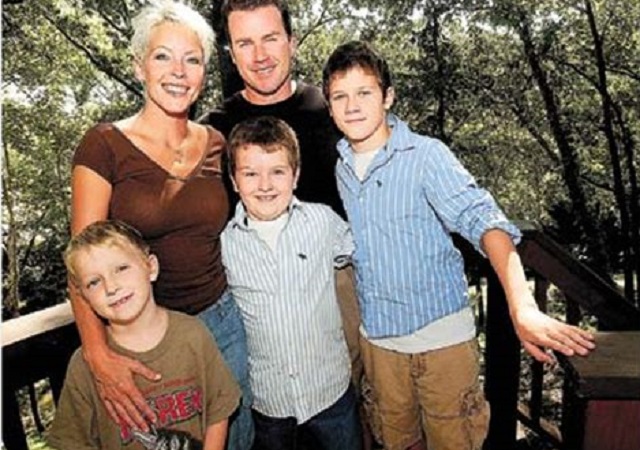 Rodney Carrington was once asked during an interview about what he thinks led Terri into filing for divorce – he simply replied, "I don't know". He went on to explain how stunned he was when she told him she wanted a divorce, given the fact that he was highly committed to her and their kids which is believable. It was never rumored that the man was having an extramarital affair

It's even more shocking when you put into considering the fact that he abandoned his role on the hit TV sitcom Rodney in 2007, just so he could spend more time with his wife and kids (Zac Carrington, George Carrington, and Sam Carrington). Terri, on the other hand, has never explained the reason she decided to file for divorce and by the looks of it, she won't be doing that anytime soon as she is content with living a quiet life free from the prying eyes of the media with her three sons.

Fact Check: We strive for accuracy and fairness. If you see something that needs updating,