It would not be an exaggeration to describe Sidney Crosby as one of the most exceptional players to ever grace the game of ice hockey. The Canadian sportsman currently plays in the NHL for the Pittsburgh Penguins team and reigns supreme as the captain of the squad. Crosby's journey into professional hockey began in the year 2005 after he was chosen as the first overall pick by the Penguins in that year's National Hockey League draft.
He was the most coveted player that year as practically all the NHL teams wanted to sign him. The Penguins won his heart and nearly 15 years later, the distinguished player has gone on to live up to the hype. Crosby has set himself apart in his profession and has bagged all kinds of team and individual honors at the club level. He has also led his motherland to international glory. Such an illustrious career has predictably translated in significant financial rewards for Crosby and he uses the same to lead the good life with his loved ones.
Falling in Love with the Game of Hockey
The legendary hockey player was born on the 7th of August in 1987 (interestingly, he wears the No. 87 Jersey which reflects his date of birth (8/7/87) in Halifax, Nova Scotia. His parents are Troy Crosby and Trina Forbes and he has a younger sister named Taylor who is also a hockey player.
Sidney Crosby's father was once a professional hockey player, so he began teaching his son how to play the game the minute he was old enough to understand what was going on. By the age of three, the young boy began learning to skate and continued shooting pucks whenever he got the chance.
Sidney's talent for hockey was obvious by the time he was 7 and by the age of 10, he was the highest goal scorer in his local youth club, putting up 155 goals in only 55 matches. Crosby would go on to establish himself as the most brilliant hockey prospect in his class in the entire world and holds the record for being the youngest ever player to net a goal in the World Junior Championships.
One of the Richest Stars in the NHL
A December 2018 article in Forbes estimates that Sidney Crosby was the fifth highest-paid NHL player for the year 2017 to 2018. According to the article, the player made a total of $14 million with $10 million coming from his salary/bonus and the remaining $4 million coming from endorsement deals. Given such figures, it is no surprise to discover that Crosby has accumulated a net worth of $55 million since he joined the NHL back in 2005.
His Contracts with the Pittsburgh Penguins
Sidney Crosby joined the NHL, specifically the Pittsburgh Penguins, in 2005. Under the tutelage of Coach Mario Lemieux, Sidney's talent blossomed and he accumulated a total of 102 points in his first season. He followed this up the next year by putting up 120 points with 28 goals and 84 assists. This fetched him several accolades including the Art Ross Trophy (as scoring champion), as well as the Hart Trophy (for being the most valuable player in the league), making him the youngest player and second-youngest player respectively to be awarded such honors.
In 2009, Sidney led the Penguins to their first Stanley Cup title win in 17 years. Although his career has been beset by injuries, the gifted player has kept on returning to the game and leading his team to victory after victory, including two more Stanley Cups. The player has also received other individual honors for his outstanding personal contributions including NHL All-Star teams (4x), the Lester B. Pearson Award, All-Star Game Most Valuable Player, the Hart Memorial Trophy, the Art Ross Trophy, and Canadian Hockey League Player of the Year (2x), etc.
Crosby has spent his whole professional career with the Penguins and they have gone on to reward his excellence and longevity with several juicy contracts. For his rookie contract of 2005, the player was given a three-year deal that was worth $11.1 million and paid him $3.7 million per annum. In 2008, Crosby signed a five-year contract extension with his team which increased his pay to $9 million annually. The Nova Scotia native is as of 2020 on a 12-year deal worth $104.4 million which he signed in 2012. Under the contract, he would receive between $9 – $12 million for the first nine years and then $3 million for the remaining three years. The NHL star has earned about $128.290 million in salaries alone from 2005 to 2020.
Holder of the Largest Endorsement Deal in NHL History
Sidney Crosby is one of the most endorsed players in the NHL and the reason is two-fold. First is his indisputable excellence on the field of play. Asides the feat he has achieved at club level, he has also tasted success at the national level, leading his country to gold medals at the 2010 and 2014 Winter Olympics, the gold prize at the 2015 World Championship as well as the 2016 World Cup of Hockey.
All this has made the NHL star a darling for several brands and his appeal is further enhanced by his squeaky-clean, boy-next-door image. Even though he is a superstar, Crosby has led a calm-headed life. There are no photos or tales of wide romantic liaisons neither does he showcase his whole life on social media. The player also avoids getting tangled in social and political issues and all this has led to his marketability.
Crosby scored his first endorsement deal, with Gatorade, when he was still a 16-year-old rookie in the Canadian Hockey League. The deal paid him 3 million Canadian dollars and his TV campaign for the company enhanced their sales by 60%. Since then, the player has gone on to sign juicier deals with the likes of Reebok/Adidas (a 7-year deal worth $10 million in 2010 and a 6-year deal worth $6 million in 2015), Tim Hortons (Canadian coffee company), and Pepsi Co.
Others are Sport Chek (Canadian sporting goods store), Telus, Bell, Dempster's, Kellogg's, Hallmark, and GoPro. Crosby earns about $4.5 million from these deals each year and this has further helped to boost his net worth. It should be known that the Nova Scotia native can make even more from endorsement deals as many companies want him to represent them. He is however quite selective and only lends his image to brands that match his values.
Proud to have Sidney Crosby in the Team adidas fam 👊

— adidas (@adidas) March 19, 2017
See Also:  What Happened To Tara Lipinski's Figure Skating Career and Who Is Her Husband?
Meet His Long-time Girlfriend
Given the fact that he is quite handsome, insanely talented, and super-rich, Sidney Crosby is the dream of many ladies out there but we are sorry to burst their bubble as the NHL great is already taken. Even though he is yet to get married, Crosby is in a firmly-committed relationship with his long-time girlfriend, the model Kathy Lautner. Lautner is a native of Virginia, United States, and dabbled into modeling in her teens. She has since worked for a few high-end brands (think Abercrombie and Fitch) as well as fitness and bridal magazines.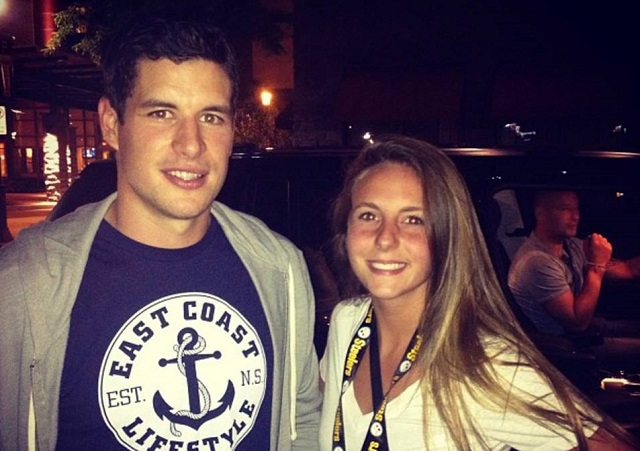 Crosby and Lautner are quite tight-lipped about their relationship but sources have it that they met through mutual friends and started dating in 2008. They have remained together ever since then, save for a separation between 2010 and 2011, and share a home. Kathy gets well along with Crosby's family and can be seen attending his games with them. Even though the couple has yet to formalize their union, their love is going strong. In September 2019, when Crosby's very first team, the Rimouski Oceanic (from the Quebec Major Junior Hockey League) held a jersey retirement ceremony in his honor, the ceremony was attended by his family as well as his girlfriend.