Back in 1997, Tara Lipinski made history as the youngest athlete to win a World Figure Skating title. That feat, which she achieved at the mere age of 15, made her a national sweetheart. It also propelled her to international limelight and spurred her on to record many more historic feats.
Given such dazzling status, one would have surely thought that Lipinski could do no wrong but this was however not to be. The girl who had been a national sweetheart was condemned following her decision to retire from competitive skating in 1998. That decision led to a major uproar and those who have been cheering her on just a year ago now took to denouncing her and her plans.
Tara Began Skating When She Was 3 Years Old
Tara Lipinski was born on June 10, 1982, in Philadelphia, Pennsylvania. Her parents are of Polish descent and their names are Patricia and Jack Lipinski. Tara spent the first few years of her childhood in multiple parts of the United States including New Jersey and Delaware. She began roller skating for fun at the age of three and consequently fell in love with the sport. She kept at it for several years and by the age of nine, won the primary girls' freestyle title at the US Roller Skating championships.
That same year, Tara began skating on ice rinks and took to it like fish to water, thanks to the skills that she had already garnered from roller skating. Her family noticed how exceptional she was and they sought for experienced coaches that would help her harness her talent. They also decided to allow her to move to Michigan (accompanied by her mom) so that she could get the best of training that money could buy.
Details of Her Career Achievements
All of the efforts, including expensive training made by Tara Lipinski's family weren't in vain. The young girl won a handful of gold and silver medals in national competitions between 1995 and 1996. The big one, however, came in February 1997 when she defeated the reigning champion, Michelle Kwan, to win the US nationals title. She achieved this feat at the age of 14 and thus made history as the youngest skater to win a US national title.
Following that impressive achievement, Tara Lipinski never looked back nor took her feet off the pedal. Fueled by a sumptuous rivalry with Kwan, the young lady added more sophistication to her routines and improved her overall artistry. She thereafter went on to triumph over her arch-rival at the 1997 World Figure Skating Championships and the 1998 Winter Olympics in Nagano.
Lipinski's World Figure Skating Championship gold medal came at the age of 14. With that, she made history as the youngest woman ever to take first place in the championships. She subsequently nabbed an Olympic gold medal at the age of 15 years and 255 days, making her the youngest female to capture the medal. In doing this, Lipinski broke a 70-year record set by Norwegian skater Sonja Henie.
Calling Time on Her Skating Career
Following a successful Olympics outing, many expected Lipinski to continue pursuing her career as well as her exciting rivalry with Michelle Kwan (who could only manage silver at the Olympics). The young lady, however, did not have the same mind-set as she was burnt out with the demands and stress of the sport. She longed for more free time so that she could be with her family. She also desired an opportunity to pursue newer interests.
Lipinski's situation was further complicated by the fact that she was suffering from some health issues including extreme fatigue as well as high fever. She, therefore, decided to call time on her amateur career in April 2000. This decision led to a small uproar as many felt that she was selling out. Others also accused her of chickening away from the Kwan rivalry while a few people defended her. They maintained that she had done much for the sport and deserved maximum respect.
Tara Lipinski, on her part, took the whole situation in stride, and kept eye on the ball. She turned professional that same month and went on to tour with several popular ice skating shows including Champions On Ice and Stars On Ice (a theatrical show). She also competed in the elite CBS figure skating team competition known as Ice Wars. Her Team USA came first on four occasions and second on one occasion. She subsequently retired from professional skating in 2002.
What She Does for a Living at The Moment
The record-breaking figure skater has built an estimated net worth of $16 million. Lipinski earned her first million as a 16-year-old. This was thanks to the book deals and the sponsorships agreements that she signed at the height of her record-breaking reign. The figure skater subsequently added to that amount after she went pro with many touring shows paying her handsomely to join their ensemble.
Having called time on active figure skating, Tara Lipinski now makes her fortune from her TV work. The Olympic gold medallist serves as an analyst and commentator for NBC, NBC Sports, and Universal Sports. In her role, she has covered important events such as the World Figure Skating Championships, The Winter Olympics, The US Nationals, and the Grand Prix of Figure Skating. She has also covered other popular events for the network including the Oscars, the Kentucky Derby, and the Super Bowl
An additional source of income for Lipinski is acting. The former figure skater has scored appearances in several movies and TV series including Kidding, Malcolm in the Middle, Touched by an Angel, The Young and The Restless, Modern Family, The Metro Chase, Are You Afraid of the Dark, Sabrina, The Teenage Witch, Veronica's Closet, and Still Standing. She is also the co-host of a Food Network show known as Wedding Cake Championships.
See Also:   The Highs and Lows of Rob Dyrdek's Career Pursuits, Net Worth and Facts About His Wife
Tara Lipinski Is Basking in Marital Bliss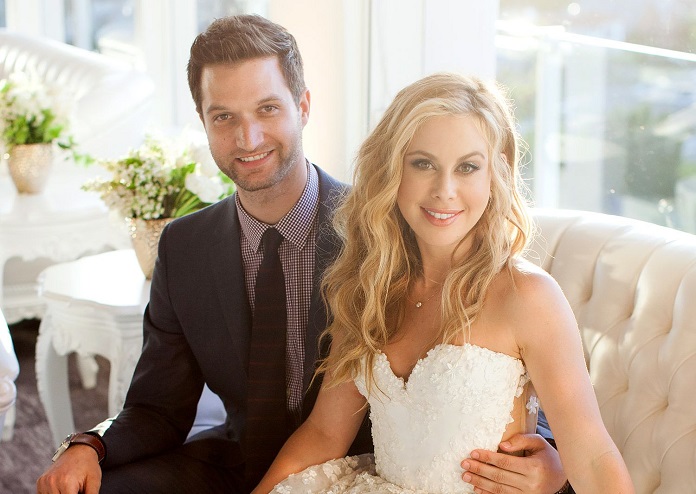 Many celebrities probably look back on their numerous past relationships or marriages and cringe at the number of partners that they have had to deal with but Tara Lipinski is not one of them. She may have had some failed past relationships but she has been married once and the marriage has stood the test of time. Her husband's name is Todd Kapostasy and he works for Fox as a sports producer. Tara first met her future husband when she presented an award to him at the 2015 Sports Emmy Awards.
They later commenced a relationship and got engaged in December that same year. The two finally tied the knot in a gorgeous ceremony held in Charleston, South Carolina. The ceremony featured thousands of hydrangeas and roses while Lipinski stunned in a lace gown with a twenty-foot train. The wedding also featured the couple's closest friends and families including Lipinski's on-air partner and fellow Olympic figure skater, Johnny Weir. The out and proud Weir served as one of the bridesmen and wore a pale blue suit. He also gave a touching toast at the reception.