| Net Worth: | $6.6 billion (according to forbes) |
| --- | --- |
| Age/Date of Birth: | (82 years old) June 5, 1941 |
| Height: | 5′ 7″ or 1.70 m |
| Ethnicity/Race: | White |
| Nationality: | American |
| Wife or Girlfriend: | Myra Hiatt (m. 1963; died 2011) |
| Parents: | Harry Kraft and Sarah Bryna |
Robert Kraft is an American business tycoon. He is the chairman and CEO of Kraft Group, a diversified private holding company with businesses in paper, packaging, sports, entertainment, real estate, and private equity.
Kraft is best known as the owner of a successful NFL franchise the New England Patriots which he bought for a record $172 million in 1994. The NFL franchise is now valued at over $3.4 billion, making it the
2nd most valuable franchise in the NFL
behind
Jerry Jones
' Dallas Cowboys. Robert Kraft is worth $6.6 Billion according to Forbes.
Kraft has used his NEP profits to expand his sports empire. He owns MLS side New England Revolution and also has a stake in mixed martial arts promotion company UFC. Here is everything you should know about his personal life and how he built his huge net worth.
Understanding Robert Kraft's Net Worth and How He Built His Business Empire
Born on June 5, 1941, in Brookline, Massachusetts, Kraft attended Columbia University on an academic scholarship. He graduated in 1963 and received a fellowship at the Harvard Business School where he earned an MBA in 1965. Kraft began his professional business career at his father-in-law Jacob Hiatt's company, the Rand-Whitney Group.
Rand-Whitney Group Laid the Foundation Upon Which the Billionaire Built His Net Worth 
The Worcester-based company specializes in converting paper into packaging and containers for numerous products. In 1968, Kraft, 27, bought over the company through a leveraged buyout. He still serves as the company's chairman.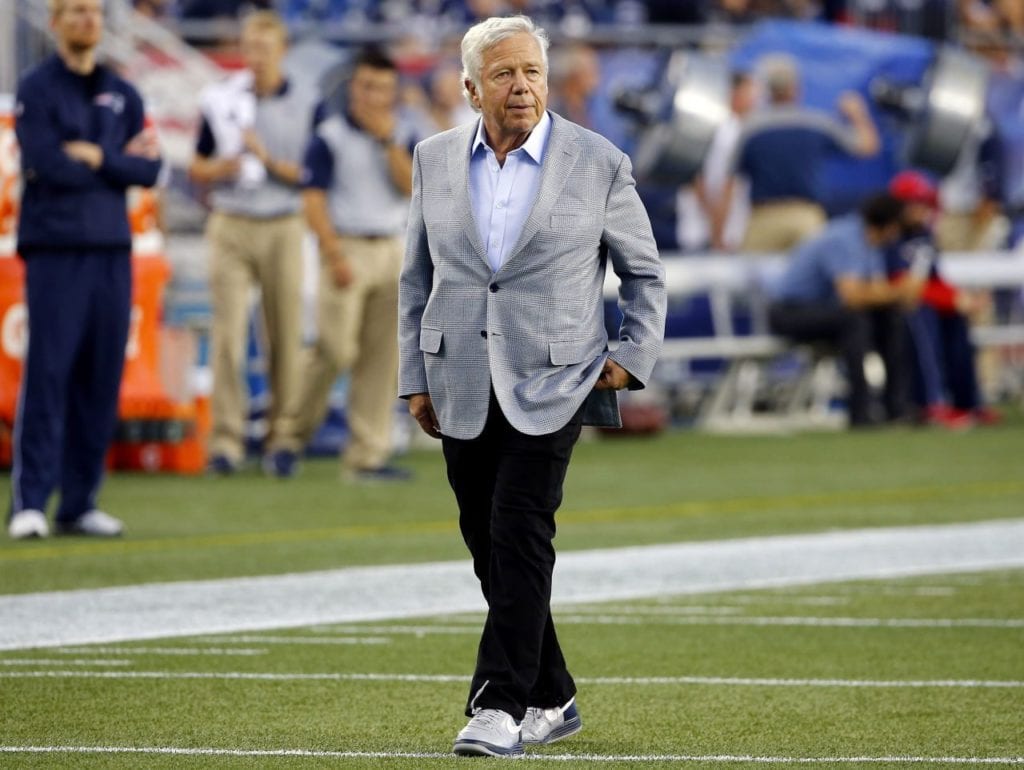 Kraft in 1972 then founded his own International Forest Products company which trades paper commodities. The Rand-Whitney Group and International Forest Products enjoyed exponential growth and by the early 90s, it was one of the top packaging exporters in the US.
According to a statement made by Kraft in 1991, the company does "things for several companies, including Avon, Kodak, cosmetics companies, candies, toys."
He Became Wealthier After He Founded The Kraft Group LLC
As his paper business bloomed, Kraft developed interests in other areas. He founded the private holding company the Kraft Group in 1998 to serve as an umbrella for his various interests. Kraft Group is one of the largest and most successful private holding companies in America with operations in over 90 countries.
It has over 100 private equity investments. Kraft Group's real estate arm has developed over $1 billion worth of properties. Its real estate development includes Patriot Place, a $350 million open-air lifestyle and entertainment center around the Gilette Stadium– home to the New England Patriots which he also owns.
Per Forbes Analysis, the Kraft Group had a revenue of $3.5 billion at the end of the 2015 fiscal year. The company has at least 5,000 employees.
Robert Kraft Owns NFL's New England Patriots Among Other Sports Teams
Kraft's early interest in the sports business led to the founding of Kraft Sports Group. While he is best known for his exploits with the NFL's New England Patriots, it wasn't his first sports team. Long before his affiliations with the NEP, Kraft alongside 5 other investors bought the Philadelphia Freedoms of World Team Tennis in 1974. After the purchase, the team was relocated to Boston under the new name, Boston Lobsters.
However, Kraft's ownership of the Tennis side didn't last as long as he might have liked. Following the league's financial struggles in the late 1970s, Kraft decided to shut down the team's operations. It wasn't at all a loss, in addition to making money off it, Kraft also learned a lesson about the sports business which helped him achieve impressive success with his next sports franchise.
How He Acquired The New England Patriots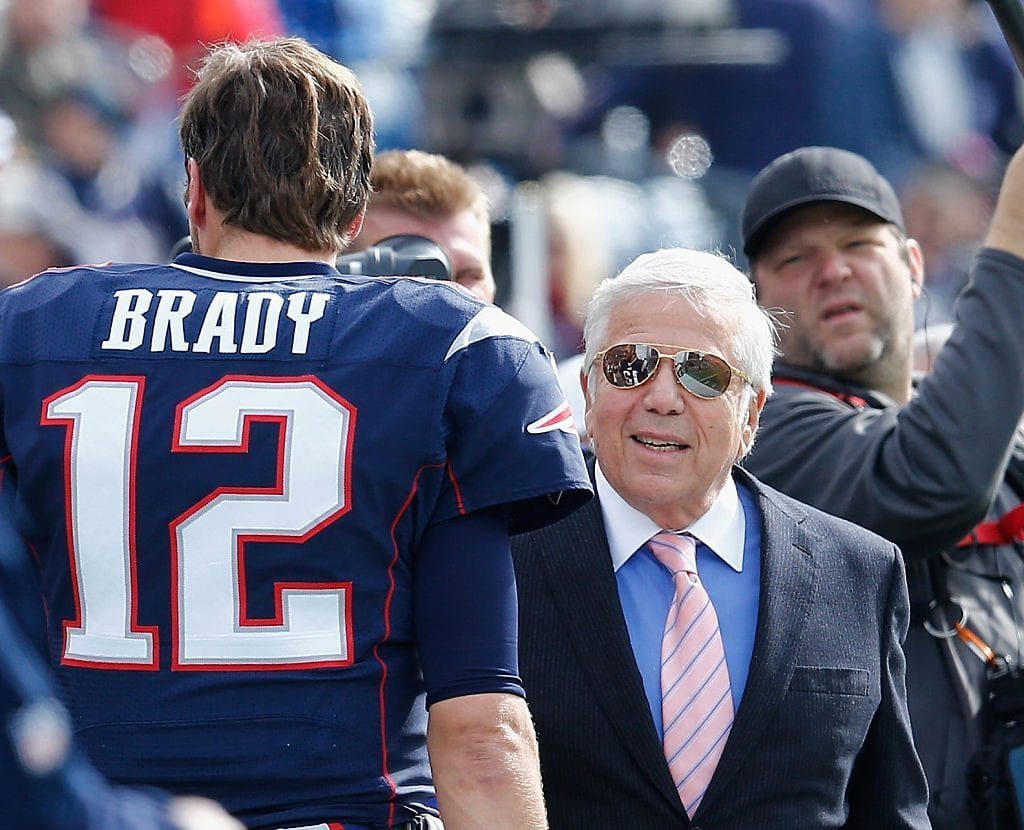 An avid football lover, Kraft became a season ticket holder since 1971. He craved ownership of the Pats since the 1980s. His first step at achieving his wish was purchasing land around the Foxboro Stadium, home to the team at the time. Next was purchasing the stadium itself which was in a bankruptcy court for $25 million. The purchase came with the stadium's lease which Kraft refused to sell on two occasions to subsequent owners who intended to relocate the team.
When its then-owner James Orthwein was running in loss, he agreed to sell the team to Kraft for a record $172 million. Kraft's ownership was hugely supported by fans who made sure season tickets were sold out yearly. Kraft has also managed to keep them happy all the way. All of the Pats' 6 Super Bowl titles have come under Kraft's ownership. The team's current valuation of $3.4 billion has boosted Kraft's wealth, making him one of the richest NFL team owners.
Kraft has used his NFL profits to expand his sports empire. He owns the Gillette Stadium, the playing ground of the Pats. He also owns MLS side New England Revolution and a stake in mixed martial arts promoter Ultimate Fighting Championship.
List of Sports Teams He Owns and Their Value
New England Patriots (1994 – Present)

Amount Purchased – $172 Million
Current Franchise Value – $4.4 Billion

New England Revolution of MLS (1994 – Present)

 Founded By Kraft in June 1994
Franchise Value – $245 Million

 Boston Uprising (2017 – Present) 

Founded By Kraft in July 2017
Current Franchise Value – N/A
No, He Isn't the Owner of Kraft Foods
Contrary to what many have come to believe, Robert Kraft has nothing to do with Kraft Foods. The company was established in 1874 by Canadian entrepreneur James L. Kraft, who is in no way related to Robert Kraft.
The grocery manufacturing conglomerate is known for products like Kool-Aid, Oscar Mayer, Cadbury, and more.
The Major Sources of Robert Kraft's Wealth
He has a controlling stake over the Rand-Whitney Group
Kraft founded International Forest Product
He's also the founder of Kraft Group
Robert owns several professional sports teams
He has a stake in the Ultimate Fighting Championship (UFC)
Robert Kraft Is Very Public-spirited and Has Donated as Much as $600 Million to Charity
Kraft is a socially concerned billionaire. From education to healthcare and what have you, the man has supported various philanthropic causes across the United States and in Israel. In 2017, he donated $6 million in support of Israel's first American football stadium.
He has been at the forefront of the fight against the Boycott, Divestment, and Sanctions (BDS) movement against Israel. Sometime in June 2019, he pledged $20 million to this cause. A few years earlier (in 2011), he had also donated $20 million to Partners HealthCare in support of an initiative meant to improve access to quality healthcare in New England.
In all, Forbes estimates that the billionaire has donated up to $600 million to charity.
The Billionaire Lost His Wife to Ovarian Cancer in 2011
Full Name: Myra Hiatt Kraft (née Hiatt)
Date of Birth: December 27, 1942
Date of Death: July 20, 2011
Duration of Marriage: (1963 – 2011)
No of Children with Kraft: 4 Sons (Jonathan, Daniel, Joshua, and David Kraft)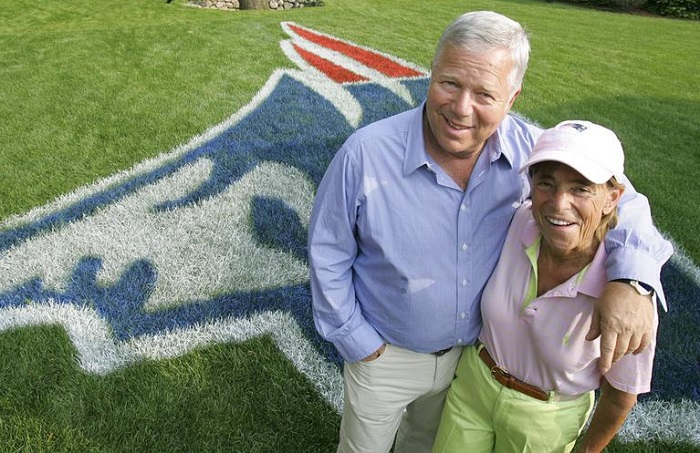 Robert got married in 1963 to his late wife, Myra Hiatt Kraft who died back in 2011. She was a well known American philanthropist and was popular for her charitable work. She was recognized by Boston Magazine as one of the top 20 Most Powerful Women in Boston.
In conjunction with her husband, the pair has donated over $100 million to a good number of charities, especially those that focus on women's issues, education, athletics, and Israel. Myra schooled at Bancroft School in Worcester before she obtained a degree in History from Brandeis University.
While she was still schooling at Brandeis, she met and got married to Kraft sometime in June 1963. Among other things, Myra served as the president of the New England Patriots Charitable Foundation. She died at the age of 68 from ovarian cancer.
Myra and Robert Kraft Had Four Sons Together
Their union lasted from 1963 to 2011 and produced four sons named Jonathan, Daniel, Joshua, and David Kraft. Let's met them:
Jonathan Kraft
Date of Birth: March 4, 1964
Occupation: Businessman
Jonathan is the president of Kraft Group. He joined the establishment in 1990 after he earned an MBA from Harvard Business School. He is a graduate of Williams College and has been credited for facilitating the growth and diversification of his father's company.
Jonathan is probably most known as the president of the New England Patriots. He is actively involved in the businesses of his father and has been married to Patricia Lipoma since 1995. They have at least 3 kids together.
He is dating Ricki Lander, a dancer turned actress who has been his girlfriend for three years and is half his age.
Daniel Kraft
Date of Birth: Undetermined
Occupation: Businessman
Like his brother Jonathan, Daniel's career revolves around his father's companies. A graduated of Tufts University, Daniel joined Kraft Sports Group in 1994 as vice president of marketing.
He has climbed the career ladder over the years and is currently the CEO and President of International Forest Products. In addition to that, he is also the International President of Kraft Group.
Joshua Kraft
Date of Birth: Undetermined
Occupation: Businessman
A graduate of William College, Joshua Kraft is the current president of the New England Patriots Foundation. He obtained a Master's degree in education and social policy from the Harvard Graduate School of Education and serves on the board of various organizations like Harvard Pilgrim Health Care Foundation. Josh, as he is fondly called, is also known for his activities with the Boys and Girls Clubs of Boston.
David Kraft
Date of Birth: Undetermined
Occupation: Businessman
David Kraft is the only child of the billionaire who doesn't work for any of his companies. Several reports have suggested that he is not on good terms with his father. He worked for The Kraft Group until 2012 when he left following a dispute with his father. Since then, it's hard to tell what he has been up to.
Robert Kraft Began Dating Ricki Noel Lander After His Wife's Death
Date of Birth: December 14, 1979
Occupation: Actress, Model, Designer, and Entrepreneur
Duration of the Relationship: 2012 – 2018
It was in 2011 that the billionaire lost his wife to ovarian cancer. The following year, Robert Kraft fell in love with Ricki, an entrepreneur better known as an actress, model, and designer. How they met and the circumstances surrounding their relationship has remained a secret.
A native of Salt Lake City, Utah, Ricki graduated cum laude from Florida International University with a Bachelor of Arts in Dance and a BSc in Mass Communication. As an actress, she has been featured in several popular movies and TV shows. You will find her in Ant-Man, Iron Man, True Blood, and CSI: Crime Scene Investigation.
Also a model, Ricki is best known for the years she worked with Ford Models. Her relationship with the Billionaire came to an end in 2018 for reasons that are not clear but possibly related to the child she had in 2017.
It was speculated that Robert Kraft fathered the child but the billionaire denied this before the couple broke up in 2018.
The Billionaire's New Girlfriend Is a Medical Doctor
Name: Dana Blumberg
Date of Birth: Undetermined
Not long after Kraft's relationship with Ricki came to an end, he was spotted on several occasions with a mystery blond who was later uncovered to be Dana Blumberg, a medical doctor.
From what we gathered, Dana is an Associate Professor of Ophthalmology at Columbia University Medical Center (CUMC). She has affiliations with hospitals like the Weill Cornell Medical Center and Columbia University Irving Medical Center.
A doctor who focuses on the glaucomatous disease of the eye, Dana schooled at the Saint Louis University of Medicine and thereafter had her internship at St Louis University Medical Center. She has been making public appearances with the billionaire and it is believed that what they have is strong as they had been dating for over a year as of when this report was updated.
Profile Summary
First Name:
Robert
Last Name:
Kraft
Also Known As:

Not available
Sex/Gender:

Male
Profession:

Businessman
Famous For:
Being the chairman and chief executive officer (CEO) of the Kraft Group, owner of the National Football League's New England Patriots, Major League Soccer's New England Revolution, the Boston Uprising, and Gillette Stadium
Colleges/Universities Attended:

Columbia University and
Harvard University
Educational Qualifications:

BA, MBA
Religion:

Unknown
Birthday & Zodiac

Age/Date of Birth:

(82 years old) June 5, 1941
Zodiac Sign:
Gemini
Birth Place:

Brookline, Massachusetts, U.S.
Nationality:
American
Ethnicity/Race:

White
Country of Residence:

USA
Physical Attributes

Height:

5′ 7″ or 1.70 m
Weight:

165 lbs or 75 kg
Eye Colour:

Green
Hair Color:

White
Other Body Measurements:

Not available
Relationships

Marital Status:

Widower
Spouse/Partner:

Myra Hiatt (m. 1963; died 2011)
Family and Relatives

Father:

Harry Kraft
Mother:
Sarah Bryna
Children:

Jonathan Kraft (Son), Daniel A. Kraft (Son), Joshua Kraft (Son), David Kraft (Son)
Siblings:
Elizabeth Rachel Kraft (Sister), Avram Rachmiel Kraft (Brother)
Other Relatives:

Harry Kraft (Grandchild)
Net Worth
Estimated Net Worth:

$6.6 billion
Salary:
Unknown
Source of Wealth:

Paper manufacturing, ownership of the New England Patriots NFL team, the New England Revolution soccer team, the Boston Uprising