Jerry Jones is an American billionaire CEO, entrepreneur, and owner of the NFL's Dallas Cowboys who has a net worth of $8.5 billion
It is not far from the truth to say that an individual has to be rich to own a team in the NFL. This is definitely the case of Jerry Jones who used his money from his oil and gas business to buy the Dallas Cowboys back in the 80s. His action has not only been described as a smart move but also a very profitable one as his team today is worth billions of dollars.
Jerry did not only put his money in the team but he became a part of the Cowboys's success story over the years. This has brought him fame and fortune which has turned him into a billionaire and one of the top-rated American businessmen in recent times.
How Jerry Jones Became The Owner of NFL's Dallas Cowboys
Jerry Jones, who is currently regarded as an outstanding businessman and the owner of the notable NFL team – Dallas Cowboys, did not get to this stage without overcoming some hurdles. A look at his early days in his quest to become successful shows that he attempted to set up several business ventures but all failed. His first successful business venture was Jones Oil and Land Lease, an oil and gas exploration business in Arkansas. This ventured pumped in huge sums of money which has helped Jerry to build his long-awaited fortune.
Albeit, for a smart businessman like Jerry, he knew that making money alone can not secure the kind of future he desires, so he decided to put his money to work. In 1989, he bought the Cowboys team for a staggering $140 million and this move has turned out to be quite rewarding over the years as it launched Jerry into a whole new level of wealth. Initially, the investment was questionable as the team was far from becoming successful in the NFL but merely 5 years down the line, Dallas Cowboys landed a championship title during the Super Bowls. This was a game-changer in the team's ability to earn money and today, Jerry's team is estimated to have a value worth more than four times its initial worth when he bought it.
It is also worthy to note that, that Jerry Jones' move to restructure the team as the new owner of the Cowboys did good work to revive the dying team which was not the expectations of many fans who criticized his actions. It is known that his initial move was to sack Tom Landry, the team's longstanding and only coach in its history, replacing him with his old-time teammate, Jimmy Johnson. Soon after, he fired Tex Schramm, the team's longtime General Manager and assumed his position, overseeing every football matter.
The criticisms seemed to reduce when the Cowboys won two back to back Super Bowl victories in 1992 and 1993 under Jimmy Johnson. Unfortunately, following rising friction between Johnson and Jerry as a result of varying opinions and decisions, Johnson resigned as Cowboys coach awakening the fans' hatred for Jerry Jones. Undeterred by the setback he has faced, Jerry hired the University of Oklahoma head coach, Barry Switzer who led the team to another Super Bowl victory in 1995.
However, the criticisms have remained as the team's performance since their last super bowl victory has been described as mediocre. In a poll conducted by Sports Illustrated in 2003, Jerry Jones was named the least favorite sports personality in Texas, Delaware, and Virginia. There have been numerous attempts led by fans of Dallas Cowboys to displace Jones from his position but such schemes have been futile as Jerry is very much active as the head of the Cowboys.
Jerry Jones' Massive Net Worth Is Credited To His NFL Royalty Status
Regardless of the Dallas Cowboys' lack of major football successes in recent years, the value of the team managed to grow exponentially to $ 4.2 billion, making it the most valuable sports franchise in the world in 2015. This growth continued to 2018 when it hit a $5 billion valuation and it made its 12th straight remarkable appearance on Forbes as the most valued team in the NFL that same year. It was gathered that these results are thanks to its AT&T stadium suites which rake in millions year after year.
It is also known that the stadium has made up to $120 million from premium seating revenue and $30 million from non-football events. More so, prior to 2015, the team was valued at $3.2 billion but experienced a surge of 24% the next year to $4.2 billion. As you may have guessed, a large percentage of Jerry Jones' wealth is from the team's success, Personally, his net worth is pegged at $ 8.5 billion.
There is no denying that Jerry Jones is a man of many talents. Jerry, who is also an ardent art collector, owns a house in Destin, Florida. He has channeled much of his profits made from the Cowboys team into a lucrative real estate business. As such, he owns several retail and residential real estate developments in Dallas suburbs.
See Also: Go Inside The Incredible Mansions Of Your Favorite NFL Quarterbacks
Highlights of Jerry Jones Achievements, Awards and Honours:
1964 FWAA College Football National Championship (as a member of the Arkansas Razorbacks)
1965 Cotton Bowl Classic champion
1964 Southwest Conference Champion
1961 Southwest Conference Champion
Three-time Super Bowl champion – XXVII, XXVIII, XXX (as owner/president/GM of the Dallas Cowboys)
1993 Outstanding Team ESPY Award (as owner/president/GM of the Dallas Cowboys)
1993 Golden Plate Award of the American Academy of Achievement
2014 NFL Executive of the Year
2010 NFF Gridiron Club of Dallas Distinguished Texan Award
2013 Horatio Alger Award
Ducks Unlimited (Arkansas branch) Jerry Jones Sportsmans Award named in his honor
Pro Football Hall of Fame (class of 2017)
His Success In Blending Business With Family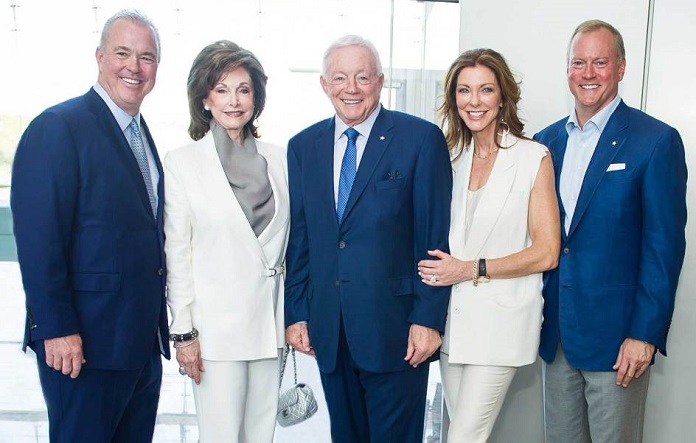 Whether you call it, luck, good fortune, or fate, Jerry has had a dose of it on the family front. First is his marriage to his college sweetheart whom he met during his freshman year at the University of Arkansas. She is no other person that the 1960's Miss Arkansas USA, Eugenia Chambers. The pair tied the nuptial knot in 1963 and over 50 years down the line, they have only gotten closer thanks to how tolerant his wife has been.
Following their long years of marriage, the two have three children, Stephen, Charlotte, and Jerry Jr. His three kids have over seven children, making Jerry Jones and his wife grandparents. Beyond the love that runs in Jerry's family, it might be possible that the secret of their bond can be attributed to the fact that all the members of his family, including his wife, are all part of his business, serving in different capacities as the need arise.