Talk about the most industrious and business-minded persons in the world and Richard Brandon's name will come up at some point. A truly fascinating and focused individual, Branson has established himself as one of the world's most incredibly gifted businessmen who delved into doing business from when he was still just a young man and did not stop even after became a billionaire. Richard Branson's net worth is now pegged at more than $5 billion and this not surprising considering the fact that he has established so many companies since he started.
Considered by many as a sharp-eyed man who knows how to spot ground-breaking opportunities, Branson has provided employment for thousands of people around different countries of the world.
Find out how Richard Branson's net worth of $5 billion was built over the years? Let's take a look at his life.
The Early Days
Born on 18th July 1950, Richard Branson whose full name is actually Richard Charles Nicholas Branson grew up in London with his family. He was born to a mother called Eve Branson and a father identified as Edward James Branson and grew up with two siblings.
Growing up, he attended Scaitcliffe School in Surrey before proceeding to briefly study at the Cliff View House School in Sussex. He later attended the Stowe School in Buckinghamshire. However, Branson had dyslexia, a reading disorder and was not very good in school. Nevertheless, he showed signs that he was bound to be an industrious businessman right from his early years and his parents supported him all the way. He got his business acumen from his mother who was an entrepreneur herself.
Despite not being good at his studies, it was not long before Branson began to do business, forging his way to greatness and raking in a lot of money.
How Did Richard Branson Increase His Net Worth To $5 Billion?
Richard Branson's net worth is $5 billion at the moment and we are going to take a look at how he managed to make all that money. Like we have stated, Branson got into business when he was still a very young man. In fact, it is on record that he was just 16 years old when he established his first business; a magazine called Student in 1966. The magazine did very well and even sold an amazing $8,000 worth of advertising just for its first issue. It was at this time that he dropped out of school so that he could pursue his dream of doing business.
A focused individual, Branson continued building his business and by 1969 he already had 20 employees. In 1970, he started another business, this time a mail-order record business which he called Virgin Mail Order Records. At first, he experienced some hurdles operating the business but he soon found his footing and by 1972, he already had 14 record stores around the town. With a burning passion to expand his business empire, Richard Branson used the profit he made from Virgin Mail Order Records to start a music label which he called Virgin Records in 1972. The record label became a success after signing some notable names in the world of music at the time including Mike Oldfield, Sex Pistols, The Rolling Stones and Ozzy Osbourne. The success of the record label fetched Richard Branson his first million dollars.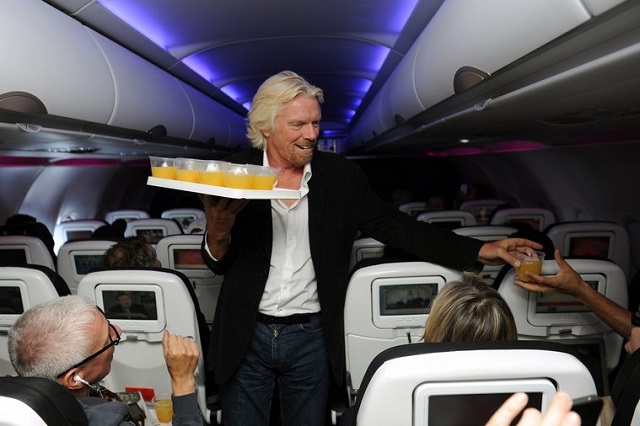 In 1981, Richard Branson established two more businesses; Virgin Books and Virgin Video. At this time, he was already a popular Briton who was known for his business-savvy moves and knack for wealth creation. In the early 80s, Branson's businesses had spread across more than 50 different companies and had already made a combined sales of more than $17 million.
Read Also: 15 College Dropouts That Became Billionaires
Richard Branson launched his biggest company so far, the Virgin Atlantic Airways in 1984 after pairing with Randolph Fields, a popular lawyer. Today, it is one of the renowned airlines in the world. Other business ventures he has established include Virgin Mobile which he established in 2001 and Virgin Galactic, a space tourism company formed in 2004. He is also the owner of Virgin Orbit, Virgin Unite, and Virgin Fuels.
As expected, his many businesses have shot Richard Branson's net worth to the sky. His industry and fearless approach to doing business has made him one of the highly revered businessmen at the moment. Today, he is also regarded as one of the best persons to do business with and is also considered to be of the most influential persons on earth.