As the world's number one party city, Las Vegas holds the responsibility of delivering to its millions of yearly visitors the best reception it can muster. The city achieves this through its long list of hotels which are some of the best in the world. Of course, the best hotels in the world are also some of the most expensive you can find, but what they cost in money, they make up for in style as expected from a luxurious place like Las Vegas.
According to LUXURY HOTEL GURU, here are 20 of the most expensive and luxurious hotels on offer in Nevada's city of sin.
1. Skylofts at MGM Grand
Average Cost Per Night: $1508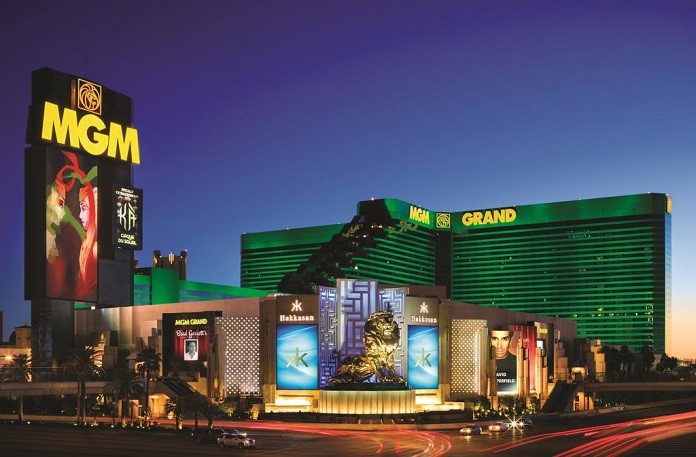 Home to many international boxing competitions over the years, MGM Grand seems to have earned quite the reputation. If you stay in the Skylofts here, you will be in your own private section of the hotel. You can choose from one to three-bedroom suites, and the amenities and features that you will enjoy are simply out of this world as the hotel takes the cake as the most expensive and most luxurious in Las Vegas.
2. Waldorf Astoria Las Vegas
Average Cost Per Night: $375
It is the only hotel in the city that boasts of a triple 5-star luxury rating from Forbes, a record feat that proves its dedication to luxurious accommodations. Located central on the Las Vegas Strip, this modern hotel offers an extensive two-floor spa with 5-star treatments and a modern gym with a yoga room. Guest rooms have flat-screen cable TV and dining is offered in 3,000 square feet rooms that come with marble bathrooms.
3. JW Marriott Las Vegas Resort and Spa
Average Cost Per Night: $338
Located in Las Vegas, Nevada, this resort features a world-class Aquae Sulis Spa with 36 treatment rooms, full-service salon, gym, and a volleyball court. Each room of this luxury hotel has a 2-person spa bath and cable for each room. It contains a 50,000 square foot casino and also an 11,000 square foot pool on-site, which includes a waterfall. JW Marriot also provides an array of world-class restaurants, serving Italian, American, and Japanese meals. Hiking and climbing are also available 9 miles from the resort at the Red Rock Canyon.
4. The Westin Las Vegas Hotel & Spa
Average Cost Per Night: $337
Containing over 827 rooms just one block from the excitement of the Las Vegas Strip, the Westin Las Vegas Hotel & Spa features facilities such as a relaxing spa and on-site dining options. The hotel further offers a state-of-the-art fitness center and a heated, outdoor swimming pool. After an intense workout, guests can relax with a massage in the Hibiscus Spa. Jake & Eli restaurant at Las Vegas Westin also serves American cuisine for breakfast, lunch, and dinner. Furthermore, guests can also enjoy private meals from the hotel's 24-hour room service.
5. Four Seasons Hotel
Average Cost Per Night: $319
Four Seasons Hotel Las Vegas has 424 stylish guest rooms, including 81 luxury suites, echo one rollaway, and one crib (An additional fee applies for the rollaway). The suites occupy the 35th through 39th floors of the Mandalay Bay Resort. The hotel is an oasis of calm in a city known for its frenetic energy. Guests at the Four Seasons can look forward to decadent Art-Deco inspired rooms with huge marble bathrooms, sophisticated on-site dining, a renowned spa, and the luxury hotel brand's signature "anticipatory service." Though there's no dedicated casino here, the Mandalay Bay is an elevator ride away. It is a luxurious and quiet escape from Las Vegas frenzy, sophisticated dining scenes, free WiFi, well-regarded spa, and open business center with pool views, pet-friendly for a fee.
6. Marriot Grand Chateau
Average Cost Per Night: $317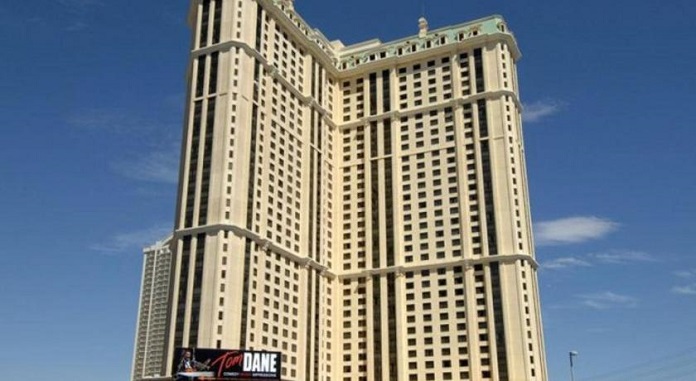 Marriot Grand Chateau is a non-gaming, non-smoking hotel 15 minutes away from the Las Vegas Strip. Facilities include free air condition, free WiFi for all devices, an outdoor swimming pool, and complimentary valet parking for hotel guests. Also, there is a flat-screen, microwave, and a refrigerator for each standard room. Fitness center and hot tub free access are available to all guests, and the Hard Rock Casino is just 20 minutes away from the Marriot Grand Chateau. A sitting area is attached to all rooms, all brightly lit and well decorated. The luxurious hotel is worth the money for absolute comfort as it offers a bar and grill, Starbucks, and plenty of food and drink spots.
7. Las Vegas Marriot
Average Cost Per Night: $287
This LEED-certified eco-friendly hotel is within 1.5 miles of the Mirage and the Las Vegas Convention Center, and 3.3-miles from the Las Vegas Airport. With 278 rooms, all the rooms at the Las Vegas Marriot have modern-decorations, with an iPod docking station and small refrigerators. It also has a heated outdoor pool, and its spacious rooms have a 42-inch flat-screen TV. They have a large seating area and separate bathrooms, all part of this expensive Las Vegas hotel luxurious offerings.
The hotel also features an outdoor pool area with a whirlpool. Guests can also use the fitness center at their convenience. On the menu at the cafe325 is American breakfast, lunch, and dinner. The hotel offers room service, safe deposit boxes, and laundry facilities.
8. NoMad Las Vegas
Average Cost Per Night: $277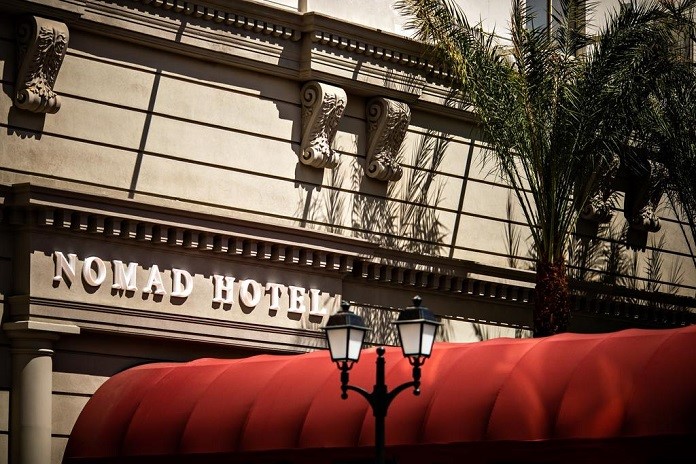 This 5-star hotel allows guests to make use of the casino. Popular places of tourism interest around NoMad Las Vegas are; Eiffel Tower at the Paris hotel, Crystals Shopping Center, Bellagio conservatory and botanical gardens. It opened in September 2018 and is 700 meters from CityCenter Las Vegas.
NoMad Las Vegas accommodation comes with a restaurant, private parking, a seasonal outdoor swimming pool, and a bar. The rooms have air conditioning and a desk in case you need to work. Additionally, there is a hot tub, free for use to guests of the hotel.
9. The Bellagio
Average Cost Per Night: $277
The Bellagio is one of the most famous hotels in Las Vegas that has featured in various tourist magazines, movies, and TV shows. With the addition of living inside the walls of a building that has graced the presence of some of the biggest stars in the world, it offers luxurious benefits like European themed restaurants, expansive rooms, and award-winning cuisines.
Set behind the famous Fountains of Bellagio, this luxury Las Vegas Strip hotel and casino offer multiple dining options and elegant rooms with marble en suite bathrooms. The richly-decorated rooms of the Bellagio have a flat-screen satellite TV and electronic drapes. It also comes with soft bathrobes, a minibar, and an iPod docking station.
10. Elara by Hilton Grand Vacations
Average Cost Per Night: $261
Well-built and situated on the Vegas Strip, Elara by Hilton Grand Vacations offers a lobby bar where guests can relax in a casual atmosphere while enjoying their favorite cocktail. A seasonal poolside bar is also available. For convenience, the Elara by Hilton Grand Vacations features a full-service concierge desk that can assist guests with show tickets, dining reservations, and local tours. The hotel's guest rooms has floor-to-ceiling windows and marble decorated bathrooms. Its elegantly built rooms also come with a kitchen/kitchenette with a microwave and a mini-fridge. 42-inch flat-screen TV with extended cable channels is in every guest room. There is a gift shop on site. What's more, this hotel connects to the Planet Hollywood Resort and Casino. Finally, when the party is over, the McCarran International Airport is a 10 minutes drive from the hotel.
See Also: These Are The 10 Most Luxurious And Expensive Watch Brands For Women
11. Renaissance Las Vegas
Average Cost Per Night: $249
The Renaissance Hotel Las Vegas is near casinos, shopping malls, and restaurants. It is also close to the Las Vegas Monorail station. Located just four blocks from the Las Vegas Strip, this hotel is within the proximity of the Convention Center. In terms of amenities, it features ENVY the Steakhouse, an outdoor pool, and spacious guest rooms. Each hip, retro-styled room at the Renaissance Las Vegas Hotel has coffee facilities and a marble bathroom. A 55-inch Smart-TV is also available in standard rooms, and the suites come with 70-inch Smart-TVs. A mini-refrigerator and a microwave are available upon request. For fine outdoor dining, there are three on-site restaurants at this hotel.
12. Club Wyndham Desert Blue
Average Cost Per Night: $243
The luxurious Club Wyndham Desert Blue hotel in Las Vegas is just one mile from the 24-hour party of The Strip. Also, the casino gaming at the Rio Las Vegas Casino is next door. It means peace and access to your bathtub is a few steps away after a round of gambling. It also means you will not have to wrestle as much traffic when you venture outside the city to see check out its sights.
The hotel has spacious studios and one-bedroom standard resort suites that comfortably sleep up to four guests and range from 440 to 557 square feet. Studios feature one king bed with a queen sleeper sofa or just two full beds. Club Wyndham Desert Blue is set in Las Vegas in the Nevada Region, 1.3 km from Colosseum at Caesars Palace. Bellagio Fountains is 1.7 km from the property. Finally, free WiFi is available throughout the property.
13. M Resort Spa & Casino
Average Cost Per Night: $224
Nestled in the quiet city of Henderson at the southern end of the Las Vegas Valley, M Resort offers 390 rooms, including resort rooms and suites in a variety of configurations to give you a choice of how you would like to spend your stay. The T-Mobile Arena is a 17 minutes drive away, and this resort spa and casino offers upscale rooms with comfortable décor. Guest rooms include features like a 42-inch flat-screen HDTV and an in-room refreshment center.
For the workaholics, there is a built-in desk with an executive chair and free local calls. The ensuite bathrooms boast of marble floors and a separate bathtub and shower. Additionally, there are TVs in each bathroom. Guests can also enjoy specialty cocktails, craft beers, and wine at their choice of 5 on-site bars, including Ravello Lounge, which features live entertainment by top bands and DJs. M Resort Spa & Casino provides everything needed for a memorable stay.
14. Trump International Hotel Las Vegas
Average Cost Per Night: $223
Trump International Hotel Las Vegas, which is adjacent to the Fashion Show Mall, is a sophisticated, non-smoking and non-gaming, luxury hotel situated high above the Las Vegas Strip. It takes pride in exceeding expectations and catering to every whim with signature luxury service.
Every suite at Trump International Hotel Las Vegas has an iPod docking station and seating area. The hotel further features an on-site spa with nine treatment rooms and a full-service hair and nail salon. Guests can also use the state-of-the-art gym. Trump Hotel's signature restaurant, DJT, offers casual American cuisine. Trump International Hotel has free shuttle services that run to the shopping center and casinos.
15. Encore at Wynn Las Vegas
Average Cost Per Night: $222
You might wonder if a hotel with over 4,700 rooms would be able to maintain a level of luxury and class to be one of the best hotels in Las Vegas and the Encore proves it can. Many hotels pride themselves on being home away from home. But the Encore takes it further by immersing you in a fantasy of luxurious living, as long as you can afford its expensive pricing at $222 per night, of course.
16. Hilton Lake Las Vegas Resort & Spa
Average Cost Per Night: $214
Located 17 miles from the Las Vegas Strip, this boutique resort offers Mediterranean-inspired architecture. It boasts an outdoor pool, restaurants, and on-site shops. All rooms have free WiFi, and there is a flat-screen cable TV in each guest room. Rooms include a work desk, a seating area, a refrigerator, and ironing facilities. Select spacious suites include guest bathrobes.
Located at the Hilton Lake Las Vegas are Medici Café and Terrace which offers fresh salads, sandwiches, wraps, and healthy dishes for breakfast, lunch, and dinner. A 24-hour reception can assist guests with car and bicycle hire. Guests can work out in the fitness center while there is also a business center with fax and photocopying services. McCarran International Airport and Hoover Dam are within 20 miles of this resort.
17. The Signature at MGM
Average Cost Per Night: $197
A quiet place right off the Las Vegas Strip, the Signature at MGM Grand is an all-suite, casino-free resort. Each suite tower at the resort has its private pool, both family-friendly and adult-only. For relaxation right in the middle of the action, your bet should be placed on the Signature at MGM Grand. Spacious suites offer a spa bath, flat-screen TVs, and an iHome clock radio. The hotel's elegant suites are equipped with a kitchenette, comfortable seating area and a DVD player. In-room massages and room service are also available. This hotel's fitness and business center are open 24/7, and concierge service is always available. Comfortable lounge chairs are at each outdoor pool.
18. Delano Las Vegas at Mandalay Bay
Average Cost Per Night: $197
Among the cheapest of Las Vegas's most expensive and luxurious hotels is the Delano Las Vegas. It is an understated, all-suite retreat just steps away from the action and amenities of an expansive 120-acre Mandalay Bay Resort and Casino. Located on the Las Vegas Strip, Delano ushers in a fresh sense of discovery and sophistication that complements the New Las Vegas experience. Located directly on the Las Vegas Strip, this all-suite tower is part of the Mandalay Bay Hotel.
The suites offer a separate living and sleeping area with views of the Strip, the pool, or the mountains. Featuring a submerged chess board, signature cocktails, and chaise lounges, guests have the option to enjoy a lively atmosphere or an exclusive retreat. Private poolside cabanas are also available at the hotel. Delano Las Vegas at Mandalay Bay is 5.6 km from McCarran International Airport. Downtown Las Vegas is less than 3.2 km away, and the University of Nevada is 6.4 km from the hotel.
19. Vdara Hotel & Spa at ARIA Las Vegas
Average Cost Per Night: $178
Vdara Hotel & Spa is an all-suites hotel conveniently located right in the heart of the Las Vegas Strip. It offers 1495 accommodations with minibars and safes. Accommodations have separate sitting areas, and they have queen sofa beds. Beds feature premium bedding. 42-inch flat-screen televisions come with premium cable channels and pay movies.
Accommodations at this 5-star resort further have kitchenettes with refrigerators, stovetops, microwaves, and separate dining areas. Bathrooms include separate bathtubs and showers with deep soaking tubs and hair dryers. In-room wireless internet access is available for a surcharge. Business-friendly amenities include desks along with free local calls (restrictions may apply). Housekeeping is offered on request, and hypo-allergenic bedding can be requested.
20. The Berkley
Average Cost Per Night: $166
The least expensive and luxurious Las Vegas hotel on our list is The Berkley. This 18-story resort with full suites is only 8 km from the Las Vegas Strip and located in the Village of Silverton with access to restaurants, bars, casinos, a Bass Pro Shop. The Berkley, Las Vegas features an outdoor pool and BBQ facilities. Each comfortable suite offers kitchen facilities along with kitchenware and a dining area. Guests of The Berkley, Las Vegas can relax in a spacious one or 2-bedroom suite with a cable TV in the living room and bedroom. South Premium Outlet Mall is 3.8 km away. Numerous food and beverage options are also located in the area around this property.