For over a decade now, Dubai has achieved its dream of becoming the world's foremost tourist destination. Through a series of megastructures and technological marvels, it has cemented its place at the number one city in the travel list of millions of people. To maintain that position, some of the most luxurious and most expensive hotels in Dubai came into existence to cater to the vacation dreams and desires of its yearly visitors.
Many of these hotels are architectural masterpieces, designed to satisfy each visitor's sense of wonder along with utopian relaxation. In consideration for your next trip, here are some of the most expensive and most luxurious hotels you can get in Dubai according to TUKO and LUXURY HOTEL GURU. Check them
1. Raffles Hotel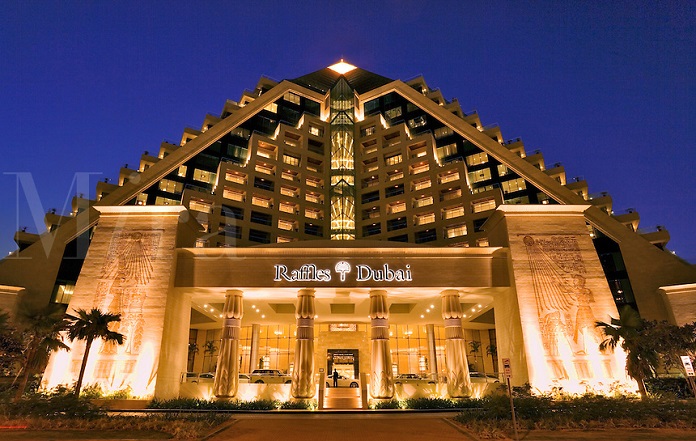 Approximate Cost Per Night: $23,140
Inspired by the great pyramids of Egypt, Raffles Dubai is a stunning landmark in Dubai's skyline. This award-winning hotel features an outdoor pool. Sitting in the middle of tourist attractions, guests, and tourists from the whole world find the hotel a perfect place to unwind, chill, relax, and feel at home.
There is a wide selection of international fare on offer at Raffles' 7 dining outlets, including awards winning Japanese restaurant, TOMO, and Raffles Salon, which serves traditional afternoon tea. A shopping adventure lies around the corner as Raffles Dubai adjoins Wafi, one of Dubai's most exclusive shopping malls. Dubai International Airport is a 15-minute drive away.
2. Atlantis The Palm
Approximate Cost Per Night: $19,650
A Dubai icon, Atlantis, The Palm is the region's most Instagrammed hotel. This ultimate holiday destination offers unforgettable experiences for all ages and personalities. from thrill-seekers to food lovers and fitness freaks; here, every moment counts. Nestled between the calm turquoise waters of the Arabian Gulf and the majestic Dubai skyline, Atlantis Dubai is the crown of the world-famous Palm island. Unlike Dubai Hotels, Atlantis the palm is an excellent first-class family Hotel with spacious private beach stretching to about 1km
Atlantis The Palm has a luxurious ambiance that frequently attracts high profile personalities such as Kim Kardashian, Justin Timberlake, Charlize Theron, Jennifer Lopez, and Naomi Campbell. Its 3-bedroomed ten-thousand square feet Royal Bridge Suite costs a whopping $30,000 per night. The hotel is famed for charging one of Dubai's most expensive hotel room prices. The Aquaventure Waterpark is another spectacular feature at Atlantis. The hotel guarantees sufficient pampering for adults and kids alike.
3. Four Seasons Resort Dubai
Approximate Cost Per Night: $12,300
In a tourist hub like Dubai, the most expensive and luxurious hotels are bound to be owned by brands known for their luxury and exclusivity. The Four Seasons makes a good splash with its bright lobby and beachfront hotel.
The Four Seasons Resort in Dubai finds a way to blend the traditional Four Seasons architecture with the philosophy of opulence and wonder of Dubai to create a luxurious home away from home. It costs $198 per night. This five-star hotel offers a panoramic view of the hotel and its surroundings. The private beach, modern-style décor, spacious dining area, and entertainment are some of the most striking features you will find at The Four Seasons Resort.
4. Burj Al Arab
Approximate Cost Per Night: $11,000
Dubai prides itself as the luxury capital of the world, which is why it is a haven to plenty of the world's most expensive and luxurious hotels. There is no better epitome of that reputation than its seven-star hotel, the Burj Al Arab Jumeirah, which is also considered one of the world's most luxurious hotels.
Burj Al Arab offers uniqueness with its sail-shaped exterior that would blow the mind of anyone, no matter the number of times you see it. Inside the hotel is all forms of luxury you can imagine, from oversized suite-only accommodation to spa-like bathrooms that have Jacuzzis, mosaic floors, suites with stairways made of marble and gold.
Burj Al Arab is the world's only known 7-star hotel. The hotel gets people talking and never misses on the list of high-ranking destinations. Jumeirah attracts executive guests, some of whom land in on their helicopters. The hotel has been in operation for more than two decades and has never looked back on spoiling guests with an endless supply of fun. Jumeirah has the highest amount of Egyptian linens, toiletries, technology, and other personalized services, making it one of the most expensive hotels in Dubai.
5. Rixos The Palm
Approximate Cost Per Night: $10,500
Rixos The Palm Dubai's 230 guest rooms and suites are very spacious and glow with a warm, welcoming feeling for all guests. Most of the luxury guest rooms offer spectacular views of the Gulf Sea and Dubai skyline. You can enjoy these views from the private balconies with sunbeds, generously sized marbled bathrooms with deep soaking bathtub. They combine with a wealth of deluxe amenities everywhere on the resort.
Rixos The Palm is a luxurious destination for first-class travelers who are seeking nothing less but a full swing vacation experience in this land of Gold. The hotel offers a full ensuite three bedrooms with exclusive services you will not find anywhere else. The hotel overlooks the beach, where guests can have lots of fun all day.
6. Fairmont The Palm
Approximate Cost Per Night: $8,500
One of the most luxurious Dubai hotel suites, soaring 34-stories and perched high above the city lights, the Presidential Suite is superior in size and luxury. Its features include a grand entrance hall, a private dining, and a living area with two beautifully adorned bedrooms. The first and second guest rooms have king-size beds. They also have five and four-piece ensuite bathrooms, respectively. The hotel offers two-bedroomed houses finished with Juxtaposing modern décor. The rooms are also furnished with traditional Arabic touches making it a fun escape destination for fun enthusiasts. Guests to the hotel guarantee full access to different amenities within Dubai, among them Fairmount Gold Services.
7. Al Maha Desert Resort
Approximate Cost Per Night: $6,500
Al Maha, a Luxury Collection Desert Resort and Spa, Dubai is a private, guest-only oasis nestled among the lush palm groves, emerald canopies and iconic dunes of the Dubai Desert Conservation Reserve. The hotel offers secluded tranquility and iconic vistas of the sweeping plains and Hajar Mountain massif. Take an unforgettable horse ride, camel trek, or nature walk. Join a signature desert safari or practice the distinguished arts of archery and falconry. Al Maha's 5-star hotel boasts of private swimming pools with majestic dune and mountain views, and their 42 suites combine discreet refinement with authentic regional antiques, local artifacts, and thoughtful nuances.
The hotel sits on a desert spring and offers thousands of its visitors with state-of-the-art comfort. Besides the spa, the hotel attracts many for its warmed pool. Visitors who visit this luxurious property stand a chance to experience an authentic taste of Dubai desert.
8. Ritz Carlton, Dubai
Approximate Cost Per Night: $6,500
Few places in the world can rival Dubai when it comes to the extraordinary, and The Ritz-Carlton, Dubai International Financial Centre, resides in the middle of it all. Located off Sheikh Zayed Road and surrounded by restaurants, nightlife and attractions, this luxury hotel matches the splendors of its city with an array of five-star amenities. Arrive to dine, rest, rejuvenate, or explore. The hotel offers its bedroom accommodation on the highest floors of the hotel. The high elevation gives visitors an entrancing view of the city, and the rooms have a ton of luxurious amenities. They include featherbeds, home cinema, and spacious marble bathrooms. The steam rooms are also incredible.
9. Armani Dubai Suite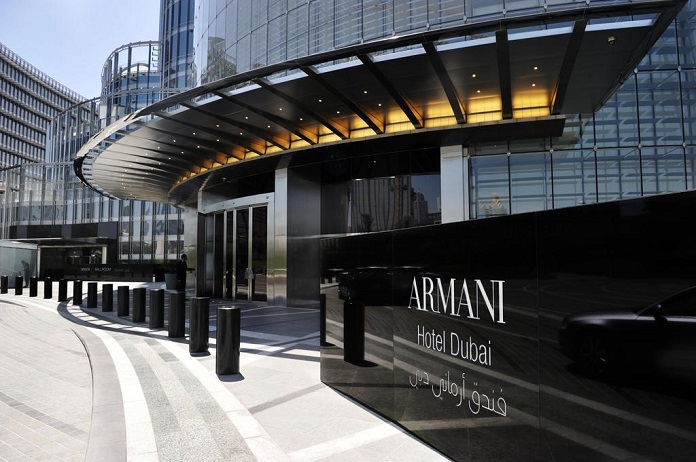 Approximate Cost Per Night: $6,000
The Armani brand is synonymous with being expensive and luxurious, and this Dubai hotel, in its name, is a definition of the iconic brand. It houses maze-like corridors, treatment suits, thermal therapies and offers lifestyle managers that serve as both your butler and your concierge, all at $267 per night. The hotel provides well-designed two-bedroom accommodation with a good view of the Arabian Gulf. The rooms are also a high watchtower of the city. You never want to miss out on the dining services the hotel offers.
10. La Ville Hotel & Suites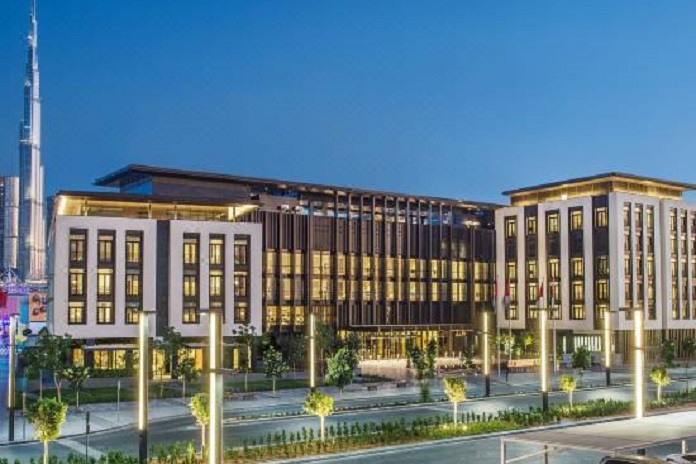 Approximate Cost Per Night: $5,600
La Ville Hotel & Suites is a boutique hotel experience found in the heart of CITY WALK, Dubai's new urban living destination. Part of the Autograph Collection, this distinctive low-rise property celebrates stylish, iconic architecture and provides a friendly setting for guests to meet and mingle. Dining includes surprising cosmopolitan and social experiences, tailored to individual preferences and moods.
Enjoy incredible views of Burj Khalifa and Dubai's skyline from the rooftop bar, sample excellent wines at GRAPE SKIN, dine on freshly prepared cuisine or retreat to our rooftop infinity pool, spa treatment rooms, and fitness center.
11. Oberoi Dubai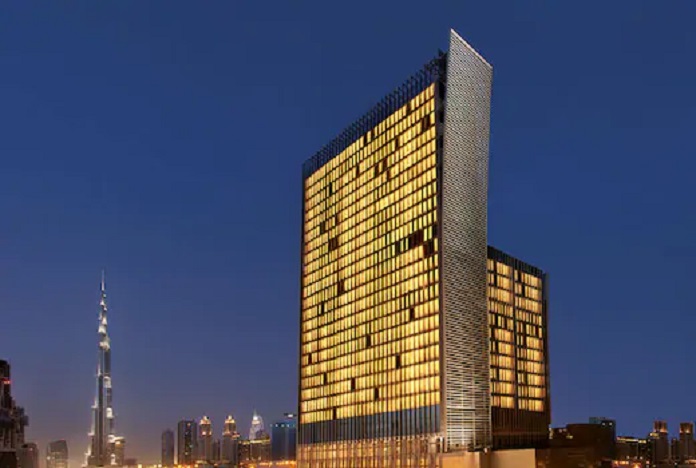 Approximate Cost Per Night: $5,500
You can enjoy excellent views of the Burj Khalifa from The Oberoi, Dubai, at its enviable downtown address, close to prominent business and leisure landmarks. Internationally acclaimed for taking care of its guests, the hotel offers spacious, comfortable accommodation, fine dining to suit every palate and a 24-hour business center equipped with all modern technologies. After a busy day at work or sightseeing, our comprehensive wellness facilities are the perfect solution to help you wind down.
The grandmaster bedroom guest rooms lie on the highest floor of the hotel. The hotel offers a welcoming view for guests pouring in from different parts of the world. The warm ambiance available at Oberoi comes with a cutting-edge experience.
12. The Palace Downtown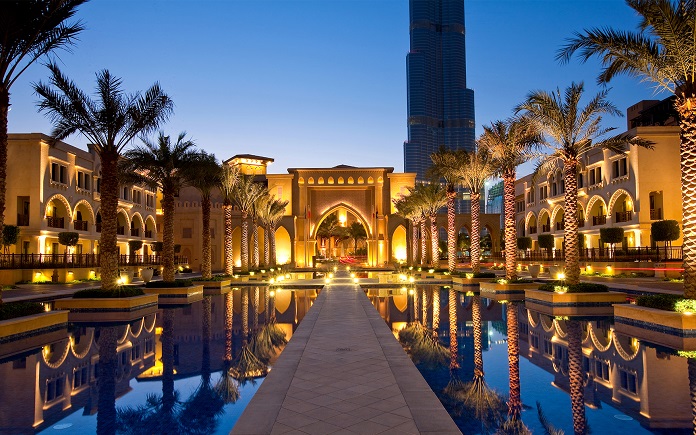 Approximate Cost Per Night: $4,900
Set in a traditional palatial residence, Palace Downtown overlooks Dubai Fountain and the lake surrounding Burj Khalifa. It features an Arabian-style spa and a gym with a personal trainer. The guest rooms of the Palace Downtown hotel are decorated in a contemporary Middle Eastern style and offer balconies and luxury bathrooms. All rooms have an interactive TV system, DVD player, and free WiFi. Four different restaurants provide fine dining opportunities, ranging from Argentinian meat to Thai curries. There are also all-day eateries that serve a buffet of Mediterranean and Middle Eastern dishes.
Leisure facilities at Palace Downtown include a palm-fringed outdoor pool, a spa that offers facial and body treatments. Guests can also enjoy Hammam, monsoon showers, hot tubs, and steam rooms. Palace Downtown is a 5-minute walk from the Dubai Mall and the Souk Al Bahar shopping and entertainment center. Furthermore, the property offers transfers from Dubai International Airport to the hotel upon request as part of its luxury services.
13. Taj Dubai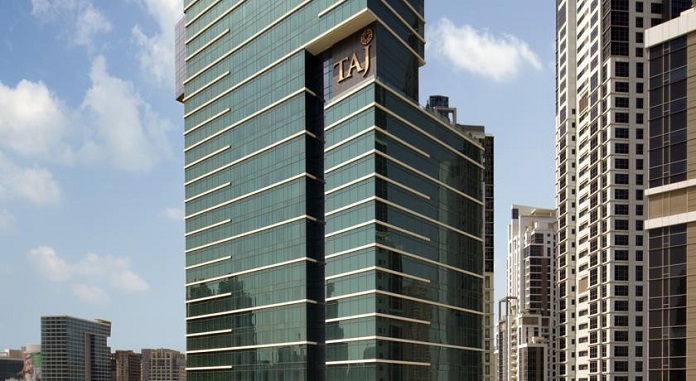 Approximate Cost Per Night: $4,850
the five-pearl Taj Dubai is a beautifully polished property infused with Indian touches. Its still-developing location between Business Bay and Downtown (20-minute walk) won't suit everyone, but it means superb views of the Burj Khalifa and easy access to the Dubai Mall. The 296 rooms feature large floor-to-ceiling windows with striking vistas and sparkling marble bathrooms, though flat-screen TVs have limited channels, and full-speed Wifi comes at a cost. Dining is excellent, especially the breakfast that includes plenty of Indian dishes, and there's ample outdoor space for eating alfresco. Leisure facilities consist of an outdoor pool with shades. There is also a deluxe spa with a modern gym, but there's little for children.
The hotel offers a rare taste of elegance you are yet to see. The modern décor in the 35th floor comes with a panoramic view of Burj Khalifa. With this first-class accommodation comes a private gym, ensuite bedroom, yoga studio, and spacious living room.
14. The Address Downtown Hotel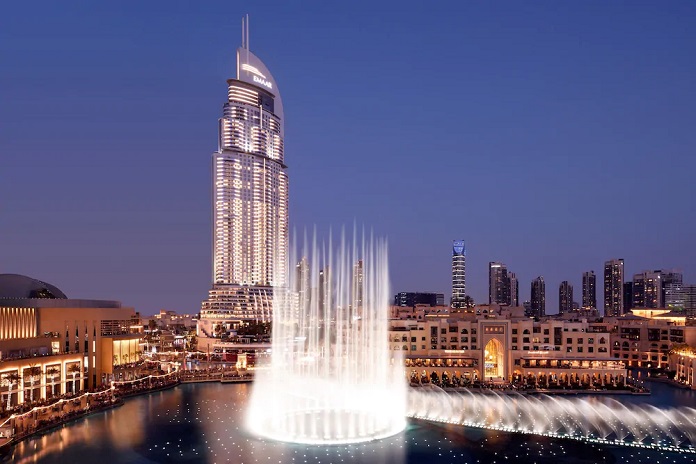 Approximate Cost Per Night: $4,628
Address Downtown, which stands tall near Burj Khalifa and The Dubai Mall, is a haven for connoisseurs of refined indulgence. Whether for business or leisure, Address Downtown presents the future of hospitality. An exceptional selection of innovative restaurants, invigorating spa, state-of-the-art Fitness Centre, versatile meeting rooms, and world-class amenities to ensure that guests have a memorable stay. With nine treatment rooms, a hammam, steam rooms and relaxation areas, The Spa at Address Downtown is a sanctuary of rest and rejuvenation. The hotel is in the 22nd tallest structure within Dubai. Visitors can access exciting places such as Underwater Zoo and Dubai Aquarium for their proximity.
15. Aspen Chalet Kempinski
Approximate Cost Per Night: $4,550
Set in Dubai with direct access to the Mall of the Emirates, Aspen Chalets by Kempinski features a year-round outdoor pool and spa center. The accommodation is air-conditioned and has a hot tub. Free WiFi is available throughout the property, and free private parking is available on site.
There are seating and dining areas in some units, with a minibar and coffee machine. Some units also have a kitchenette, equipped with a fridge. There is a private bathroom with a bath and bidet in each unit, along with bathrobes, slippers, and free toiletries. Bed linen is featured. The property has ski-to-door access, along with a ski school. You can also play tennis on the property.
16. Grosvenor House Hotel and Apartments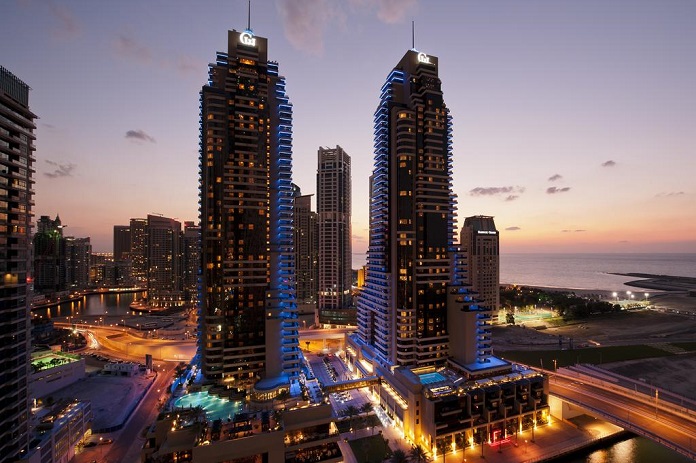 Approximate Cost Per Night: $4,000
Located on Dubai Marina promenade, this expensive and luxurious Dubai hotel offers panoramic views of the Dubai Marina, personalized butler service, and an outdoor pool. You also get free WiFi and an extensive range of culinary experiences. Mall of The Emirates is 10 minutes away by car.
The modern rooms and suites include 42-inch flat-screen TVs and floor-to-ceiling windows. The marble bathroom comes with Byredo amenities, a soaking tub, and rain shower. Some rooms offer a balcony and Club Lounge access. The Beach Mall is 10 minutes' walk from Grosvenor House, and Emirates Golf Club is a 5-minute drive away. Dubai International Airport can be reached in 20-minute by taxi.
17. Address Boulevard
Approximate Cost Per Night: $3,045
Address Boulevard is the ideal place to stay for anyone coming to Dubai for leisure, business, or shopping purposes. It offers three swimming pools with amazing views of Burj Khalifa and Downtown Dubai. The spacious living and sleeping areas melt perfectly into each other, complemented by elegant architecture and state-of-the-art technology with lights, temperature, and even room service controlled by an iPad. With direct indoor access to both Dubai Mall, Fashion Avenue, and the Metro Station, Address Boulevard is a luxury hotel located in Downtown Dubai. The Burj Khalifa and The Dubai Fountain are on its doorstep, and it is attached to The Dubai Mall.
18. Rixos Premium Dubai JBR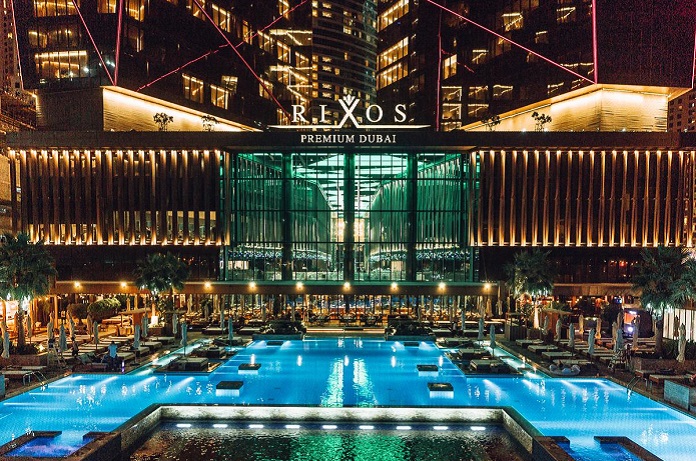 Approximate Cost Per Night: $2,000
Located directly on JBR beach, Rixos Premium Dubai is a premier lifestyle hotel offering a seamless blend of a vibrant nightlife and tranquil pool and beach ambiance. Watersport activities can be enjoyed directly on the beach.
All the rooms and suites are very spacious and feature floor-to-ceiling windows. Some rooms overlook the sea and the world's largest Ferris Wheel, while others overlook the glittering skyline of Dubai's skyscrapers. The rooms feature at least one 48-inch flat-screen TV, and a seating area. The bathrooms are spacious and offer a separate rainforest shower and free-standing tub and luxury Chopard bathroom amenities.
Rixos Premium Dubai is at the heart of Dubai in proximity to all the city's main attractions such as Dubai Marina Mall, Mall of Emirates, Sheikh Zayed Road, and Jebel Ali. Free valet parking is available at the property. A complimentary shuttle bus is also available from the hotel to the Mall of Emirates.
19. Palazzo Versace Dubai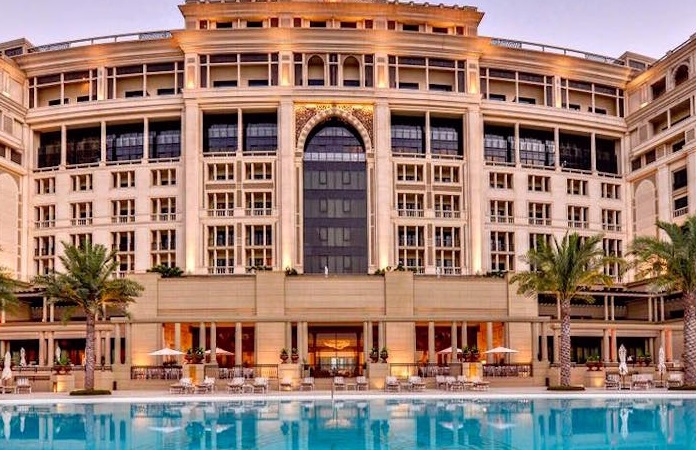 Approximate Cost Per Night: $1,864
The marriage between architecture and one of the world's most enduring brands is bound to yield something classic and stylish, and the Palazzo Versace in Dubai offers precisely that. For some of the most elegant dining you desire, prepared by Michelin starred chefs in a room that feels like the insides of Donatella, you can enjoy the Palazzo for $177 per night.
Dubai International Airport is 3 km away. Guests are entitled to use the Pool & Beach facilities of Nikki Beach Resort & Spa Dubai with a minimum spend. A complimentary transfer to this location is available. You will enjoy benefits like an infinity pool, a Versace spa, and others, giving you an overwhelming luxurious experience
20. Crowne Plaza Dubai Marina
Approximate Cost Per Night: $1,500
With 273 rooms, located in the cosmopolitan Dubai Marina area, the 3,037 square-meter hotel is next to the Dubai Marina Mall. It is also within walking distance of the picturesque pedestrian promenade, borders the waterway lined with vibrant cafes and restaurants. The hotel is 20 minutes from the EXPO 2020 Dubai close to the city's business hubs such as Dubai Media City, Dubai Internet City, and Knowledge Village. The hotel offers a plethora of meeting and event facilities, which is ideal for the business traveler, including three large-sized meeting rooms, a boardroom, and a ballroom. As well as a health club, guests will also enjoy six restaurants, one specialty Thai restaurant, and one all-day dining.
Crowne Plaza Dubai Marina is both a business-class hotel for guests seeking flexibility and balance. A perfect hub for corporate and social events, offering modern design, innovative services, and bespoke meeting spaces. The hotel is located primely at the Dubai Marina with easy access and public transportation to the main landmarks of Dubai. And at $1,500 per night, all of the features of this expensive luxurious Dubai hotel are available to you.