With a career that has spanned over two decades, Milo Ventimiglia became a fan-favorite following his vast onscreen roles in several hit series and movies. Though the ambitious and accomplished actor initially found fame on TV with the hit series Gilmore Girls and Heroes, he recently garnered rave reviews following his outstanding performance in the NBC hit drama This is Us. The phenomenal success of the show has birthed several speculations as to the cast members' actual paychecks. Find out how much Ventimiglia actually makes on each episode of the show, as well as how he accumulated his wealth over the years.
Background Details
A Californian native, Milo Anthony Ventimiglia was welcomed into the world on July 8, 1977. With their maternal Scottish-English roots and paternal Italian-Silician roots, the actor and his two elder sisters are clearly of mixed ethnicity. Ventimiglia got his start at a young age and was an active student during his days at El Modena High School in his hometown. He began showcasing his talents on stage as part of the school's theatrical team in various drama productions. But acting wasn't the only extra-curricular activity that tickled Milo's fancy. Not only was he sports inclined with a special love for wrestling but he also delved into school politics, eventually becoming the president of the student union body. After high school, Milo Ventimiglia was certain of his career path and decided to fully pursue his first love by first enrolling at the American Conservatory Theater and later studied theatre at UCLA.
Since after his debut role as a teenager in the short movie Must Be the Music, Ventigimilia has not looked back. He has gone on to establish himself as a talented and versatile actor with several other roles on the small and big screens and even notable gigs behind the scenes. Before This Is Us which is arguably his most famous role yet, Milo Ventimiglia's journey to stardom would not be complete without mentioning his other notable onscreen roles.
For both guest and recurring roles, Milo has featured in series such as The Fresh Prince of Bel Air (1995), Sabrina, the Teenage Witch (1996), CSI: Crime Scene Investigation (2000), Gilmore Girls (2001-2006), Law & Order: Special Victims Unit (2003), and American Dreams (2004 – 2005), among others. Besides his famous role as Jess Mariano on the hit series Gilmore Girls, Ventimiglia later had a major breakthrough on TV between 2006 and 2010 when he played the role of Peter Petrelli on the NBC superhero hit series Heroes.
The lacto-vegetarian actor also has several notable gigs on the big screen including the role of Rocky Balboa, Jr. in last of the six Rocky movies, the character Frat Boy Milo in Grown Ups 2 (2013), and as Danny DeMarco in 2015's Wild Card. Both as a director and producer, Milo Ventimiglia's credits behind the screen include the 2007 miniseries It's a Mall World, Winter Tales (2007), Dave Knoll Finds His Soul (2009), Ultradome (2010), Suite 7 (2011), Static (2012), The PET Squad Files (2013), Chosen (2013), and Tell (2014).
How Much Does He Make Per Episode on This Is Us?
More recently, Milo Ventimiglia is better known for his starring role as Jack Pearson in This is Us which airs on NBC. The 20th Century FOX Television production is a sprawling family series that chronicles the lives and struggles of a unique set of triplets. Milo's outstanding performance in This is Us which is one of NBC's most popular shows has so far earned him no less than four prestigious awards. The show began airing on September 2016 and became an instant hit, clinching no less than nine Emmy nominations after its second season.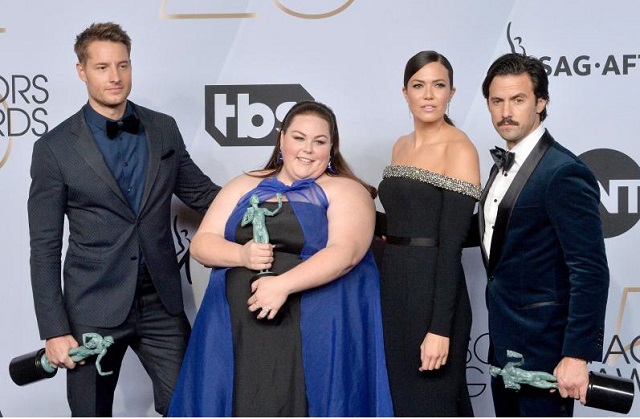 While Ventimiglia's award-winning role in This Is Us has made him a fan favorite, the showrunners have also recognized the actor's outstanding work, as well as that of his other co-stars with a major boost in their paychecks. Following the show's phenomenal success, Milo and the rest of the cast members were each encouraged with a $250,000 bonus after the first season. Milo Ventimiglia and co-star Mandy Moore are the highest-paid cast members with each receiving $85,000 per episode in the first and second seasons and more than a double raise of $250,000 per episode in the third season. The actor's paycheck is expected to keep soaring in concurrence with the show's continued success.
See Also: What Is Donald Glover's Net Worth And How Does He Make His Money?
Milo Ventimiglia's Net Worth
Milo Ventimiglia has come a long way in the industry. Slowly and consistently, his hard work over the years has paid off. In over two decades, he has accumulated impressive credits on both the small and big screens. His talents behind the camera are as good if not even better than his onscreen credits. With his award-winning role and hefty paychecks from This Is Us, the actor seems to be living his best life yet! Milo Ventimiglia has a net worth that is currently pegged at around $10 million.