A singer-actress who discovered her innate talents from a very young age, Mandy Moore has been gracing our airwaves and screens for nearly two decades. Though she became aware of her purpose early in life and began honing her skills at a cognate institution, Moore later ditched formal education, a decision that has since paid off.
The singer's sweet and melodious voice has not only earned her a place among industry bigwigs but has also brought huge paychecks her way. Moore's fame as an actress heightened in recent years, thanks to her outstanding performance in the NBC hit – This Is Us. Here's Moore's net worth and what she actually makes on each episode.
How Much Money Does Mandy Moore Make From Each Episode of This Is Us?
As an actress, Mandy Moore is better famed on the small screen. She perfectly embodies her starring role as Rebecca Pearson in This Is Us. Moore is an original cast member of the hit NBC series which began airing in 2016. In addition to the overwhelming success the series has recorded so far, Mandy's outstanding performance has also earned her a Golden Globe nomination. Hence, it is only normal that her perceived market value on one of TV's top-rated shows correlates with her paycheck.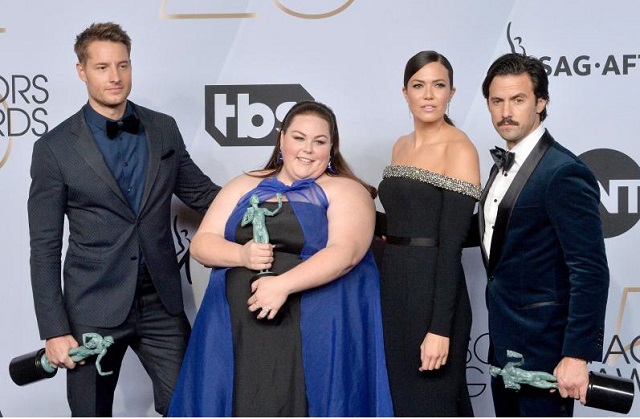 Besides the $250,000 bonus each of the cast members received from NBC in 2017, Moore and co-star Milo Ventimiglia are reportedly the highest-paid actors among the series cast, raking in as much as $85,000 for each episode in the second season. Meanwhile, her other co-stars received paychecks that ranged between $40,000 and $75,000 per episode that same season. Moore's earnings for the third season, nor that of any other This Is Us cast member has not been disclosed but they are believed to have also gotten a pay rise following the show's progressive statistics.
What Is Mandy Moore's Net Worth?
Mandy Moore's success on This Is Us is perhaps considered her best days yet as an entertainer. Although the singer-actress has also amassed her wealth from other screen roles and hit songs over the years, her heightened fame in recent years is attributed mostly to her stint on the NBC hit. Mandy Moore has a net worth that is estimated at $10 million.
Background Information
The daughter of a pilot and broadcaster, Amanda Leigh Moore is a New Hampshire native born on April 10, 1984. The This Is Us actress and her two brothers had a decent upbringing. Interestingly, Moore shared a close bond with her grandma who had good dancing skills. Inspired by the older woman, Mandy discovered she had inclinations for the performing arts from an early age. Thankfully, she had supportive parents who helped in the realization of Mandy's dreams. The singer began carving her career path even before she became a teenager at the Stagedoor Manor theater camp where she studied singing and acting.
She Ditched School For Showbiz
In her early career days, a young Moore was nicknamed "The National Anthem Girl" because she melodiously performed the National Anthem at various local events. By age 13, Mandy Moore was already confident enough to attempt recording her songs in the studio. It wasn't long before her talents were noticed, landing her a lucrative deal with the Epic record label. Moore's music career began while she was still a student and it wasn't much of a surprise when she eventually ditched school to focus on her career.
Musical Exploits
In the late 1990s, Mandy Moore mostly collaborated with popular bands such as the Backstreet Boys and N Sync, performing on their concert tours. The pop singer's breakout song Candy was released to critical acclaim in the year 1999, topping charts across the globe. Even more successful was Moore's debut album which she dropped that same year. So Real was not just a commercial success but was eventually certified platinum. Moore has since followed up with four more subsequent albums which were also successful. Her sophomore album I Wanna Be With You dropped in 2000, her eponymous third album was released the year after, her fourth album Wild Hope dropped in 2007 while her fifth album Amanda Leigh came two years later.
Acting Credits
Mandy Moore's acting talents did not suffer while pushing her musical career. Rather, she combined both arts effectively, establishing herself as a versatile entertainer. One of Mandy's earliest roles was that of Lana Thomas in the 2001 hit movie Princess Diaries. Her subsequent impressive screen credits include A Walk to Remember (2002), Saved! (2004), Love, and Wedding, Marriage (2011), 47 Metres Down (2017), and Midway (2019). She is also the voice of the star character Rapunzel in the hit 2010 Disney animation Tangled and its sequel Tangled Ever After which was released two years later.
See Also: Why is Lindsay Lohan's Net Worth Only $800,000, What Does She Do With Her Money?
Love Life
On a personal note, the singer-actress was once happily married to fellow artist Ryan Adams of the Whiskeytown fame. The pair who were previously presumed a perfect match tied the knot in 2009 but their marriage lasted for only seven years. Moore and Adams did not have any kids together. After the divorce, Mandy gave love a second chance with Dawes singer Taylor Goldsmith whom she married in 2018. An animal lover who nurtures several pets, Mandy and Taylor live happily together in their Pasadena, California home.