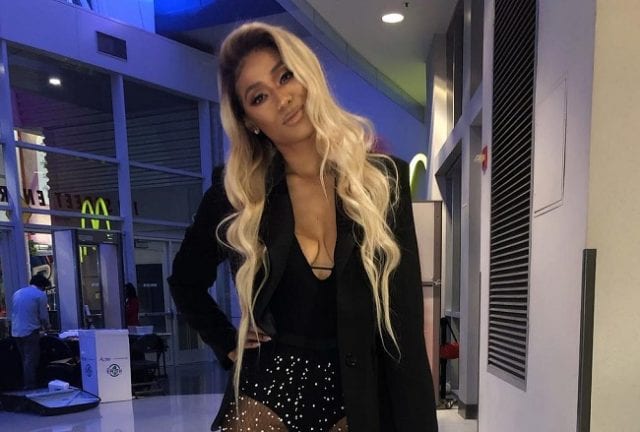 Certainly, San Antonio's shooting guard, DeMar DeRozan is one of the most popular players in the NBA. Owing to this, there is an abundance of information about his life but sadly, we can't say this about the love of his life, Kiara Morrison. While those who can tell one or two things about Kiara Morrison would most likely describe her as an extremely attractive woman who is highly passionate about basketball, there is much more to know about her than what meets the eyes.
Much more than just her marriage to DeMar, below are facts to know about Kiara; from her early life to her endeavours and everything in between, keep reading to find out.
Kiara Morrison (DeMar DeRozan's Wife) Bio
Kiara Morrison was born on January 18, 1988, in Compton, California, to Keith Morrison (father) and Ruth Jaco (mother). She is of American nationality and mixed ethnicity. Growing up, she spent most part of her life in Compton as she was raised by her parents alongside her sister Courtney Jaco there. Although very little is known about her mother, her dad, on the other hand, has a reputation for being a former Philippines Basketball Association (PBA) player who played for Alaska Aces in the '80s. He was also a member of the United States armed forces at some point. It was during his time in the military that he met Ruth Jaco and they got married soon after.
Speaking about her education, Kiara attended Serra High School in Gardena, CA. During her time in high school, she was known to be highly passionate towards basketball as she was a regular in the school's basketball team with her averaging a total of 7.9 points, 8 bounds, as well as 0.6 assists per game in her senior year. Upon completion of her high school education, she opted to further her studies at the University of South California (USC). In college, she continued playing basketball to the point of her becoming the women's team manager.
The year 2009 can be categorised as being a very important one in the life of Kiara as it was that year she met DeMar DeRozan (born on August 7, 1989) who at that time was also a student at the University of Southern California, as well as a player for the USC Trojans. According to Kiara, they met right after one of his games and got talking on areas the team could have done better. Impressed by their collective love for the game, they went on a couple of dates before they started dating officially. Later that year, DeRozan was drafted into the NBA which led him into signing for the Toronto Raptors.
Following her graduation from college in 2009, she has developed a reputation for being a regular in the stands, watching her beau play, screaming for joy, yelling and criticizing when the need be.
Read Also: Who is Rory Farquharson – Malia Obama's British Boyfriend?
Key Facts You Need To Know About Her
If you still want to know more about Kiara Morrison, here are five (5) interesting facts you should keep in mind about her, no. 2 may come as a shocker.
Kiara Morrison is a mother of two beautiful daughters fathered by DeMar DeRozan. They go by the name of Diar DeRozan (born in 2013) and Mari DeRozan (born in 2016).
She is not officially married
By virtue of being the mother of DeRozan's two children, with an expensive ring on her finger given to her by the basketballer, as well as being romantically involved with him since 2009, she is often referred to as the wife of DeMar DeRozan by several bloggers, columnists, commentators and fans alike.

But in reality, she has never been married to DeRozan. In fact, they broke up during the 2017-2018 season, but later patched things up.

She is highly involved in several charity works. In 2014, she co-launched a book programme alongside DeMar DeRozan which they called "the DeMar DeRozan All Star Book Programme". The piece aimed at donating and distributing books to several schools located in the low-income areas of Toronto.

Although she is half Filipina by ethnicity, she has only been to the Philippines once in her life and that was in July 2014 when she accompanied DeRozan for a basketball clinic held for the survivors of super typhoon Yolanda sponsored by the NBA.

Over the years, Kiara Morrison has amassed a huge number of social media followers (15k followers on Instagram alone). She can be found on Instagram by the handle @Ki_mo.

Fact Check: We strive for accuracy and fairness. If you see something that needs updating,