Julia Louis-Dreyfus most recently served up her acting talent as the Vice President you would hate to love on the HBO TV series 'Veep'.
Unfortunately, news that the beloved actress was fighting breast cancer broke at the tail end of 2017. After her announcement on Twitter, responses wishing her well poured in and showed the incredible amount of goodwill that the actress had been able to amass in her life.
Julia Louis-Dreyfus Bio, Age, Height, Feet
She was born on January 13, 1961, as Julia Scarlett Elizabeth Louis-Dreyfus. Although she came from an affluent family (Julia is the great-great-granddaughter of businessman Leopold Louis-Dreyfus, who founded the international Louis Dreyfus Group), she pursued the limelight of acting glory doggedly. She studied drama at Northwestern University where she was a member of the Delta Gamma sorority but dropped out when she got a professional acting job.
Julia then began to work with the Practical Theater Company in Chicago, a company which her husband had helped to start. Her performance at their 50th anniversary Jubilee resulted in a role on Saturday Night Live's cast in 1982. She was also part of the Second City comedy troupe. Her film career was launched with her appearance in 'Hannah and Her Sisters' and 'Soul Man'.
Julia Louis-Dreyfus, however, found the ticket to the stardom she had been chasing when she starred in the sitcom 'Seinfeld' as Elaine. She would go on from there to amass an amazing body of work including;
Watching Ellie – 2002
The New Adventures of Old Christine – 2006
Veep – 2012
In the course of her career, she has won eight Emmy awards for her television works, six of which were for lead actress in a comedy series, making her a record setter.
Julia Louis-Dreyfus is currently 56 years old. Now that she has completed chemotherapy after being diagnosed with breast cancer last September, she will hopefully still be around for a long time. The actress is 1.6 m tall and her feet have been a subject of interest for one or two reasons ranging from the talks about how attractive/ugly it is to how it pleased the foot fetish guys when she slapped a man's face with it in a Seinfeld scene.
Julia Louis-Dreyfus Net Worth
Julia Louis-Dreyfus has total wealth of $200 million. With Seinfeld, she appeared in the entire 9 seasons of the show which ran from 1989-1998 and reportedly received $600,000 per episode in the show's final season. The show is currently syndicated all over the world and Julia continues to receive royalties. 'The New Adventures of Old Christine' series which debuted with an audience of 15 million also became hugely successful and ran for 5 seasons.
Her current role as US Vice president/President in HBO's political comedy series 'Veep' has earned her four Emmys (2012-2015) for the most outstanding lead actress in a comedy series.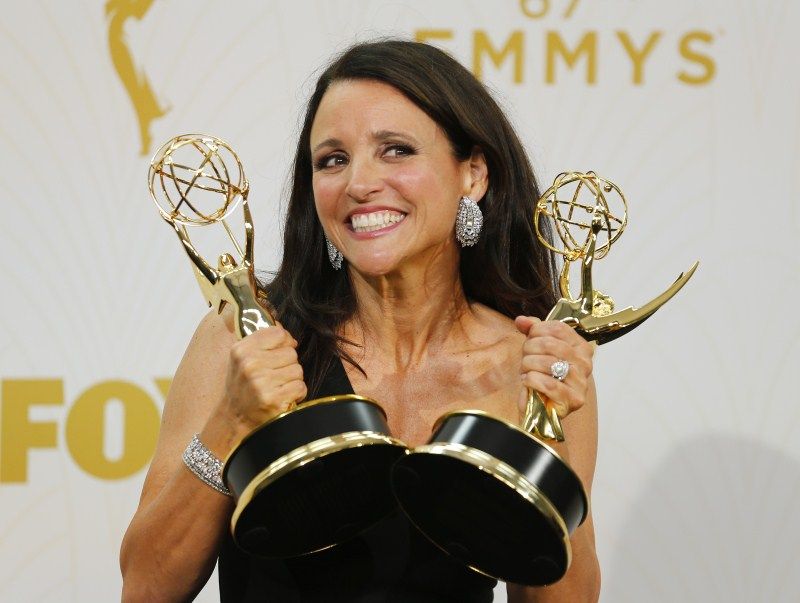 Julia's awards and accolades also include; 6 SAGs, 1 Golden Globe, 5 American Comedy Awards, and 2 Critics Choice TV Awards. In 2010, she received her star in Hollywood's Walk of Fame and in 2014, she was inducted into the TV Academy Hall of Fame.
Together with her husband, Julia developed a show 'Watching Ellie' in 2002 which debuted strongly pulling in 16 million viewers and maintaining an average of 10 million viewers every week. It lasted for 2 seasons.
Julia made a number of special guest appearances on Larry David's show, 'Curb your Enthusiasm' in 2001. Between 2004 and 2005, Julia had a guest role in 'Arrested Development'.
In 2006, she and some of Seinfeld's cast, Jason Alexander and Jerry Seinfeld parodied the so-called 'Seinfeld curse' on an episode of 'Saturday Night Live'.
More to that, Julia has voiced roles in animated films, including 'A Bug's Life' and 'Planes'. She also lent her voice on an episode of 'The Simpsons', titled 'A Hunka Hunka Burns in Love'. Beyond that, she has appeared in various movies including, 'Father's Day', 'Troll', 'Hannah and Her Sisters', 'Deconstructing Harry', 'Enough Said', and 'National Lampoon's Christmas'.
See Also: 18 Highest Paid Actresses In The World 2015
Julia is Gerard Louis-Dreyfus' eldest daughter. He is a financier and former chairman of the Loius-Dreyfus Energy Services with a earnings in the range of $4 billion.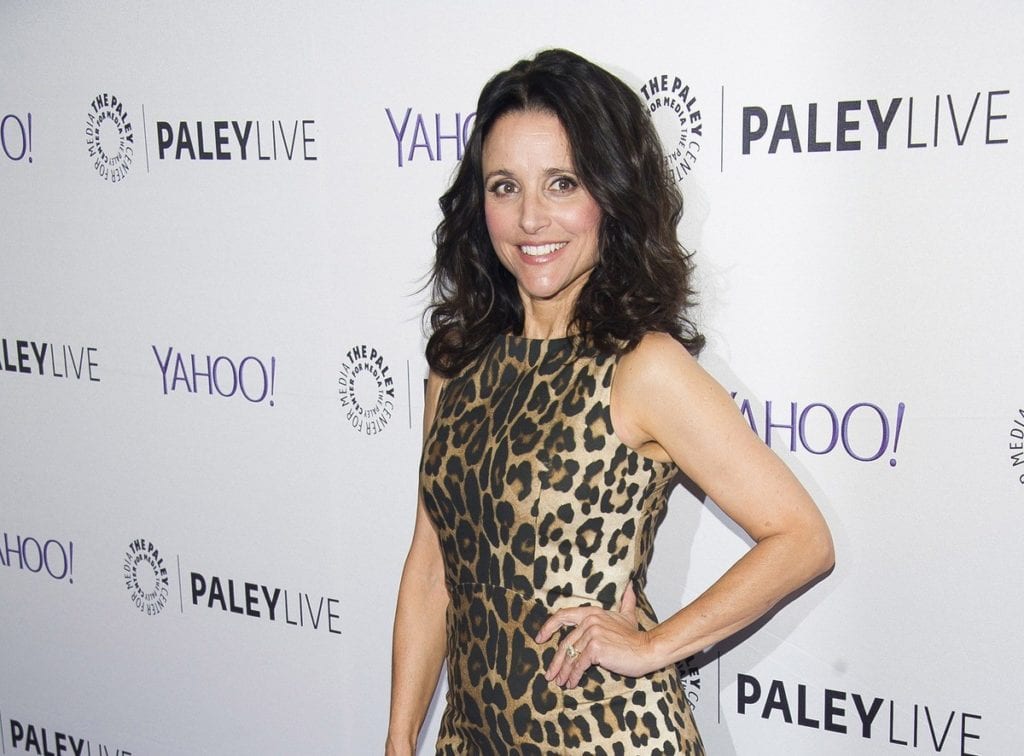 In a recent interview, her father said that Julia never showed any signs of becoming a star. He did acknowledge that she was fun to be around. Julia has earned her father's respect for charting her own career path.

Julia will be a billionaire at some point in her life. This is when you factor in her income from acting and future royalties, as well as her inheritance.

Husband and Son

The star has one of the longest marriages in Hollywood, now clocking over 30 years. She is married to William Brad Hall an American actor, comedian, director and writer. He is best known for creating the sitcoms – 'The Single Guy' and 'Watching Ellie'.

Julia Louis-Dreyfus has two sons named Charlie and Henry Hall. From all indications, Charlie and Henry will follow their parents' path and build a career in Hollywood. The two made a sweet and hilarious video of Michael Jackson's 'Beat It' in honour of her last day of chemotherapy.

Fact Check: We strive for accuracy and fairness. If you see something that needs updating,