Josh Flagg is a renowned American real estate agent and television big name who rose to stardom in 2006 after appearing in the debut season of American television series, Million Dollar Listing Los Angeles (MDLLA).
Being a successful real estate agent, Josh has done several businesses with some American celebrities including popular songwriter and singer, Adam Levine and Steve Aoki the musician. It is known that these superstars bought houses from Flagg.
Who Is Josh Flagg?
Flagg was born Joshua Daniel Flagg on August 20, 1985, in Los Angeles, California. His father's name is Michael Flagg while his mother's name is Cindy Flagg (Nee Platt).
His paternal grandmother, a Romanian-born is simply identified as Edith Flagg. She was an illustrious and prominent fashion guru who successfully established a fashion empire worth millions of dollars. In fact, it's on record that Edith Flagg was the first fashion designer to ship in polyester to America.
Josh's maternal grandfather, Herman Platt, was a renowned philanthropist and a leader in the Jewish congregation. His great-grandfather, Benjamin Platt, founded the nationwide Platt Music Corporation chain of stores.
Born into a very comfortable and wealthy family, Josh attended one of America's prestigious high schools –  Brentwood School, in Brentwood section of Los Angeles. He, however, left Brentwood in 2003 and subsequently got enrolled at Beverly Hills High School, from where he graduated in 2004.
Josh Flagg's Net Worth
Despite being born with a silver spoon, Flagg was determined to create his own success. He took interest in the real estate industry at the age of 18, while still in high school. He began by working at Bel Air's John Bruce Nelson firm under real estate broker, Bruce Nelson.
Now known as one of the most sought-after real estate agents in Los Angeles, Josh built his net worth by making many record-breaking real estate sales in high-end neighbourhoods of the city. For each of his sale, he gets between 2-6% of the sale price. Also, as the only remaining original cast member of MDLLA, Flagg is the highest paid cast on the show with annual earnings of about $2 million.
Flagg quickly proved to be an astute negotiator of real estate deals. He rapidly sold residential properties in the chic neighbourhoods of Sunset Strip and Beverly Hills. His exploits made him a worthy cast member for Bravo TV's reality show (MDLLA) which follows the lives of real estate agents as they sell luxury properties. The series became hugely successful, spawning spinoffs in San Fransisco, New York, and Miami.
By 2012, Flagg made it to Forbes' 30 Under 30 list which features outstanding entrepreneurs who have achieved outstanding feats in their individual spheres. Some of his feats include; selling the most expensive homes in Beverly Hills, south of Sunset Boulevard, the third-most expensive home in Trousdale Estates and, the highest priced home in Brentwood Park. He sold the Brentwood Park home twice, once for $25 million.
Flagg has represented some of the biggest names in Hollywood. He listed Merv Griffin's Bel Air estate as well as Dorothy Chandler's Hancock Park estate. He has sold homes to other A-listers like Maroon 5's Adam Levine, Robert Lamm, and Steve Aoki. In addition to Hollywood celebs, Flagg also represents high net worth individuals from business moguls to attorneys and developers. In 2015, he sold the same 1870 Carla Ridge mansion in Beverly Hills twice, making a profit of $1 million.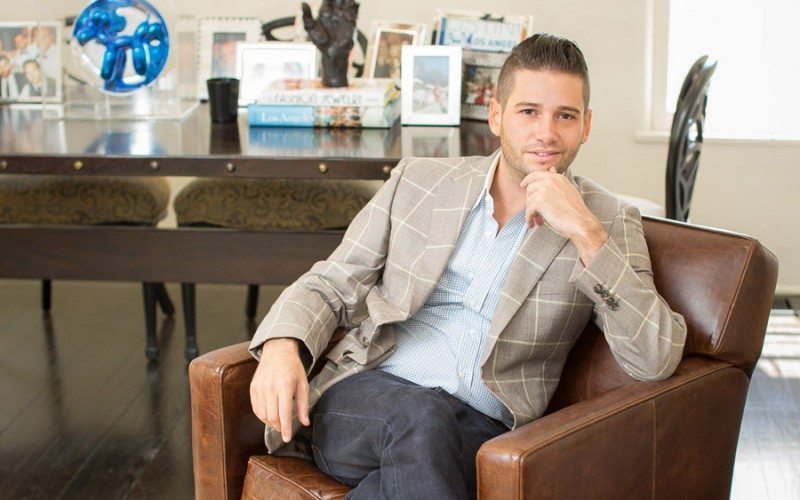 Flagg is also known for his relentless commitment to his clients which he spoke about in an interview in 2004. In 2012, he launched an app "Star Maps" which helps users create a personalized guided tour of celebrity homes. Currently, he is worth $25 million.
In addition to real estate, Flagg loves writing. His first book – A Simple Girl: Stories My Grandmother Told Me, which he started writing at the age of 14 was published in 2009. His second book, Million Dollar Agent: Brokering the Dream was published in 2011.
Does Josh Flagg Have A Boyfriend or Is He Married?
The Real estate extraordinaire is married to his charming and good-looking boyfriend, Bobby Boyd. Both got married in an elegant and classy wedding that pulled an overwhelming number of friends, family members, colleagues, and well-wishers. That was in September 2017.
Read Also: Take A Peek At The Impressive Real Estates David Bowie Owned
The couple had their engagement ceremony in July 2016.  The extravagant proposal took place at the Four Seasons Hotel George V while the lovebirds were on a trip to Paris. They met earlier that year, developed an interest in each other and started dating. No one anticipated that they will get engaged that soon.
It's no news that the real estate mogul is gay. Josh's fans and family members were all taken wholly by surprise in March 2011 when he first announced that he's gay. Nevertheless, Josh's parents – Michael and Cindy – appear to be very comfortable with his sexual preference as both seemingly stood by him and Bobby at the time the lovebirds said: "I Do".