Josh Flagg Net Worth $30 Million: Josh Flagg is an American real estate agent, author and television personality. Flagg gained much fame in 2006 after being cast on the debut season of Bravo TV's reality television show "Million Dollar Listing Los Angeles."
One of the most sought-after real estate agents in Los Angeles, Flagg has built his net worth by making many record-breaking real estate sales in high-end neighbourhoods of the city of which he gets between 2-6% of the sale price. Also, as the only remaining original cast member of MDLLA, Flagg is the highest paid cast on the show with annual earnings of about $2 million.
Since beginning his career, Flagg has sold over $1 billion worth of properties, per Forbes. He has been working with Rodeo Realty Beverly Hills since 2012. His personal net worth is estimated at $30 million. Here's all you need to know about Josh Flagg's Net Worth.
Josh Flagg Net Worth: Family And How He Began
Joshua Daniel Flagg was born on August 20, 1985, in Los Angeles, California. Flagg was born into a moderately prominent family in Los Angeles. His folks were well established in the city, particularly his paternal grandmother Edith Flagg, a Romanian-born, Holocaust survivor who emigrated to the United States and became an epitome of the American Dream. Edith successfully built a fashion empire worth over $100 million and was famed for being the first designer to import polyester as a fashion textile to America. Edith was exceptionally close to her grandson Flagg until her death in 2014 at the age of 94.
A rich kid, Josh Flagg had the luxury of attending private high school in Brentwood Los Angeles. However, he later graduated from the public Beverly Hills High school in 2004. Despite being born with a silver spoon, Flagg was determined to create his own success. He took interest in the real estate industry at the age of 18, while still in high school. He began by working at Bel Air's John Bruce Nelson firm under real estate broker Bruce Nelson.
Josh Flagg Net Worth: Million Dollar Listing Los Angeles
Flagg quickly proved to be shrewd at negotiating real estate deals as he rapidly sold residential properties in the chic neighbourhoods of Sunset Strip and Beverly Hills. His exploits made him a worthy cast member on Bravo TV's new reality show "Million Dollar Listing Los Angels" which follows the lives of real estate agents as they sell luxury properties. The series became hugely successful, spawning spinoffs in San Fransisco, New York and Miami.
By 2012, Flagg made it to Forbes' 30 Under 30 list which features outstanding entrepreneurs who have achieved outstanding feats in their individual spheres. Some of his feats include; selling the most expensive homes in Beverly Hills, south of Sunset Boulevard, the highest priced home in Brentwood park, which he sold twice, once for $25 million, the third-most expensive home in Trousdale Estates and more.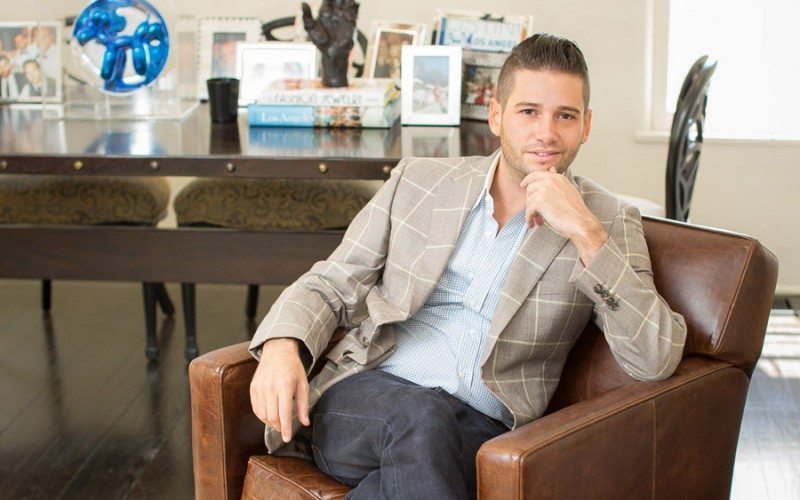 Flagg has represented some of the biggest names in Hollywood. He listed Merv Griffin's Bel Air estate as well as Dorothy Chandler's Hancock Park estate. He has sold homes to other A-listers like Maroon 5's Adam Levine, Robert Lamm and Steve Aoki. In addition to Hollywood celebs, Flagg also represents high net worth individuals from business moguls to attorneys and developers. In 2015, Flagg sold the same 1870 Carla Ridge mansion in Beverly Hills twice, making a profit of $1 million.
See Also: The Most Expensive House Ever Listed in the America
In a 2014 interview with Forbes contributor Dan Schawbel, Flagg, when asked about his sales skills and techniques said;
"I don't sell crap. My reputation is on the line. If you call me to sell a home and I don't believe in it, I won't take it. When I say crap, I am not referring to a price point. I am saying that if your house is worth two and you want five, I am not interested. I sell everything from $500k to $150 million. If it is sell-able, I can move it."
Flagg is also known for his relentless commitment to his clients which he spoke about in the same interview, saying; "My clients are rich and they want to be pampered. They want to feel like they are the only client I have. That means sometimes flying across the country to meet with them to sign papers when I could just as easily send papers by email or DocuSign…"
Other Interesting Facts
Flagg launched an app "Star Maps" in 2012 which helps users create a personalised guided tour of celebrity homes.
In addition to real estate, Flagg loves writing. His first book "A Simple Girl: Stories My Grandmother Told Me" which he began writing at the age of 14 was published in 2009. His second book "Million Dollar Agent: Brokering the Dream" was published in 2011.
Flagg "came out" in March 2011. He proposed to his fiance Bobby Boyd during a flash mob at the Four Seasons Hotel George V in July 2016.