With the rise of social media as the leading tool of global communication, politics has become a more global subject compared to the past years when it was a niche subject discussed by a minority. As a result, political commentators have risen in popularity and influence, becoming celebrities in the process, like Canada's Gavin McInnes. This status has brought attention to their personal life and in the case of Gavin, his wife, Emily Jendrisak and his family.
Emily Jendrisak and Gavin McInnes have been married as husband and wife since 2005. She has been there through his journey with Vice, a media magazine he helped found to his rise as a far-right political commentator.
Gavin McInnes is most certainly an interesting man worth learning about, but what better way to start than by learning about his wife and their relationship. Read all about Emily Jendrisak below.
Emily Jendrisak's Bio
Emily Jendrisak is believed to have been born sometime in 1974 to parents, Christine Whiterabbit Jendrisak and Jerry Jendrisak. Her parenthood is particularly interesting because she is a Native American and her mother, Christine was an activist who fought for the rights of Native Americans. Her father, on the other hand, worked as a construction worker.
Considering the difference in political and social background between Emily Jendrisak and her husband, their relationship is made further interesting. Emily grew up with liberal ideas that sought to break down the walls of gender norms and social expectations.
This particular upbringing helped her in pursue talents such as writing at a young age, winning several state awards in the process. Following the completion of her high school education, Emily headed to San Francisco University where she studied Communications and Journalism.
With a majority of graduates who studied the course ending up pursuing a career in journalism, it was surprising that Emily Jendrisak instead, pursued a career in publicity.
Following a couple of months of working low paying jobs in order to keep ends meet, Emily Jendrisak secured a role as a publicist and a consultant, working in the role before she got married to her husband, Gavin McInnes.
After her marriage to Gavin, she became a stay at home and took the extra time afforded her by her new status to join her mother in the fight for the rights of Native Americans in Wisconsin, Minnesota, Iowa, and Illinois.
Family and Relationship with Gavin McInnes
In the days gone by, men and women would often be betrothed to each other as kids, to be married when they are old enough. As modern life began, a certain freedom to choose one's partner began and no longer did it have to be the daughter or son of a family friend. Men and women met in several public places, such as bars, and fell in love – as was the case with Emily Jendrisak and Gavin McInnes sometimes in the year 2000.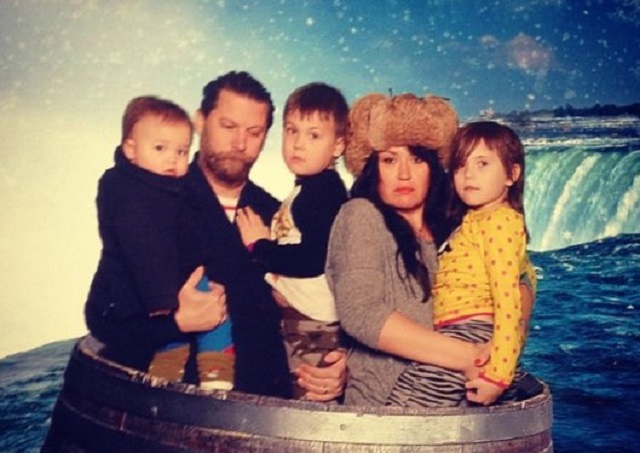 At the time, Gavin McInnes was a thriving media personality who still worked at Vice media, a company he co-founded while Emily Jendrisak was a publicist and consultant who was working out of Manhattan. They met at Max Fish Bar and after a friendly conversation where they developed mutual interest and after a couple of dates, they ignited a relationship.
After five years of dating, Emily Jendrisak and her husband tied the nuptial knots in front of family and friends, declaring their love for each other and a commitment to be husband and wife at the Sunset View Farms in Bovina, New York where they got married on the 7th of September, 2005.
Although Gavin McInnes has been increasingly involved in scandals and controversies as his popularity grew as a far-right political commentator, their marriage has lacked a controversy of its own and they have been able to raise three children together.
See Also: Kathryn Adams Limbaugh – Bio, Facts and Family Life of Rush Limbaugh's Wife
Other Facts About Her
Although her husband is a far-right political operative, Emily Jendrisak is a liberal democrat.
Her husband, Gavin, has an estimated net worth of $10 million.
As a Native American, Emily Jendrisak is a member of the Ho-Chunk tribe of the Siouan group and her mother has been a prominent member of the tribe for over 30 years.
Emily knows how to speak her Native American language.
Her husband, Gavin McInnes, has made multiple appearances on National TV networks like Fox News and TheBlaze.