Elon Musk's net worth has been a curious subject considering how much much impact he has been able to make in the world. Talk about a man who is immensely consumed by a compelling passion to build lasting businesses and rake in money while impacting lives and providing solutions to needs around the world, and the name Elon Musk must have to come to mind. A serial entrepreneur, Musk is a technology entrepreneur, investor, and engineer, who is renowned as one of the most self-driven and strong-willed businessmen who started from nothing to become one of the richest men in the globe.
Today, Musk has become a really influential man around the world and is revered for his ingenuity and business-savvy moves, but how much money has he made at the moment? What is Elon Musk's net worth, and how much does he make from Tesla, one of the companies he has built over the years? Allow us to present you with the facts you seek about the man.
First, before we proceed with telling you about Elon Musk's net worth and how much he makes from Tesla, it is important that we tell you about who he is and where he is from plus how he became so popular around the world.
Who Is Elon Musk?
Elon Musk was born on June 28, 1971, in Pretoria, Transvaal, South Africa. He was born to a mother called Maye Musk and a father identified as Errol Musk. His mother is a Canadian woman who worked as a model and dietitian, and his father is a South African electromechanical engineer, pilot, and sailor. Apparently, Elon Musk has Canadian and African roots. In fact, he is reported to currently hold South African, Canadian, and U.S. citizenships.
Musk has a brother called Kimbal Musk and a sister identified as Tosca Musk. Kimbal is now an entrepreneur and his sister, Tosca is a filmmaker. The siblings all share a close bond. It is noteworthy that since he was a child, Elon Musk has been a strong-willed man and often went after what he wanted with self-determination.
When he was 17 years old, Musk went to Canada to study at Queen's University but two years later, he transferred to the University of Pennsylvania from where he earned an economics degree from the Wharton School and a degree in physics from the College of Arts and Sciences. In 1995, after acquiring these degrees, he proceeded to enroll at Stanford University to earn a Ph.D. in applied physics and material sciences, however, just 2 days later, he dropped out to kick-start his entrepreneurial career. Consequently, he teamed up with his brother and founded Zip2, a web software company. The company grew big rapidly and some years later in 1999, he and his brother sold the company to Compaq for a massive $340 million in cash and $34 million in stock options. Elon Musk earned $22 million from the sale.
With his $22 million in hand, Elon Musk founded another company called X.com, an online bank. One year later in 2000, X.com merged with a rival, Confinity and became PayPal. PayPal was later bought by eBay in 2002 for a whopping $1.5 billion. Musk earned about $180 million from that business deal.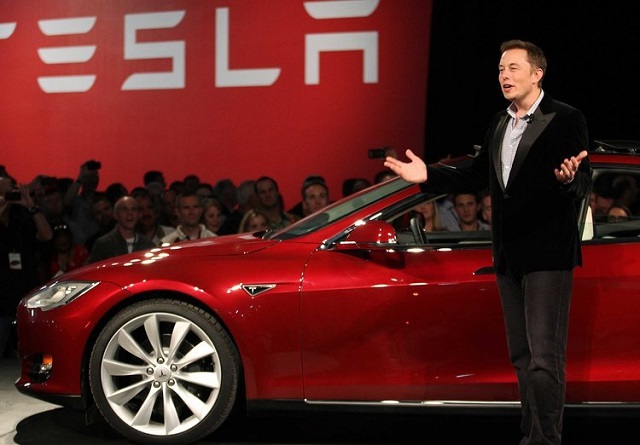 After selling PayPal, Elon Musk went on to found an aerospace manufacturer and space transport services company called SpaceX in May 2002. He is now the CEO of the company. He also went on to co-found Tesla, an electric-car maker. Not stopping there, he also co-founded SolarCity, a solar power systems provider. Years later in 2015, Musk co-founded OpenAI, a nonprofit research company. He also co-founded Neuralink, a neurotechnology company which has found immense success. With all these businesses, Elon Musk's net worth skyrocketed, making him a billionaire.
Today, Elon Musk's net worth is reported to be about $20 billion making him one of the richest men in the world. But how much of that money comes from Tesla? Let's take a look at this.
How Much Of Elon Musk's Net Worth Of $20 Billion Comes From Tesla?
Elon Musk has founded and co-founded different companies over the years, one of which is Tesla, and so he is expected to be raking in money from all these companies. However, research has shown that he is receiving next to nothing from Tesla even though he is one of the founders! Curious, right? So, why is he receiving almost nothing from Tesla?
Read Also: Meet The 10 Highest Paid CEOs In The World Right Now
In 2018, Musk announced that he would remain as the CEO of Tesla for another 10 years, but he also revealed that he will not be paid his worth as CEO until the company's valuation grows to more than $650 billion. At the moment, Tesla is valued at around $59 billion so it will take some time for the company to achieve this milestone of $650 billion, however, Musk is willing to be patient and wait till then. At the moment, he receives just around $37,000 as a token salary per year from Tesla and he is only receiving it because of a California law which prohibits anyone including him from earning less than minimum wage.
This compensation plan unveiled by Musk, which has been described as the "boldest pay plan in corporate history" will fetch him billions if the Tesla company succeeds in reaching the $650 billion milestone but if it does not, he will receive nothing!