Once upon a time, Drew Brees was just a little lad who loved football and hoped to go pro. Many however discouraged him, pointing to his small stature as the reason he would not succeed. The young lad, however, refused to be discouraged and pursued his dreams.
Today, Brees is one of the best quarterbacks the NFL has ever seen. In a dazzling career spanning two decades, he has recorded some unassailable achievements including one Super Bowl ring. He has also set numerous records and has received as many individual accolades. As the sun slowly sets on his pro career, there is no doubt that the future Hall of Famer truly came, saw, and conquered the NFL.
Drew Brees Emerging Through the School System
Drew Christopher Brees is a native of Austin, Texas. He was born on January 15, 1979, and is the scion of two attorneys namely, Eugene Wilson Brees II, and Mina Ruth née Akins. Brees owes his athletic skills to both his parents. His father played basketball for the Texas A&M Aggies men's basketball team while his mother was a renowned high school athlete who lettered in as much as three sports.
In High school at St. Andrew's Episcopal School, Brees was active in his school's baseball, basketball and football teams and while he did well in the first two, he was superb on the football field. Brees became famous after he led his school on an undefeated run (16-0) and a state championship in his junior year. The young lad finished his high school career with a stellar record of 314 completed passes for 5,461 yards with 50 touchdowns.
Drew Brees played out his collegiate career at Purdue University. He spent four years at the institution during which he completed his degree in Industrial Management. On the field of play, Brees distinguished himself as a quarterback and led the Boilermakers to the Big Ten Championship as well as a Rose Bowl appearance. He also set numerous records, 2 – NCAA, 19 – school, and 13 – Big Ten Conference, and was named the Big Ten's best quarterback of the 1990s.
A Slow Start in the NFL
In 2001, Drew Brees joined the NFL draft and was selected by the San Diego Chargers in the second round as the 32nd overall pick. He made his professional debut on 4th November 2001 against the Kansas City Chiefs and recorded 221 passing yards and one touchdown. This marked his first and only game of the season as the team's first-string quarterback later returned from injury. Beginning from 2002, Brees served as the starting quarterback for the Chargers.
He retained this position for the next four years and contributed some impressive stats. Despite these facts, The Chargers were reluctant to offer him a long term contract and this was due to the shoulder injury he had suffered in his fifth year with them. The franchise doubted whether Brees would make a full recovery and they, therefore, offered him a deal that was heavily-incentivized and based on output. The Texas native, however, rejected this knowing that he was worth much more.
Becoming a Legend in New Orleans
Drew Brees thus became a free agent and started shopping for a new team. Many of the teams that he approached turned him down as a result of their concerns over his shoulder. It was only the New Orleans Saints who had faith in him and signed him to a six-year deal worth $60 million in 2006. Drew Brees has been with the Saints ever since then and has gone on to repay them for all the faith that they showed in him. He has helped the team reach the playoff rounds on several occasions.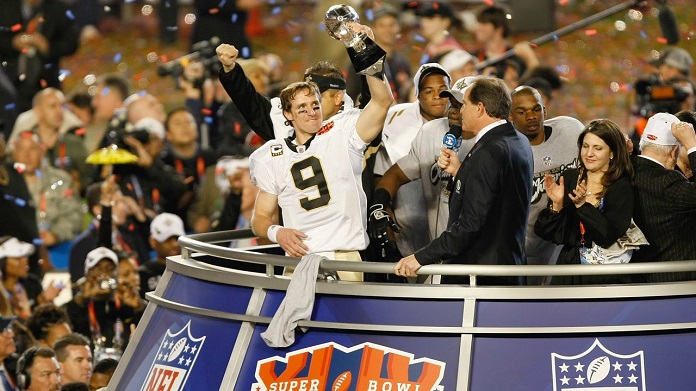 He is also responsible for helping the city win its first-ever Super Bowl trophy. This came in the 2009 season when he completed 363 of 514 passes for 4388 yards and 34 touchdowns as the Saints won 13 out of 16 matches. They made it to Super Bowl XLIV against the Indianapolis Colts in February 2010 and Brees once more contributed an outstanding 288 yards and 2 touchdowns as his team won 31 -17. His commanding individual performance fetched him the Super Bowl Most Valuable Player award.
His Litany of Accolades
Asides his Super Bowl ring and MVP award, Drew Brees has also received other career honors including selection to the pro-bowl (13 times), NFL comeback player of the year (2004), NFL offensive player of the year (2008, 2011), AP Male Athlete of the Year (2010), Sports Illustrated Sportsman of the Year (2010) and the Walter Payton NFL Man of the Year Award (2006).
The Walter Payton Man of the Year award is given to an NFL player who combines a brilliant year on the field with exceptional community service off the field. Brees won the award for his superb 2006 season which saw him record 26 touchdown passes and 4,418 yards. Off the field, the quarterback was quite active in efforts to rebuild the city of New Orleans following the devastating effects of Hurricane Katrina in 2005.
Apart from these honors, Drew Brees has also set several career and franchise records, some of which are still standing. The Texas native holds the NFL record for most career passing yards, most career pass completions, most regular-season passing touchdowns, most consecutive games with a touchdown pass, and most pass completions in a season, etc. It is no wonder why he is regarded as one of the purest passers that the NFL has ever seen.
Reaping the Fruits of his Labour
Given all he has accomplished in the NFL, one would expect Drew Brees to have built up a decent fortune and he does not disappoint. The legendary quarterback has a net worth of $130 million and this is due to his salaries as well as earnings from endorsements deals. Forbes 2019 estimates show that Brees has made about $220 million in on-field pay in the course of his career. This is thanks to several juicy contract extensions with the New Orleans Saints including a five-year deal worth $100 million in 2012, a one-year deal worth $24 million in 2016, and a two-year deal worth $50 million in 2018.
Another lucrative source of income for Drew Brees is endorsement deals. He has scored juicy sponsorships with the likes of Nike, Procter & Gamble, PepsiCo, Microsoft, Nike, and Wrangler. Forbes 2019 estimates show that Brees makes as much as $16 million per annum form these deals making the leading NFL player in terms of sponsor money. Finally, Brees is also a savvy businessman and has invested in a food delivery service known as Waitr. He is also the owner of several fast-food franchises and has multiple outlets of Dunkin' and Jimmy Johns.
Who are His Number-1 Fans?
Drew Christopher Brees is a married man and his wife is none other than his college sweetheart, Brittany Dudchenko. Brittany is a native of Syracuse, Indiana, and was born in September 1976. She attended Wawasee High School Syracuse before moving on to Purdue University which is where she first met her future husband. The couple tied the knot on the 8th of February 2003 and have been together ever since then. Brittany has supported her husband throughout the highs and lows of his career including injury worries and Super Bowl Triumph.
The couple has also expanded their family, welcoming a total of four children. They are sons, Baylen Robert, Bowen Christopher, Callen Christian, and daughter, Rylen Judith. Apart from supporting her husband, Brittany is the co-founder of The Brees Dream Foundation. The non-profit supports cancer research as well as those suffering from the disease. They have also donated huge sums of monies to various charitable projects including the rebuilding of New Orleans following the devastation of Hurricane Katrina. The Brees family resides in New Orleans, Louisiana, and also has a vacation home in San Diego California.
Body Measurements and Fitness Regime
If there is one fact that nearly derailed Brees' career, it was his height. The quarterback is 6 feet 0 inches (1.83m)) tall which is below the NFL's 6 feet 4 inches prototype size for quarterbacks. This small stature dogged Brees' progress starting from high school. Despite having a stellar high school career, he did not receive many college offers as most schools were put off by his small stature. This issue reared its head up again when he wanted to go pro in 2001. Many scouts sneered at his below height and he dropped from a first-round pick to second-round pick.
See Also:  Peyton Manning – Net Worth, Wife & Kids
The young lad, however, did not let this fact to demoralize him but has gone on to make a name for himself in the NFL. Apart from his height, Brees weighs 95 kg (209 lbs.) with a chest-length of 46 inches and arm's length of 16 inches. The QB has relied on renowned fitness trainer, Todd Durkin, to keep him in tiptop shape since 2003. His fitness regimen comprises of multi-dimensional ab rollouts (for training abdominal muscles), band splitters (to strengthen muscles in other areas of the body), and 300-yards shuttles (for conditioning and endurance).