Across all genres of music, not many musicians, regardless of their success, can boast of being widely beloved personalities who are admired by everyone. Dolly Parton is one of the select few, and it is one of the many amazing things about the country singer, another being her incredible net worth.
Through decades of consistently putting out hit songs and a public image that makes her one of the most influential people on the planet, Dolly Parton has been able to amass an incredible net worth, becoming ultra-wealthy by singing in a genre that does not share the global popularity of genres like hip-hop or R&B.
We took a look at her exact net worth, as well as how she achieved it below. Check it out.
What is Dolly Parton's Net Worth?
Dolly Parton has been in the industry for over six decades, since joining the industry as a professional songwriter in 1956. Since then, she has had a very successful career as a singer, songwriter, actress, businesswoman, and producer, helping herself to a remarkable net worth of $500 million.
She is one of the richest country singers in the world, and most specifically, one of the richest female singers ever. Not bad for a woman who grew poor.
How She Made a Fortune from Country Music
After Dolly Parton graduated from high school in 1964, from Sevier County High School, she relocated to the home of country music, Nashville in hopes of kickstarting a career as a singer. She had grown up with a mother who loved to sing and she had inherited her mother's beautiful voice, which had fetched her fame in the East Tennessee area from singing on radio and television programs as a child.
In Nashville, she began her career as a songwriter, writing several charting songs like Put It Off Until Tomorrow and Fuel to the Flame, both of which were number one hits. With a growing reputation as a talented songwriter all at the age of 19, she signed her first record deal as a singer with Monument Records. As a songwriter, Dolly Parton has written over 3000 songs, a feat that has gotten her inducted into the Songwriters Hall of Fame.
Her songwriting success had improved Dolly Parton's net worth to a considerable degree, but her passion laid in singing, and despite the initial challenges that kept her from singing country music, she eventually released her first single, Dumb Blonde, in 1967, following it up with another, Something Fishy.
Both tracks charted, peaking at number 24 and number 17 respectively in the Country Music Chart and thus began the rise of Dolly Parton as a country music superstar.
In 1967, she joined The Porter Wagoner Show, and even though her replacement of Norma Jean on the show wasn't initially well-received, Dolly Parton became a star of the show and together with Porter Wagoner, released several top 10 charting singles over the next six years.
Outside of her partnership with Porter Wagoner, Dolly Parton initially struggled as a solo artist, until 1970 when she released the song, Mule Skinner Blues, which earned her a number three place on the country music chart.
Since the turnaround, Dolly Parton has experienced a consistent stay at the top, releasing classic tracks like Jolene, Coat of Many Colors, I Will Always Love You and several others.
Her first album, Hello, I'm Dolly was released in 1967 and she has released over 50 studio albums, along with other projects like six live albums, 184 compilation albums, one EP and five soundtrack albums, most of which have performed considerably commercially and given Dolly Parton her huge net worth.
Aside from the huge financial windfall she has gotten for her music, Dolly Parton has also won several awards, including nine Grammy Awards, ten Country Music Association Awards and two Academy Awards among several others.
Other Sources of Income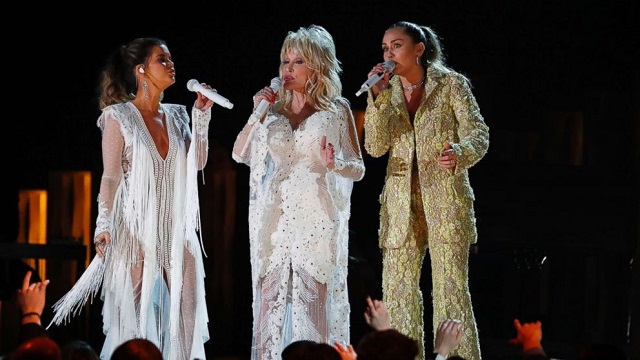 Other than her country music career that has provided the bulk of Dolly Parton's net worth, she has also earned her net worth through other career paths as an actress and a business person.
As an actress, she has appeared in eight movies, including popular titles like 9 to 5 and Steel Magnolias.
As a businessperson, Dolly Parton's net worth has come through investments such as The Dollywood Company, under which are enterprises like the theme park, Dollywood, a dinner theater, Dollywood's Splash Country and a few others.
She also has a production company, Sandollar Productions and her record label, Dolly Records.