A spellbinding singer who owns runs and stops the stage, Céline Dion was discovered by a record producer turned the love of her life at age 12. With her outstanding talent and graceful stage charm, the power ballad icon has gone on to cement her status as one of history's most successful singers ever. More than that, the superstar whose award shelf includes five Grammy plaques and almost 250 million album sales, is also considered one of the most successful female artists of all time. From her journey to superstardom to how she literally makes and spends her wealth and then to her cumulative financial value, here's all you need to know about Céline Dion's net worth.
The daughter of a butcher and homemaker, Céline Marie Claudette Dion was welcomed into the world on the 30th of March 1968. The Canadian singer from Quebec who is the last of 14 children had a very humble background. Despite their very modest upbringing, Celine and her siblings were one big happy musically inclined family. The 'Dions' had a singing group which made it easier for Celine's innate talents to be discovered early. The singer joined Dion's Family troupe while she was still a toddler and had her first public performance at age 5.
Thereafter, she continued performing with her family at a small piano bar owned by their parents while aspiring for a wider audience. Céline Dion had her breakthrough at age 12 when music manager Rene Angelil heard her voice from a demo tape her family sent him. Angelil who would later become Celine's husband was so moved by her voice, recognized her potential and invested in her career by first mortgaging his house to produce her debut album.
Céline Dion who started out singing in French was catapulted to stardom in her hometown of Quebec following the release of her debut album La Voix du bon Dieu (The Voice of God) which was an instant hit. Dubbed "La P'tite Quebecoise," the French-Canadian singer gained notoriety in her home country as a teenage sensation. She competed and won various prestigious singing competitions across the globe and eventually became bilingual which led to the release of her 1990 English debut album Unison.
Céline Dion's subsequent albums were even bigger hits and sensational chart-toppers. Some of her most notable songs include The Power of Love, When I Fall in Love, her Titanic signature song My Heart Will Go On, and lots more. In addition to that, the Canadian singer who has recorded several French albums has altogether released no less than 26 albums, sold almost 250 million copies, and earned five Grammys in the course of her career. She has also won various Félix Awards, and as one of the best-selling female artists of this era, Céline is a 2004 recipient of the World Music Awards' Chopard Diamond Award.
What is Celine Dion's Net Worth?
The Grammy-winning singer has been active in the entertainment industry for nearly four decades, cementing her status as one of the most successful female artists and the greatest performers of all time. Céline Dion's net worth is currently pegged at $400 million.
See Also: Britney Spears' Net Worth and Spending Habits: How Much Is She Worth Today?
How Does She Make and Spend Her Money?
Besides massive album sales and tours across the world, the vast of Céline Dion's net worth was made from her 16-year residency in Las Vegas. The Colosseum at Caesars Palace was built exclusively for Celine Dion. At the Las Vegas show A New Day… which premiered in March 2003, the singer typically performed her famous hits in around 70 shows each year and about 1,141 shows over 16 years.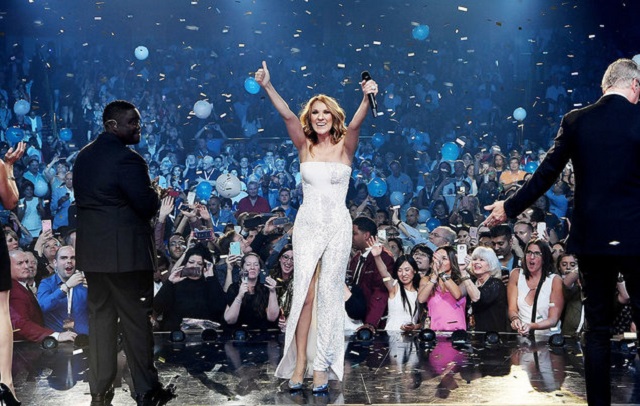 By implication, Dion earned approximately $350 million annually for performing in the shows making more than any other Las Vegas entertainer. Although the Grammy-winning singer went on a brief hiatus, missing a handful of shows following the deaths of both her husband and brother in 2016, Céline accomplished a lot at the Colosseum during her decade-plus residency in Las Vegas which came to an end in mid-2019.
But Céline Dion does not only make money in showbiz as a singer but also as a businesswoman. She and her late husband Rene Angelil were more than just romantic partners. Among other lucrative ventures, the couple co-owned a Quebec-based talent management company Les Productions Feeling Inc. (Feeling Inc.). In collaboration with some sports stars, Celine established a popular night club Pure during her residency at Caesars Palace. She also boasts of Céline Dion Parfums, a designer fragrance brand which was launched in partnership with Coty, Inc. The svelte figure singer recently signed a deal with top cosmetic brand L'Oreal Paris, to become their spokesperson.
The Canadian superstar spends her wealth on philanthropy. Among other charitable causes, she is heavily involved with the Cystic Fibrosis Canada as well as her own charity, the Foundation Céline Dion, which Dion and her late husband established in 1998 in order to give something meaningful back to the community.