For anyone in love, an engagement ring holds a special place in their relationship. It embodies a promise of marriage and love to eternity. As such, individuals lay great emphasis on the look, make and of course the money value of the engagement ring they present to their lovers. Likewise, the woman receiving the ring feel appreciated and highly valued if they are offered the rings of their dreams. It's not uncommon, as such, for the rich elites, celebrities and loyal couples to spend a tidy sum of their wealth on buying pricey rings just to awe their partners, and the world by extension. From Jennifer Aniston's $1 M ring present from her fiance Justin Theroux to Beyonce's tickling treasure from her love Jay-Z, the world is awash with examples of individuals who wouldn't worry to spend a part of their fortune to please their loved ones. But which are the most expensive engagement rings ever gifted by celebrities and the financially endowed?
25. Angelina Jolie
16-carat emerald cut diamond
Price: $250,000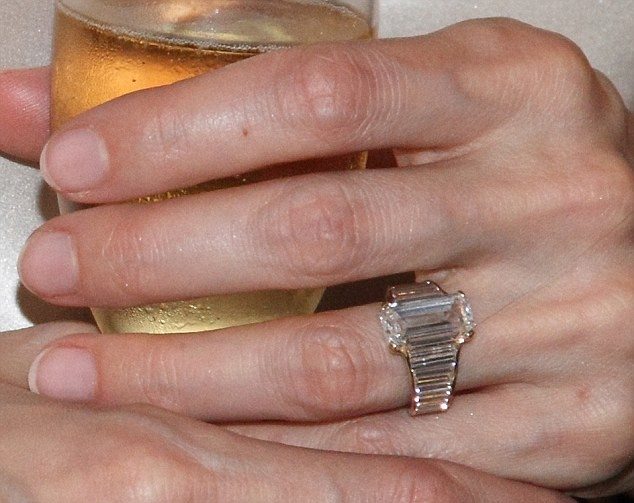 Brad Pitt's attraction for the star actress began in 2004 after they both played the two major roles in the Mr. & Mrs. Smith movie. They became one of Hollywood's power couple, with millions of fans rooting for them. In 2012, after seven years of being together, Brad Pitt proposed with a ring he co-designed with Robert Procop, which totally blew Angelina away. The ring is a tablet-shaped diamond embedded in a thick band of smaller stones. Though they've faced various tensions in their relationship, Brangelina, as they are called by fans, got married in August 2014.
24. Kate Hudson
9-carat emerald cut diamond platinum tapered baguettes
Price: $250,000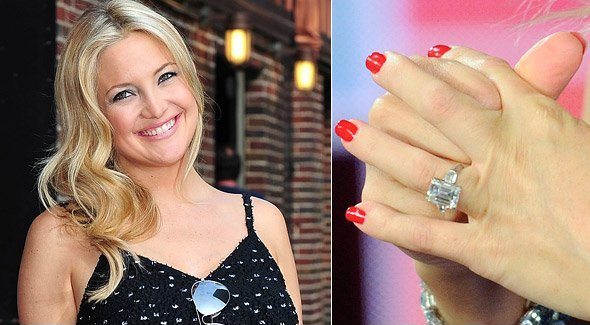 The Muse rockstar, Mathew Bellamy proposed to the actress with a 9-carat ring in April 2011. After series of unsolved problems in their relationship, the actress was spotted many times without her rock on her finger. In 2014, an almost 4-year engagement came to an end.
 23. Kate Middleton
12-carat sapphire ring surrounded by 14 solitaire diamonds, set in 18-carat white gold
Price: $500,000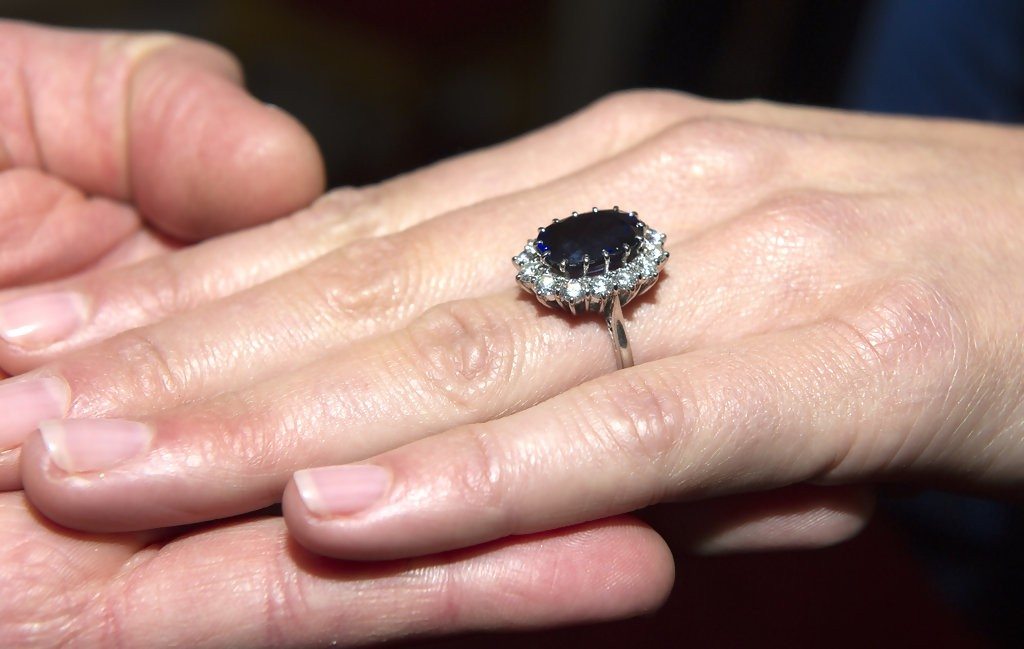 Prince William proposed to his longtime girlfriend with the same ring his dad, Prince Charles proposed to his mom, late Princess Diana with. Kate couldn't feel more honored to 'rock' it. In 2010, the Prince popped the question on a trip to Kenya and presented her his mom's 14 solitaire diamond, sapphire ring. They became a royal couple when they got married in April 2011.
22. Amal Alamuddin
7-carat emerald-cut platinum diamond ring
Price: $750, 000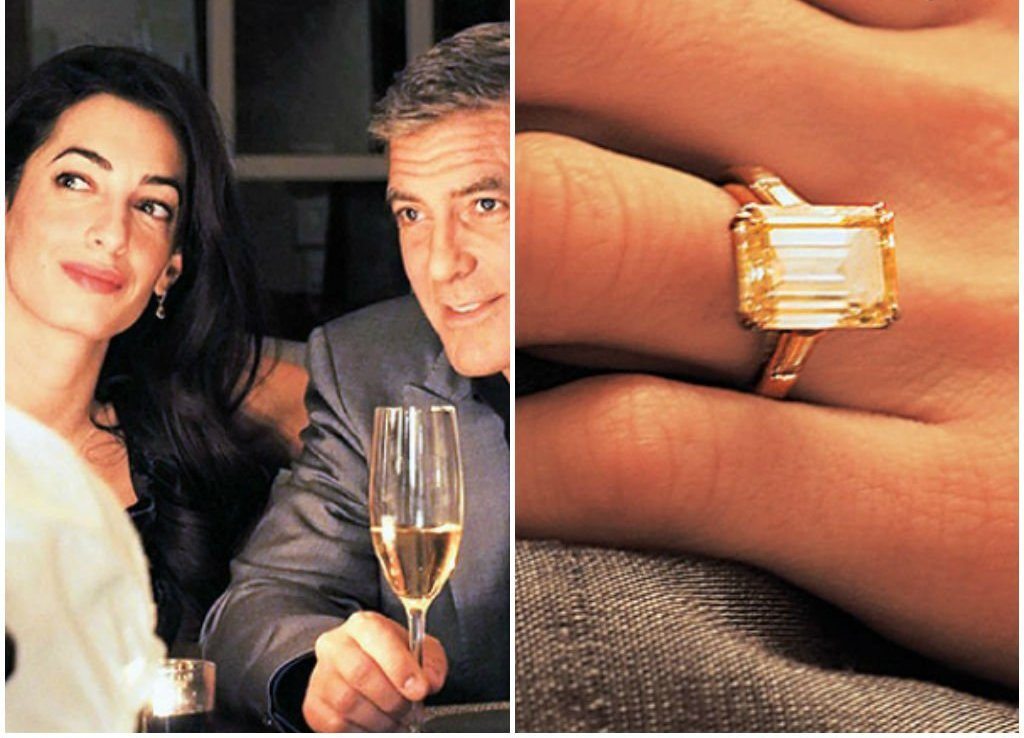 Gone are the days of being one of Hollywood's most eligible bachelors, Clooney found love in the eyes of Amal. After dating for a period of about 7 months, word was out that Clooney had asked London-based human rights lawyer, Amal for her hand, with the 7-carat ring co-designed by him. In September 2014, the lovebirds got married in a lavish wedding in Venice, Italy. We wish them a 'long' and happy married life.
21. Khloe Kardashian
12.5-carat radiant-cut ring
Price: $850,000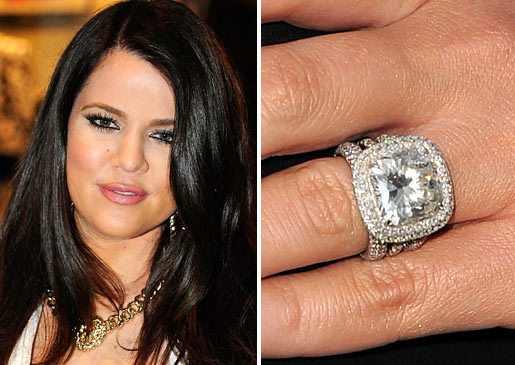 Despite dating her for just about  6 weeks, the pro basketballer, Lamar Odom still found Khloe worthy to receive this dazzling rock. The pair were deeply rooted for by fans and got married 2 weeks later. Unfortunately, they couldn't handle the issues that come with marriage, Khloe filed a divorce and both separated in December 2013. Khloe didn't let go of the ring, though.
20. Hilary Duff
14-carat diamond ring
Price: $1 million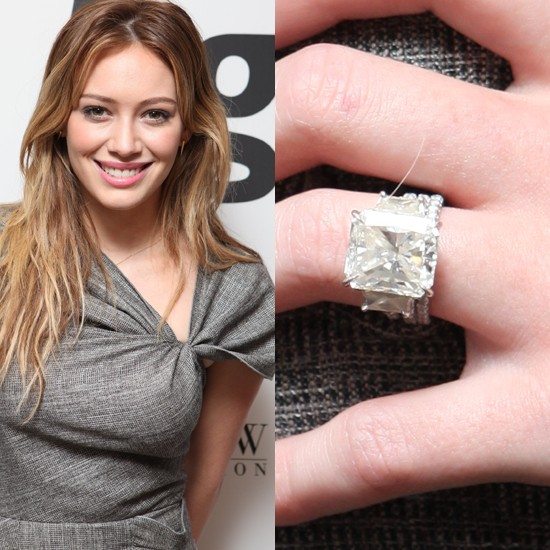 Back in February 2005, after two years of dating, her NHL hockey player bf, Mike Comrie gave her the ice on an evening's sunset while they were on a vacation in Hawaii. The pair married in 2011 but parted ways in early 2014.
19. Catherine Zeta-Jones
10-carat Fred Leighton Vintage diamond ring
Price: $1 million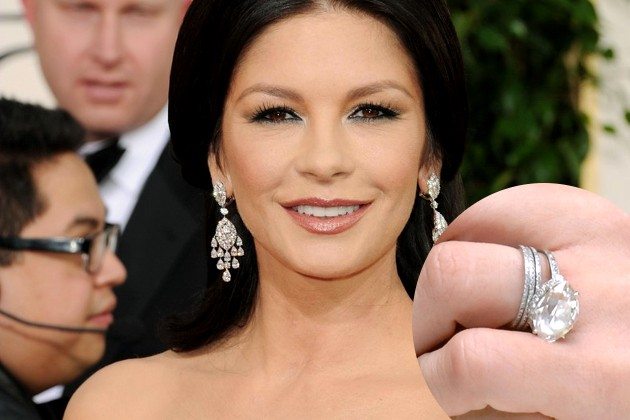 What does it take to win a beautiful woman's, heart? To Michael Douglas, an expensive, beautiful vintage-inspired engagement was all he required to melt Zeta Jones' heart. Worth about $1 million, the engagement ring is based on a 1920's antique by Fred Leighton and features a 10-carat stone which further surrounded by 28 smaller stones.
18. Melania Trump
12-carat Graff emerald-cut diamond ring
Price: $1 million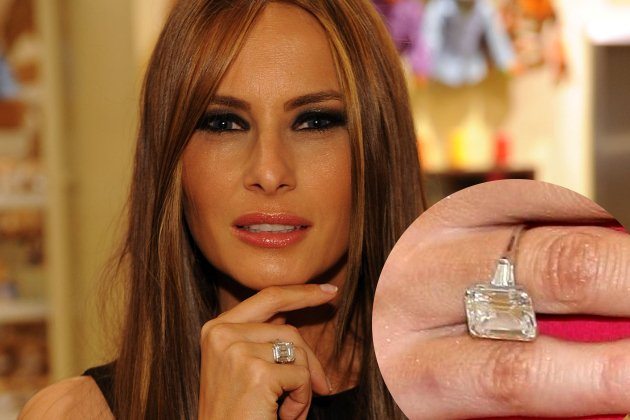 Rich athletes and performing artists are perhaps the best-known spenders when it comes to matters of love. But moguls have a place of their own too in this business. One of such is the billion-dollar, real-estate business magnate Donald Trump who presented an amazing 12-carat ring to Melania Knauss as he was proposing in 2005. According to Trump, spending a small fortune for love is food for the soul and the worth and class of his engagement ring rightly demonstrates so.
17. Jennifer Aniston
10-carat rose-cut diamond ring
 Price: $1 million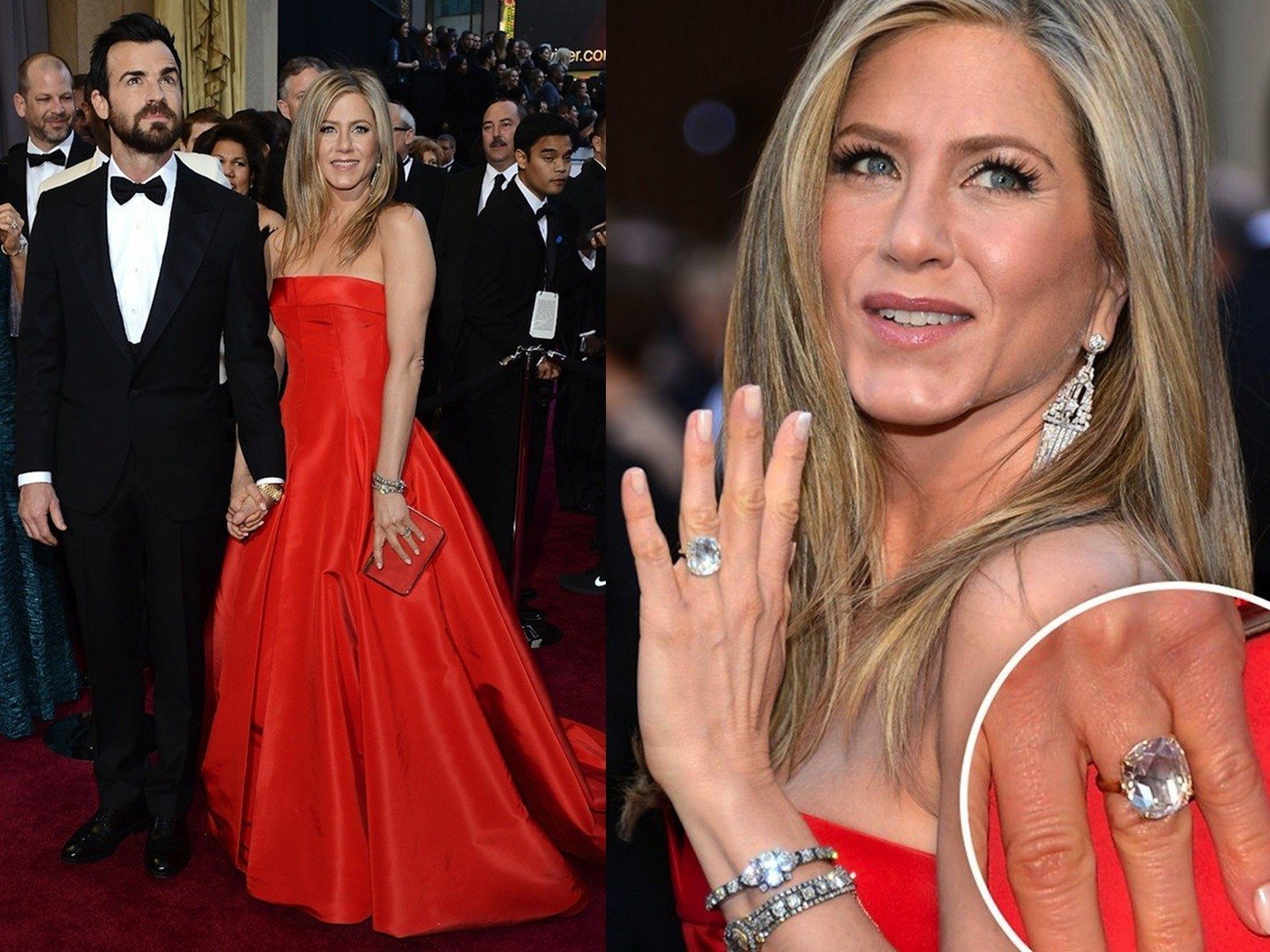 Justin Theroux proposed to her with this amazing rose-cut diamond mounted on a simple gold band. That was about three years ago and we all lie in wait for the day both will finally walk down the aisle. Sources say the value of her ring has increased by 300k.
16. Jennifer Lopez
6.1-carat Harry Winston pink diamond
Price: $1.2 million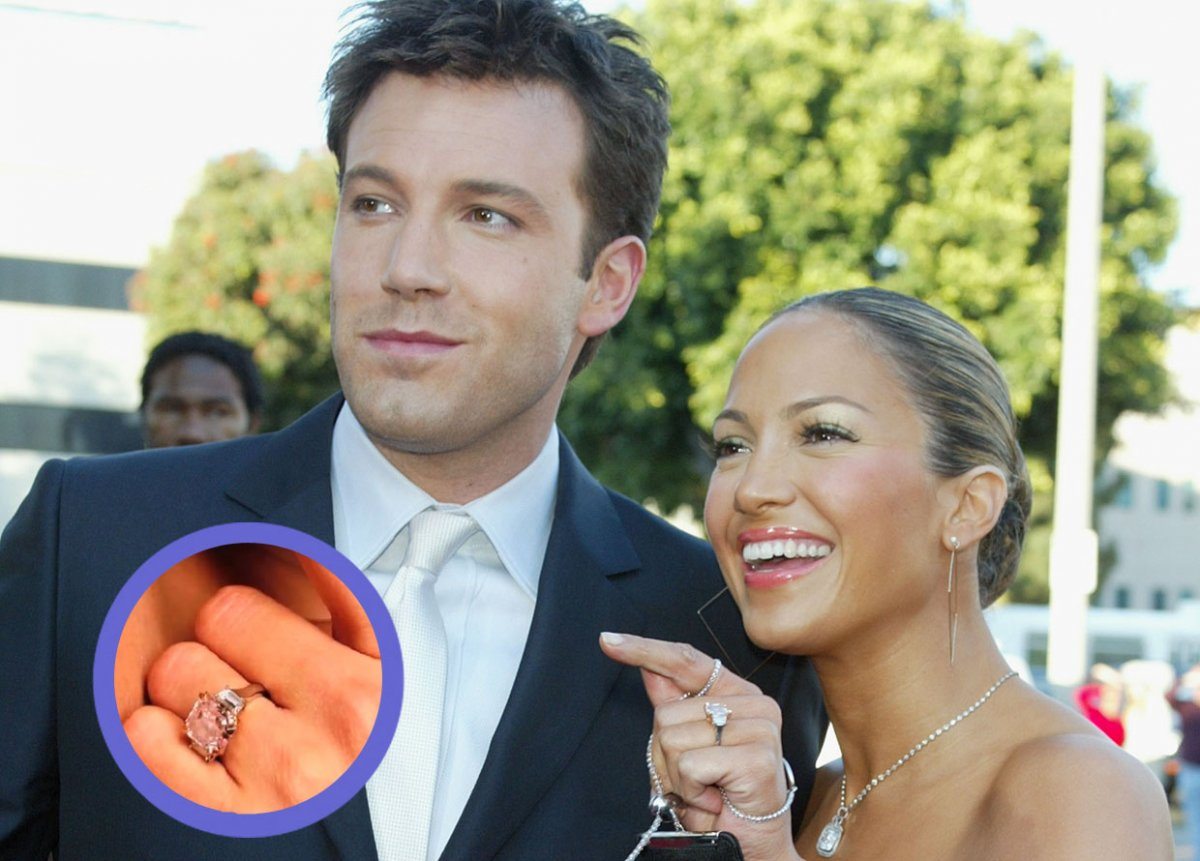 Ben Affleck certainly knew what it would take to win Jennifer Lopez's heart; a 6.1-carat pink diamond valued at $1.2 million. Indeed, even as Ben and Jennifer's marriage is no more, the valuable ring is probably a lasting memory of their past lavish love life.
15. Ciara
15-carat emerald cut ring
 Price: $1.5 million (estimated)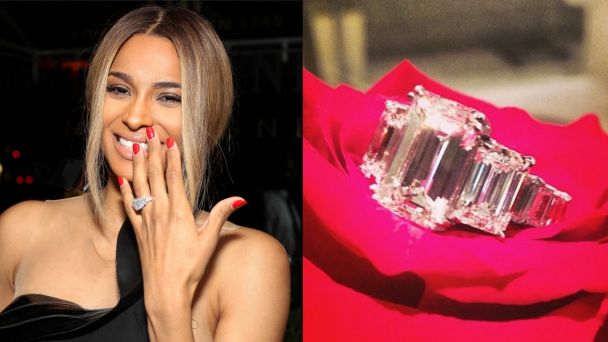 Rapper boyfriend and baby daddy, Future popped the question on her birthday in October and presented her with the luxurious Avianne & Co designed ring. Sadly, the engagement was a short one as news of Future cheating on her ended their romance. Rumor has it Ciara has returned the ring to her ex.
14. Katie Holmes
5-carat Edwardian-cut oval-shaped diamond
Price: $1.5 million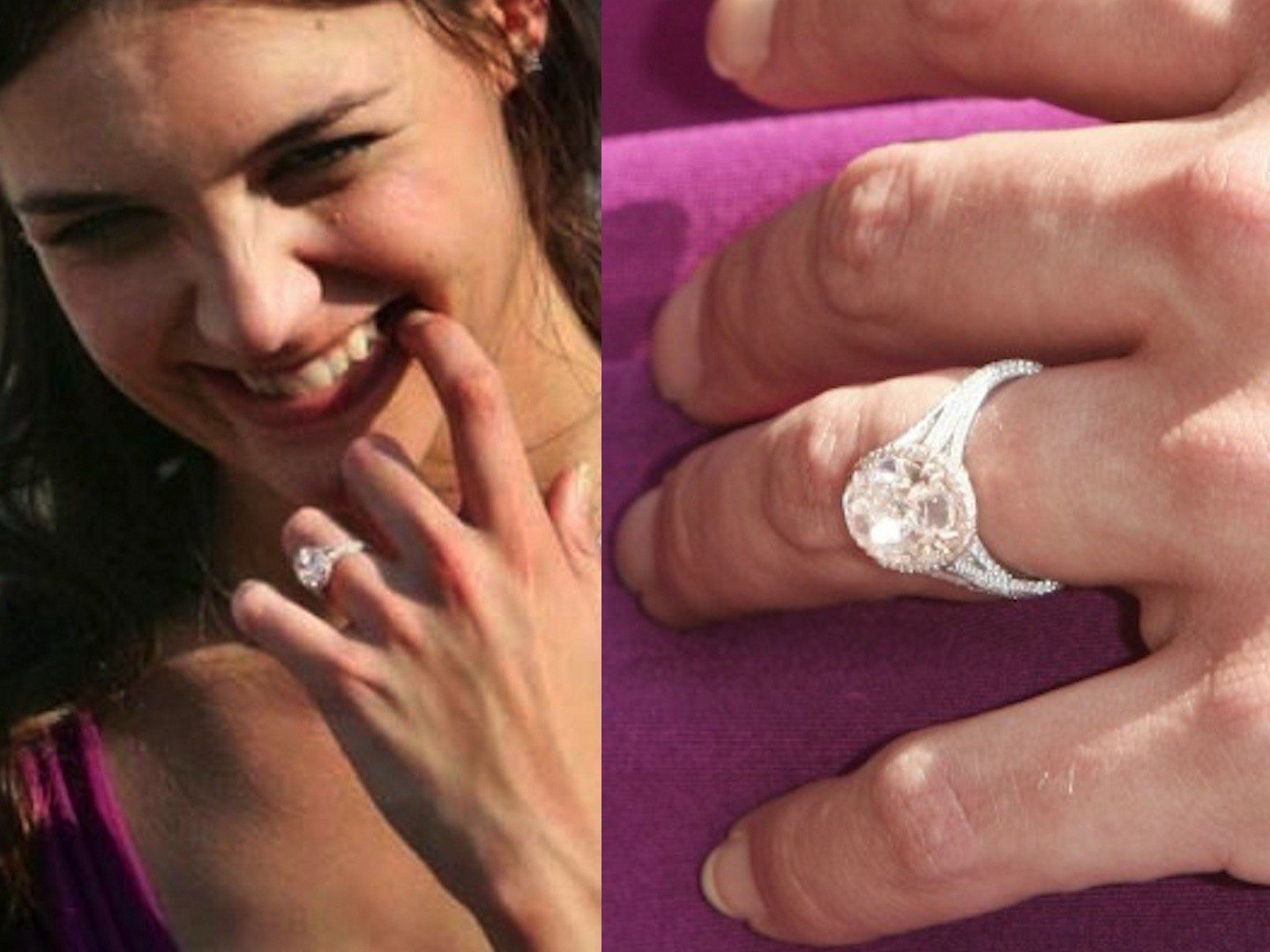 She got the ring from ex-husband Tom cruise. The proposal took place at the famous Eiffel Tower in the ever romantic destination – Paris. Though the marriage went defunct, about 6 years later, the ring remains as a reminder of their love story.
13. Kim Kardashian
20.5-carat ring
Price: $2 million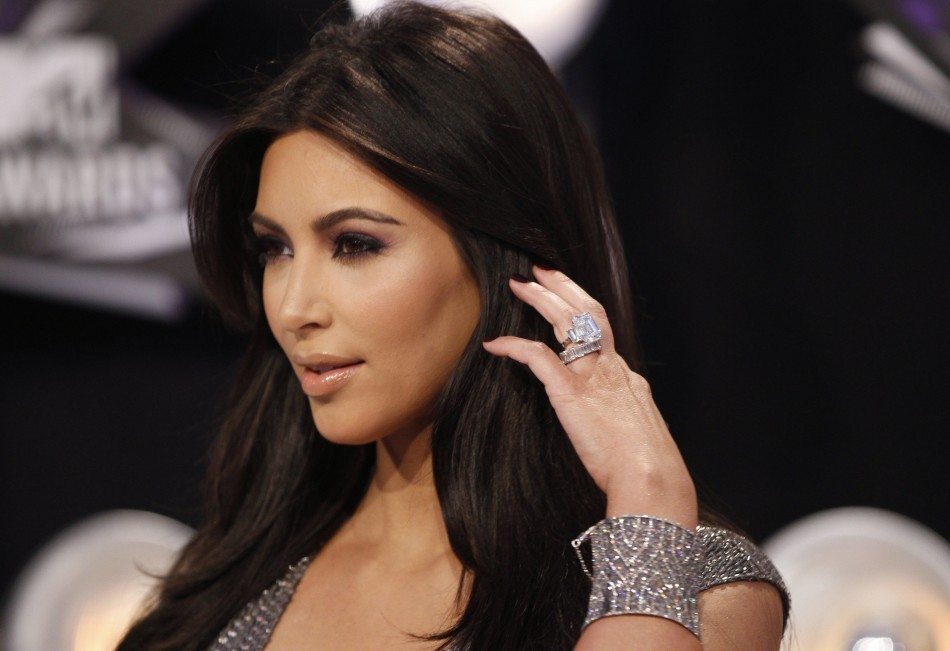 Kim is spoilt and filthy rich. So, when Kris Humphries proposed to her in 2011, he was only bent on one thing; to impress her. And he did impress as he presented a 20.5-carat engagement ring worth a massive $2 million. Though the marriage barely lasted four months, Humphries' ring surely has a special place in the history of lavish spending on jewelry.
See also: Top 30 World's Most Expensive Celebrity Weddings Till Date
12. Blake Lively
7-carat pink oval-cut diamond ring
 Price: $2.5 million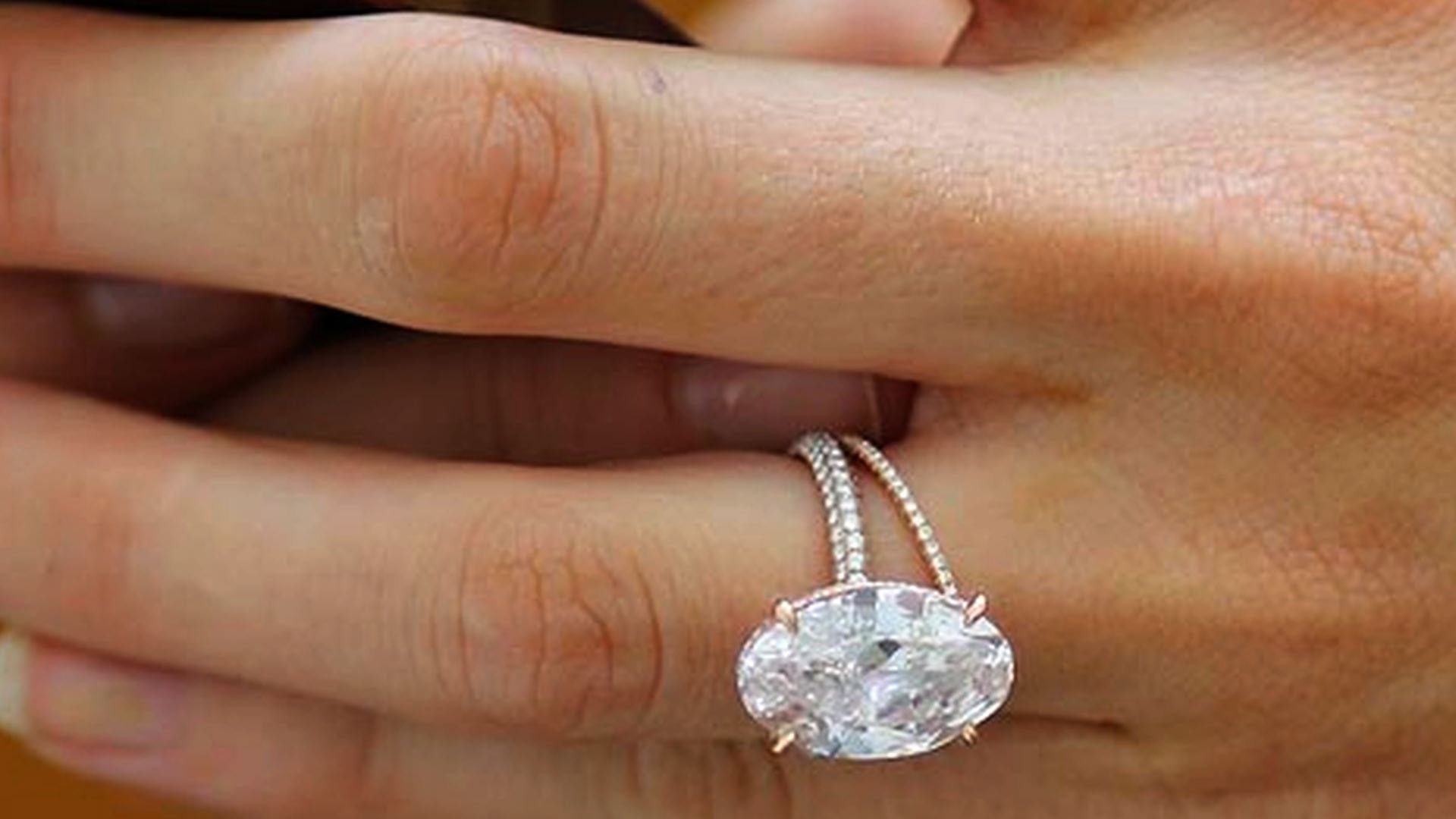 The engagement ring was unknown to the public for some time until the surprise wedding in 2012. Ryan Reynolds proposed to his girlfriend with this gorgeous diamond with a band surrounded by small stones.
11. Mariah Carey
17-carat pink diamond ring
Price: $2.5 million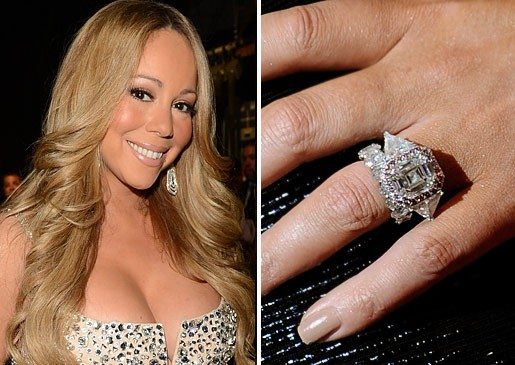 Men find beauty and talent irresistible. So, when Nick Cannon was planning on dating pop diva Mariah Carey in 2008, he could stop at nothing just to get her say yes. He settled for a $2.5 million, 17-carat pink diamond ring which featured 58 pink diamonds. Consequently, the two married later the same year.
10. Jacqueline Kennedy
40.42-carat Lesotho III diamond ring
Price: $2.6 million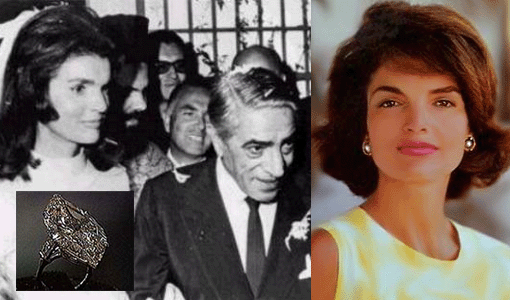 In October 1968, five years after the former America's first lady's husband, John F. Kennedy was assassinated, Greek shipping magnate Aristotle Onassis proposed to her with this beautiful special diamond engagement ring valued at about $2.6 million, a former US first lady deserves nothing less. Jacqueline wore the ring only twice, as the treasure spent most of its time locked away in a bank vault. In 1996 the ring was auctioned for $2.59 million.
9. Anna Kournikova
11-carat natural pink diamond ring
Price: $2.5 million (estimated)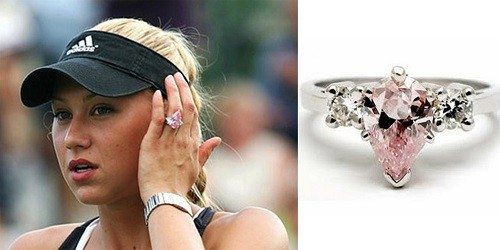 For Enrique Iglesias, a soul mate should only have the finest in life, especially when it comes to matters of love. It's no wonder he settled for a stunning pear shape diamond engagement ring for love Anna Kournikova. The ring is estimated to be worth $2.5 million or even more.
8. Elizabeth Taylor
30-carat Diamond ring
Price: $2.5 million
Elizabeth Taylor and Michael Todd may have got married way before the new crop of Hollywood maestros was born. Yet, Michael Todd's 30-carat diamond proposal ring remains among the most stunning. Sparkling, expensive, and outstanding, Taylor's engagement ring oozes class in its every sense.
7. Jennifer Lopez
8.5-carat Neil lane Blue diamond ring
Price: $4 million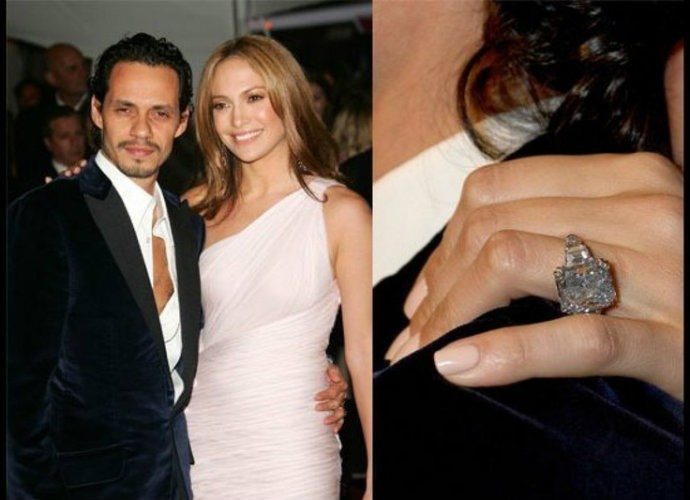 The singer's left ring finger has seen quite a number of rings. She makes the list again, this time, with R n' B singer Marc Anthony. Marc Anthony proposed in 2004, the couple were hugely admired by fans. The two got married but divorced in 2011. This ring is the most pricey and valuable in J Lo's archive of engagement rings.
6. Vanessa Bryant
8-carat Diamond Ring
Price: $4 million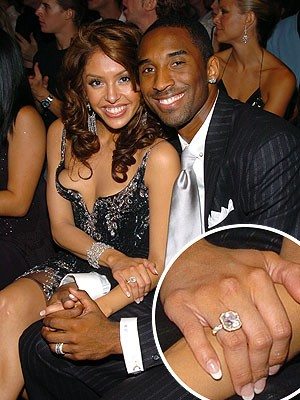 Kobe purchased the ring for Vanessa in July of 2003, three days after prosecutors declared he'd be charged with the rape of a 19-year-old employee at a Colorado resort where he'd stayed. An "apology ring" if you will, and it costs a whopping $4 million.
5. Grace Kelly
10.47 karat Emerald cut diamond
Price: $4.06 million
Prince Rainier III of Monaco originally proposed to Grace Kelly with a Cartier eternity band of rubies and diamonds. When he saw how other top ladies in Hollywood were flashing bigger rings, he quickly ordered this 10.7 karats, $4.06 million emerald-cut diamond flanked by two baguettes, also from Cartier.
4. Paris Hilton
24-carat white Gold ring
Price: $4.7 million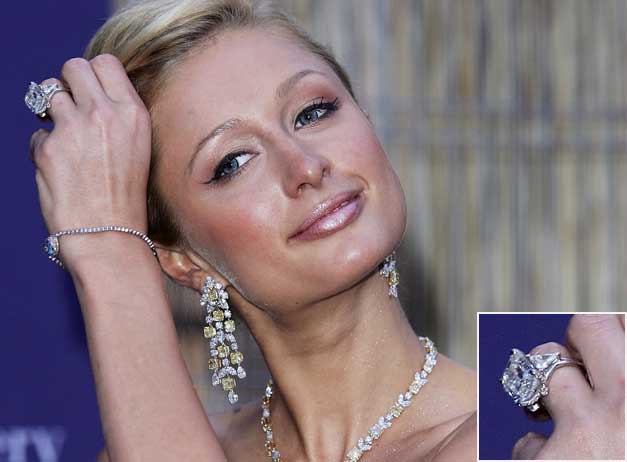 Paris Hilton is beautiful beyond measure and when her ex-fiancé Paris Latsis proposed in 2005, he matched the momentous occasion with a glowing 24-carat white Gold ring estimated to be worth a whopping $4.7 million. Several months later, when their love came to a wither, Paris auctioned the ring for charity purpose.
3. Beyonce Knowles
18-carat emerald cut diamond ring
Price: $5 million
Jay-Z is rich and generous if his engagement ring present to his fiancee Beyonce is anything to go by. His 18-carat emerald-cut diamond ring that he offered to his sweet lady as he was proposing is estimated to be worth around $5 million. By any standards, this is more than what many people will ever earn in a lifetime.
See Also: Beyonce's Bespoke $312,000 Diamond Heels
2. Kim Kardashian
15-carat Lorraine Schwartz
Price: $8 million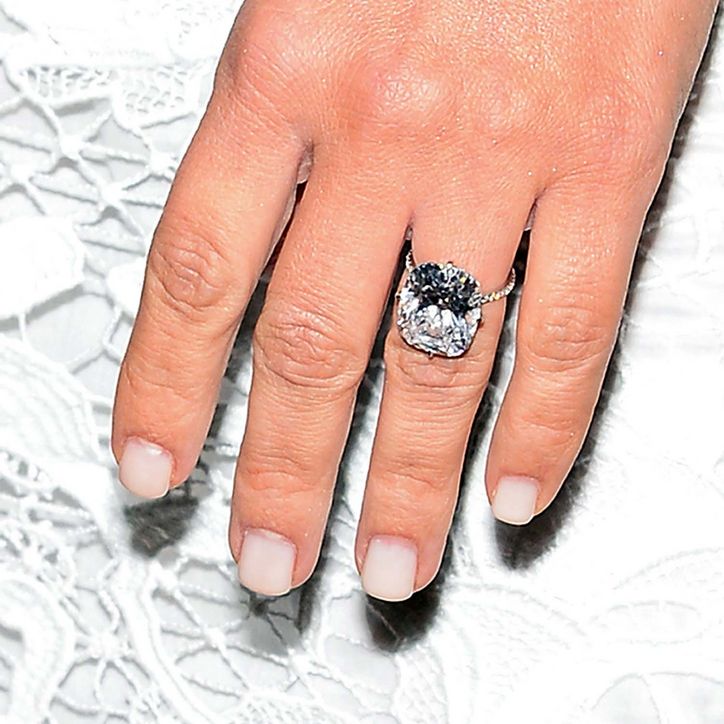 Kim Kardashian's engagement ring from Kanye West may be much smaller than the one her ex-husband, Kris Humphries gave her, but the rapper paid more. According to New York Times, the Yeezus rapper most likely dropped up to $8 million on the 15-carat Lorraine Schwartz jewel. Although the ring alone may be worth up to $8 million, the musician also tried to hit a home run with his wedding proposal by renting AT&T Field and a 50-piece orchestra for the occasion. And then there's the matter of a prenup…. How about that?
1. Elizabeth Taylor
33-carat Asscher-cut Krupp Diamond
Price: $8.8 million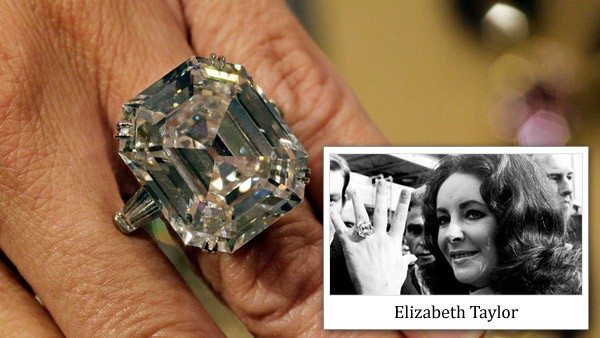 Elizabeth had an insatiable liking for fine jewelry and no wonder she always managed to get expensive engagement rings from her men. One pointer to her fine taste is the 33-carat Asscher-cut Krupp Diamond ring gifted by former spouse Richard Burton. Even though Taylor is no more, we wait in anticipation, the engagement ring that'll beat hers.
Love certainly makes the world go round. That's why the financially endowed in the world do not have to think twice when it comes to pleasing the women in their lives. While there are many instances where ladies are gifted with expensive engagement rings, the above cases simply baffle for the sheer value of the rings presented.