Queen Bey is well-known for the jaw-dropping, eye-watering, head-turning outfits she struts to popular red carpet events, and this time, she has made another move, that'll leave her fans agape.
The pop diva has clearly passed the message that she runs the world by spending a preposterous $312,000 on a pair of high heel shoes to adorn her feet with. A price tag so substantial its enough to get one load of quality shoes that will last a lifetime.
The English diamond friendly designer, Christopher Shellis reportedly flew to Los Angeles from Birmingham and spent four hours taking Bey's foot measurements, one might ask why so long? Well, when one pays such heart-pumping amount on a single pair of shoes, you would do all it takes to avoid any kind of mistake. The designer owns a luxurious clothing line named House of Borgezie and the shoe's design was made as a semblance of his princess constellation collection.
The handmade Stella constellation as the shoe is so-named was crafted within a period of 2 months. The ankle-strapped shoe set on 18-karat gold is completely covered in 1,290 dazzling diamonds that amounts to 65.60 karats. The shoe design got its inspiration from Paul Simon's hit song 'Diamonds on the soles of her feet'. Who knows, maybe Bey is planning to do a remix version. In addition to the gigantic price tag, the shoe comes with a lifetime warranty.
See Also: 25 Most Expensive Celebrity Engagement Rings
The A-list designer who has been in the jewelry game for as long as 22 years and is famous for his production of diamond-encrusted accessories including the world's most expensive clutch bag (price tag – £105,000!) was delighted to have Beyoncé as the one to grace her feet in this spectacular brand. In Chris' words he said;
"Obviously I have sold shoes to people in Dubai who have so much money but Beyonce is the biggest public figure I have ever sold anything to."
"It's the ultimate, Beyoncé's one of those fantasy customers, If you want someone to model your creations, you can't get any better than Beyoncé".
The purpose for Beyoncé's hundred-thousand-dollar shoe is actually for her upcoming music video said to be released in the autumn, and though the song the video will be shot for is yet unknown, the shoe to be worn in the video has already gained much attention from fans, you could say its a celebrity on its own. I hope the shoe has what it takes to secure the music video a long-lasting top spot on the US Billboard chart. But the shoe wasn't the only costume Beyoncé got for the video, she also dropped an incredible $85,000 for a matching basque belt and just like the former, the belt features 362 diamonds.
See Also: The Most Expensive Manicure Ever
See photos after the cut…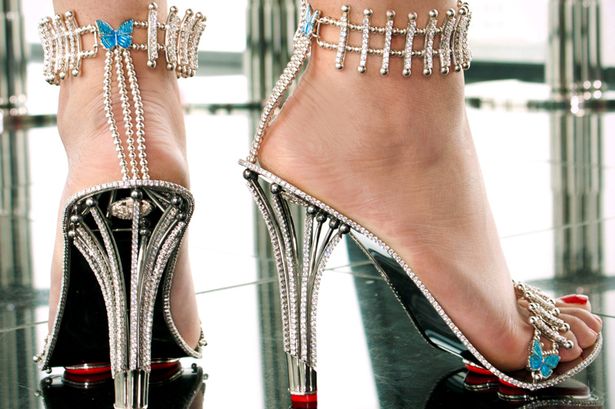 See Also: World's Most Expensive Wrist Watch At $40 Million
Fact Check: We strive for accuracy and fairness. If you see something that needs updating,