Pokémon cards and rare coins are not the only collectibles that people are willing to shell out insane amounts of money for. Another set of items that falls into this category are Beanie Babies. Since emerging as a major culture fad in the 80s, these cute, lovable, bean-filled stuffed animals have inspired unprecedented frenzy in millions of Americans. Thanks to its maker's talent at manipulating demand and supply and retiring the toys after a short time in circulation, it has tripled its value and created hysteria amongst people who want to own one.
It must, however, be noted that there is a cautionary tale about Beanie Babies as several families have lost thousands of dollars sunk in it as an investment avenue. Such a phenomenon has spurred several academic articles and thesis. As the writers continue seeking answers to such a phenomenon, let's unveil to you some of the most expensive Beanie Babies that ever existed.
The Most Expensive and Most Valuable Beanie Babies in the World
25. Snort the Bull – $7,500
Bringing up the rear on the list of the 25 most expensive and valuable Beanie Babies in the world is Snort the Bull. Originally released on New Year's Day 1997, Snort served as a replacement for an earlier Beanie known as Tabasco due to a case of copyright infringement. Snort is described as a bright red bull with black button eyes and a creamed-colored nose. He reportedly loves basketball and is a star player on his team despite the fact that he is not that tall.
24. Pouch the Kangaroo – $10,000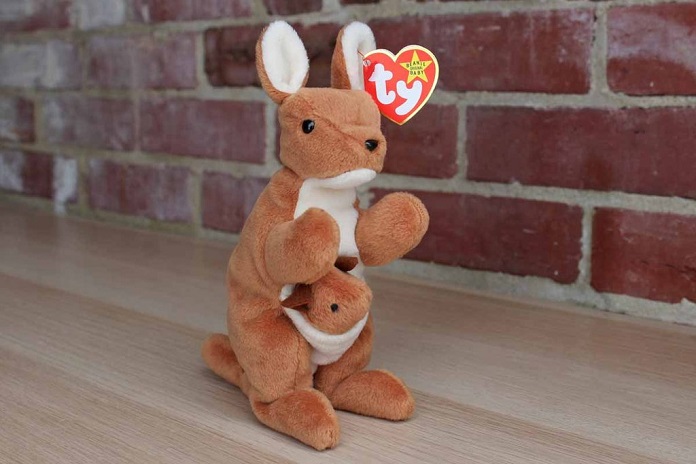 Pouch may not have experienced any of the copyright issues that Tabasco had to deal with but it is nonetheless one of the most expensive and valuable Beanie Babies in the world. Fashioned after a kangaroo, the brown-colored Pouch has black button eyes, a black nose, a cream-colored belly, and a tiny baby kangaroo in her pouch. The beanie was originally released on the 1st day of January 1997 and stayed in circulation for more than two years, no mean feat in the Beanie Baby universe.
23. Patti the Platypus – $14,995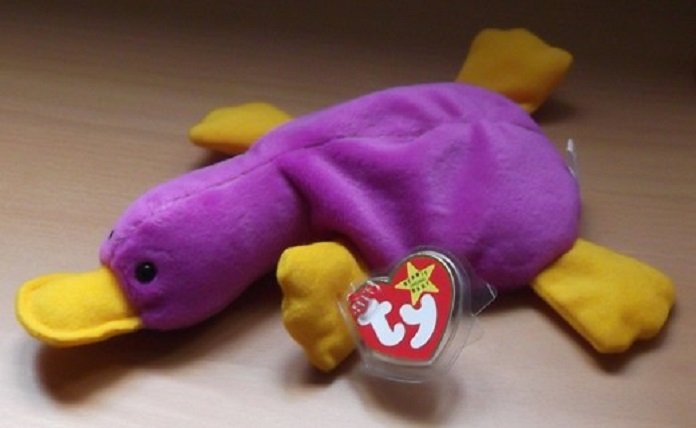 When the manufacturers of Beanie Babies kicked off business in 1993, they did so with only nine variants of which Patti the Platypus was one of them. Originally adorned in magenta color, Patti would stay in circulation for the next five years during which it was released in other colors such as fuchsia, raspberry, and maroon. One thing that never changed though was her beak and feet, which came in yellow color, as well as black button eyes.
22. Hope the Praying Bear – $16,000
This particular Beanie Baby originally came into existence in January 1999 and was retired in December of that same year. Nearly two decades later, its maker Ty Warner launched a multi-colored limited edition version in order to support the United Way Worldwide Covid-19 Fund. In a statement commemorating the release, Warner revealed his expectations that the bear will bring the little hope and smile that the whole world needed at that moment.
21. Jake the Mallard Duck – $16,000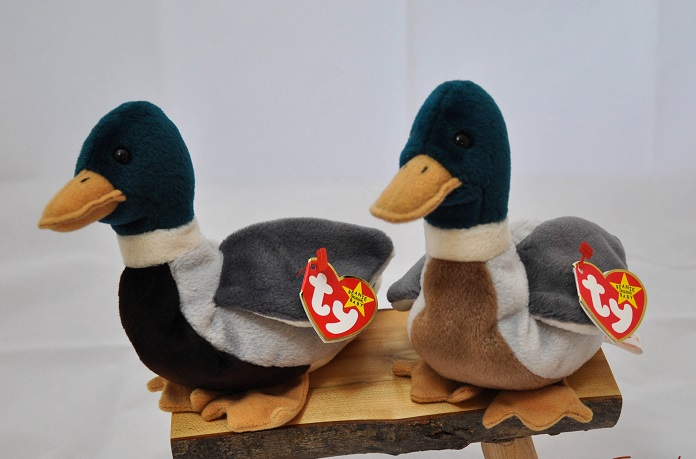 Originally released in May 1998, Jake the Mallard Duck has a grey body and darker-grey wings. His head is dark green while his belly is brown. Other physical features include a ring of white around his neck, an orange bill and feet, black button eyes, and black thread stitching nostril. It stayed in circulation for about a year and seven months.
20. Stinky the Skunk – $25,000
What makes this particular Beanie Baby quite expensive and valuable is all the noticeable errors that it comes with. They include no stamp inside of the tush tag, a missing comma after Oakbrook on the swing tag, a missing comma after Oakbrook on the tush tag, a numerical date of birth, and a missing full stop after the letter P on the tush tag. Stinky was released on the 3rd day of June 1995 and was withdrawn from circulation on 28th September 1998.
19. Hippity, Hoppity, & Floppity the bunnies – $30,000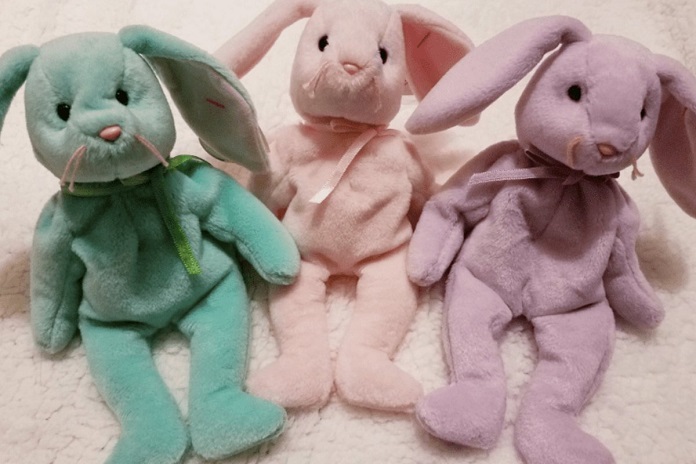 This particular Beanie Baby set consists of a trio of bunny siblings that are pink, purple, and mint green in color. They were individually released in 1997 and retired from circulation a year later. Some of these bunnies come with errors such as a misspelling in the word, original. Experts have however warned people to be wary of chasing after the error-filled ones as there is nothing to show that they have more financial value than the correct ones.
18. The End – $30,000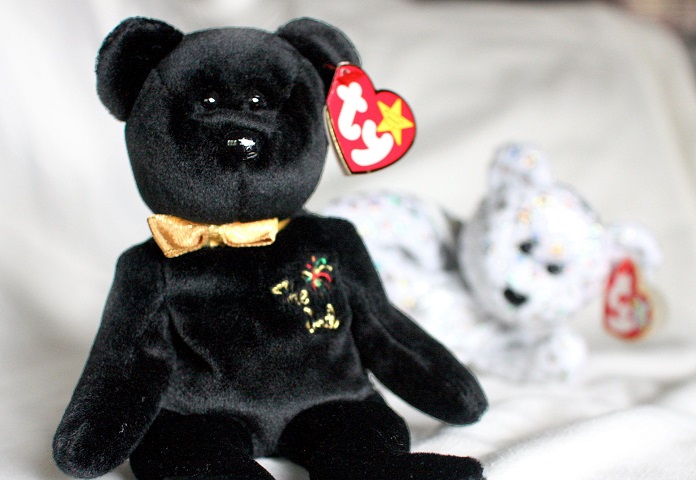 It is commonly said that all good things come to end and this is the same case with the Beanie Babies. After several years of dominating sales in the 90s, its maker decided that they would discontinue producing them and released a bear named The End to that effect. There was a lot of public outcry because of this, forcing Ty Warner to reverse his decision in 2000. Production began with a beanie named The Beginning.
17. Seaweed the Otter – $30,000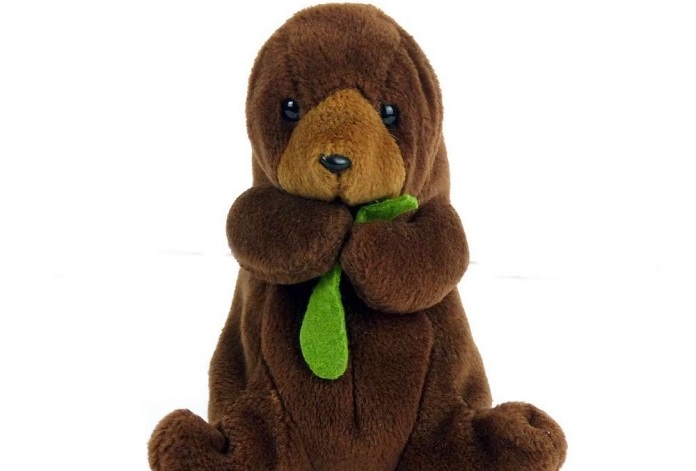 Seaweed was released into public circulation on the 7th day of January 1996. It would remain available for members of the public until the 19th of September 1998. Described as a dark-brown otter, Seaweed has a light brown muzzle, black button eyes, and tiny black nose. The expensive and valuable ones come with multiple errors, including tag inconsistencies, misspellings, and other factory errors.
16. Pinchers the Lobster – $39,000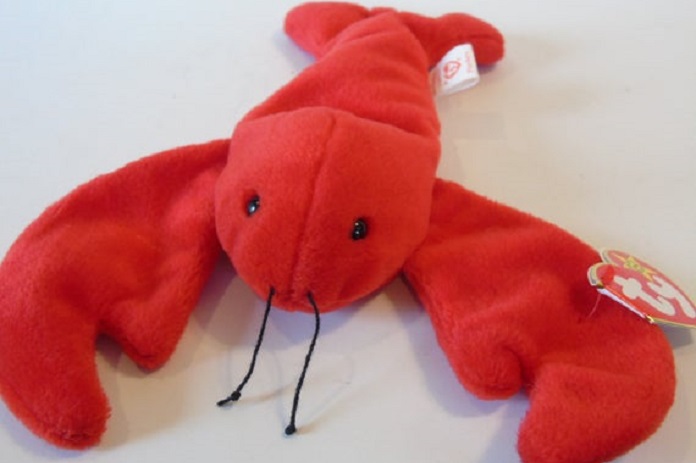 Another original Beanie Baby that ranks amongst the most expensive and valuable in the world is Pinchers the Lobster. Released in 1994, the red lobster supposedly loves to eat his food inch by inch, moves slowly, and has a penchant for pinching people. The very first Pinchers the Lobster was released with a pronounced spelling error – pinchers being spelled as punchers. Production was halted when these mistakes were noticed and corrections effected. This served to make those old ones quite rare and valuable.
15. Twigs the Giraffe – $45,000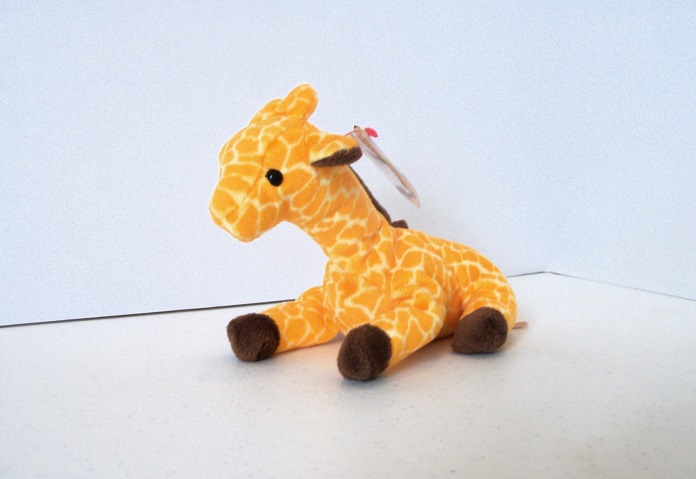 The poem that comes with this brightly-colored giraffe describes him as one who has his head in the cloud. He reportedly stands tall and proud with legs so skinny that they wobble and shake. He is however said to be good friend material. Twigs in pristine condition fetch good money. The same goes for those who come filled with errors such as numerical birthdate and no stamp inside the tush tag.
14. Rainbow the Chameleon – $49,000
Occupying the 14th spot on the list of the most valuable and expensive Beanie Babies in the world is Rainbow the Chameleon. Boasting an eclectic blend of red, green, yellow, and blue colors, this particular beanie is often confused with another Beanie Baby known as Iggy the Iguana. This confusion stemmed from the fact that there was a mix-up in the fabric of the two during production.
13. Steg the Stegosaurus – $50,000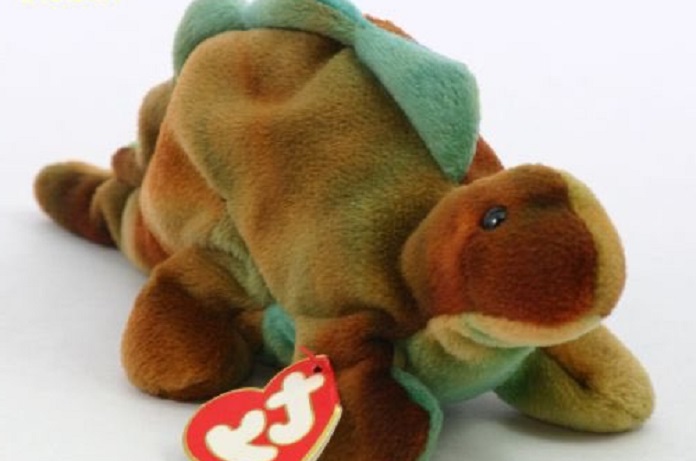 Steg the Stegosaurus was released around the same time as some other Beanie Babies and as such, is liable to much confusion. There are also many fakes swimming around and in order to identify the genuine ones, there are a few pointers. The fabric color of the Steg is always green with brown and yellow hues. It must also have the introduction year of 1995, any other one is a counterfeit.
12. Lips the Fish – $53,000
Did you ever see a fish like me?
I'm the most colorful in the sea;
Traveling with friends in a school,
Swimming all day is really cool.
This short and nice four-line poem is the accompanying poem to one of the original Beanie Babies named Lips the Fish. Lips comes in a brightly-colored get up which is guaranteed to make any kid yearn for it. Luckily for parents, they can also make money off it years down the line.
11. Sparky the Dalmatian – $55,000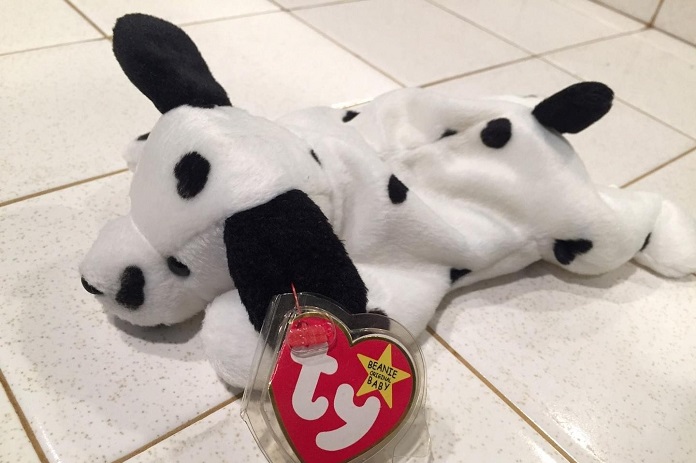 The white with black spots Sparky was introduced in 1996 and attracted attention due to the multiple variations of the last line of the accompanying poem. This made it quite popular but it had to be discontinued a year later as it conflicted with the trademarked name and mascot of the National Fire Protection Association. The association came into existence in 1951 and had trademarked that name and image for their own use about 45 years before the Beanie Baby was made.
10. Valentina the Bear – $57,000
If you were looking to impress your lady love back in the day, then this particular Beanie Baby would have sufficed. The fuchsia-colored Valentine the Bear has a white heart embroidered onto her chest as well as a ribbon tied around her neck. Also included was a handy piece of poem to help you express yourself to your love interest.
9. Jolly the Walrus – $75,000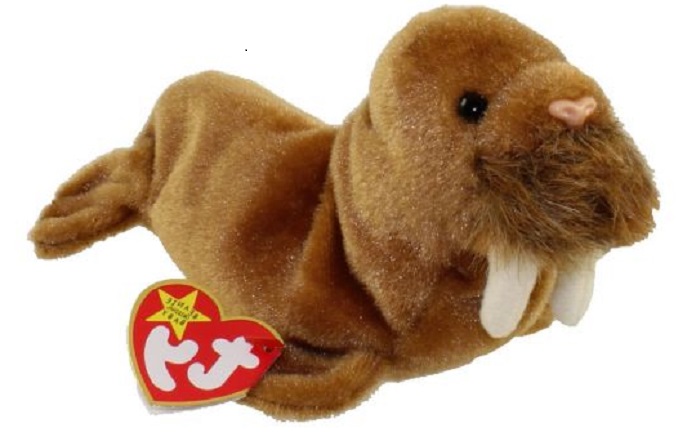 This plush is further proof that the Beanie Babies were not just colorful toys for playing with but were also meant to be educational by embodying various types of animals. In this particular case, Jolly is a walrus who is described as always being happy. He is never sad nor serious but rather laughs and laughs until he is delirious.
8. Liberty the Bear – $75,000
Only one glance at this particular plush would clue you in to the fact that it is meant to serve as a celebration of the United States of America. It is also one of the Beanie Babies that were produced after the company had initially announced that they were shutting down operations in 1999. Originally released on the 30th of April 2002, Liberty the Bear comes in three colors; blue, white, and red, which are then clothed in an American flag fabric.
7. Large Peking, Fortune, and China – $98,000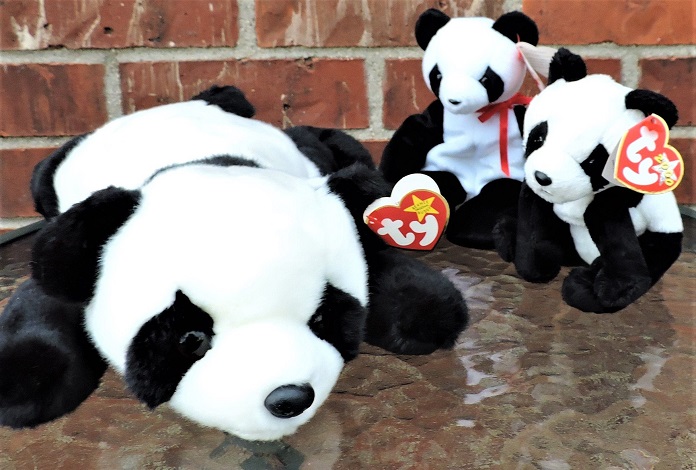 The seventh most expensive and valuable beanie baby on offer is the Large Peking, Fortune, and China. This three-piece set is shaped in the mold of a panda and as such, is colored black and white. The largest in the set is Peking which is about 13 inches. Then comes Fortune and China which are 9 and 7 inches respectively.
6. Valentino the Bear – $100,000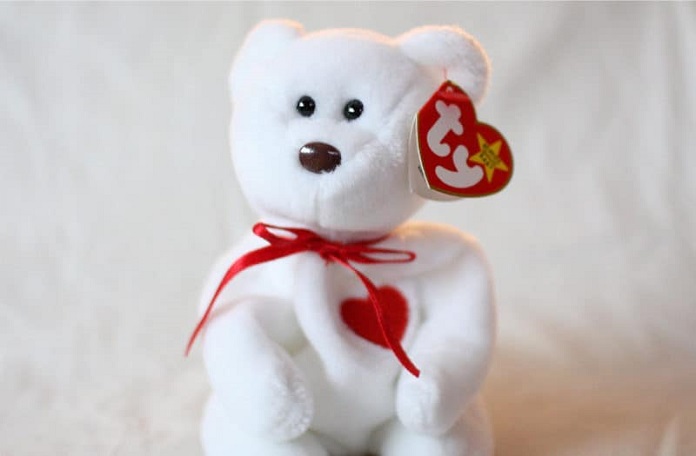 Another valentine bear that ranks amongst the most expensive and valuable Beanie Babies in the world is Valentino. Released in January 1995, it is white in color with a brown nose and black eyes. There is also a red ribbon tied around its neck as well as an embroidered red heart on its chest in keeping with its love theme. Just like before, there is a ready-made love poem attached to the plush.
5. Scoop the Pelican – $100,000
Released in 1996, Scoop the Pelican was part of the Teenie Beanies collection that Beanie Babies did in collaboration with fast food giants McDonald's. Customers of McDonald's happy meals could access the collection alongside their meals for as low as $2. Despite this relatively low price, there was a lot of scramble to get them as they could fetch a higher price on the resell market. It even got to an extent that several fights broke out in different McDonald's locations as a result of disputed ownerships.
4. Piccadilly the Clown – $100,000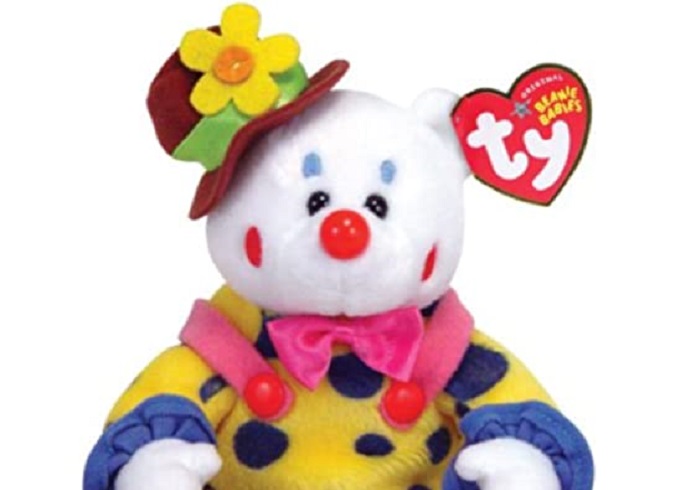 Piccadilly comes in two versions, both of which are brown in color and have black button eyes. The only difference they have is their outfit. While the first version, which was released in 1998, is clothed in a multi-colored rainbow outfit, the later version released in 2000 is dressed in a blue and green outfit. So, where do these particular beanies get the tag "clown" from? Well, the answer is in their commonly-shared red nose.
3. Batty the Bat – $224,000
Not many would fathom the idea of a bat as a plush but the makers of Beanie Babies have no such creative limitations. Complete with realistic ears, feet, and Velcro-attached wings, Batty is primarily brown in color and has black button eyes as well as a pink nose. It was first released to the public in October 1997 and retired after a year and five months.
2. Weenie the Dog – $500,000
Just like the real-life dashed that it is modeled after, the brown weenie the dog has a long body and short legs. Other physical features include black button eyes, a black button nose, and two wide brown ears. These features are chronicled in the accompanying poem which describes the dog as quite a sight. Despite the long body and short height, Weenie the Dog confidently perches high on a log and considers himself the top dog.
1. Princess Bear – $970,000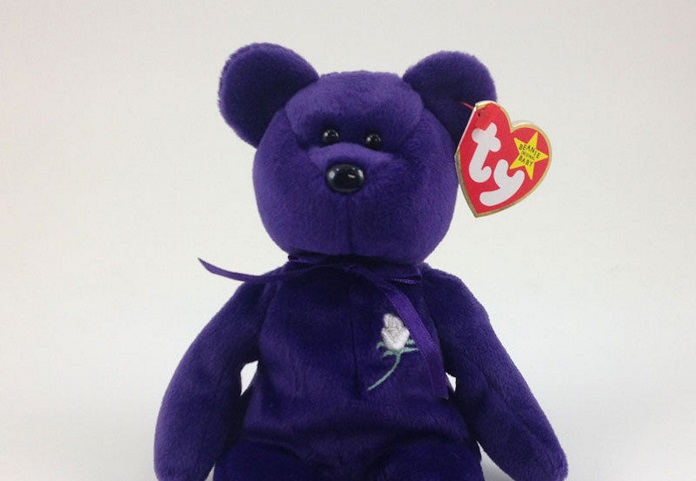 It is no surprise to know that this is the most expensive and most valuable Beanie Baby in the world given its rich, albeit tragic history. The royal purple-colored bear was released in the wake of Princess Diana's death in 1997 and all proceeds donated to the foundation set up in her name. The makers of the Beanie Babies initially sent out a limited number of Princess Bears to retailers which caused its value to skyrocket. They would later increase production but the bears had already achieved their exalted status by then.
Recap of 25 Most Expensive and Most Valuable Beanie Babies in the World
1. Princess Bear – $970,000
2. Weenie the Dog – $500,000
3. Batty the Bat – $224,000
4. Piccadilly the Clown – $100,000
5. Scoop the Pelican – $100,000
6. Valentino the Bear – $100,000
7. Large Peking, Fortune, and China – $98,000
8. Liberty the Bear – $75,000
9. Jolly the Walrus – $75,000
10. Valentina the Bear – $57,000
11. Sparky the Dalmatian – $55,000
12. Lips the Fish – $53,000
13. Steg the Stegosaurus – $50,000
14. Rainbow the Chameleon – $49,000
15. Twigs the Giraffe – $45,000
16. Pinchers the Lobster – $39,000
17. Seaweed the Otter – $30,000
18. The End – $30,000
19. Hippity, Hoppity, & Floppity the bunnies – $30,000
20. Stinky the Skunk – $25,000
21. Jake the Mallard Duck – $16,000
22. Hope the Praying Bear – $16,000
23. Patti the Platypus – $14,995
24. Pouch the Kangaroo – $10,000
25. Snort the Bull – $7,500