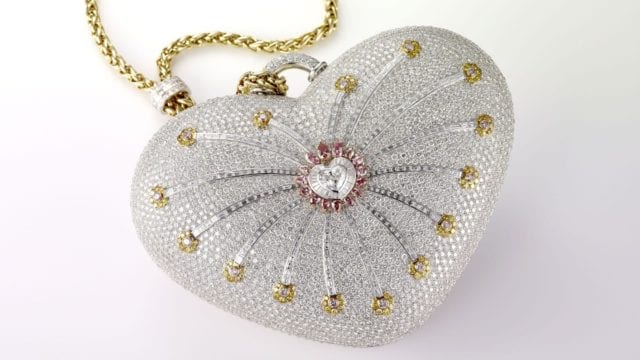 While diamonds are a girl's best friend, handbags are a girl's best companion. These days, you'd rarely find a lady step out without a handbag, whether the occasion has little or no need for it, a handbag is still carried with the idea that it will make a fashion statement. Ladies love this precious companion so much that no number is ever enough, never would you hear a lady confess to having too much. Some ladies are such a sucker for this item that they won't mind emptying their purse just to acquire a better-loved purse. It is that serious! However, it is not all in vain as the value of luxury handbags remain relatively equivalent over time, making it a reasonable investment. Recently, a 2014 Hermes Birkin crocodile skin handbag became the most expensive bag ever sold at auction at a price of $221, 586. As high as that price tag is, it isn't the most expensive handbag in the world, so sit tight as we show you 10 world's most expensive handbags.
10. Judith Leiber Precious Rose Bag
Price Tag: $92,000
Handmade by the Hungarian A-list designer Judith Leiber, the bag looks just like what it bears, taking the shape of a rose blooming with precious stones. The diamond rose bag is made completely out of jewels including 1,196 pink sapphires 1,016 diamonds, totaling 42 carats and 800 tourmalines. The bag is so exclusive that the only made piece was sold even before it was officially unveiled.
See Also: Beyonce's Bespoke $312k Diamond Heels
9. Hermes Matte Crocodile Birkin Bag
Price Tag: $120,000
Made from croc skin, its buckle is made of white gold and encrusted with 10 carat worth of diamonds. As an honor, the bag was named after popular British actor and singer, Jane Birkin. In 2014, a higher quality of it sold for $185 k at auction. The bag is also available in a lower grade for $5,000.
8. Louis Vuitton Kusama Pumpkin Minaudiere Bag
Price Tag: $134,000
The pumpkin-shaped bag is one of the many bags made from the collaboration between Louis Vuitton and the Japanese renowned contemporary artist, Yayoi Kusama. It is made out of black resin, finest metal, and pure gold. The 5 limited pieces made are sold in UK Selfriges stores.
See Also: 25 Most Expensive Celebrity Engagement Rings
7. Louis Vuitton Urban Satchel Bag
Price Tag: $150,000
Literally made out of rubbish- cigarette packs, empty water bottles, chewing gums and tea bags, this LV bag certainly looks like part of a refuse but it appears that whatever has the LV tag on it is bound to be pricey. Surprisingly all 12 made pieces were "pre-ordered for". How bizarre can people's taste get?!
See Also: Floyd Mayweather's $4.8 million HyperRide
6. Lana Marks Cleopatra Bag
Price Tag: $250,000
The clutch bag is made from alligator skin leather with its clasp made of 18 carat white gold embellished with 1500 black and white diamonds. Designer, Lana Marks produces a specific type and design each year. She allows a celebrity to strut one of her designs to the Oscars each year.
5. Chanel Diamond Forever Bag
Price Tag: $250,000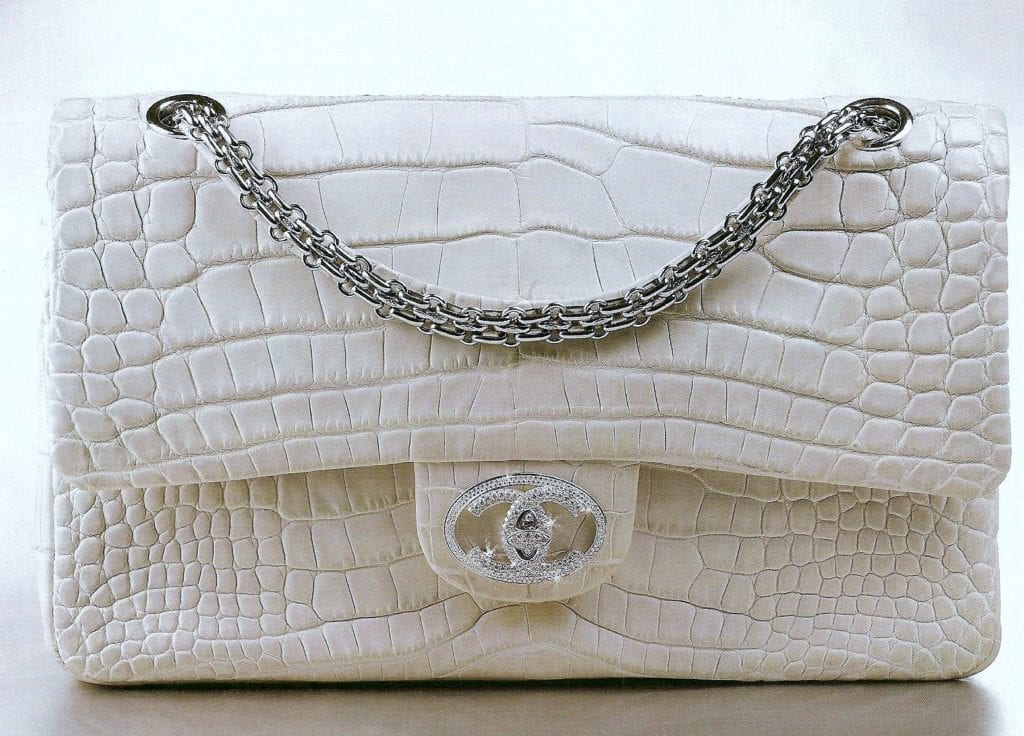 The Chanel bag made of 334 diamonds indeed lives up to its name. The body is made from alligator skin while the detachable strap touts 18 carat white gold. The designer produced only 13 of this dazzling piece.
See Also: The Most Expensive Manicure Ever
4. Hermes Chaine d'Ancre Bag
Price Tag: $1.4 million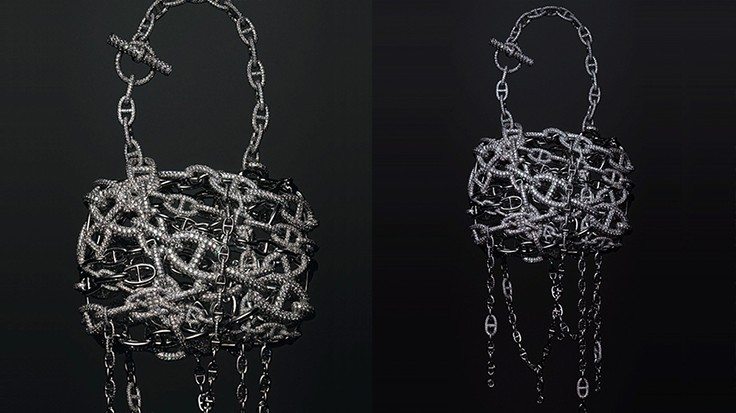 An unprecedented creative piece from Hermes, Chaine d'Ancre is made from white gold-plated chain covered in 1,160 diamonds measuring up to 33 carats. The bag took Hermes two years to create and only three pieces were made. With a price-tag like that, the bag is sure to remain in stock for long.
3. The Hermes Rose Gold/Diamond Birkin Bag
Price Tag: $1.9 million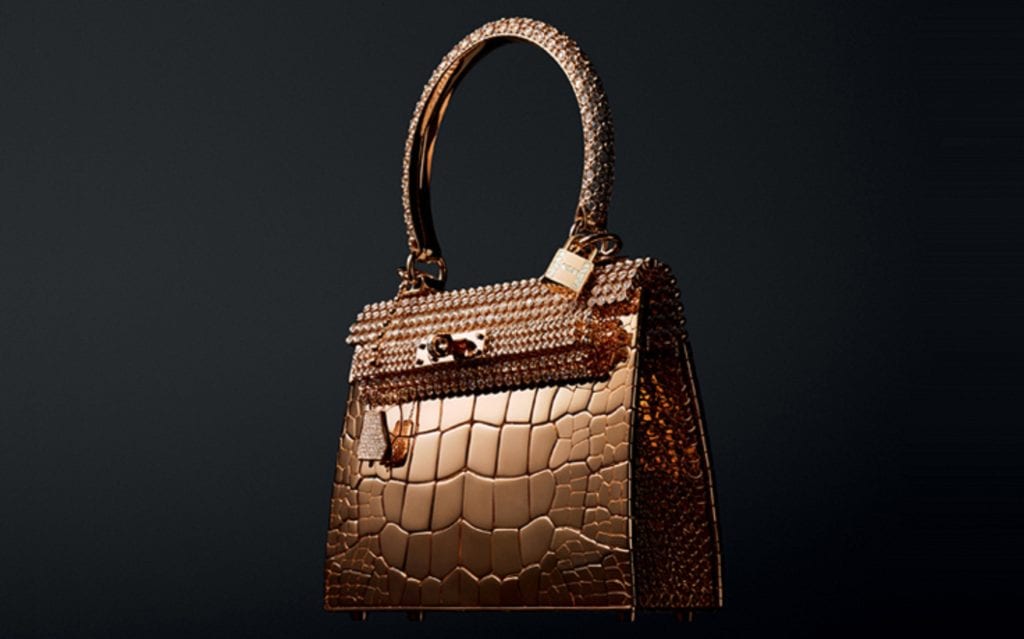 Hermes created two kinds of this piece; the crocodile diamond Birkin type has a knitted chain handle which is covered with 11,000 diamonds, the rose gold type has a scaly crocodile-like body decorated with 1,160 diamonds.
See Also: $40 Million World's Most Expensive Watch
2. Hermes Birkin Ginza Tanaka Bag
Price Tag: $1.9 million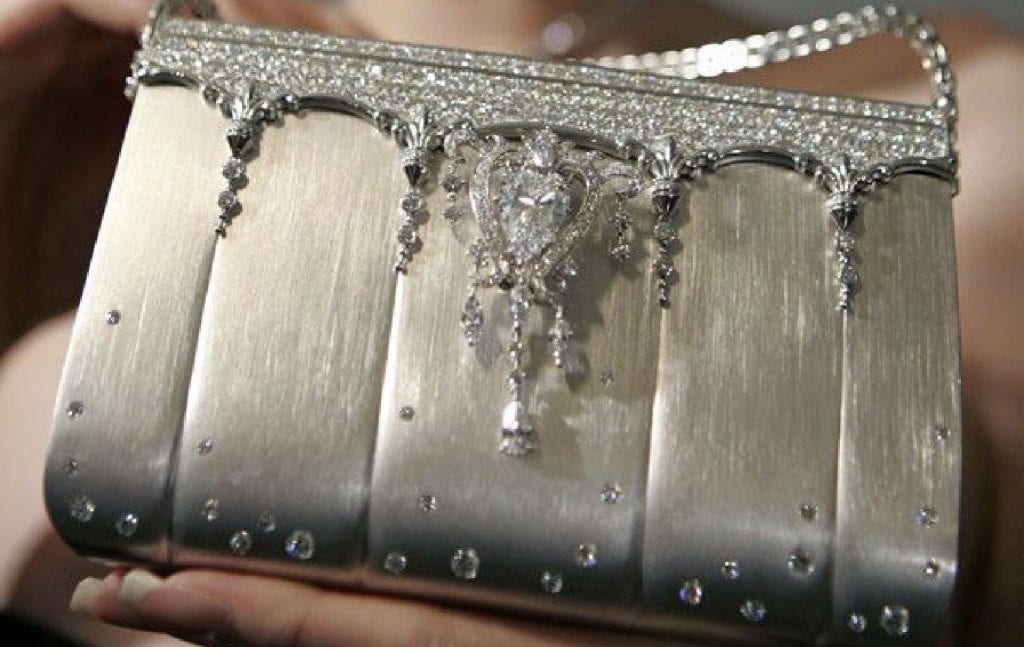 Here goes another Hermes handbag by Japanese designer Ginza Tanaka. For the price of $1.9 million this is no ordinary bag, its body is made completely from platinum and is in turn covered with 2,000 diamonds. The very conspicuous 8 carat pear-shaped diamond at the center and its detachable diamond-studded strap can both be worn as jewelry.
1. Mouawad 1001 Nights Diamond Purse
Price Tag: $3.8 million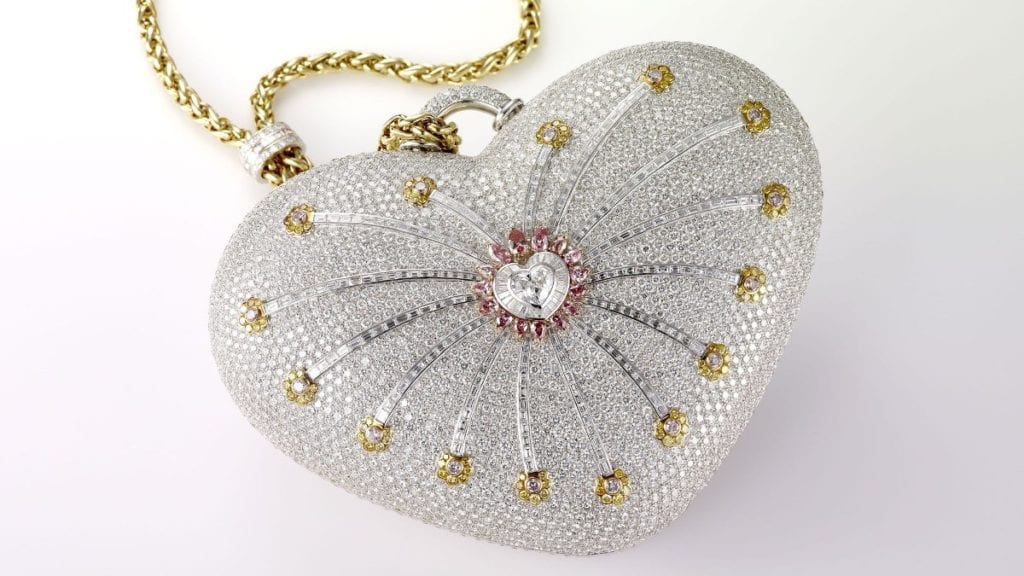 This incredible clutch bag has been sitting on Guinness world's record as the world's most expensive bag for the past five years. The heart-shaped handbag made from 18 carat gold is covered in 4,356 colorless diamonds, 105 yellow diamonds and 56 pink diamonds making a total of 4571 diamonds weighing a whopping 382 carats. The sheer sight of it speaks expensive. It reportedly took 10 professional craftsmen nearly 9,000 hours to create this magnificent accessory.