While diamonds are a girl's best friend, handbags are a girl's best companion. These days, you'd rarely find a lady step out without a handbag, whether the occasion has little or no need for it, a handbag is still carried with the idea that it will make a fashion statement. Ladies love this precious companion so much that no number is ever enough, never would you hear a lady confess to having too much. Some ladies are such a sucker for this item that they won't mind emptying their purse just to acquire a better-loved purse. It is that serious! However, it is not all in vain as the value of luxury handbags remain relatively equivalent over time, making it a reasonable investment. Recently, a 2014 Hermes Birkin crocodile skin handbag became the most expensive bag ever sold at auction at a price of $221,586.
As high as that price tag is, it isn't the most expensive handbag in the world, so sit tight as we show you 10 world's most expensive handbags.
10. Hermes Exceptional Collection Shiny Rouge H Porosus Crocodile 30 cm Birkin Bag
Price Tag: $203,150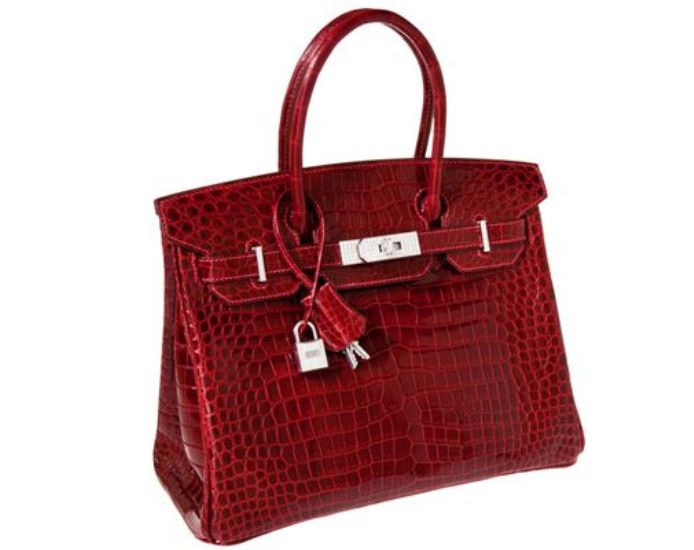 This classy handbag is made out of coveted saltwater crocodile hide that is bejewelled with 18-carat white gold and diamonds. In 2011, this deluxe Shiny Rouge H Porosus Crocodile 30 cm Birkin Bag broke the record of the most expensive handbag ever auctioned when it was bought by an anonymous collector at the Heritage Auction in Dallas.
9. Fuchsia Diamond-Studded Hermes Birkin
Price Tag: $220,000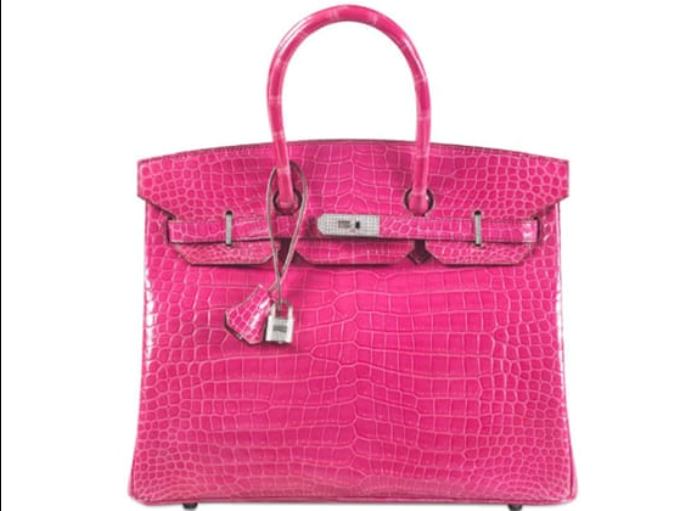 Records are meant to be broken. This is true as Fuchsia diamonds studded Hermes Birkin achieved the record of the most expensive handbag ever auctioned when it was sold at $1.72 million Hong Kong dollars in 2015. This glittering Fuchsia Birkin is crafted with 18-carat white gold and diamonds which in turn made it wondrous to behold.
8. Lana Marks Cleopatra Bag
Price Tag: $250,000
Lana Marks Cleopatra is a beautiful clutch bag made from alligator skin leather with its clasp made of 18-carat white gold embellished with 1500 black and white diamonds. A-list designer, Lana Marks is quite famed for her production of a specific type and design each year. She allows a celebrity to strut one of her designs to the Oscars every year. This is the prototype that Charlize Theron was spotted with on the Academy Awards' red carpet in the year 2004.
7. Chanel "Diamond Forever" Handbag
Price Tag: $261,000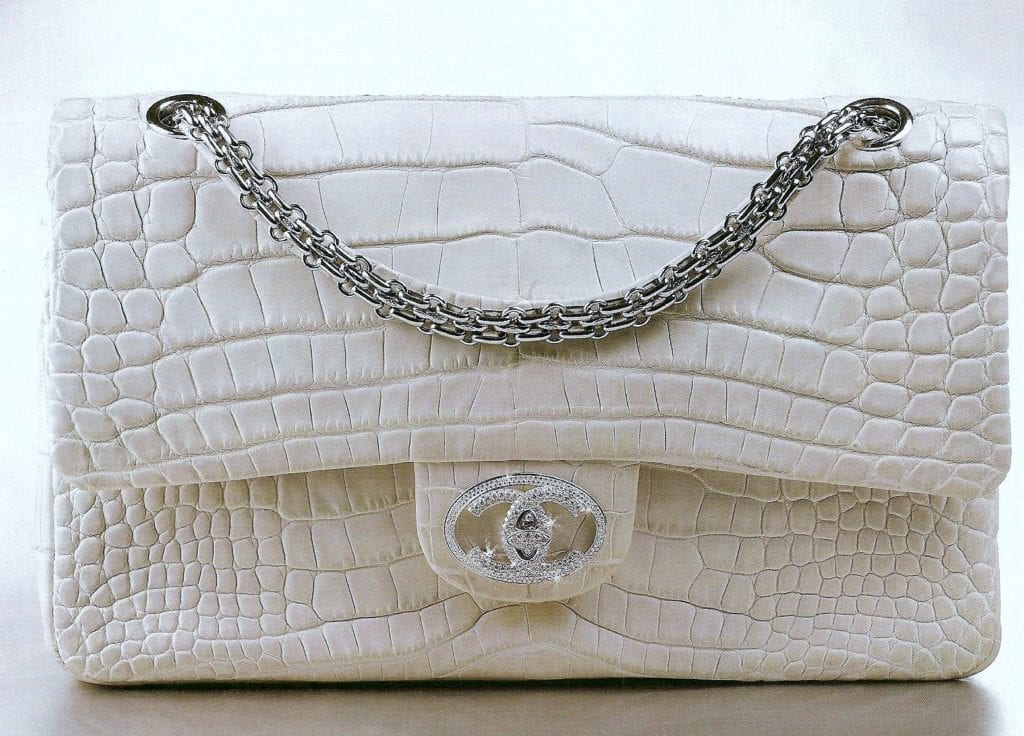 This Chanel bag is made of 334 diamonds that weighs 3.65 carats, indeed, this expensive bag lives up to its name. The body is made from alligator skin while the detachable strap touts 18-carat white gold. The designer produced only 13 of this dazzling piece.
6. Niloticus Crocodile Himalaya Birkin
Price Tag: $379,000
Niloticus Crocodile Himalaya Birkin is made out of Nile crocodile hide and took lots of hours of dyeing in order to lighten the hue of the material. The lighter the color, the more difficult it is to produce the bag. This luxury handbag is encrusted with over 240 diamonds on its 18-carat gold body, as it depicts the rich browns of Himalayan mountains with white snow-capped tops.
5. Lana Marks Cleopatra Clutch
Price Tag: $400,000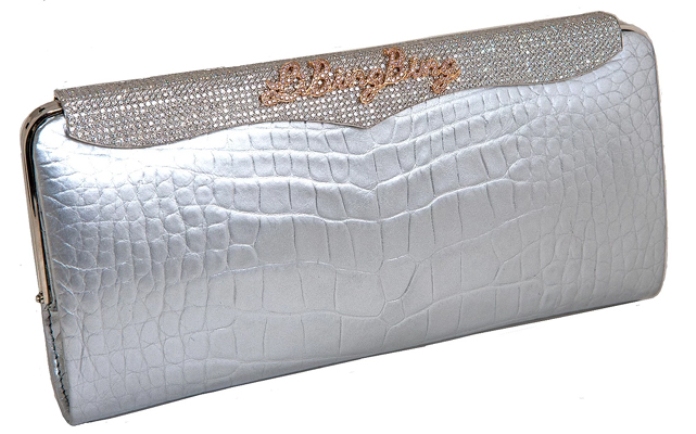 Here is one of the most expensive handbags in the world, designed by LANA MARKS brands that are known for its high-end luxury creations. Her products have gained a reputation for its impeccable quality and style, as it offers customers an exclusive fashion experience in sophisticated elegance. Lana Marks Cleopatra Clutch bags are produced once each year, hence, showcasing pure uniqueness and high value.
The price ranges from US$100,000 to US$400,000, with each design having a different color and style. This most expensive Cleopatra Clutch is owned by the eminent Chinese actress, Li Bingbing. It's comprised of American alligator leather, encrusted with 1,600 white diamonds measuring up to 40 carats. Interestingly, the deluxe bag has Li's name customized on its top in pink gold and pink diamonds.
4. Hermes Chaine d'Ancre Bag
Price Tag: $1.4 million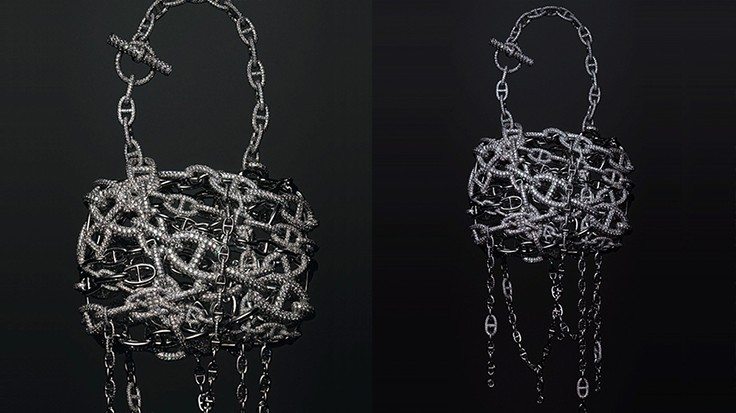 An unprecedented creative piece from Hermes, Chaine d'Ancre is designed by Pierre Hardy. It is made from white gold-plated chain covered in 1,160 diamonds measuring up to 33 carats. The bag took Hermes two years to create and only three pieces were made. With a price-tag like that, the bag is sure to remain in stock for long.
3. Hermes Birkin Ginza Tanaka Bag
Price Tag: $1.4 million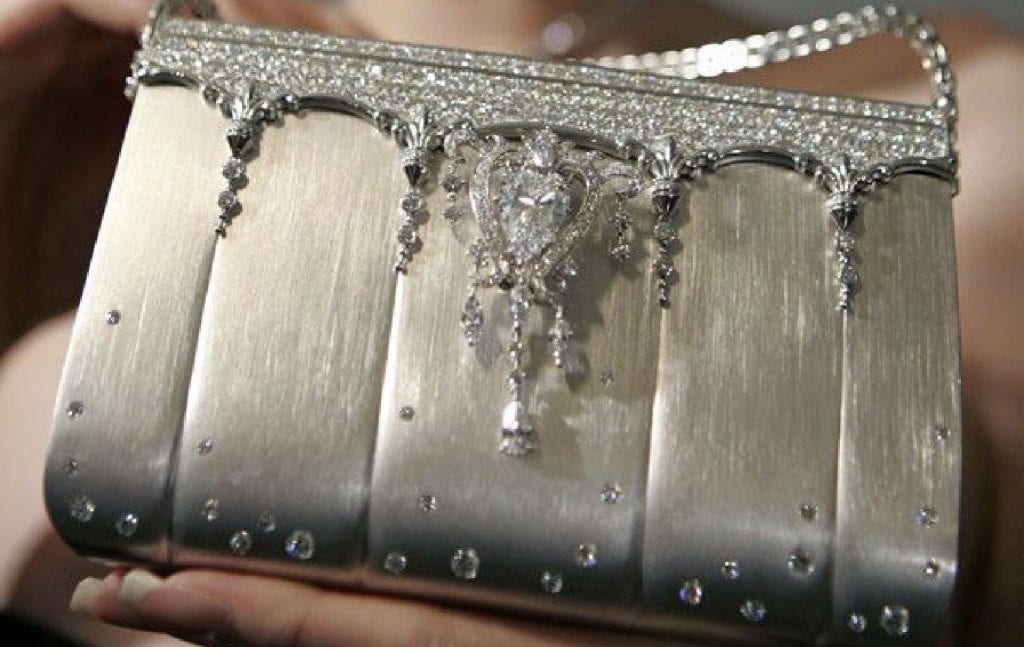 Here goes another Hermes handbag by Japanese designer Ginza Tanaka. For the price of $1.4 million, this is no ordinary bag, its body is made completely from platinum and is in turn covered with 2,000 diamonds. The very conspicuous 8 carats pear-shaped diamond at the centre and its detachable diamond-studded strap can both be worn as jewellery. You can easily detach the diamond strap from the handbag and complete a gorgeous outfit with this dazzling accessory if you forgot to wear a necklace or bracelet.
See Also: $40 Million World's Most Expensive Watch
2. Hermes Kelly Rose Gold Bag
Price Tag: $2 million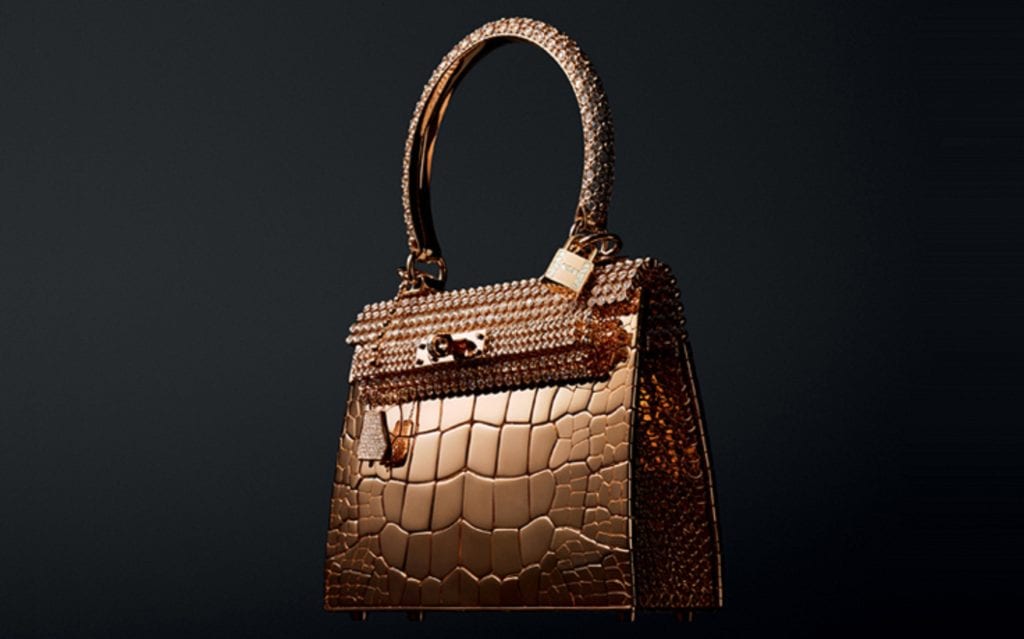 Hermes created two kinds of this piece; the crocodile diamond Birkin type has a knitted chain handle which is covered with 11,000 diamonds. The rose gold type which is jointly designed by Hermes and Pierre Hardy is created out of firm rose gold. It has a scaly crocodile-like body, decorated with 1,160 diamonds and takes roughly two years to make. In order to highlight its uniqueness and rarity, it is produced in a limited quantity of 12.
1. Mouawad 1001 Nights Diamond Purse
Price Tag: $3.8 million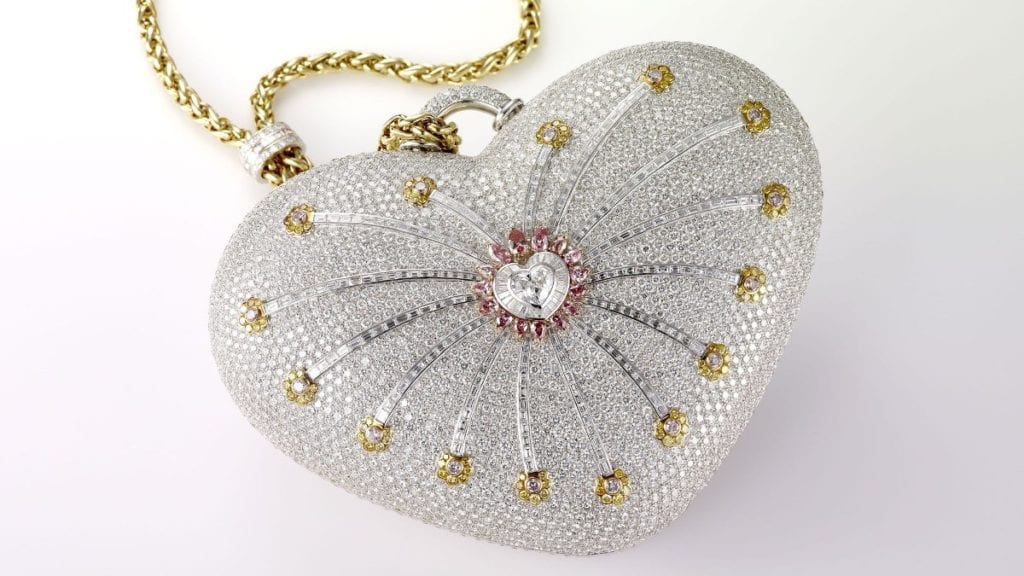 The Mouawad Group (Emirati and Swiss Jewellry brand) is indeed one of the most globally acclaimed luxury items created in the world. They are currently holding five Guinness World Records in luxury items like necklace, jewellery coffer, and single pear-shaped diamond with their incredible Mouawad 1001 Nights Diamond Purse sitting on Guinness World Record as the world's most expensive bag for more than eight years now.
This heart-shaped handbag, crafted from 18-carat gold, is covered in 4,356 colourless diamonds, 105 yellow diamonds, and 56 pink diamonds making a total of 4571 diamonds weighing a whopping 382 carats. The sheer sight of it speaks expensive. This stunning handbag is created by the third-generation owner of the company, Robert Mouawad, and it reportedly took 10 professional craftsmen nearly 9,000 hours to create this magnificent accessory.
Summary
Below is a recap of the 10 most expensive handbags in the world discussed in the article above:
Mouawad 1001 Nights Diamond Purse
Hermes Kelly Rose Gold Bag
Hermes Birkin Ginza Tanaka Bag
Hermes Chaine d'Ancre Bag
Lana Marks Cleopatra Clutch
Niloticus Crocodile Himalaya Birkin
Chanel "Diamond Forever" Handbag
Lana Marks Cleopatra Bag
Fuchsia Diamond-Studded Hermes Birkin
Hermes Exceptional Collection Shiny Rouge H Porosus Crocodile 30 cm Birkin Bag