When media mogul Rupert Murdoch and model-cum-actress, Jerry Hall, debuted their relationship in the year 2015, it was dubbed the romance that no one saw coming. From there, it became the relationship that wouldn't last as detractors pointed out all the reasons that they were unsuitable for each other, including their 25-year age gap. The couple did not let this discourage them and five years down the line, their union is all better for it.
Murdoch and Hall have nothing but kind words to say about each other and have been credited with being a positive influence on the other. They have also managed to blend their respective families from their previous marriages. If you know anything about the media world you would know that the Murdoch clan holds sway as one of the most influential with an empire that is worth billions and continues to expand with each passing day.
Rupert Murdoch is Much More Wealthier Than Jerry Hall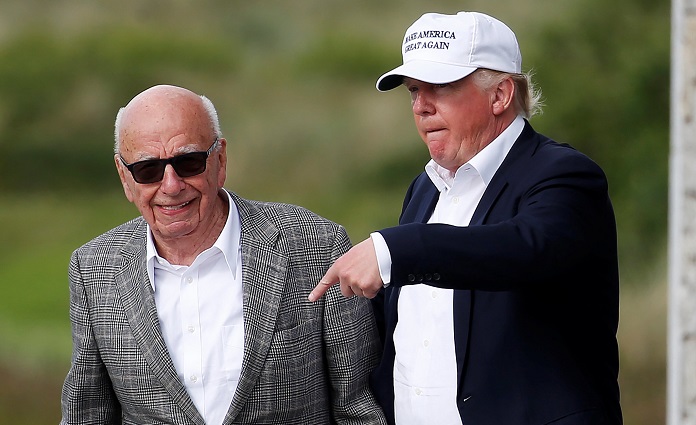 Rupert Murdoch is worth a massive $23.1 billion. This fortune makes him one of the 100 richest personalities in the world and such an achievement is made even more impressive by the fact that he is a self-made man. Originally from Australia, a 22-year-old Rupert Murdoch inherited a string of local newspapers from his war correspondent dad in 1952. He then went on to turn these newspapers into lucrative ventures thanks to his editorial penchant for publishing sensational stories with human angle interests.
Such a style may have occasionally earned him scorn but Murdoch couldn't care much as he has managed to transform a string of local newspapers into a multibillion-dollar empire. In the United States, he owns Fox News, New York Post, Wall Street Journal, and HarperCollins (book publishers). In the United Kingdom, he owns The Times, The Sunday Times, and Sky News. He also owns several networks in Europe while in Australia, he owns about 150 brands in the country's publishing industry.
Murdoch was previously the owner of 20th Century Fox. He sold the company to Walt Disney in March 2019 and netted about $71.3 billion which he subsequently shared amongst his six children. There is no confirmation of his wife, Jerry Hall, getting a share of the pie but you can certainly trust that she stands to inherit a portion of his estate in the future.
As we wait for that day to come, Jerry Hall presently maintains a net worth of $15 million. Just like her famous husband, she is a self-made woman who grew up in poverty. She was raised by an alcoholic and physically abusive dad to become what she is today. A native of Gonzalez, Texas, Hall did not allow her early life circumstances to stop her from dreaming big, and by the age of 16, she left home to pursue showbiz.
What would follow was a successful stint as a professional model during which she worked in places such as Paris. She appeared on the cover of 40 magazines and made as much as a thousand dollars a day. She also made much more from serving as the face of brands such as Revlon Cosmetics and Yves Saint Laurent Perfume. By the 80s, Hall, who had always adored acting, decided to try out her hands at it and got hooked. She then went on to enjoy a decent career during which she appeared in movies such as Batman and Urban Cowboy. She has also appeared in several stage productions over the years and holds the Guinness record for appearing in most theatrical productions in one night (six).
There is a 25-Year-Age Difference Between The Couple
Rupert Murdoch was born on the 11th day of March 1931 in Australia. This means that he is 25 years older than his wife, Jerry Hall, who was born on the 2nd day of July 1956. Such a significant age gap generated several headlines with many wondering what Hall could have possibly seen in a man 25 years her senior. Some declared that she was desperate while others insinuated that money must be the driving factor. Another school of thought had it that the couple were only together for publicity while die-hard rock fans chose to see it as an affront on rock 'n' roll.
Hall previously had a decades-long romance with Rolling Stones lead singer, Mick Jagger, and the relationship produced four kids. There was also all the drama and parties that you would expect in a rock romance before it came to an end. As such, Hall settling down for Murdoch seemed like a letdown. Others have countered this though and point out that having been exposed to multiple drama and infidelities during her time with Jagger, Hall was simply happy to settle down with a courtly fellow who would guarantee her emotional protection.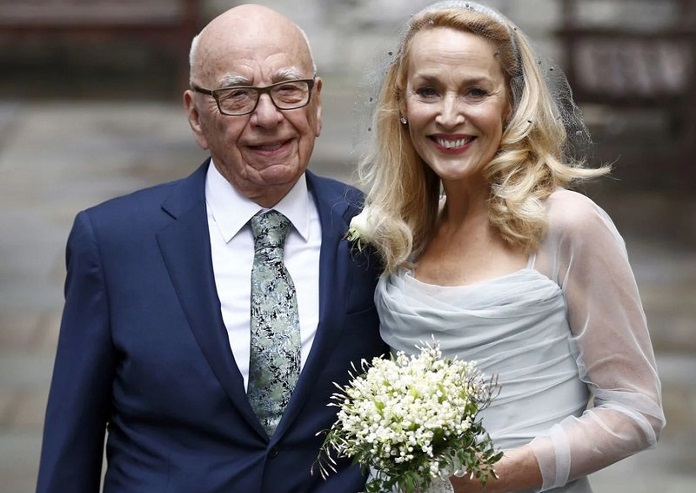 Rupert Murdoch and Jerry Hall Began Dating in 2015 and Tied The Knot a Year Later
So, how did the unexpected romance between Rupert Murdoch and Jerry Hall come about? Well, according to reports, the couple were first introduced to each other by Murdoch's sister, Janet Calvert-Jones, during a benefit in Australia. This was in the summer of 2015 and the unlikely pair hit it off. They then started dating and by November were pictured together at the Rugby World Cup final. From there, they made several other joint public appearances and in January 2016, announced their engagement with a small notice appearing in the Murdoch-owned London newspaper, The Times.
The couple would later make things official on the 4th of March 2016 in a church ceremony in the city of London. They honeymooned in France and a smitten Rupert tweeted that he felt like the happiest and luckiest man in the world. He also indicated that he will be taking time off social media to bask in marital bliss. It seems that marital bliss subsists to date as Murdoch is yet to return to social media. Hall has meanwhile described him as the most wonderful husband. According to her, he is so easygoing and has such wonderful manners and she is quite happy with him. Rupert Murdoch and Jerry Hall do not have any children together but they have several from their past marriages.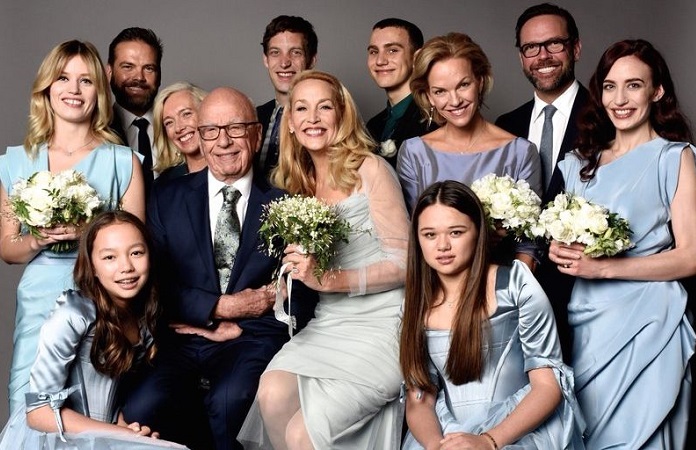 Murdoch has been married and divorced three times and those three marriages have produced six children; Prudence, Elisabeth, Lachlan, James, Grace, and Chloe. On her own part, Hall went steady with Mick Jagger for nearly two decades. That relationship produced four children; Elizabeth, James Leroy, Georgia May, and Gabriel Luke. It, therefore, means that Murdoch and Hall have a total of ten children between them and they make sure to give all of them a sense of belonging.
According to Hall, modern families can be complicated but the most important thing is to have peace. She, therefore, tries as much as to carry everybody along in whatever the family is doing. She also remembers birthdays and important anniversaries for her kids and stepkids alike.
Comparison of Rupert Murdoch and Jerry Hall 
| | | |
| --- | --- | --- |
| | Rupert Murdoch  | Jerry Hall  |
| Age | 92 | 67 |
| Height  | 5 feet 10 inches (1.78m) | 6 ft (1.83m) |
| Birthplace  | Melbourne, Victoria, Australia | Gonzales, Texas |
| Net Worth | $23.1 Billion | $15 Million |
| Source of Wealth | Media | Modeling and Acting |
| Accolades  | Lifetime Achievement Award from Australia Day Foundation (2021). | Lifetime Achievement Award from the Fashion Group International Dallas (2016). |