The name Mike Tyson quickly calls to mind boxing rings and knockouts. Mike Tyson was a famed boxer who though now retired had made a name for himself in the sport, turning it into a brilliant career that will most likely be recalled for decades. He also had several bad spots in the course of that career but has made a pretty impressive comeback even if not in boxing.
As of 2021, Mike Tyson's net worth is estimated to be $10 million. This is a result of his recent lucrative fight against Roy Jones Jr. Even though he donated his purse from the fight to charity, his net worth increased very steeply due to all the pre-fight promotions.
His Early Life and Career Beginnings
Mike Tyson was born on June 30, 1966, in the proud city of Brooklyn, New York. Tyson first raised eyebrows in 1982 at the Junior Olympics, where he won the silver medal. Three years later, he made his professional debut against Hector Mercedes. The fight ended with a knockout for him.
He was only twenty years old when he became the world's youngest heavyweight boxing champ in 1986. That year was an important time in boxing because Muhammad Ali had left the position of sport's ambassador and had consequently left a huge void in the sport.
The search was on for a new hero of boxing and Mike Tyson stepped in as a fresh new face for the heavyweight division. He fought with many of the best heavyweight boxers of the world. He defeated and won the belts from James Smith, Tony Tucker, and Pinklon Thomas. He was really on the top of the world.
Mike Tyson would, however, lose the title in 1990 and face a dark period where he served three years in jail on rape charges. The incident where he bit the ear of an opponent during a rematch in 1997 did not also help his reputation.
Here's What We Know About Mike Tyson's Wife and Ex-Wives 
Having successfully made it through several highs and lows in his many decades on earth, Mike Tyson has revealed that he is happier than he has ever been right now. The former professional boxer certainly has experience when it comes to a lot of things, and this includes women. With all the money and media attention, it is not surprising that Mike Tyson had a pretty busy dating life. In 1988, however, he married television actress Robin Givens. The marriage was not to last and by June 1988, allegations of spousal abuse started to arise in the media. By February 14, 1989, the split between Mike Tyson and his first wife was complete.
Moving on, Mike Tyson married Monica Turner, who stuck with him even when he was jailed for three years for rape. Their marriage lasted for six years this time around as Monica Turner filed for divorce from him in 2003 on grounds of adultery. The former undisputed heavyweight champion is currently in his third marriage and he is married to Lakiha "Kiki" Spicer. This time, the marriage seems to have stuck as they have been together for more than a decade.
Keep reading as we take a closer look at the champion's love life, unveiling details about the women who were closest to him while his career boomed.
Robin Givens (m. 1988 – 1989)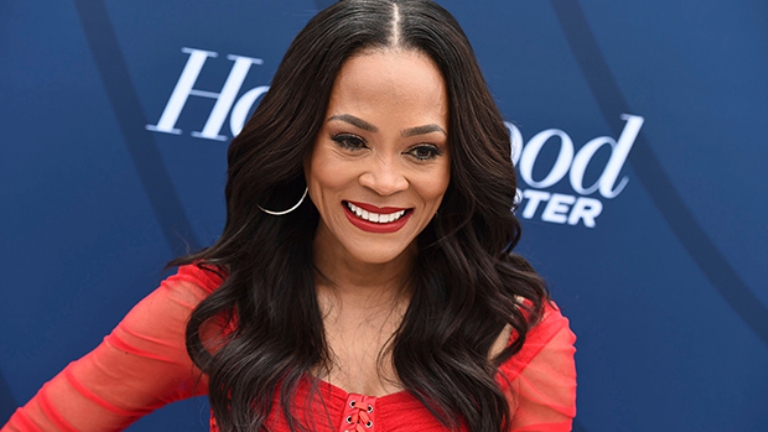 Born Robin Simone Givens on the 27th of November, 1964, New York City, the actress is the daughter of Ruth Roper and Reuben Givens. Her parents' marriage packed up when she was a toddler and as a result, Robin and her sister Stephanie were raised by their mother in the Catholic faith. As a ten-year-old child, she began taking acting classes at the American Academy of Dramatic Arts in New York City, and during her teen years, she also modeled now and then, appearing in some magazines, including Seventeen and Mademoiselle. Additionally, Givens made cameo appearances in the 1978 film The Wiz and Fort Apache: The Bronx (1981).
Following her graduation from New Rochelle Academy, she was admitted into Sarah Lawrence College as a pre-medical major at the age of 15, making her one of the institution's youngest students. While studying, she began taking part in acting professionally, playing roles in daytime dramas. She subsequently got into Hollywood with her appearance on "The Cosby Show" in 1984, the same year she graduated from college. Two years later, she landed the role of Darlene Merriman on the ABC sitcom Head of the Class, which marked her breakthrough in the industry.
In 1987, Robin Givens and Mike Tyson began dating. Eleven months down the line, they tied the knot on February 7, 1988, and owing to the fact that Tyson was at the top of his career at that time, Robin also became very popular. Sadly, she miscarried their first child in May 1988, and afterward, their marriage began to fall apart. Unable to mend their broken fences, Givens filed for the annulment of their marriage in October 1988 citing domestic violence. Mike Tyson also filed for divorce, accusing Givens of manipulating the public and stealing millions of dollars from him. Responding to the accusation, the actress filed a libel suit of $125 million for character defamation. Ultimately, their union was eventually annulled officially on February 14th, 1989.
Monica Turner (m. 1997–2003)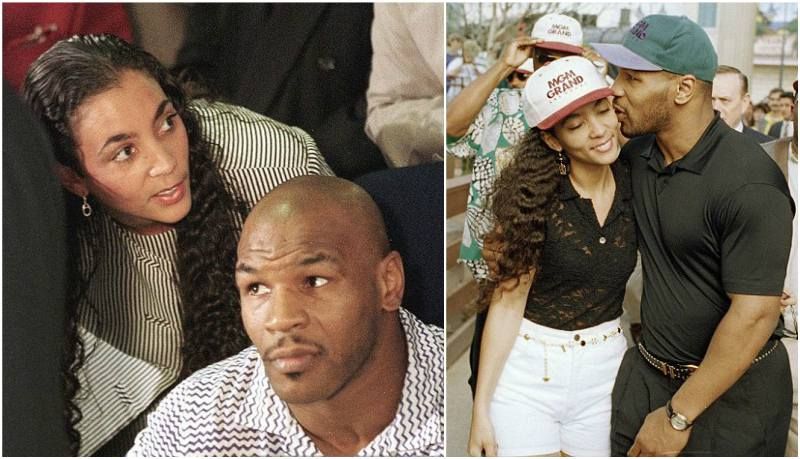 Eight years after Tyson's marriage with Robin fell apart, he remarried to Monica Turner, a native of Washington's Petworth area and half-sister of Michael Steele, one-time Lieutenant Governor of Maryland and former Chairman of the Republican National Committee. Tyson and Monica met in 1990 at a party that took place at comedian Eddy Murphy's mansion and at the time, she was a medical student at Georgetown University. She also studied psychology and biology major at the University of Virginia, and eventually specialized in pediatric medicine after completing her studies at Georgetown.
Though attractive, intelligent, and smart, Monica was not inexperienced when it comes to life outside the classroom as she already had a daughter with a convicted drug dealer who was 28 years her senior before she got involved with Mike. A few years after she got together with Mike, precisely in 1992, the boxer was sent to prison for raping 18-year-old Desiree Washington, a former Miss Black Rhode Island. However, even while in prison, their love grew stronger as Monica visited him every two weeks and was with him on the morning of his release.
On April 19, 1997, the couple wedded in Bethesda, Maryland, but their union only lasted until January 14, 2003. Monica Turner filed for the dissolution of their marriage in January 2002, alleging that Tyson had been unfaithful. The divorce proceeding ended with the former heavyweight champion agreeing to pay Monica $6.5 million from future earnings. Their union produced two children, a son and a daughter.
Lakiha Spicer (m. 2009)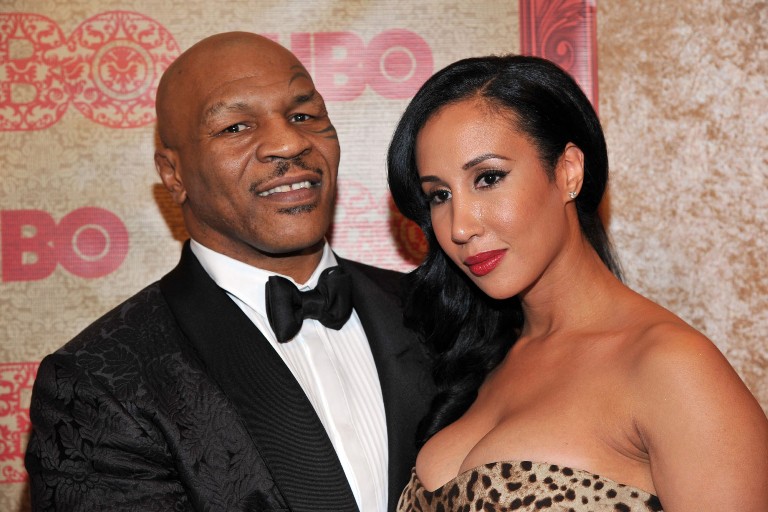 Born in 1977 in Philadelphia, Lakiha Spicer, better known as Kiki Tyson is the third wife of the former boxer. Her father was sentenced to jail for murder in the 70s and she also has an older brother known as Azheem Spicer.
Lakiha usually followed her father, who was friends with promoter Don King, to boxing events and it was on one of such occasions that she met the then- 29-year-old Mike Tyson while she was 18. Although the boxing star was attracted to her immediately, nothing happened between them until five years later when Lakiha was 23 years old. Their relationship was rocky from the onset as a result of Mike's affair with other women. Consequently, the pair broke up many times and still got back together.
Things continued that way but eventually became serious in 2008 when Lakiha discovered that she was pregnant for Tyson. She later had their first child in December 2008 and on Saturday, June 6, 2009, they exchanged marital vows in a short, private wedding ceremony that took place at the La Bella Wedding Chapel at the Las Vegas Hilton. It's been more than 10 years since they became husband and wife and the couple is still going strong despite meeting some hurdles on the way.
Must-Know Facts About Mike Tyson's Wife, Lakiha Spicer
Lakiha Has Once Been Imprisoned
Just like her husband, Kiki has also spent time in a penitentiary, but her crime was nothing to be compared to Iron's rape charge for which he bagged a 6-year jail term in 1992. Lakiha ran into trouble with the law in 2008 for defrauding her father's company to the tune of $71,000. She reportedly succeeded at this by claiming that she had been teaching Mathematics in the Sister Clara Muhammad School.
However, investigations revealed that she had lied and for her crime, the court pronounced her guilty of using the school as a money-laundering scheme and sentenced her to six months in prison. At this time, she was already pregnant with Tyson's first child and he strongly stood by her side all through the dark period.
Four year earlier (September 2004), Kiki kiki and her parents were charged with undertaking and engaging in a racketeering operation. They reportedly did so in order to garner money and property through criminal schemes involving bribery and extortion. Following the trial, Lakiha was sentenced to house arrest and a four years' probation, her mother was sentenced to over one year imprisonment while her father bagged a nine-year-prison sentence that saw him remain in jail until 2013.
She Has Endured Tyson's Cheating Habit For Years
Speaking in a chat with rapper/actor T.I. on his ExpediTIously podcast show in early 2020, Mike Tyson confessed to cheating on his wife. According to him, he is not just the kind of guy that can stay faithful to one woman. "I don't care about nothing enough more than my d*ck, so how am I gonna be faithful to somebody?", he asked. That notwithstanding, Lakiha has stayed put with him while he tries to deal with his demons.
Tyson went on to give himself some credit as he revealed that he has been faithful to Lakiha for the past two years. Flaunting his "faithfulness" the star boxer said, I got ten years with her. I got two years without every f***ing a b**** but my wife. For a n**ga like me, I had to have them every day. I had to c** every second of the day! I'm the poster boy for sexual anonymous."
Kiki Is Responsible For Putting Mike Tyson's Life Back Together
Lakiha Spicer got back together with Tyson at a time that they were both in a very dark place. Lakiha, a new mother, was freshly out of prison while Tyson was deep in drug addiction. As much as they wanted to live together in order to pool their resources, it was not possible because they were both ex-convicts. As a result, they continued to live apart but paid each other frequent visits.
Speaking to George Willis of New York Post in 2012, Mike revealed that he was not really thinking of caring for a woman or being in a committed relationship even though it was what he wanted to do his past discrepancies notwithstanding. "I wanted to be courageous and try to be a man and raise a family and respect a woman and never cheat. But I'd never done that", he added.
He would embark on a drug binge for three days without letting Kiki knowing his whereabouts, leaving her to worry herself sick. However, after he hit rock bottom, the boxing star decided not only to become a better man but to also make a commitment to the one woman who has stuck with him despite his craziness. "I'm just happy I got involved with her," Tyson says. "It's truly a life-saving experience."
Mrs Tyson Is An Entrepreneur
Lakiha is not an idle woman who depends solely on her husband's money. She makes her own money from a number of businesses, including a fashion boutique. Also a writer, she is credited as a co-writer for her husband's one-man hit documentary show titled Mike Tyson: Undisputed Truth. The docu. comedy which covers details of the boxer's life had Spike Lee as its director and starred Tyson himself. It debuted on Broadway in August 2012 and on the 16th of November 2013, it premiered as a television special in the United States
Things To Know About Mike Tyson's Children
Currently, Mike Tyson has eight children with multiple women, and they include Gena, Rayna, Amir, D'Amato Kilrain, Mikey Lorna, Miguel Leon, Exodus, Milan, and Morocco. His first marriage to Robin Givens produced no child within the one year that they were married. Shortly after they parted ways, Tyson officially admitted before a family court that he was the father of then-8-year-old girl Michael Tyson (who has since changed her name to Mikey Lorna), daughter of Kimberly Scarborough, according to a March 1991 report by The Deseret News. 
Some years later, Tyson tied the knot with his second wife, Monica Turner and within the period they were married, they had two children together, a son and a daughter named Amir and Rayna respectively. Prior to their marriage, Turner had a daughter named Gena from a previous relationship and following their union, Tyson took her to be his. After their divorce in 2003, Sol Xochitl, Mike Tyson's girlfriend, had two children for him-Miguel Leon and Exodus.
The former heavyweight's third marriage to his current wife, Lakiha Spicer has also produced two kids- a daughter named Milan and a son named Morocco. In all, Tyson has fathered seven known biological children and one adopted daughter.
Tyson Has Once Buried A Child
On May 26, 2009, the former world boxing champion lost one of his children, Exodus, following a treadmill accident that happened at her Phoenix home. Speaking about the unfortunate incident, Sgt. Andy Hill of the Phoenix Police Department told CNN's Larry King that the little girl was found on a treadmill by her 7-year-old brother, Miguel, on Monday, May 25, 2009.
She had lost consciousness after being strangled by a cord connected to the machine. According to Hill, the police believed that the treadmill was not running at the time the four-year-old child got on it. "She might have been playing like it was," Hill said. Miguel drew his mother's attention to the room. She quickly came in, untangled Exodus from the machine, and called 911. The child's mother also administered CPR but being unconscious, she needed life support by the time the medical team arrived.
At the time of the incident, Tyson was in Las Vegas, Nevada, but he traveled to Phoenix to be with his daughter whose condition was critical. Sadly, she passed on from her injuries just a day after the accident. The experience was so traumatic for the boxer that he chose not to even know what really happened. Speaking on The Oprah Winfrey Show, the boxer admitted that if he knew, someone will be blamed for it and if that happens, there would be a problem.
Although long gone, Exodus is still very much alive in the minds of her family, Particularly her brother Miguel, who posted a heart-melting message to his "eternal angel" on Instagram on what was supposed to be her 13th birthday. He wrote, "There's not a day that goes by that I don't miss you. Yo siempre te amaré. Descansa en paz".
The Tyson Kids Don't Date Blacks
Mike Tyson made headlines in January 2020 when he opened up on a number of personal things on rapper/actor T.I.'s ExpediTIously podcast. Among the things he revealed was that his children "don't date Black kids" and while he is worried about it, he also blames himself for their preference. Speaking further on the issue the boxer said, "Sometimes if I look at my daughter, and I see she's attracted to white guys, and I say to myself, 'I didn't set a good example as a Black man then. … They must have seen sometimes when I was vulnerable and said, 'Hey, I don't wanna be with no one like that. … He's scary.'"
Miguel Leon Tyson Is An Activist And A Budding Artist
Miguel appears to have dedicated a part of his life to activism. The boxer's son once shared an Instagram Story highlight exclusively intended to draw attention to climate change and ecological preservation. He also participated in a climate strike in 2019 and has been involved in charity work in Africa, Ghana to be precise. There, he worked with the non-profit organization, IwilGO, to build water catchers in order to make clean drinking water available to a certain small village.
In addition to being an activist, Miguel is also building a career in music. He has recorded some of his songs at Blackwood Studios located in the heart of the Hollywood Hills/Cahuenga pass area. Owing to the fact that the entertainment business has a lot to do with looks, the budding musician is keeping up in that regard. In 2018, he posted a video of himself training with his father during a morning workout. Even though he's got an obviously mean punch, the young man has no plans of following in his father's footsteps. Mike himself also shared the video, mentioning in the caption that Miguel "just started" and is "just trying to stay fit."
Amir and Rayna Tyson Share A Very Close Bond With Their Dad
Even though the marriage between Tyson and his second wife Monica Turner did not work out, the boxer has never let it affect his relationship with the children they share. Rayna and Amir Tyson were only four and five years old when their parents got divorced and they lived in a "gated $2 million home" in Bethesda, Maryland, according to The Washington Post while their father lived in his Las Vegas estate for over a year before the divorce. That is not to say he wasn't the best of fathers to the children, though.
The boxer appeared to have a very close relationship with Rayna and Amir, even when he was dealing with a lot of issues with the law. While he spent one year in prison in 1999 for assaulting two motorists, he took a cozy picture with Amir at the Montgomery County Detention Center. The picture was later published in the Father's Day issue of that year's Esquire magazine. Speaking with The Washington Post that same year, Monica Turner revealed that Mike was "very involved" with their kids. She went on to add that "He's real protective of them. He always wants to make sure everything is right and that they're okay and they're happy."
Rayna Is Building A Career In Hollywood
In addition to his professional boxing career, Mike Tyson has featured in a number of films, making a cameo appearance in Rocky Balboa, one episode of the comedy-drama television series titled Entourage, some of Witney Houston's music videos, and Scary Movie 5. Most notably, he produced and acted in The Hangover (2009), and The Hangover Part II (2011), where a major part of the plot centered on the fattoo on his face. Although Rayna Tyson appears to be making some efforts to break into the movie industry, it does not look like she is interested in using her father's name to achieve that.
Judging by a Linkedin account that bears the name Rayna Iman Tyson, the boxer's daughter acquired her high school education at Bullis School from where she graduated in 2014 before proceeding to New York University from where she obtained a bachelor of fine arts (B.F.A), film and television production in 2018. She is currently working towards becoming a filmmaker. Rayna was part of the crew members for the documentary The Death and Life of Marsha P. Johnson (2017), which details the mysterious death of Marsha P. Johnson, a black gay rights activist. She was also a member of crew for the 2019 film, Joker, where she worked as a set staff assistant.
Amir Tyson Is In The Fashion Business
Born and raised in Bethesda, Maryland, Amir Jabron Tyson is a graduate of the American University where he majored in Broadcast Journalism with a minor in History. Despite his love for sports, news, and history, he had always been deeply interested in acting and entrepreneurship. Also having an appreciation for fashion, he decided to establish a clothing line to make upscale streetwear while he was in his sophomore year.
As fate would have it, what started as a simple idea eventually grew into something big as he set up a team and carried out a research. Their hard work subsequently gave birth to the concept of Debonair, which has since become an official brand. Amir's collections include high-quality tees, tracksuits, hats, hoodies, etc.
Judging by pictures of Amir's luxury lifestyle which he usually posts on social media, it is safe to say that Debonair is doing really well.
A Paternity Test Revealed The Truth About One Of Mike Tyson's Children
In 1990, the boxing legend welcomed a son named D'Amato (named after his boxing mentor Cus D'Amato) with Natalie Fears, his girlfriend at the time. As disclosed in the Chicago Tribune publication, he had no intention of settling down with her but he planned to purchase a house in Los Angeles and support the child. Unfortunately, the duo began a tussle for domestic bills which dragged them to court and things took an unexpected turn.
As reported by UPI, Natalie Fears kick-started a legal war with Mike with the claims that he breached the conditions of their support agreement. Tyson was reportedly giving Fears a monthly pay of $5,000 in addition to a car, clothing, and jewelry, all of which UPI reported to amount to almost $1.5 million. "I just been trying to do the right thing," Tyson told The New York Times.
As he sought to do what was right, he also decided to take a paternity test. Meanwhile, according to UPI, he was never in doubt as to whether he was the child's father until Fear sued him. By the time the result was out, it showed that he wasn't the one who fathered D'Amato.
Mikey Lorna Tyson Was Initially Not Wanted By Her Father
Mikey had quite a rough beginning in life as her father never accepted her until months after her birth. Not long after Tyson's first marriage collapsed, he officially agreed to being the father of Mikey, who was eight months old at the time. Even before then, her mother Kimberly Scarborough nearly aborted her and even went to the clinic for the purpose because Mike told her to get rid of the child. Kimberly made the revelation in an interview with the Daily news. 
Being a father was obviously not on the boxer's list at the time and as a result, he was not excited about becoming one. At that time, Kimberly and Mike lived in an apartment in Harlem with Mikey's half brother. Later on, though, Mike changed his mind. "Now we both shudder to think of what we almost did that day," Scarborough said.
The spats the duo had about money notwithstanding, Mike, who was serving time in prison at the time of the Daily News interview, decided to be "a proper dad" after he regained his freedom. This was probably because Kimberly Scarborough and paid him visits with Mikey every two weeks while he was in prison and he in turn, called them on a weekly basis. Mikey has now grown into a very beautiful woman and she lives a very simple life as can be seen by the pictures she posts on her Instagram account.
Milan Tyson Is A Prospective Star Athlete But Not In Her Father's Sport
Milan, Mike Tyson's daughter with his third wife, Lakiha is gradually working towards becoming a tennis player. According to Tennis World USA, she has been training with the French tennis coach and sports commentator, Patrick Mouratoglou, who has been Serena Williams' coach since June 2012. He was also the one who coached Coco Gauff, the 15-year-old girl that beat Venus Williams in the Grand Slams.
If not for anything else but Milan, Mike and Serena seem to have built a friendship of some sort. Just to say the least, the duo has a deep respect for each other's sportsmanship. The female tennis champion exchanged some punches with the boxing king at a yearly tennis camp organized by Mouratoglou but Mike refused to get in the ring with her because, according to him, "She has some power".
Yes, Serena may have some power now but with a father like Mike guiding Milan and impacting her with his fierce work ethics, she'll sure be the star's strong competition in the nearest future. According to Mike, he always tells his daughter Milan that if really she wants to be a tennis star, like her idols, Novak Djokovic and Serena Williams then, "You can't complain. You have to love it. That's what discipline is. You hate to do it, but do it like you love it".
Morocco Tyson is Making Waves On Instagram 
Youngest of the Tyson squad, Morocco is a budding Instagram influencer. The seven-year-old has his own Instagram account, though totally controlled by his parents. Just like influencers do, Morocco posts pictures taken at exotic places such as Paris as well as celebrity events like the Kid's Choice Awards, where he even stormed the red carpet with his family.
Besides his life as an influencer, the young lad most likely looks up to his older ones. Like his sister, Milan, he also plays tennis in addition to learning how to play golf like Miguel.
Mike Tyson's Boxing Record
The 1986 world's youngest heavyweight boxing champ also holds these records and awards;
A career marked with 50 wins out of 58 total fights
44 wins by KO
The 1985 Ring magazine Prospect of the Year
The Ring magazine Fighter of the Year for 1986 and 1988
Sugar Ray Robinson Award winner in 1987 and 1989
The 1989 BBC Sports Personality of the Year Overseas Personality
An honorary doctorate in humane letters from the Central State University in Wilberforce, Ohio in 1989
Class of 2011 International Boxing Hall of Fame inductee
Class of 2012  WWE Hall of Fame
The 2009 Golden Globe Award for Best Motion Picture – Musical or Comedy (as a cast member of The Hangover)
How Much Is He Worth Now?
Now that he is retired from boxing, Mike Tyson's net worth is estimated at $10 million. But when he had his brilliant career as the youngest ever world heavyweight champion, his net worth was north of $300 million.
He retired with a 50-6 record (44 knockouts), earning him a place in the International Boxing Hall of Fame and the World Boxing Hall of Fame. Mike Tyson's career earnings totalled about $423 million.
Mike Tyson Career Earnings (1986 Till Date)
| | | |
| --- | --- | --- |
| Opponent | Earnings | Inflation Adjusted |
| Trevor Berbick | $1,500,000 | |
| James Smith | $2,000,000 | |
| Pinklon Thomas | $2,500,000 | |
| Tony Tucker | $2,500,000 | |
| Tyrell Biggs | $2,500,000 | |
| Larry Holmes | $5,000,000 | |
| Tony Tubbs | $10,000,000 | $21 million |
| Michael Spinks | $20,000,000 | $42 million |
| Frank Bruno I | $8,000,000 | |
| Carl Williams | $4,000,000 | |
| Buster Douglas | $6,000,000 | |
| Henry Tillman | $2,000,000 | |
| Alex Stewart | $3,000,000 | |
| Donovan Ruddock I | $6,000,000 | |
| Donovan Ruddock II | $10,000,000 | |
| Peter McNeeley | $25,000,000 | $42 million |
| Buster Mathis | $10,000,000 | |
| Frank Bruno II | $30,000,000 | $50 million |
| Bruce Seldon | $30,000,000 | |
| Evander Holyfield I | $30,000,000 | |
| Evander Holyfield II | $30,000,000 | $49 million |
| Francois Botha | $10,000,000 | |
| Orlin Norris | $9,000,000 | |
| Julius Francis | $10,000,000 | |
| Lou Savarese | $8,000,000 | |
| Andrew Golota | $10,000,000 | |
| Brian Nielsen | $5,000,000 | |
| Lennox Lewis | $103,000,000 | $148 million |
| Clifford Etienne | $5,000,000 | |
| Danny Williams | $8,000,000 | |
| Kevin McBride | $5,000,000 | |
| Roy Jones Jr | $10,000,000 | |
| Total: | $423,000,000 | |
Mike Tyson's net worth increased with the release of the Nintendo game, in 1987, called "Mike Tyson's Punch-Out!!! He began to live lavish, Mike had a great car collection, luxurious mansions and even kept Bengali Tigers. He even bought his now ex-wife a $2.3 million bathtub for a birthday present.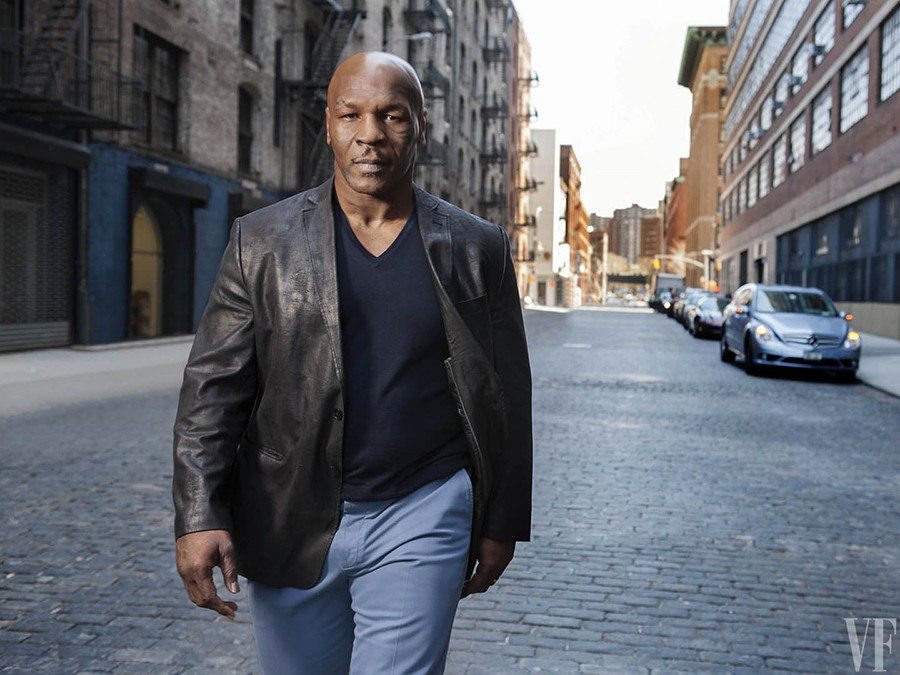 Mike was living it up but it wasn't so long until things began to go south. His wife filed for divorce as a result of domestic abuse. Mike also fired his long-time trainer and mentor Kevin Rooney. Without Rooney by his side, Mike began to lose fights and soon became overweight. Soon he was stripped off his heavyweight boxing title.
Things even got worse when he was convicted in 1992 to 10 years behind bars for raping an 18-year-old model by name Desiree Washington. In 1995 after doing 3-year jail time, he tried to restore his reputation in the ring. Things began to look bright as he effortlessly won his first two fights, but again, with his own actions, he ruined everything. This time acting like a zombie, he bit a chunk of flesh off an opponent's (Robin Givens) ear. This took a toll on his newly reborn career. He filed for bankruptcy in 2003 and retired two years later in 2005.
In recent years, Mike seems to have turned a new leaf. He now lives off a couple of endorsements and media gigs. He starred in the 2009 film, The Hangover. In 2013 his one-man show "Mike Tyson: Undisputed Truth" where he talks about his personal life on stage was put on a 36-city 3-month tour.
An Inside Look at Mike Tyson's House
In 2016, Mike Tyson sold his Las Vegas home and upgraded to a bigger house in the same neighbourhood. His new home in Henderson, Nevada is a two-story, 8,149-square-foot mansion which he, apparently, bought for $2.5 million according to Clark County records.
See Also: Tyson's New $2.5 million Nevada Mansion
The American Boxer is Full of Life and Not Afraid to Die
Given the fact that Mike Tyson has appeared in several films, with his post-boxing endeavours even stretching to a documentary and Broadway show on his life, he will certainly be living in the minds of people long after he is gone. The ex-boxer is still very much alive right now despite a death hoax that claimed he died in April 2016.
Though he is healthy and full of life, Tyson has said that he is not afraid to die. He made this known in an interview with The Sportsman that was published on 25 July, 2020. Responding to the question of whether he looked forward to death the boxing champion answered in the affirmative. He clearly stated that living was more complicated to him than dying because living takes a lot of courage. "Without the courage, you can't handle living. Living is a journey; living is a struggle. People have everything and they still can't do it, they struggle…", he added.
On November 28, the former undisputed heavyweight champion of the world faced the former four-division champion Roy Jones Jr. from California. Jones Jr. The fight was declared draw, and the three judges scored the fight as follows: Chad Dawson (76–76 draw), Christy Martin (79–73 for Tyson), and Vinny Pazienza (76–80 for Jones)